In January 2021, PUMA unveiled the FUSE, a cross-training shoe designed to handle a variety of exercises, from squats and deadlifts to rope climbs and box jumps. On the eve of the 2022 NOBULL CrossFit Games, taking place in Madison, WI, from Aug. 3-7, 2022, the athletic apparel company announced its latest offering: the FUSE 2.0, which will hit shelves in the fall of 2022 for $90 USD.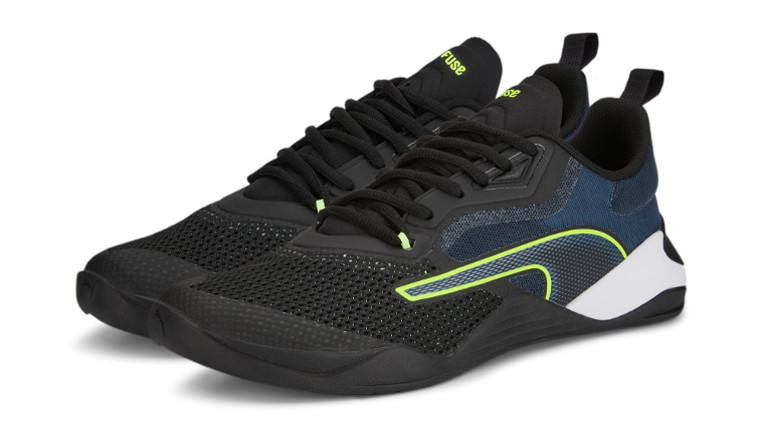 According to PUMA, this latest iteration of their FUSE cross-trainers offers more stability and better traction than its predecessor, which the company says also enhances the shoe's overall durability.
Here are some key features noted in the FUSE 2.0 cross-trainers press release:
Multi-surface traction through the brand's rubber grip technology, known as PUMAGRIP.
A lightweight thermoplastic polyurethane (TPU) heel clip for handstand push-ups.
An internal midsole designed to offer "a stable stance during training workouts."
Higher sidewall coverage than the FUSE.
PUMA FUSE 2.0 at the 2022 CrossFit Games
To put the FUSE 2.0 through its paces, Sam Kwant and Emma McQuaid, two TRAIN PUMA athletes, will wear the sneakers to compete in the 2022 NOBULL CrossFit Games.
When Kwant was announced as a PUMA brand ambassador in 2021, the company said it would donate $10,000 to a charitable organization of Kwant's choosing whenever he finishes on the podium of a CrossFit-sanctioned competition. Though Kwant did not compete in the 2021 CrossFit Games, he finished second overall in 2020 to five-time Fittest Man on Earth® Mat Fraser.
McQuaid, for her part, already started the 2022 CrossFit season off strong, with a first-place finish at the 2022 Wodapalooza.
View this post on Instagram
[Related: Don Faul, a Retired Marine and Former Tech Exec, is the New CEO of CrossFit]
Fans attending the Games in Madison will get the opportunity to visit the WIT booth inside the vendor pavilion to buy the FUSE 2.0 cross trainers months before their official release. Per PUMA, those unable to spectate the 2022 Games in-person will be able to find the FUSE 2.0 on PUMA.com, at the PUMA NYC Flagship store, and select retailers in the fall of 2022.
PUMA's Workouts for Charity
PUMA also announced it is teaming with WIT Fitness, athletes, and charitable organizations, including​​ CrossFitter Chandler Smith, Barbells for Boobs, and The Out Foundation, to hold daily workouts at the Brittingham Boathouse during the 2022 CrossFit Games. Each workout will focus on a different charity, and PUMA will donate $100 (up to $5,000) for every person who attends.
Here's the event breakdown, as provided in PUMA's press release:
Thursday, August 4
Time: 10:00 am CDT
Partner: The Out Foundation
Charity: The Out Foundation
Time: 4:00 pm CDT
Partner: Barbells for Boobs
Charity: Barbells for Boobs
Friday, August 5
Time: 10:00 am CDT
Athlete: Chandler Smith
Charity: ULIFTU
Saturday, August 6
Time: 10:00 am CDT
Athletes: Hosted by Chandler Smith, workout written by Sam Kwant
Charities: Trisomy 18 Foundation (Sam Kwant) & Southern Area Hospice Care (Emma McQuaid)
View this post on Instagram
[Related: How to Build Your Own CrossFit WOD, Regardless of Your Experience Level]
Fitness Apparel's Impact on the CrossFit Games
PUMA isn't the only athletic apparel company making an impact at the CrossFit Games this week in Madison. The Reebok Bonus Program will make its return in 2022.
This program grants an additional financial award to any athlete who wins an event while wearing Reebok footwear, including the Reebok Nano X2, Nano X1 Froning, or Nanoflex Parafit TR. The program paid out more than $400,000 in bonuses throughout the 2021 CrossFit season, and this year, the prize money goes as high as $12,000 for first-place finishers in the Elite divisions at the Games.
How to Watch the 2022 CrossFit Games
The 2022 CrossFit Games start on Wednesday, Aug. 3, and run through Sunday, Aug. 7. Fans can watch the Games online via the CrossFit Games app, YouTube, Facebook, Twitch, and Pluto TV Sports Channel. To find out how to stream the events, head here.
All images courtesy of PUMA.