On Oct. 6, 2021, PUMA shared a press release stating that 2020 CrossFit Games runner-up Sam Kwant is joining their team as a global ambassador for TRAIN PUMA. Per the announcement, Kwant will support TRAIN PUMA initiatives and product launches. Kwant was selected by PUMA for embodying "authenticity to the sport, empowering confidence and connection to community."
Kwant's partnership with PUMA has implications for every CrossFit sanctioned contest he competes in going forward. Any time Kwant finishes on the podium of a CrossFit sanctioned competition, PUMA will donate $10,000 to an organization of his choosing. Additionally, beginning with the 2022 CrossFit Season, PUMA will donate 100 pairs of Fuse Training shoes to a CrossFit affiliate or organization of Kwant's choice whenever he ranks top three at a CrossFit sanctioned competition. Neither the press release nor Kwant's announcement of the partnership on his Instagram suggested any specific organizations or affiliates he is currently considering.
View this post on Instagram
[Related: Inaugural Strength Score Championships: Battle for New York Set for Nov. 13, 2021]
Many of the 2020 CrossFit Games Finalists have found partnerships within the past year. Noah Ohlsen, who ranked fourth at the 2020 Games, was announced as a Gymshark ambassador in May 2021. Five-time Fittest Man on Earth® Mat Fraser, who won the 2020 Games, partnered with the Buttery Bros — Heber Cannon and Marston Sawyers — to launch Podium supplements, which were released in GNC stores across the USA and on GNC's website on Sept. 23, 2021.
Sam Kwant's CrossFit Career
Kwant made his CrossFit Games debut in 2016, where he finished 16th overall. He returned in 2017 and 2019 to rank 20th and 13th overall, respectively. 2020 marked his best CrossFit Games finish to date. He failed to qualify for the 2021 CrossFit Games following a breathing issue during the Mid-Atlantic CrossFit Challenge Semifinal — he spent time in urgent care due to a hives outbreak before that contest.
Happy to be joining the @PUMA FAM. It's time to chase those big goals.
Kwant previously stated that he intends to return for the 2022 CrossFit Games season after using his time off to solve the "chronic illness" that led to his hives outbreak.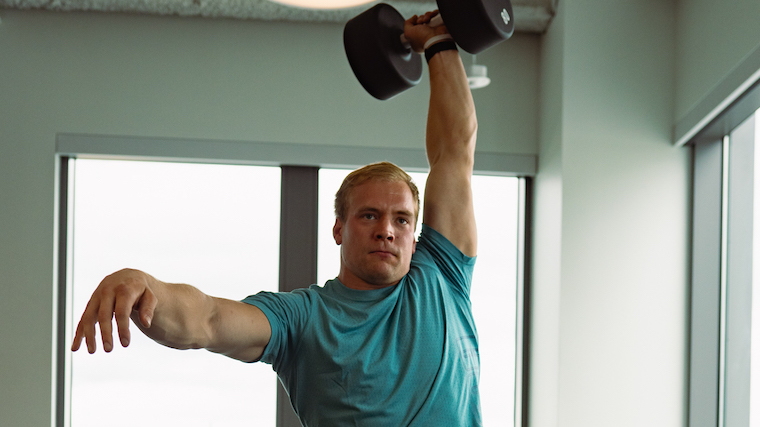 [Related: Best Cross Training Shoes For Agility, CrossFit, And More]
2022 CrossFit Season
The 2022 CrossFit Open kicks off on Feb. 24, 2022. Major CrossFit sanctioned contests in 2021 include the 2022 Wodapalooza online qualifier taking place Oct. 4-15, 2021 for individuals and Nov. 1-10, 2021 for Teams, and the 2021 Rogue Invitational on Oct. 29-31, 2021, in Austin, TX.
Kwant is one of the 20 male competitors competing in the 2021 Rogue Invitational that will feature a prize purse of $1,415,535 at the time of this article's publication. He will compete against some of the biggest names in the sport, including 2021 Fittest Man on Earth® Justin Medeiros.
Featured image: @samuelkwant on Instagram