Harrison Maurus has been issued one of the biggest challenges in USA weightlifting history. At only 21 years of age, he is representing his country at the 2020 Olympic Games in what has historically been one of the sport's most competitive weight classes — Men's 81-kilogram.
However, competing against some of the most well-renowned athletes in weightlifting — ever heard of Lu Xiaojun? — is familiar territory for the Auburn, WA native. Maurus has been on the come-up since his national debut in 2014, winning his first National medal — silver in the Boy's 14-15 69-kilogram class, losing only to fellow Team USA athlete Clarence "CJ" Cummings Jr (73KG).
Maurus has continued onward in his athletic career to set precedents and break multi-decade international records for the United States well before his 20th birthday.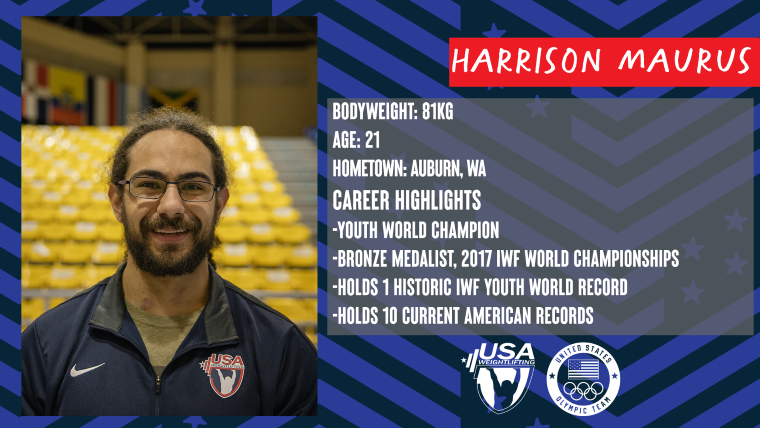 [Related: Rogers Claims Records — 2021 USA Weightlifting National Championships Results]
Weightlifting Career
Despite his age, Maurus has been training longer than most recreational weightlifters. He is rapidly approaching his 10-year anniversary in the sport after getting started at only age 12, with his first National competition appearance only two years later. Since then, Maurus has racked up a slew of American Records, while also being the youngest American to ever clean & jerk 200 kilograms.
Standing above his domestic accolades, Maurus has also distinguished himself internationally while competing in the Mens' 77 (defunct), 81 (current), and 85 (defunct) categories — commonly considered to be among the most cutthroat classes in the sport.
Maurus was crowned IWF Youth World Champion for his performance at the event in 2017. As a junior athlete, he has amassed multiple junior World medals, ranked sixth at the 2018 senior World Weightlifting Championships (WWC), and took home bronze in the total at the 2019 Pan American Games.
Perhaps Maurus' most impressive result to date, though, is his performance at the 2017 WWC in Anaheim, CA, where he took bronze in both the clean & jerk and total — the first American male to do so at a World event in 20 years, and the first athlete of any gender since Cheryl Haworth in 2005.
Harrison Maurus Best Lifts
Snatch — 160 kilograms (352 pounds)
Clean & Jerk — 200 kilograms (440 pounds)
Total — 357 kilograms (785 pounds)*
*Note: his same-day total at a sanctioned competition (2018 WWC).
Alongside world-class results in the snatch and clean & jerk, Maurus is also renowned for his brute strength, with lifts like a monstrous 275-kilogram (605-pound) squat at age 18, and a set of nine reps in the front squat at 200 kilograms (440 pounds).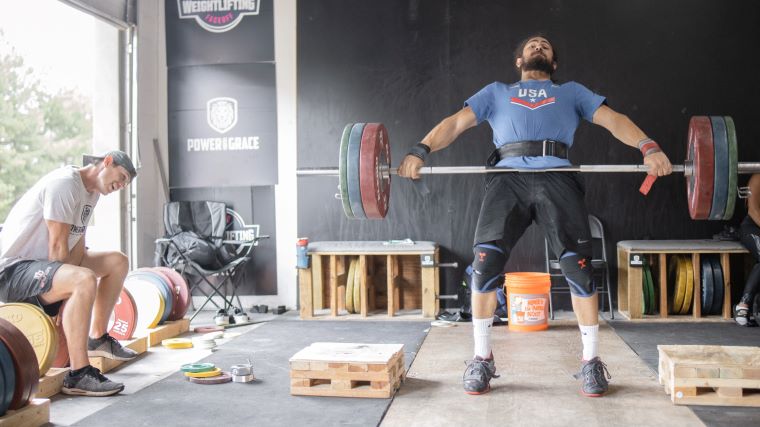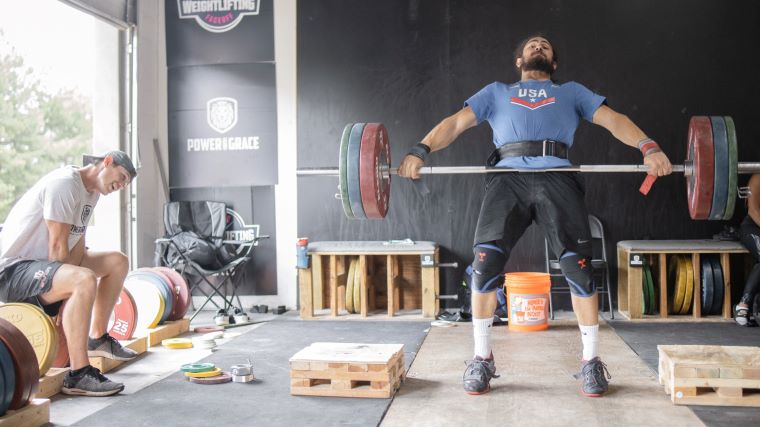 [Related: How to Train Power for Speed and Stronger Lifts]
Competition In Tokyo
On July 31, Maurus will contend with some of the best in the world for a chance at the podium. Despite being matched against Olympic veterans and multi-world-record holders, Maurus has the ability — both in raw strength and skill level — to go blow-for-blow with the best.
81-Kilogram Olympic Roster
Harrison Maurus (United States)
Lu Xiaojun(China)
Antonio Pizzolato (Italy)
Zacarías Bonnat (Dominican Republic)
Brayan Rodallegas (Colombia)
Rejepbaý Rejepow (Turkmenistan)
Andrés Mata Pérez (Spain)
Nico Müller (Germany)
Ritvars Suharevs (Latvia)
Erkand Qerimaj (Albania)
Alex Bellemarre (Canada)
Ramzi Bahloul (New Zealand)
Amur Salim Al-Khanjari (Oman)
Even though this is the first Olympic event since the weight categories were reorganized in 2018, Tokyo will see repeat appearances from Nico Müller (Rio 2016), Andrés Mata Pérez (London 2012, Rio 2016), and Lu Xiaojun (London 2012, Rio 2016). Maurus will make his Olympic debut in Tokyo.
81-Kilogram IWF Rankings
Lu Xiaojun — IWF Ranked #1
Antonio Pizzolato — IWF Ranked #2
Brayan Rodallegas — IWF Ranked #4
Zacarías Bonnat — IWF Ranked #5
Ritvars Suharevs — IWF Ranked #7
Andrés Mata Pérez — IWF Ranked #11
Harrison Maurus — IWF Ranked #13 (Tied with Viacheslav Iarkin of Russia, who will not be in Tokyo)
Erkand Qerimaj — IWF Ranked #15
Alex Bellemarre — IWF Ranked #21 (Tied with Khojiakbar Olimov of Uzbekistan, who will not be in Tokyo)
The proverbial elephant in the room is, of course, Lu Xiaojun. At 36 years old, the Chinese athlete stands at the top of the international rankings yet again at the conclusion of his third Olympic cycle.
However, Maurus is one of a cohort of contenders poised to give Team China a run for its money in the 81-kilogram class. The United States, Italy, Latvia, Germany, and Turkmenistan have all rostered athletes that are within striking distance of Xiaojun in the clean & jerk event — though it is unlikely that he will finish anywhere other than first in the snatch.
81-Kilogram World Records
Snatch — 175 kilograms (Li Dayin, CHN)
Clean & Jerk — 207 kilograms (Lu Xiaojun, CHN)
Total — 378 kilograms (Lu Xiaojun, CHN)
Snatch record holder Li Dayin was sidelined in Tokyo for tenured competitor Xiaojun, who currently owns the records in both the clean & jerk and overall total.
That said, with so many of his peers on his heels in one or both lifts, Xiaojun will have a real fight to maintain his titles with threats from athletes like Suharevs, Pizzolato, Rodallegas, and Maurus.
Xiaojun famously lost his record — and gold medal — to an unbelievable effort from Kazakhstan's now-retired Nijat Rahimov in 2016. Since Maurus is no stranger to going the distance when it is needed most, it's feasibly possible for him to be the one to deny China yet again and bring the gold home to the United States.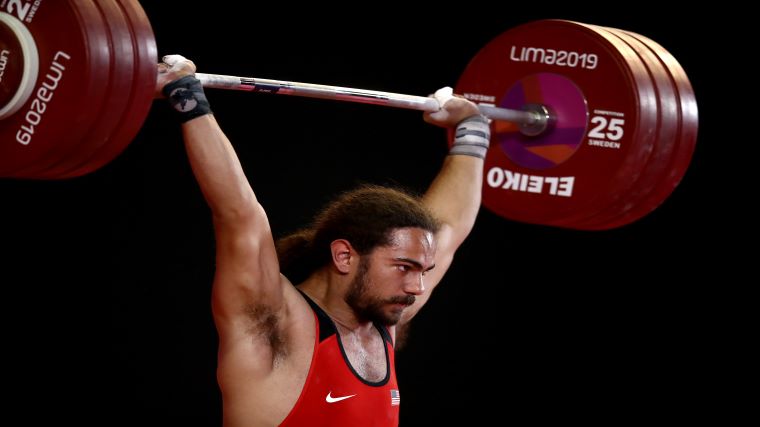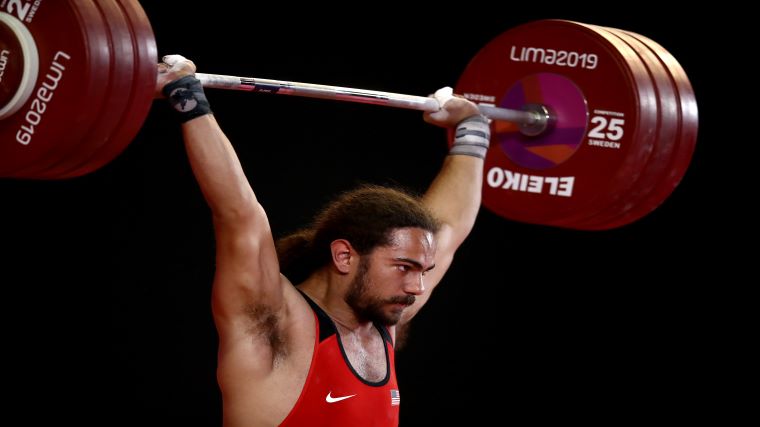 [Related: Five of the Greatest Weightlifting Battles of All Time]
Onto the Olympic Games
Though Maurus is not as decorated as some of his older teammates, his selection to the Team USA weightlifting roster represents both an acknowledgment of his past achievements and a confirmation of his country's faith in his future potential.
With the weightlifting event at the Tokyo 2020 Olympic Games poised to be one of the better competitions in recent memory — even when juxtaposed against recent drug-related controversies in the sport — fans are all but guaranteed to witness an extraordinary session when Maurus takes the stage on July 31.
The Men's 81-Kilogram Group B session wi occur on Friday, July 30, 2021, at 10:50 p.m. EST. The A Group will take place on Saturday, July 31, 2021, at 2:50 a.m.
Note: BarBend is the Official Media Partner of USA Weightlifting. Unless otherwise specified on certain content, the two organizations maintain editorial independence. This article series represents a collaborative effort from both parties.
Featured Image Courtesy of USA Weightlifting