The year 2020 was tough on individuals and businesses — large and small. However, gyms in particular have been hit hard as a result of the COVID-19 pandemic. Some reports show that membership for U.S. gyms is on track to fall 40%.
Luckily, the Community Gyms Coalition (CGC), which launched in November of 2020, is lobbying Congress for financial relief. The CGC is a group of fitness industry companies and gym organizations — such as CrossFit, Anytime Fitness, ClassPass, Mindbody, Jazzercise, Orange Theory, and Zumba. Since the CGC's inception, a new bill was proposed on Feb. 5, 2021, called the Gyms Mitigation and Survival (GYMS) Act. If passed, this bipartisan bill will allot $30 billion to struggling fitness centers.
The impact of the CGC is in large part thanks to Brett Ewer, Head of Government Relations at CrossFit and one of the coalition's founding members. BarBend spoke to Ewer about the origins of the CGC, the importance of gyms in communities, and how you can get involved.
Support the GYMS Act to help community gyms and fitness facilities survive COVID-19: https://t.co/vfTMDT1celhttps://t.co/vfTMDT1cel

— Community Gyms Coalition (@GymsCoalition) February 12, 2021
[Related: Asking Congress for Gym Relief (With CrossFit's Brett Ewer)]
Editor's Note: This interview has been lightly edited for readability. This interview also took place before the introduction of the GYMS Act.
BarBend: Tell us how the Community Gyms Coalition came about.
Brett Ewer: I've always been politically engaged. In college, I volunteered and canvassed. Then, I had my first internship on Capitol Hill with Bill Keating in the House. I got bit by the bug. In July of 2015, I joined a large PR and lobbying firm called the Podesta Group. CrossFit was a client, and in November of 2017, I was invited by CrossFit to work in-house — working on the state and federal level for issues that are important to CrossFit the company, and all of its affiliates.
When COVID-19 happened…my work for CrossFit was weighing in on PPP [the Paycheck Protection Program], trying to see what we could do for small business relief. Then through the spring and summer, just trying to get a grasp on what are the guidelines for safe operations, state by state, making sure that the individual small gyms could operate safely. This is people's livelihoods. We were hearing really strongly from our community that they wanted us to do something, so we were. At a certain point, I'd say probably in July [2020], the Senate was considering another round of PPP.
There came a point where I and some of my colleagues realized that there needed to be specific relief for gyms. Throughout the spring and the summer, when we were working with various entities, there's a California Fitness Alliance. I think some of the larger members realized, "Hey, the damage has already been done on a national scale for small gyms. PPP was just not enough." There are a lot of issues with PPP.
BarBend: What are some of the issues with PPP in regards to small gyms?
BE: PPP only covers two-and-a-half month's worth of payroll. The extra problem for gyms too, is that gyms tend to be a little bit more fixed-cost intensive. The way that PPP works is that the lender takes your average monthly payroll and multiplies it by two and a half. That's the maximum loan amount and then you must put, at the time of the first draw of PPP, 75 percent of that loan toward payroll if you wanted it to be forgivable. [Note: That payroll/fixed cost split is now 60/40 percent]. So that meant that for mortgage, rent, and utilities, you could only use 25% [now 40%] which just did not work for gyms because gyms have huge rents and fixed costs.
"We must ensure gyms have the resources they need to make it to the other side of this crisis and protect their customers in the interim." -Rep. Mike Quiqleyhttps://t.co/kysWo5a6lf

— Community Gyms Coalition (@GymsCoalition) February 9, 2021
[Related: 4 Things Gym Owners Can Do to Rebound After COVID-19]
BarBend: So, what was the next step?
BE: Gyms are foundational to so many communities. The justified case that live venues have made is, "Hey, we exist in every community and we need some support right now because of the physical realities of the virus and its spread." I think in August [of 2020], I and my colleagues wrote a draft bill and we went around to a number of other different leaders in the industry and said, "Hey, would you like to join forces in this? Unite and fight?" And they did. We spent time doing that through September and October [2020] and then we launched in November [2020] and we've been just hammering away at The Hill.
BarBend: Why do you think gyms specifically are so important for communities?
BE: If you look at the data of our country, we are not very fit. I think the World Health Organization said that about 88 percent of deaths in the U.S. could be attributed to chronic disease and that those diseases respond to physical activity. It's huge. I'm also a big ancient history buff and we've had gyms for 2,500 years or longer. They are a place that people go. If anthropologists were to look, I think, across societies, they'd say, "Oh yeah, people engage in physical exercise and they do it regularly and they do it communally too."
BarBend: In your opinion, why aren't gyms getting the relief they need?
BE: I think that there are so many reasons and I think the most charitable and mechanically-appropriate reason is that when you are a legislator or you're one of their staff, you have purview over almost every part of society, almost every sector. If you look at the reopening plans that were issued by the states in April and May [2020], they were covering every industry, so not just the fitness industry, which is 35 billion in revenue in the U.S., relatively small compared to other industries. If you're a staffer or you're a legislator, you have everything on your mind.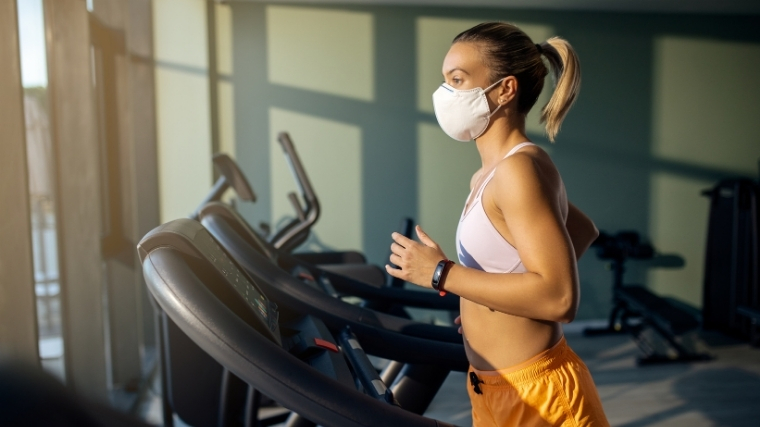 [Related: Burn Fat and Boost Your Work Capacity With Body Conditioning]
BarBend: The GYMS act was introduced in early February. What can people who want to help do to get involved?
BE: Everyone who thinks this issue is important, which, I hope that's all of your readership, can go to the CGC website. Go to the "get involved" page. Send a piece of correspondence to your elected officials. We have it all set up. When you go to the page, you put in your zip code and your information and it will route your specific correspondence to your legislator. Let them know that you think gyms are important. Start tweeting. Start letting people know what this is because we're in a public forum and everyone is able to speak about things that they think are important to them.
If you'd like to learn more about the Community Gyms Coalition, you can check out their website: gymscoalition.org
Featured image: Brett Ewer