When you hear his name, Rasmus Andersen hardly sounds like a CrossFit Games rookie. He was a member of the Games-winning CrossFit Invictus team in 2014, and he's been toward the top of Open leaderboards for a few years now. After moving to San Diego from his native Denmark, Andersen has trained largely under CJ Martin as he worked toward becoming an Individual CrossFit Games athlete.
While he missed out on qualifying out of the California Super Regional in 2015, this year was a different story. I caught up with Rasmus to talk about what he did differently this season — and what he's expecting in his first year as an Individual competitor in Carson.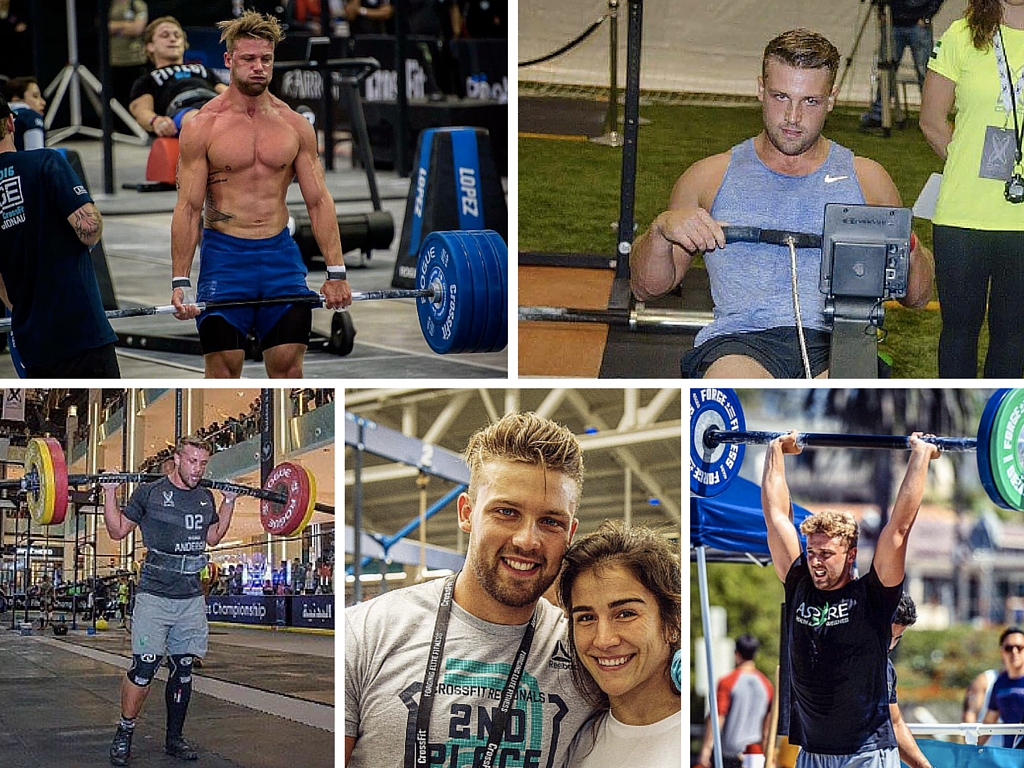 1. What did you change this year in training?
I changed a few things this year compared to last year. First off I decided to have more fun this year and enjoy life outside of CrossFit a little bit more. Sounds like a terrible plan when your goal is to qualify for the Games, but I've just been going and going for so long that this year I felt like things just needed to be fun in order to keep the same high volume of training. I got a lot of help from my coach CJ Martin and a lot of guidance, but decided to only follow his program loosely and mix it up with other stuff that I thought was more fun. I'm most likely going back to his program 100% again at some point, since he's simply just a lot smarter than I am when it comes to programming, I just need to be ready for it.
Another important thing I changed this year was working with a nutritionist. I contacted Adee from Working Against Gravity and she has just been absolutely amazing! I lost a lot of weight but also got a better nutrition for performance after working with her. I was a lot leaner and lighter this year compared to last years Regionals which made thing a whole lot easier.
Lastly I went into Regionals way more calm and relaxed this year. I wasn't as nervous and I was able to enjoy the weekend a lot more this time. I think the fact that my heart rate was fairly calm, relaxed and I knew what to expect helped me a lot compared to last year were my heart rate was out of the roof even before we checked in.
2. What have you sacrificed to take your game to the next level?
To be honest I haven't made that many sacrifices in order to move to San Diego to be a full time competitor. California is absolutely amazing and every single person I've met within the CrossFit community — whether it's at Invictus or any other gym I go to — has just been incredibly friendly and nice to me. Again, beaches, nice weather year round, and good restaurants just makes things easier.
I've obviously made one big sacrifice and that's not seeing my family and close friends very often anymore. It wasn't a big deal in the beginning but now after almost 3 years in San Diego I start to miss them more and more. I only get to see them about twice a year so that's hard at certain times and I wish it could be different.
3. Do you have a coach? If so, who, and what is your relationship like?
CJ Martin is a great coach! He's a busy man but his experience and knowledge is hard to come around anywhere else.
Again I've mixed his program with some of my own this year but it's always nice to be able to ask him any questions that I have on my mind and get a second opinion. I've learned a lot from him and continually learning which I'm very grateful for!
4. What are your expectations for the Games?
To be honest I haven't set any expectation place-wise for the Games this year. Some people will probably tell me that it is terrible idea not to set a goal, but for me the main goal the past 5 or 6 years has just been to make the Games as an individual competitor. It's a huge relief that it finally happened and I'm really happy and excited.
My goal for the Games is to enjoy every single moment and have as much fun as I possibly can. Obviously I'm going to do my very best in order to place as high as I possibly can, but the goal is just to be relaxed and have fun. Next year I'm going to reflect on this years results and I'll be setting different goals for 2017 with an expectation of finishing higher at the Games and become even better.
5. What are you most excited for as a new Games athlete?
I can't come up with just one thing I am most excited for. I'm excited about every single thing and I'm like a little kid at Christmas that can't wait for the presents. I'm honestly super excited about everything, from walking into my first event, competing in the tennis arena, push my own limits, compete with my girlfriend and friends, be in the center of the community and just to have fun.
6.  What does your diet look like?
I'm still working with Adee from Working Against Gravity and she's giving me macros that I'm following. I have to admit that I've been taking time off from macros after Regionals and I'm just now fully getting back to it. I enjoyed 1 week of eating really bad after Regionals, then another 3 weeks of eating healthy-ish but without following my macros and now I'm back following them strictly all the way to the Games.
I love eating according to macros because it allow me to eat differently every single day but at the same time hitting the same number of carbs, fat, and protein at the end of the day.
7. Who is your favorite CrossFitter?
My brother is doing CrossFit, and I'm friends with a lot of other really good CrossFitters and I admire all of them, but my favorite CrossFitter has to be my girlfriend Lauren Fisher. Beside being an awesome athlete, she's a really nice person and helps me with everything inside and outside of CrossFit. Besides I think she would be mad at me if I didn't say her 😉