It's not uncommon to enter a CrossFit gym and see signs, banners, and military flags across the room. But in the bay door of Diablo CrossFit in Pleasant Hill, CA, there is a large banner that carries a different kind of message: Keep Fitness Legal.
Contra Costa County, which is where Diablo CrossFit is located, is housed in Northern California. To date, the total number of COVID-19 cases in Contra Costa County is 30,685, with 279 deaths. The county has issued a mandate that gyms and salons and other service-based industries operate outside. But Craig Howard, owner of Diablo CrossFit, has not moved outside.
Howard spoke with BarBend about his campaign against Contra Costa County to keep his CrossFit affiliate open, despite the county's mandates and safety guidelines. Currently, gyms are only supposed to allow workouts outside in Contra Costa. However, Diablo CrossFit is still open for business, indoors, even after four warnings and three fines totaling, as of this writing, $1750.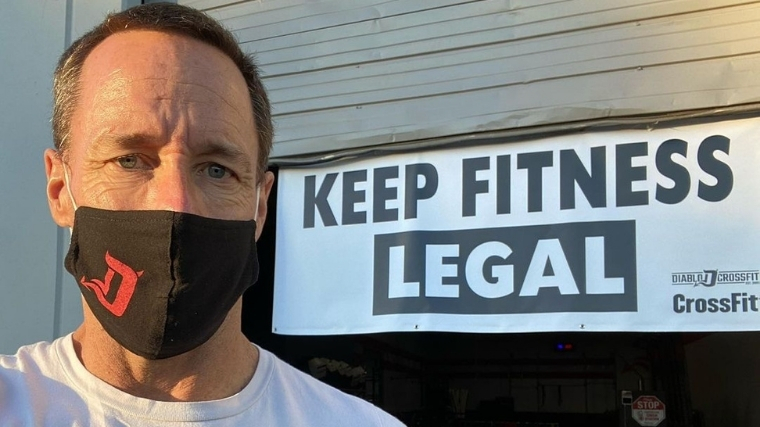 [Related: Here's Why so Many CrossFitters Are Flocking to Bobsledding]
"Contra Costa County says, this is an emergency, cases are going up — gyms gotta close. Okay, but you didn't say the cases are going up because of gyms, so instantly we're branded…correlation does not equal causation," Howard says.
The county has sent an official out once a week, for three straight weeks. Per the code Contra Costa County put in place July 28, 2020, they have permission to fine companies $250, $500, and then $1,000 each time with a cap of $1,000. "So now it's a total of $1,750 that they've fined us, and I expect they'll be back out this week. And they can do that daily if they wish," said Howard.
Diablo CrossFit, which was home to the live release of CrossFit's 20.4 Open workout, is not the only gym facing fines in the area for failing to close during COVID. Several others, including two local Fitness 19s, are also receiving regular fines from the county. CrossFit Affiliates everywhere are struggling to stay afloat or, like San Francisco CrossFit, have had to shut their doors for good. As a 10-plus year CrossFit Affiliate owner who worked for years as a field representative, Howard felt he was in a position to voice his concern and be heard.
On top of the fines, Howard is also receiving anonymous threats and regular email and comments from those that disagree with his cause.
"The risk for me and my business is two-fold. It's the brand itself, the brand of being a gym. Gyms are being depicted as petri dishes…by associating gyms with the coronavirus, it's going to take years to come back from this. And the second part is, specifically, attacking Diablo CrossFit and putting us in a position of having to defend ourselves."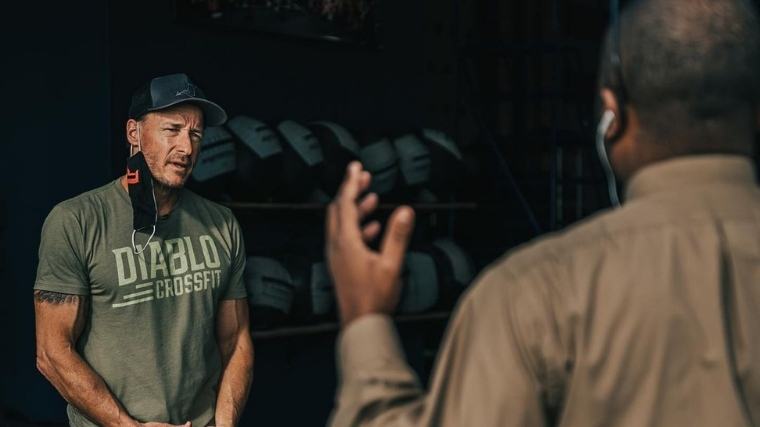 [Related: CrossFit Duo Tia-Clair Toomey and Shane Orr Announce a Big Move]
Howard is prepared to continue to operate Diablo CrossFit, especially now that his members have started a Go Fund Me campaign to help offset the fines the gym has received. Within three days, the campaign hit $20,000. Howard has since announced that he will use the funds to pay his fines, then re-distribute the remaining funds to help other affiliates facing overdue affiliate fees due to economic downturn or those facing similar fees while staying open for business.
Howard wrote in an Instagram post, "AFFILIATES IN DISTRESS Many CrossFit Affiliates around the world are suffering — many have closed temporarily and far too many have closed permanently. We want to help affiliate gyms by raising funds to pay for fines or fees to keep their businesses open and part of the CrossFit community."
Howard suspects he's in this for the long haul, but he knows what he wants for his business and the businesses in his community. What is that, exactly?
For Howard, it's "For them to relax the rules with gyms and allow us again to operate at limited occupancy within the building. That is, for me, ideal, and I think it's a fair compromise…No restaurant, no hair salon, no gym wants anyone to get sick…so I'm looking for trust, trust in small business owners."
Featured image: Craig Howard