In sad news coming out of Bulgaria, it's being reported that legendary Bulgarian weightlifting coach Ivan Abadjiev passed away on March 24 in Germany; he was 85 years old.
Abadjiev is arguably considered among the most accomplished coaches ever in the history of Olympic weightlifting. From 1968 to 1989, and again from 1997 to 2000, he served as head coach of the Bulgarian Weightlifting Federation. During that time he produced 12 Olympic Champions, 57 World Champions, and 64 European Champions.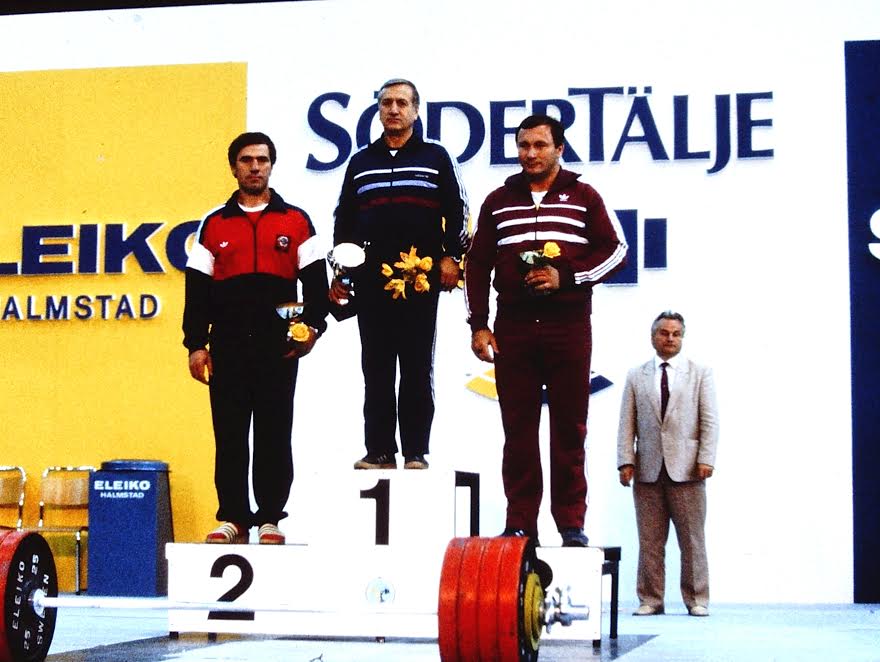 Ivan Abadjiev (center podium) accepting a team award at the 1985 Worlds. On the left is David Rigert of the USSR. On the right is László Ambrus of Hungary. Photo courtesy of Bruce Klemens.

His training methods have come to be known as the Bulgarian System of training, which revolved around an intense, competition style of training the snatch and clean & jerk as primary exercises in a workout. In the late 1960s and early 1970s, Abadjiev studied the American basketball training system and theorized that an incredible level of sport-specificity could be applied to weightlifting training.
Abadjiev's model led Bulgaria to a stunning Olympic victory over the Soviet Union in 1972. By the 1980s, Bulgaria, a country of under 8 million people, was arguably the world power in weightlifting, routinely defeating the Soviet Union, a country that (at the time) had a population of almost 300 million people.
Coach Abadjiev lived in Northern California from roughly 2007 through 2012, where he was active in coaching the sport. He was instrumental in coaching with a young(er) Dave Spitz at American Weightlifting, the Non-Profit Organization that was a prelude to the powerhouse weightlifting team California Strength. 
His career was not without significant controversy. At the 1988 Summer Olympic Games in Seoul, two Bulgarian weightlifters, Mitko Grablev (56 kg) and Angel Guenchev (67.5 kg) were both disqualified after they tested positive for performance enhancing drugs. A similar situation followed at the 2000 Summer Olympic Games in Sydney, where the entire Bulgarian Weightlifting team was expelled after 3 positive doping violations.
Featured image: Screenshot from School of Champions