The 2021 World's Strongest Man came down to Brian Shaw and Tom Stoltman competing in an event they are both known for — the Atlas Stones. Some fans thought the 39-year-old from Colorado wouldn't be in a position to compete for his fifth title. But there was Brian Shaw in the hunt at the very end. Stoltman won the title, but Shaw made it loud and clear that he isn't done yet with a gutsy, veteran performance.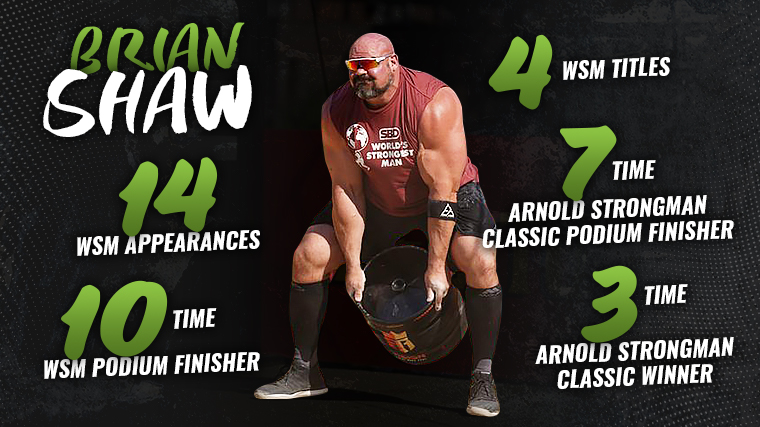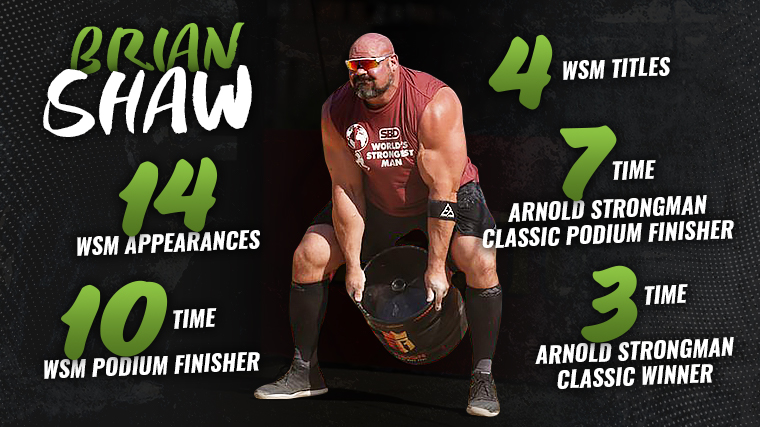 [Related: What You Need to Know About How to Increase Strength]
The four-time WSM winner's focus now is on the upcoming Shaw Classic, taking place from August 27-28, 2021, in Estes Park, CO. That focus is as both promoter and athlete. Shaw won the show last year, and didn't take a dime from the prize purse. This year, his goals remain the same: He wants to win, and he wants to create the best possible (and most financially lucrative) experience for his fellow strongmen.
If you find yourself still unsure of just exactly how much Brian Shaw has accomplished in strongman (and out), here's his quick Curriculum vitae: He's competed in 14 WSMs, has podiumed in 10 of them, and won the title four times over. He's also a seven-time Arnold Strongman Classic podium finisher and three-time ASC winner. Shaw has 1.64 million subscribers on YouTube, 1.4 million on Instagram, and he currently runs four businesses. He's also a husband and father to two boys. Add the Shaw Classic into the mix, and the guy has a pretty full plate.
Still, at almost 40 years old, Shaw trains and lives to win — not just for himself, but for the people around him.
Shaw sat down for an exclusive interview with BarBend to talk about contests, business, and his future as an athlete in strongman.
Our Interview with Brian Shaw
Editor's Note: The following interview has been lightly edited for readability.
BarBend: You dropped a video on YouTube sharing your thoughts about the 2021 WSM. Has anything come to mind since that video that you hadn't shared yet?
Brian Shaw: No, not really. It was a good contest, it was a good battle, and I think everyone came in ready. There was a lot of excitement around the event as well. As I said in the video, I felt I left points out there, and at the top level, you can't do that if you're expecting to win. At the end of the day, only I look in the mirror and analyze my performance in that way. It's tough to come up just short of winning, but it's the nature of competition. As I also said in the video, I congratulate Tom [Stoltman].
BarBend: Looking back at your first WSM appearance in 2008, would you have thought that you would still be competing and making the podium 13 years later?
BS: I always went into strongman wanting to play the long game. I know some guys say they want to come in, win once, and then they're done or do this and then walk away. As for me, I got into strongman for fun, and because I love competing, I love training, and that's the heart of it.
Going back to 2008, I don't know what I would've thought. I always wanted to be around the sport, and I love competing. I've been smart with my training and taking care of my body and recovery. That's certainly helped me compete at a very high level for a long time.
BarBend: As an athlete, how has the sport of strongman changed in 2008 versus 2021?
BS: The events get more challenging, the athletes get a little bit better. With strongman, it was getting to that point where athletes could train with the equipment and set up to train correctly for these contests.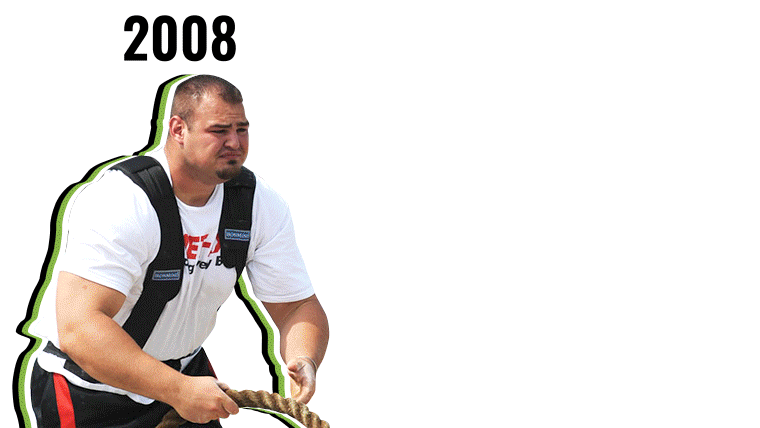 [Related: Everything you Need to Know to Build Your First Workout Program]
There are more gyms with strongman equipment, and there are people with a lot more access than what I had when I started. I had a really hard time finding equipment here in Colorado. I had to drive very far to get it, or I had to make it myself. So easier access, but everything becomes more competitive. The bar keeps getting raised, and you have to keep stepping up to that bar to compete. That's the nature of it, and it's been fun to watch it grow.
BarBend: You're entering your second year as a promoter. What was the inspiration for the Shaw Classic?
BS: The initial concept for the Shaw Classic came from a conversation I had with a lot of my fellow competitors in 2020. A lot of the contests went away, and there's a lot of these guys that depend on those contests, prize money, and sponsorships. A lot of them lost sponsors because they weren't able to compete.
There was a lot of negativity, and I thought, 'You know what? I think we can put on a contest.' When I told my wife [Keri Shaw], she thought I was crazy. I knew that someday I would want to stay in the sport and promote a contest. I felt it was a necessity. I wanted to do it for the athletes, the fans, and the sport in general. We had to move the equipment from my home gym to make it happen. It was challenging, but we were able to do it, and it was a success.
BarBend: What do you think made the Shaw Classic a hit in its first year?
BS: I have seen enough to know what it takes to determine who the strongest is in my career. The format we're using is different from other contests because we're doing it over two days, so there are more events.
Last year, there were 10 athletes and six events. This year, we have eight events and 16 athletes. With that many events and athletes, weaknesses will be exposed. With this format, the fans are excited, and the athletes are excited, too. The other thing is when people sign up for a membership or choose just to watch the event, supporting the contest like that is also supporting the athletes. The more people that sign up, the more the athletes will benefit. I want to convey that. I tried to clarify that last year, and people were surprised when the prize money went up.
BarBend: What's been the biggest challenge so far as a promoter?
BS: With the Shaw Classic, it's me, my wife, and our team is pretty small. That means I am the travel agent and the equipment manager. My wife deals with so many logistics on the back end. I think we both knew it would be a lot of hard work and stress, but it's a whole new level.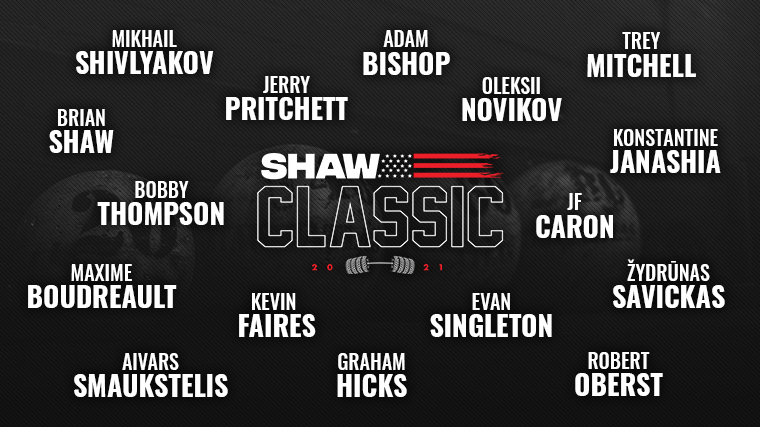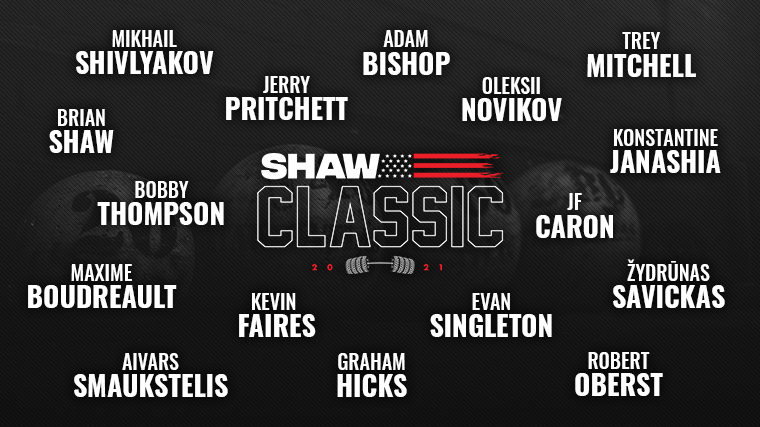 [Related: The Best Whey Protein Powders for Vegans, Weight Loss, and More]
We could approach it in two ways. Either that's good enough, or we could make everything the best it possibly could be. Several of the competitors said it was the best contest they ever did, and these are guys that competed for a long time. That was awesome to hear.
BarBend: Training for this event must be different than other contests because you're the equipment manager of the events for the Shaw Classic. How difficult is it to take off the promoter hat and be Brian, the athlete?
BS: It's extremely difficult. Last year, I moved my equipment out of my gym a day or two before the contest was set up. I was staying up late, stressing about how it would work. Last year, I didn't know how I was going to compete. I think that I was just so happy it was here and the guys were here, that I just performed.
People think that because it's my equipment and my contest, it gives me an advantage. If anything, it's probably a disadvantage for me because I have to do the extra work to set up and stress about making it work. That said, I love to compete, and being able to compete with the best in the world means a lot to me.
BarBend: How would you describe the Shaw Classic to someone who has never heard of it before?
BS: This is a contest by the athletes and for the athletes.
BarBend: With the Shaw Classic, Shaw Strength, Evolution Athletics, and your supplement line, Undefined Nutrition, you've parlayed your athletic career into many businesses. Do you see yourself as a mentor to other strongmen trying to replicate your success?
BS: I don't see myself that way because I'm so driven to do my own best in every aspect of my life. I have had numerous conversations with athletes, and hopefully, I've been able to give advice that helped them out. I started at the bottom and built myself up. I tried a lot of things that didn't work and things that have. I've learned a lot over my years in and around the sport. So if I'm able to help out any of them and give them direction, I'm always willing to do that. The guys will tell you that same thing.
BarBend: Do you have any business ventures in the works that you haven't shared yet, or should we keep our eyes open?
BS: I am always working. Right now, the brands you mentioned earlier are the main focus. We're trying to grow Evolution Athletics, Undefined Nutrition, and Shaw Strength — the brand that started it all.
[Related: The Best Pre-Workout Supplements for Strength, Cardio, Pump, and More]
The Shaw Classic is starting to become its own animal now. I can see that it's going to take a year's worth of planning in the future. Everything makes every day more interesting and more challenging. The other two (Evolution Athletics and Undefined Nutrition) launched during COVID when everything was shutting down. We jumped in headfirst, and those are still very new. So if I keep working hard and stick with it, anything is possible.
BarBend: Fans have speculated for years that you will retire soon. Do you know when the end of your competitive career will be?
BS: I'll be honest. There is no plan in place. I enjoyed my prep for WSM this year — I changed things up, did things in a little different way, and I feel like it was within my control to win it. It would be different if I struggled to make the final, and I was having a hard time being competitive.
This was my 14th straight World's Strongest Man and 13th straight final. Both of those numbers are records. In 2020 I was in fifth place, and people were like, "You're done." I guess folks hold me to that standard, which is fine, and I want to hold myself to that standard.
I have a lot of time to be retired, but for now, I'm going to make the most out of every contest I do and bring the best package that I can. We'll see what the future holds, but I'm not done.
Tickets and information about how to watch the 2021 Shaw Classic are available on the contest's website.
Featured Image Courtesy of World's Strongest Man