Caine Wilkes will be competing in arguably one of the most hotly contested weight classes — +109 kilograms — at the rescheduled 2020 Tokyo Olympic Games. The Matthews, NC native is making his Olympic debut as a member of one of the most competitive weightlifting teams the United States has sent to the Games in decades. While Georgian powerhouse Lasha Talakhadze is a force to be reckoned with, it should be a tight race to the podium among the other super heavyweights.
It may be his first Olympics, but Wilkes has quite the resume. He's competed in six Pan American Championships and three World Championships. At 34-years old, Wilkes is the oldest member of a team whose medium age is 26 and has just one Olympic Games veteran on the roster (Sarah Robles). The Men's +109-kilogram Group B session, which Wilkes is in, will take place on August 4, 2021, at 12:50 a.m. EST.
[Related: What You Need to Know About How to Increase Strength]
Weightlifting Career
Wilkes has been in the game for a while and has the stat sheet to back it up. He's competed in five World Championships (2013-2015, 2018-2019) and six Pan American Championships. He won gold three times at Pan Ams — in 2014, 2017, and 2019 — and then silver in 2016, 2018, and 2020.
Wilkes has also won five National Championships (2013-2017) at +105 kilograms and was the eighth American to snatch over 400 pounds in the competition since Casey Burgener in 2008 and the eighth American to total over 400 kilograms or more in competition. Wilkes also won 2021 USAW Nationals at +109 kilograms.
At the 2020 Pan American Championships (which took place in 2021), Wilkes placed second behind Fernando Reis of Brazil. Here are his stats from that event:
Snatch — 176 kilograms (388 pounds)
Clean & Jerk — 212 kilograms (467.4 pounds)
Total — 388 kilograms (855.4 pounds)
Wilkes' best showing at the World Weightlifting Championships was in 2018. He placed 11th overall. Here are his stats from that event:
Snatch — 180 kilograms (396.8 pounds)
Clean & Jerk — 220 kilograms (485 pounds)
Total — 400 kilograms (881.8 pounds)
For reference, Talakhadze won the event with a 217/257/474 (snatch, clean & jerk, and total in kilograms) performance. Gor Minasyan of Armenia ranked second with 205/245/450, and Reis placed third with 201/235/436. Wilkes best lifts are a 230-kilogram (507-pound) clean & jerk and a 186-kilogram (410-pound) snatch, hit at 2015 USAW Nationals.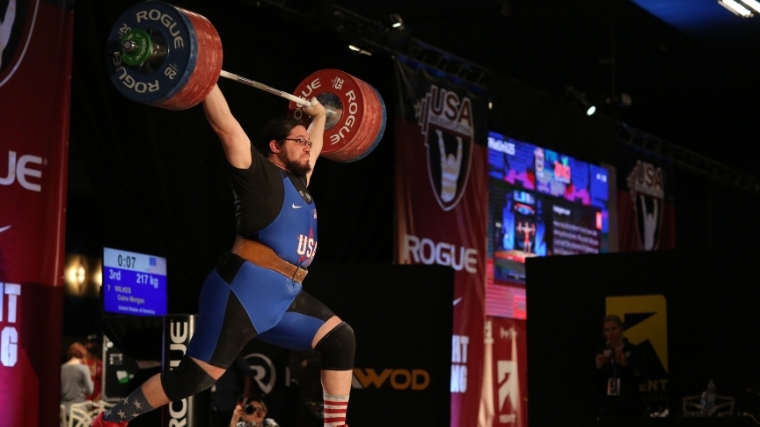 [Related: How to Watch Weightlifting at the Toyko 2020 Olympics — Live Streaming, Broadcasts, and More]
At the 2014 Pan American Championships, Wilkes posted a 221-kilogram clean & jerk, which was in the +105-kilogram category before the IWF reorganized the bodyweight categories in 2018. While competing in Guatemala at the 2019 Pan American Championships, he posted a 182-kilogram snatch, 219-kilogram clean & jerk, and a 401-kilogram total. He's also snatched 186 kilograms. Within the weightlifting community, Wilkes is known for his sense of humor and he's also a talented artist.
Competition in Tokyo
Here are all of the athletes competing at +109 kilograms at the 2020 Tokyo Olympic Games:
+109-Kilogram Roster
Walid Bidani — Algeria
Sargis Martirosjan — Austria
Jiri Orsag — Czech Republic
Marcos Ruiz I Velasco — Spain
Lasha Talakhadze — Georgia
Peter Nagy — Hungary
Ali Davoudi — Iran
Enzi Kofi Kuworge — Netherlands
David Andrew Liti — New Zealand
Man Asaad — Syria
Hojamuhammet Toychyyev — Turkmenistan
Yun-Ting Hsieh — Chinese Taipei
Caine Morgan Wilkes — USA
Lasha Talakhadze is returning champion. He won the +105-kilogram class at the 2016 Rio Olympic Games. Notably, Fernando Reis was suspended from the 2020 Tokyo Olympic Games with a doping charge.
Orsag, Nagy, Asaad, Toychyyev, all competed in the 2016 Olympic Games at +105 kilograms and are returning to Tokyo.
+109-Kilogram IWF Rankings
Lasha Talakhadze — IWF Ranked #1
Ali Davoudi — IWF Ranked #4
Walid Bidani — IWF Ranked #9
Enzi Kofi Kuworge — IWF Ranked #12
Peter Nagy — IWF Ranked #14 (tied with Hojamuhammet Toychyyev)
Jiri Orsag — IWF Ranked #17
Caine Wilkes — IWF Ranked #22
+109-Kilogram World Records
Talakhadze currently holds all of the world records at +109 kilograms. Also, he's managed to snatch 225 kilograms and clean & jerk 270 kilograms — which is the most anyone has ever put up for either lift. (Though those two lifts were done in training, so they don't count as official records.) Here are the current world records:
Snatch — 222 kilograms (289 pounds)
Clean & Jerk — 264 kilograms (582 pounds)
Total — 485 kilograms (1,069 pounds)
Onto the Olympic Games
The Men's +109-kilogram weight class will be the last weightlifting category to compete at the 2020 Games. Group A is scheduled for Wednesday, August 4, 2021, at 6:50 a.m. EST. Group B's session begins on August 4 at 12:50 a.am EST.
Though he'll be facing a lifter who many consider to be the greatest of all time, Wilkes and the rest of the super heavys are showing in hopes of putting on a performance of their lifetimes.
Note: BarBend is the Official Media Partner of USA Weightlifting. Unless otherwise specified on certain content, the two organizations maintain editorial independence. They collaborated on this article series.
Featured Image Courtesy of USA Weightlifting