Out of nowhere KFC's marketing has started leaning heavily toward strength sports, and we're pretty happy about it. This week the fried chicken giant released this absurd promo video starring 2018's World's Strongest Man Hafthor Bjornsson as "The Double Colonel," a six-foot-eight, 418-pound southern gentleman who — well, here's how he explains it.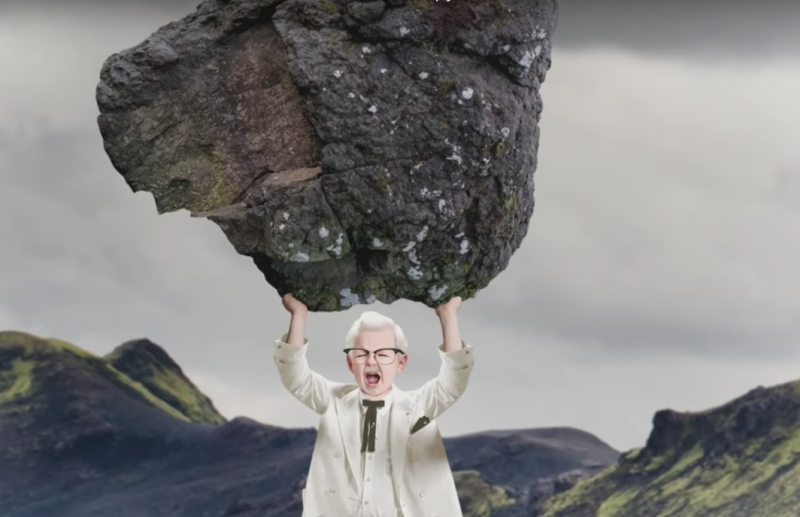 Image via KFC on YouTube.
Years ago, I left my home in Kentucky to become a strong man. I traveled to the frozen mountains of Iceland. To train, to become more. Twice more. I became the Double Colonel.
Here's a prequel to the video, wherein Thor Bjornsson introduces himself as the World's Strongest Colonel with a thickly accented "Howdy folks!"
[See Bjornsson in his element in the 5 best moments from this year's World's Strongest Man!]
Onto the actual video.
The scene is the inaugural KFC Double Crispy Challenge wherein the Double Colonel is tasked with pulling a "700-ish pound" crate of burgers for 50 meters. Did that crate actually weigh 700 pounds when Bjornsson was filming? Who knows, but with this year's fourth-place finisher Martins Licis cheering him on, how could he not succeed?
This video is weird. Enjoy!
[Bjornsson and Licis trained together in LA this summer, watch them motivate each other for real here!]
If that weren't enough, KFC's current campaign features a variety of other sports performed with fried chicken paraphernalia. They've got boxing, hurdles, skateboarding — and Olympic weightlifting, though they've labeled the video "powerlifting."
Starring little-known CrossFit athlete Nicole Rinaldi, the athlete hits a clean & jerk of about 1.6x bodyweight with a KFC bucket on her head. Then fails to drop the weight because she can't see the judge's cue. The moment stretches. The judges play with dice to pass the time. Again, KFC's marketing is weird these days.
We know Mountains of fried chicken aren't exactly the best nutrition for strength athletes but these videos got a lot of laughs at BarBend HQ. If only they hadn't called weightlifting "powerlifting"…
Featured image via KFC on YouTube.