Whatever gym you enter, you're likely to encounter at least a couple of treadmills. There's a reason why the treadmill is such a dominant piece of cardiovascular training equipment. Athletes who are able to walk are generally able to use a treadmill — especially since there are handles to hold onto, a wide variety of athletes can just press go and work.
You can use a treadmill to accommodate pretty much every level of fitness. If you have access to a commercial-grade treadmill, you can gradually escalate your rate of motion from a barely perceptible crawl to an all-out sprint as your conditioning continues to improve.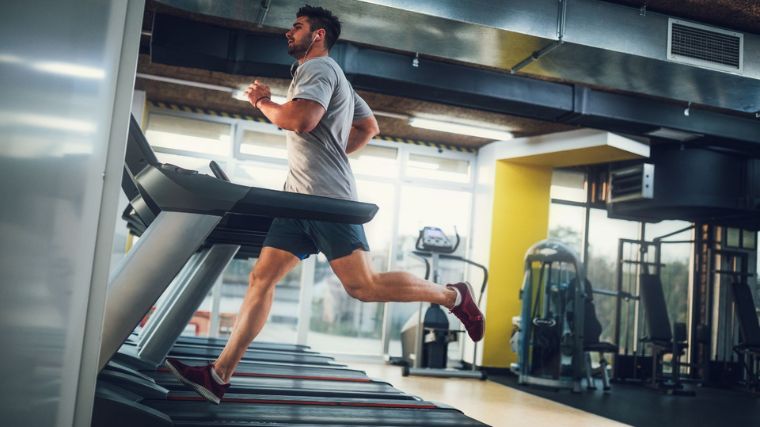 In that spirit, here are three of the best treadmill workouts for athletes who find themselves in different stages of cardiovascular progression.
Best Treadmill Workouts
The Best Treadmill Workout for Beginners
First things first — you might be a beginner on the treadmill but a fairly advanced lifter. Or, you might be new to fitness altogether. Regardless, the assumption here is that trainees possess the ability to walk safely and comfortably, but might not be able to run for extended periods.
In this instance, you'll take advantage of a treadmill's ability to quickly fluctuate between walking and jogging speeds. The machine can also vary its incline, so you'll put that to use, too.
[Read More: The Beginner's Guide to the Gym]
As you dive in, remember that different people have different definitions of lively walking versus jogging and jogging versus running. Some of this depends on your limb length and your cardiovascular fitness level.
For many people, the shift from walking to jogging occurs somewhere between 2.5 and 3.5 miles per hour. The transition from jogging to running takes place between 5.0 and 6.0 miles per hour. Employ your own assessment of your comfort — when does the effort feel relatively easy versus medium versus hard — in making this determination during your workouts.
The Beginner Workout
If you have some experience with general strength training, try to engage in this cardio session four to five times per week. On the other hand, if you're starting completely from scratch, feel free to ease into it with two or three sessions per week.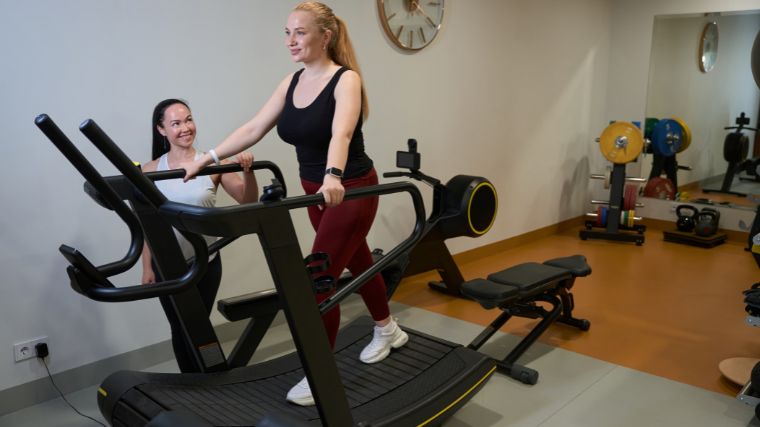 Many people may be able to perform this workout following resistance training, and potentially without any significant rest between the two training sessions.
Warm-Up: Four minutes, walking comfortably, 0% incline.
Fast-Paced Walking: Four to five minutes, 1% incline
Jogging: Two to four minutes, 1% incline*
Walking: Two minutes, 2% incline
Moderate Running: One to three minutes, 2% incline**
Slow Jogging: Two to four minutes, 2% incline.
Cool-Down: Four minutes, walking comfortably, 0% incline.
* Jogging is different from fast-paced walking because jogging will produce a more dramatic knee-bend (as opposed to the straighter-knee approach of fast walking).
** Moderate running takes jogging up a notch by moving a little faster and starting to limit the amount of time your feet stay on the ground with each step.
Coach's Tip: Attempt to breathe steadily. Try to inhale for two steps and out for one, breathing through your nose. If you're starting to gasp for breath, scale it back or pause entirely. Your fitness will gradually increase.
The Best Treadmill Workout for Intermediates
In this context, intermediate runners can continuously jog comfortably for a half hour. At this stage, your foremost objective should be to vary your workout's difficulty by testing the boundaries of your physical comfort.
To up the ante, you're going to be adjusting both the speed and the elevation of your runs. This way, if you ever transition to an outdoor setting, you'll be physically and psychologically prepared to adapt to inconsistencies in the terrain without sacrificing too much of your speed in the process.
The Workout
This training routine is best performed three days a week on your non-lifting days. If you are doing them on lifting days, opt for afterward if your main goal is strength — that way, the majority of your energy can go to increasing strength.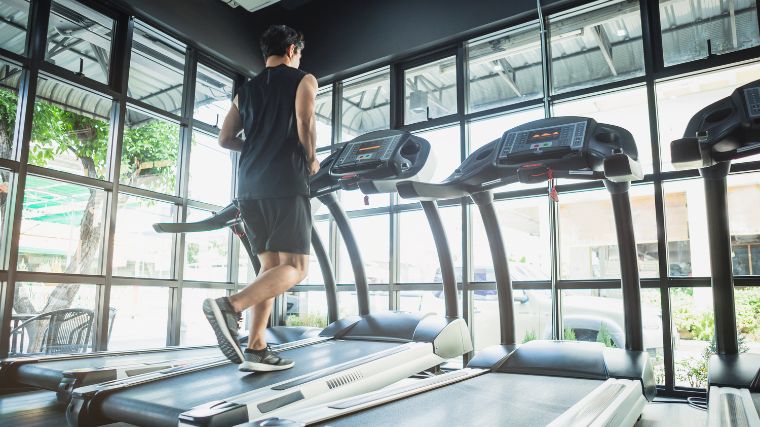 [Read More: The 15 Best Home Gyms (Spring 2023 Update)]
Varying your inclines will help improve your cardiovascular fitness and apply the principles of progressive overload to your cardio training. But it has another benefit, too: Research suggests that inclines between zero and two percent can replicate most of the rigors of outdoor training on a flat surface. (1)(2)
Warm-Up: Four minutes, fast-paced walking, 5 to 10% incline
Jogging: Four to five minutes, 0% incline
Running: Four to five minutes, 0% to 1% incline
Jogging: Four to five minutes, 2% incline
Fast-Paced Running: Two to three minutes, 2% incline.
Cool-own: Two minutes, slow jogging + three minutes, comfortable walking
Coach's Tip: If need be, reduce the intensity of the most difficult segments, or increase the length of less intense segments. Where possible, try to avoid completely stopping to rest.
The Best Treadmill Workout for Advanced Athletes
You might be an extremely advanced athlete on the lifting platform. But that doesn't always translate into having a lot of experience with running. If you can run at least 45 minutes consecutively — and feel comfortable with faster bouts of running — you might consider yourself advanced in the running sphere.
As an advanced runner, you'll still want to have workouts where you're incorporating multiple speeds and inclines. This will help keep your technique sharp, your endurance up, and your speed ever-improving.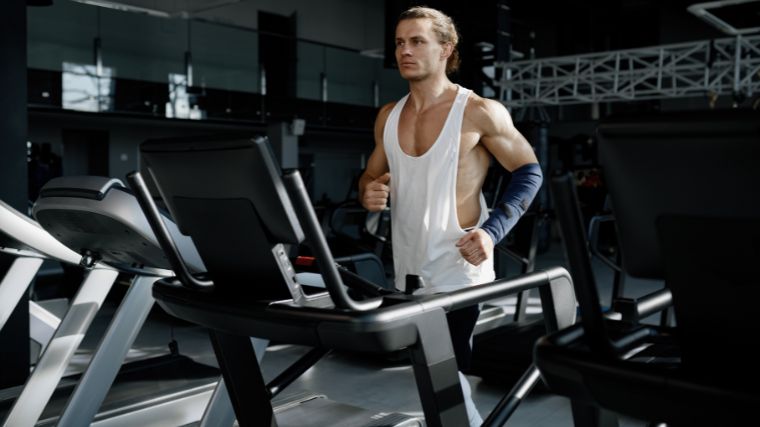 By varying your speeds and taking advantage of the treadmill's precision and incline functions, you'll be prepared to strategically conserve energy before striking quickly through explosive bursts of energy.
The Workout
Don't be fooled by the presence of more walking periods in the advanced workout than in the intermediate workout; the intensity of the running will more than make up for it. The walking periods are essential active rest intended to give you just enough time to recover before your next round of high-intensity running.
Warm-Up: Four minutes, moderate jogging, 0% incline
Fast-Paced Jogging: Four to five minutes, 1% to 2% incline
Moderate Running: Three to four minutes, 1% to 2% incline
Fast-Paced Walking: One minute, 2% incline
Fast Running: Two minutes
Jogging: One minute
Fast Running: Two minutes
Fast-Paced Walking: One minute
Fast Running: Two minutes
Slow Walking: One minute
Jogging: One minute
Fast Running: Two minutes
Cool Down: Five minutes, slow jogging to comfortable walking
Coach's Tip: While you should certainly be moving fast during the appointed moments, you'll want to differentiate between jogging and running. Ideally, your runs should feel like you're dishing out somewhere between 60 to 70 percent of your maximum effort.
Your runs should be fast enough to challenge you while still permitting you to continue their duration for the prescribed amount of time.
Benefits of Treadmill Workouts
Even the best budget treadmill can transform any space into a smoothly paved road. Yes, you'll need to head outdoors eventually if you want to put your conditioning to use in a natural environment. But that doesn't mean your treadmill won't be a respectable training epicenter for developing new abilities.
Training Convenience
If you have a flat, indoor surface of sufficient length and width, then you can shove a treadmill into that space. Outdoor running leaves you at the mercy of environmental hazards, road closings, or time-limited access to local running tracks.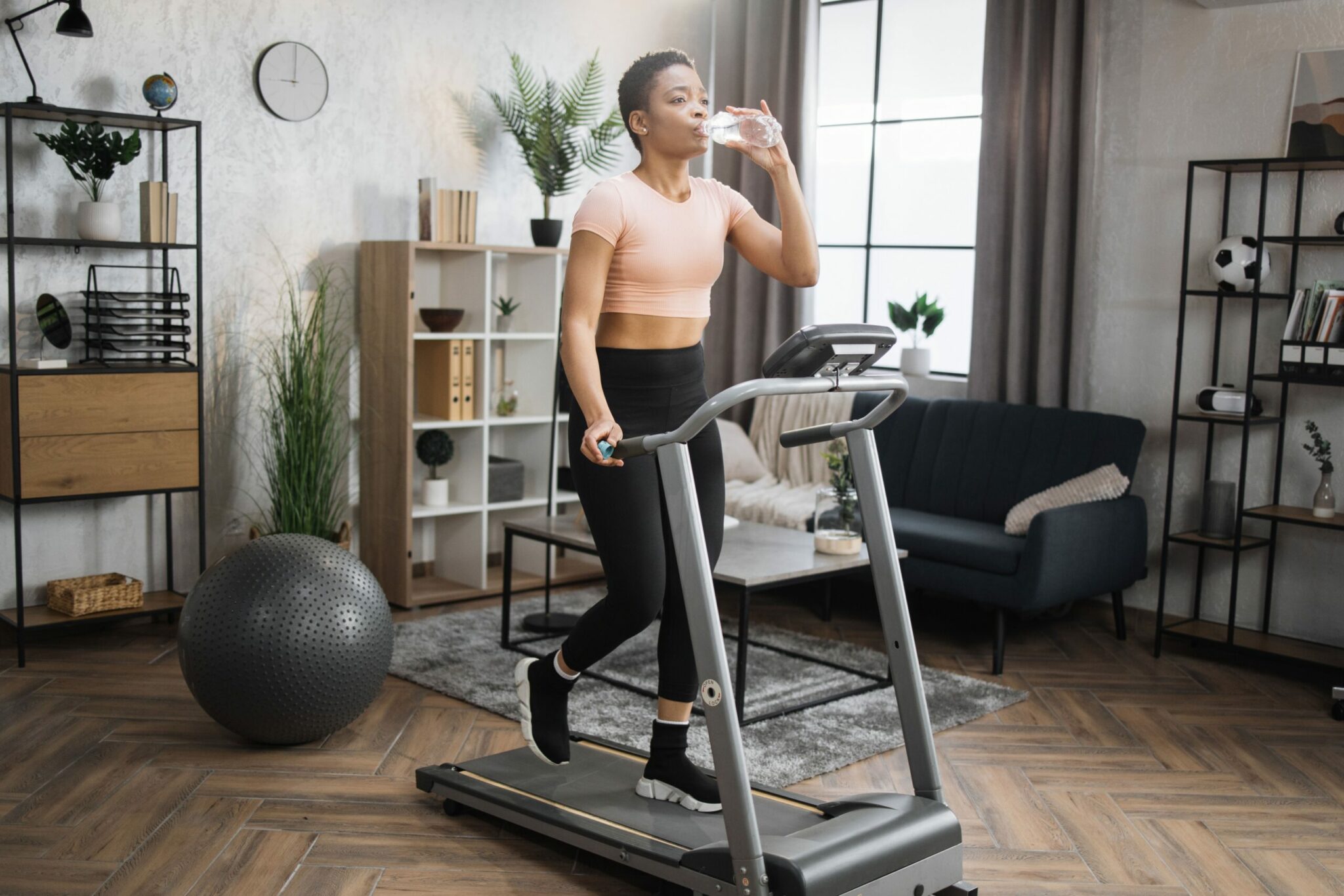 [Read More: 5 At-Home Workouts for Strength, Muscle Growth, Power, and More]
Meanwhile, possessing your own treadmill or having one at your local gym provides you with weather-proofed access to walking and running workouts.
Environmental Stability
A treadmill empowers you to create what amounts to an infinite walking or running path at a stable speed and consistent elevation level. You can force your legs to maintain a predetermined pace and elevation.
This way, you can customize your workout with a precise length and elevation that you would never have access to in a natural setting. A treadmill helps you tackle unnaturally arduous road conditions from the safety of your gym.
Heart Conditioning
Even if you're a weightlifter whose longest athletic exertion consists of a set of five heavy bench presses, you still need to have a well-conditioned heart. Without improving your heart's capacity for sudden surges in the demand for blood flow, you may find yourself feeling drained from one lift to the next because each rep has left your heart beating wildly.
Preparing your heart to recover from such bursts of energy will help you catch your breath, sustain your physical preparedness, and keep you fresh between lifts.
Who Should Perform Treadmill Workouts
The treadmill can cater to the needs of many an athlete — from the enthusiastic weekend warrior to the skeptical powerlifter.
Fitness Newcomers
Whether you've never really gotten into the whole gym thing or you're returning to strength training after a break, the treadmill can be your best friend. Start at a slow speed and low incline and upgrade your training intensity as you get stronger and more cardiovascularly fit.
Time-Starved Exercisers
If you're short on time, adding a long workout to your daily routine just may not be possible. When you have your own regular or folding treadmill, its easy-on-easy-off nature will allow you to fill what would otherwise have been 30 total minutes of travel time with valuable cardiovascular training.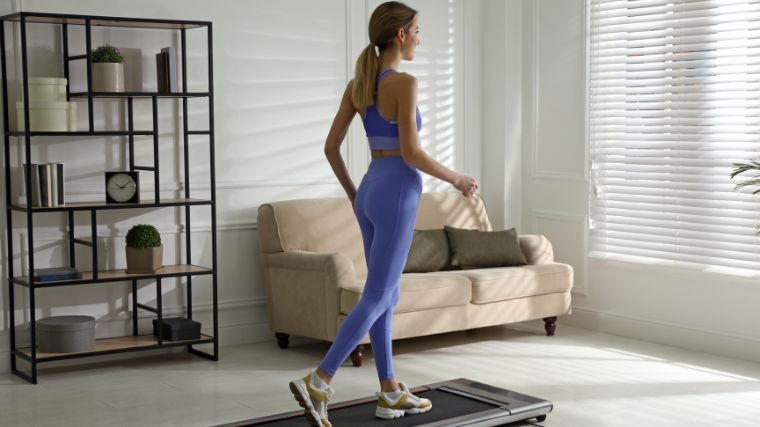 Even if you only have a treadmill at the gym, you can hop on, work out, and then hop off without messing with other equipment or complicated training regimens.
Strength Athletes
No matter what sport you prefer — whether it's soccer, boxing, powerlifting, or bodybuilding — you can benefit from training on a treadmill. In most cases, a treadmill for running can be used to elevate your cardiovascular endurance. You'll also increase your legs' stamina, which is critical in any sport that requires lower body endurance.
From powerlifting to weightlifting, improving your cardiovascular fitness can help you recover between sets. This can boost your work capacity, allowing you to train harder, and longer.
How to Progress Treadmill Workouts
In the squat rack, you know how to slide more weight plates onto the barbell. You know how to vary your time under tension, training volume, and range of motion. All of these are tried and true methods of progressive overload with free weights. But how do you progress with treadmill training?
Vary Your Speed
Running faster is one obvious way to increase your speed on the treadmill. But it's not a constant race to get faster and faster.
Yes, you do want to gradually increase the speed at which you can run. Still, not every run will be simply faster than the next. Just like you don't just add more and more weight each week until you collapse under the barbell, you'll need to vary it up.
[Read More: The Complete Guide to Pre-Workout Supplements]
Use speed intervals — like the ones outlined here — to help you gain more endurance at different speeds. On some days, you'll want workouts that are shorter overall but have you running much faster. On other days, your workouts will have you jogging slowly and consistently over long periods. Keep it varied overall, and you'll get faster.
Manipulate Your Speed Interval Length
An alternative to boosting your peak speed is to also increase the duration of time for which you're required to sustain that speed. Reducing your recovery time and lengthening the most labor-intensive portion of your training session will upgrade the challenge level of your workout, even if none of its other variables are altered.
Do this gradually. If at first, you were sticking to the shorter range of fast intervals, gradually add 20 or 30 seconds to these intervals until they get longer and longer.
Increase the Incline
There's a reason that a challenging set of circumstances in practically any life scenario is frequently referred to as "an uphill climb." Boosting the treadmill incline instantly increases the difficulty of your workout without requiring your feet to move faster.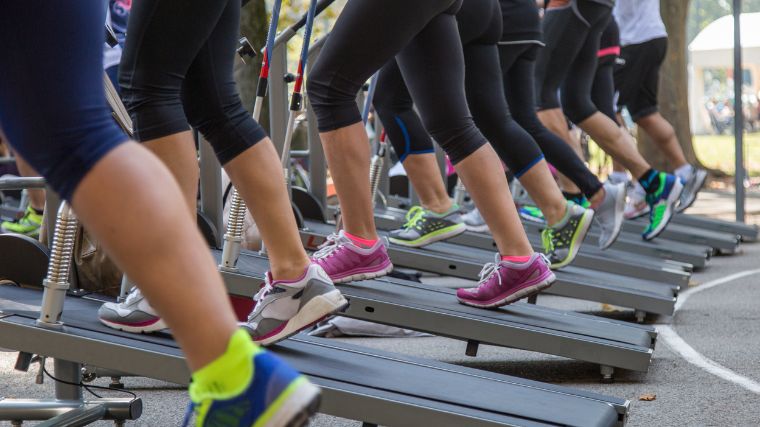 Be sure to keep your workouts varied. Play with the incline throughout your workouts and across different workouts, gradually building up your tolerance to higher inclines.
No Need to Tread Lightly
No matter your present level of fitness, the treadmill can help you flesh out your cardiovascular gains. The best treadmill workouts are customizable to athletes across a range of experience levels, so you won't have to worry about being an expert before you even begin.
If you gravitate toward treadmill training, you will find yourself chaining together several steps. However, the most critical step you take is going to be the first one. That's the step that sets you along the path toward a comprehensive cardiovascular upgrade. And because the treadmill is so easily accessible, you don't even need to step lively; you simply need to step up.
References
Jones AM, Doust JH. A 1% treadmill grade most accurately reflects the energetic cost of outdoor running. J Sports Sci. 1996 Aug;14(4):321-7.
Miller JR, Van Hooren B, Bishop C, Buckley JD, Willy RW, Fuller JT. A Systematic Review and Meta-Analysis of Crossover Studies Comparing Physiological, Perceptual and Performance Measures Between Treadmill and Overground Running. Sports Med. 2019 May;49(5):763-782.
Featured Image: bbernard / Shutterstock