Some Olympic lifters avoid squatting heavy. Then there's Team USA weightlifter Kate Nye, who on Apr. 22, 2022 posted a new personal best result in the back squat to social media — 186 kilograms, or 410.06 pounds at a body weight of roughly 72 kilograms (158.7 pounds).
In the summer of 2021, Nye reached a career high when she won a silver medal for the United States during the 2020 Summer Olympics in Tokyo, Japan as a 76-kilogram athlete. With the International Olympic Committee (IOC) having confirmed both the qualification system and their Olympic weight classes for the 2024 Games, Nye is clearly making early strides towards ensuring another stellar performance in Paris.
You can check out Nye's monstrous lift below, as well as some extra context on how she pulled it off and a bit of backstory about her career as a whole:
View this post on Instagram
[Related: The Greatest Weightlifting Battles of All Time]
Nye confirmed to BarBend over social media that her seemingly impromptu squat was done on a women's weightlifting bar, which is both thinner and lighter than a standard barbell. This helps to explain what looks at first like a visual disparity — on a full-size barbell, her bumper plates would total up to 191 kilograms.
Women's weightlifting barbells are also more flexible and prone to whip, which partly explains why her bar bends and bobs as she returns it to the squat rack in her home gym.
How She Did It
As a competitive Olympic lifter, Nye isn't primarily concerned with building massive amounts of leg strength or enormous quads for their own sake. Her two competition movements are the snatch and clean & jerk. However, weightlifters commonly rely on the back squat as a fundamental part of their accessory training.
Nye hit her personal record squat with the assistance of a lifting belt, a pair of knee wraps, and, perhaps most importantly, while wearing weightlifting shoes.
The heeled shoe allows Nye to utilize more of her ankle flexibility, engage her quadriceps to a higher degree, and retain a more upright posture — all of which are qualities that any weightlifter relies on heavily for their sport.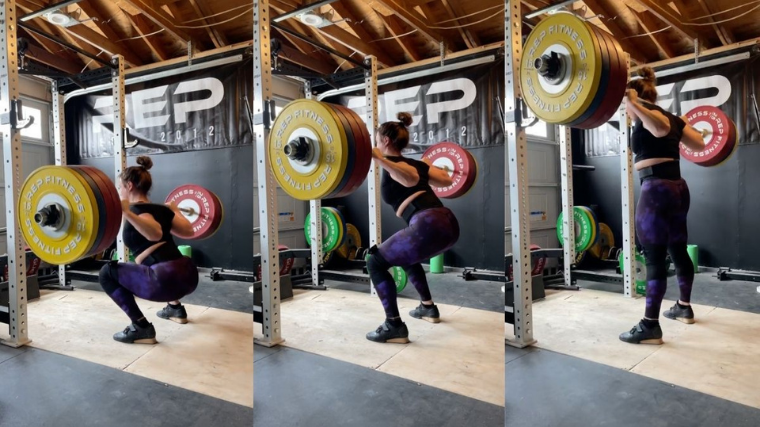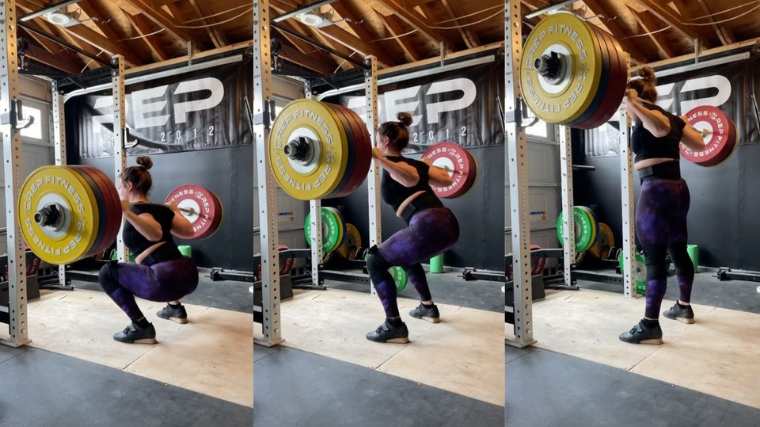 Interestingly, Nye's 186-kilogram lift also ranks pretty highly among powerlifters. According to Open Powerlifting, her lift would be the eighth-heaviest raw back squat by a Junior female in history at or around the 76-kilogram weight class. That Nye doesn't squat low bar — a popular squat variation among powerlifters that typically allows an athlete to lift more weight due to a reduced range of motion — or compete in powerlifting speaks to her impressive leg strength.
Kate Nye's Weightlifting Career
Lifts like this 400-pound-plus squat help cement Nye's case as one of the United States' most successful weightlifters in history. Since her competitive debut in 2016, the Michigan native has sucked up a slew of accolades across the sport's Youth, Junior, and Senior divisions.
Kate Nye Best Lifts
[Related: Sarah Davies Receives 3-Month Competitive Ban for "Discriminatory Comments"]
Nye has also maintained strong performances at nearly every international competition she's attended. According to the International Weightlifting Federation's (IWF) athlete directory, Nye has finished in podium position at nine out of 10 IWF events since 2018.
Kate Nye International Medals
Gold: 5
Silver: 3
Bronze: 1
Note: These medal counts refer to medals awarded in the Total, which is the sum of the athlete's best snatch and their best clean & jerk.
Onward to Paris
The IOC's decision to reshuffle its competitive categories yet again in an attempt to curb drug-related offenses has forced Nye to move to a new weight class. Though she competed at 76 kilograms in Tokyo, that division isn't on the Olympic program for Paris.
Nye has stated on social media that she'll make her way back down to 71 kilograms, a division she was previously comfortable competing in prior to the 2020 Games.
She is likely to be joined by many of her contemporaries such as 2020 Olympic Champion Neisi Dajomes (76KG), multi-Junior World Champion Sara Ahmed (69KG), Senior World Champion Meredith Alwine (71KG), and others. That said, banging out big squats while dieting down proves that Nye has the right stuff to bag even more medals in the future.
Featured Image: @katherineenye on Instagram