Hunter McIntyre and Kris Rugloski of the United States are your 2022 HYROX World Series of Fitness Racing champions. Both athletes earned their titles at Las Vegas Convention Center in Las Vegas, NV, on Saturday, May 14, 2022. This was the first time HYROX held their biggest race in the United States; the World Championships are typically held in Germany.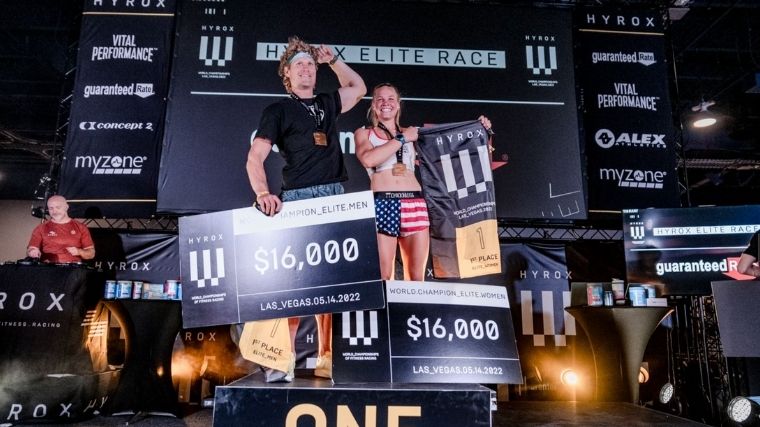 A few important notes: The winner of the Men's division in 2021, Tobias Lautwein, didn't participate. Lauren Weeks, who won the 2020 and 2021 World Championship, finished ninth.
2022 HYROX World Championship Results
Here are the complete results.
Men
Hunter McIntyre

— 58:05

Ryan Kent

— 1:00:26

Alexander Roncevic

— 1:00:38

Tim Wenisch — 1:01:35

Dylan Scott — 1:02:10

Michael Sandbach — 1:03:17

Richard Ryan — 1:04:38

Jeffrey Voisin — 1:05:04

Tom Hogan — 1:05:09

Martin Michelius — 1:06:15

Cole Schwartz — 1:07:09

Holger Korner — 1:07:56

Tomas Tvrdik — 1:09:05
Women
Kris Rugloski

— 1:07:21

Linda Meier

— 1:07:57

Mirjam Von Rohr

— 1:08:23

Alandra Greenlee — 1:08:38

Alyssa Hawley — 1:09:53

Terra Jackson — 1:10:15

Viola Oberlander — 1:10:20

Elisabeth Kholti — 1:10:20

Lauren Weeks — 1:13:02

Camilla Massa — 1:13:18

Rebecca Naether — 1:15:37

Sabrina Rothig — 1:16:37

Beatrice Aldeit — 1:16:47

Dena Hogan — 1:18:25
The men's and women's races were streamed by Obstacle Racing Media and can be seen in the video below.
[Related: What You Need to Know About Conditioning]
About HYROX
For those who aren't familiar, here's quick HYROX primer:
The company was founded in 2017 by Christian Toetzke, a triathlete and runner, and Moritz Furste, a German hockey legend. The two partners wanted to marry endurance and functional fitness into a race.

At the the time this article was published, HYROX hosts events in seven countries, soon to be 11. They offer different racing categories so anyone at any fitness levels can participate, including a Pro level, a Relay, and Doubles.
HRYOX workouts don't change. Each event consists of the same challenge: eight "workouts" with a one-kilometer (sixth-tenths of a mile) run between each. The athlete who finishes all eight workouts and runs in the fastest time wins. For context, McIntyre completed the event in 58 minutes and Rugloski did it in 1:07:21. The workouts are as follows:
Workout One

— 1,000 meters on the

SkiErg

.

Workout Two

— 50-meter

Sled Push

| Women: 275 pounds, Men: 385 pounds

Workout Three

— 50-meter Sled Pull | Women: 165 pounds, Men: 275 pounds

Workout Four

— 80 meters

Burpee

Broad Jumps

Workout Five

— 1,000-meter Row

Workout Six

— 200-meter

Farmer's Carry

| Women: 53 pounds, Men: 70 pounds

Workout Seven

— 100-meter Sandbag

Lunges

| Women: 45 pounds, Men: 66 pounds

Workout Eight

— 100

Wall Balls

| Women: 14 pounds, Men: 20 pounds
Athlete Breakdowns
Here's a recap of the top three men and women.
Hunter McIntyre
McIntyre was the world champion in 2020, but he lost the 2021 title to Tobias Lautwein. He set the tone early in the 2022 contest by running the first kilometer in 2:39.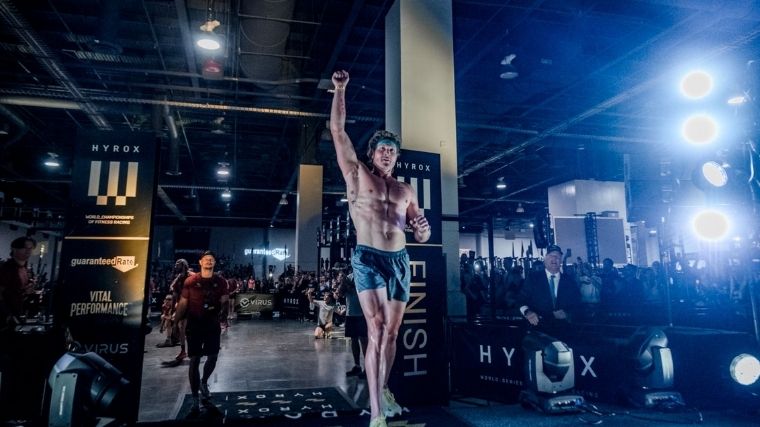 He was the fastest in five of the eight workouts, came second in workouts three and eight, and third in workout four. By the time he crossed the finish line, McIntyre had a two-minute lead.
Ryan Kent
Kent was coming off a win in the North American Championships in January 2022, and was a top favorite to win the world title.
Kent struggled with workout four, finishing the burpee broad jumps in 3:08 for 11th out of 13. McIntyre finished that event in 2:34. Note: According to HYROX, both Kent and McIntyre received a one-minute penalty for a missed length during the burpee broad jumps. He came in fifth in workout five, completing the 1,000-meter row in 4:02.
Alexander Roncevic
Roncevic was the runner-up to Lautwein in 2021. Roncevic stayed with McIntyre on the first run stride for stride, with them both finishing in 2:39. He finished Workout One in 3:45, which was fifth fastest. The only Workout that Roncevic was fastest in was the final workout. He finished workout eight in 3:37. Even though he finished one spot below his placing in 2021, he completed the workout faster in 2022 by 26 seconds.
Kris Rugloski
Rugloski didn't start out the way she wanted to, finishing workout one with the seventh fastest time of 4:25. The hardest workout for her was workout three, which took her 4:43 to complete for 10th place.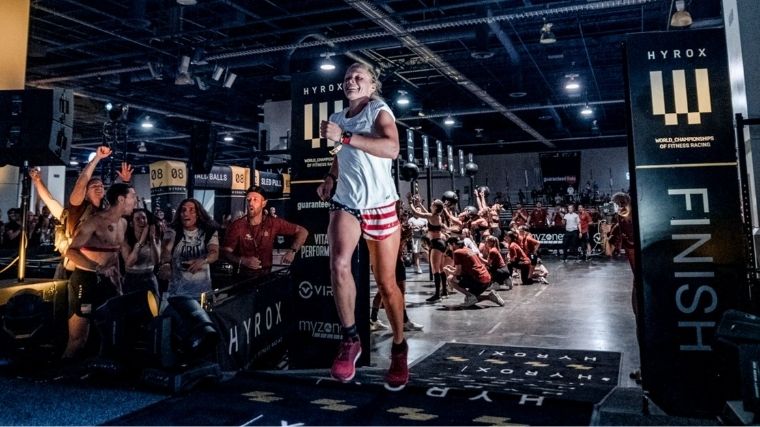 Rugloski made up ground on the runs and with first-place finishes in workouts four and six. Notably, she blitzed through the farmer's carry workout in 1:55. In the end, she managed to complete the race with a 36 second lead.
Linda Meier
Despite her inability to win a workout, Meier's consistency proved a problem for the rest of the field. Her best finish was place second in workout seven (3:24).
The inconsistent placings during the workouts combined with the final run time of 4:56 meant she wouldn't be able to catch the champion. However, this is an improvement of four placings for Meier. She finished in sixth overall at the 2021 world championships with a time of 1:09:55.
Mirjam Von Rohr
Von Rohr had the fastest times in three of the eight workouts, and she was second fastest in three others. However, she was also 11th in workout three and sixth in workout six.
Also, her run times proved to be problematic. She posted just one sub-four minute run and a final run time of five minutes. The extended run times combined with her two slow workouts relegated her to third place. Von Rohr wasn't in the 2021 competition. Finishing in the top three for 2022 makes her a serious contender for the crown in 2023.
What's Next?
HYROX noted in a press release after the world championships concluded that there would be over 40 races taking place for the next season, culminating with the 2023 world championship. The date and location for that competition had yet to be announced officially as of this writing.
Featured Image: HYROX