Day two of competition for the Individuals at the 2023 CrossFit Games in Madison, WI, got underway on Aug. 4, 2023, with their fourth overall event, the "The Alpaca Redux." This is a nod to the 2022 Games event that was altered to inclement weather conditions and won by Roman Khrennikov.
Speaking of, Roman Khrennikov and Alexis Raptis were coming off a stellar first day of competition for the Individuals. They wore the leader's jerseys for the Individual men and Individual women, respectively. Below are the results of the "The Alpaca Redux."
2023 CrossFit Games Event Four — "The Alpaca Redux"
All for time:
126-foot sled push, starting with all six kettlebells — Women: 443 pounds | Men: 546 pounds
Then three rounds of:
Time cap: 18 minutes.
*Remove two kettlebells from the sled after each round. Add them back on the way back.
[Related: 2023 CrossFit Games Results and Leaderboard]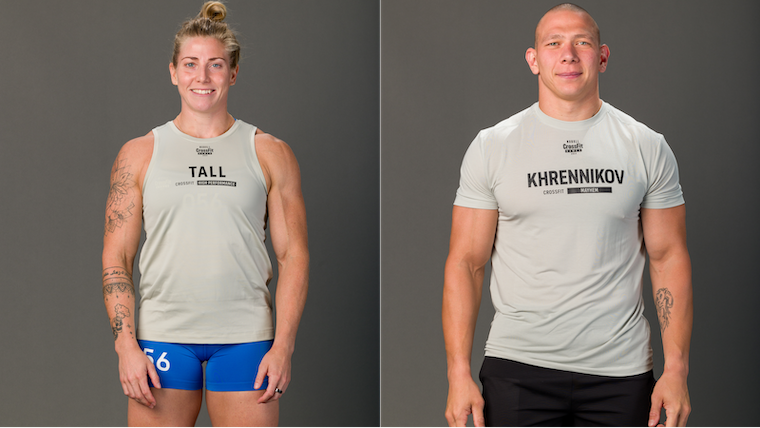 [Related: 2023 CrossFit Games Age Group Division Results — Fittest Teens and Masters Athletes]
Individual Men's Results — "The Alpaca Redux"
Roman Khrennikov — 12:34.59
Jack Farlow — 12:54.31
Brent Fikowski — 13:21.91
Dallin Pepper — 13:57.83
David Shorunke — 14:04.63
Björgvin Karl Gudmundsson — 14:23.84
Justin Medeiros — 14:31.17
Jeffrey Adler — 14:33.78
Chandler Smith — 14:49.37
Ant Haynes — 15:02.37
Colten Mertens — 15:11.23
Jelle Hoste — 15:12.84
Spencer Panchik — 15:38.15
Jonne Koski — 15:55.07
Nick Mathew — 16:06.41
Noah Ohlsen — 16:40.05
Bronislaw Olenkowwicz — 17:12.14
Lazar Đukić — 17:36.78
Jayson Hopper — 17:42.95
Samuel Kwant — 17:56.21
Bayley Martin — 17:59.52
Jay Crouch — CAP + One
Uldis Upenieks — CAP + One
Luke Parker — CAP + One
Samuel Cournoyer — CAP + One
Kalyan Souza — CAP + One
Will Moorad — CAP + Three
Patrick Vellner — CAP + One
Fabien Beneito — CAP + 10
Henrik Haapalainen — CAP + 10
James Sprague — CAP + 14
Moritz Fiebig — CAP + 14
Arthur Semenov — CAP + 14
Jake Douglas — CAP + 14
Alex Vigneault — CAP + 14
Cole Sager — CAP + 14
Kaique Cerveny — CAP + 15
Cole Greashaber — CAP + 15
Michal Wesolowski — CAP + 28
[Related: 2023 CrossFit Games Adaptive Division Results — Who Is the Fittest on Earth?]
Individual Women's Results — "The Alpaca Redux"
Emma Tall — 15:54.01
Laura Horvath — 16:36.18
Alex Gazan — 17:25.97
Emma Lawson — 17:35.41
Alexis Raptis — 17:45.74
Jamie Simmonds — CAP + Three
Rebecka Vitesson — CAP + Three
Abigail Domit — CAP + Four
Annie Thorisdottir — CAP + Nine
Alexia Williams — CAP + Nine
Karin Freyová — CAP + Nine
Bethany Flores — CAP + 12
Arielle Loewen — CAP + 13
Danielle Brandon — CAP + 14
Christine Kolenbrander — CAP + 14
Gabriela Migała — CAP + 14
Paige Semenza — CAP + 14
Victoria Campos — CAP + 14
Paige Powers — CAP + 14
Kelly Baker — CAP + 14
Feeroozeh Saghafi — CAP + 14
Matilde Garnes — CAP + 14
Ellie Turner — CAP + 14
Amanda Barnhart — CAP + 14
Shahad Budebs — CAP + 14
Ella Wunger — CAP + 14
Katrin Davíðsdóttir — CAP + 15
Emily Rolfe — CAP + 15
Baylee Rayl — CAP + 15
Olivia Kerstetter — CAP + 15
Michelle Basnett — CAP + 15
Caroline Stanley — CAP + 15
Seher Kaya — CAP + 15
Emma McQuaid — CAP + 15
Shelby Neal — CAP + 29
Elisa Fuliano — CAP + 29
Manon Angonese — CAP + 29
Emily de Rooy — CAP + 29
Emma Cary — CAP + 30
Sydney Wells — CAP + 44
[Related: 2023 CrossFit Games Withdrawals]
The Alpaca Redux Recap
Twenty men took the field for heat one. Among them was two-time reigning Fittest Man on Earth® Justin Medeiros, coming off a second-place finish in the "Inverted Medley" after scoring his two career-worst finishes in "Ride" and "Pig Chipper."
The sleds got progressively lighter as kettlebells came off at each checkpoint on the field, but some of the bigger athletes struggled to get proper positions at the start, in particular Jayson Hopper. However, others figured out adaptations quickly, as Jake Douglas was out to an early lead with Kalyan Souza once at the rope climbs.
Medeiros was the first to move through the two rope climbs and through to the kettlebell clean & jerks. Kwant joined him, as did Sager, Farlow, Cerveny, and Vigneault. Cerveny took over the lead by the second set of rope climbs but couldn't hold off Medeiros after Cerveny failed his second climb.
Farlow and Medeiros contended for the lead at the end of the second round, with Farlow leveraging his size advantage. Farlow established a full rope climb's worth of a lead over Medeiros by the final round of kettlebell clean & jerks. Farlow held strong and took the heat in sub-13 minutes.
Medeiros needed too much rest on the final sled push. It allowed Shorunke to pass him in the final length.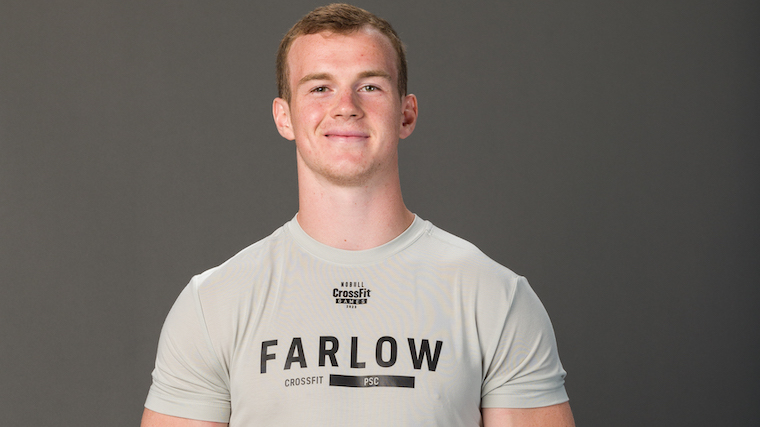 The second heat for the men was led by Khrennikov, Pepper, and Gudmundsson. Sprague wasn't too far behind as the quad ventured to the rope climbs. Khrennikov blazed through his rope climbs to assume the lead alone.
Fikowski showed his prowess in the rope climb to emerge in second place by the first round of kettlebell clean & jerks. Vellner made his presence known on the second sled push but had ground to make up against Khrennikov, who wasted no time climbing the rope in round two.
Just over six minutes at the clean & jerks, and Fikowski and Khrennikov remained in a battle for the lead. They attacked their sleds in a synchronized fashion and entered their final round at a quarter past eight minutes. Khrennikov left Fikowski behind after the final rope climb as Fikowski needed additional rest.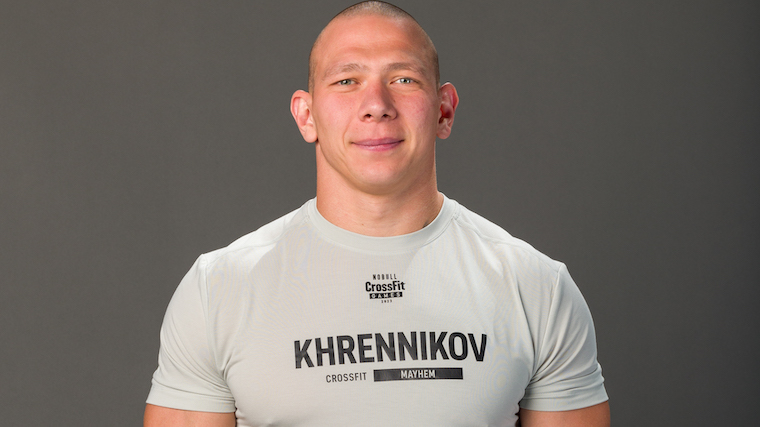 The first 20-woman heat was led by Emma Cary and Ellie Turner through the opening sled push, but the lead dissipated into a large group effort in the first rope climbs.
Cary's rope climbs involved huge leg swings to gain momentum up the rope at a body weight of 140 pounds. It built her a three-rep lead in the first round of clean & jerks. She walked the entire field's length to the ropes in round two alone.
Cary's lead vanished after a brutal no-rep on the rope for failing to control her descent. Semenza, Baker, Williams, Kaya, Turner, and Saghafi all took advantage of Cary's mistake, and Cary was quickly out of contention to win the heat.
Semenza and Williams held a two-rep lead together in the clean & jerks, but the former's higher-volume sets let her take a slight lead on the sled push. The field didn't make it easy for her, as Williams, Freyová, Baker, and Domit joined Semenza for the final rope climbs.
By the 17th minute, Vitesson emerged in the lead alongside Domit. Ultimately, no one in the heat finished all the work within the time cap, but Domit and Vitesson were atop the heat.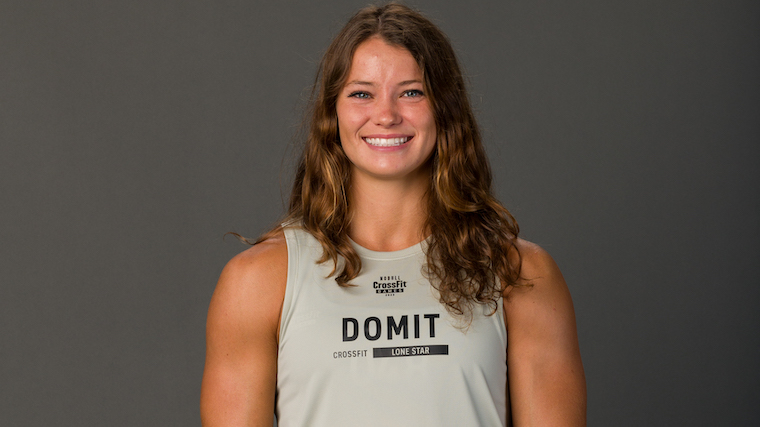 Simmonds was the first woman to unload kettlebells off her sled in heat two. However, unloading the kettlebells in the back instead of the front of her sled meant Simmonds' sled was front-loaded and more difficult to push, allowing Horvath and Thorisdottir to overtake Simmonds.
Thorisdottir, Davíðsdóttir, and Horvath were the first three to the rope climbs. Horvath was the first to finish them.
Gazan and Tall joined Horvath with Thorisdottir right behind them with her routine calm demeanor. Gazan's work rate during the clean & jerks set the pace for the other athletes to take less rest than they might have liked.
Horvath was clearly the fastest on the sled push, as she is often at the front of the field when handling heavy implements. Gazan's pace on the legless rope climbs made up the difference. Gazan finished her second round of rope climbs just past the seven-minute mark.
Gazan established a clear lead, finishing her second round of clean & jerks before returning to the sled. Tall, Horvath, Lawson, and Raptis were the four closest competitors to Gazan.
Gazan reached her final rope climbs by the 11-minute mark. Her speed on the rope was unmatched by anyone else on the field, and it appeared to be Gazan's event to lose. She was at her final clean & jerks at 13 minutes.
Tall's strength was enough to catch up to Gazan on the final sled push. Tall crossed the finish line first as Gazan removed her shoes before a judge told her she had to put them back on.
This was Tall's first career Games event win. Horvath took advantage of Gazan's disruptions and took second in the event.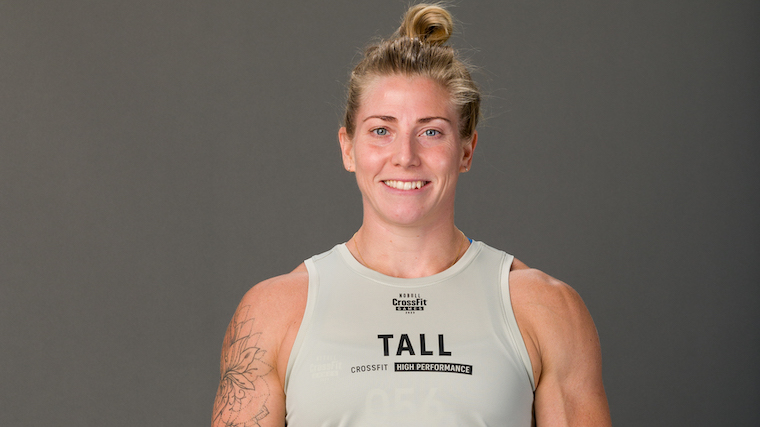 Two More Events On Day Four
The Individuals are scheduled for two more events to complete day four at the 2023 CrossFit Games. The first is "Ski-Bag," which combines the ski erg with sandbag squats. The second event remaining is Helena, a variation of a benchmark workout comprised of running, muscle-ups, and dumbbell snatches.
Featured image courtesy of CrossFit LLC.