A 2023 Women's Physique Olympia qualification is on the line at the 2023 Omaha Pro Women's Physique show in Omaha, NE, on Saturday, June 3, 2023. As of June 1, 2023, nine women have entered this show, with only representing a country other than the USA.
The winner will qualify for the 2023 Olympia in Orlando, FL, on the weekend of Nov. 2-5, 2023. None of the athletes on the 2023 Omaha Pro roster are qualified for the Olympia heading into the contest. The roster is listed below, with names in alphabetical order:
2023 Omaha Pro Roster — Women's Physique
Veronica Laroche Askew (USA)
Kim Drizen (USA)
Ana Harias (USA)
Stacey A. Lewis (USA)
Amy McKown (USA)
Oksana Piari (USA)
Maudienne Profas (Sint Maarten)
Emily Schubert (USA)
Casey Stone (USA)
Autumn Swansen (USA)
[Related: How to Do the 90/90 Stretch to Squat Heavier and Move Better]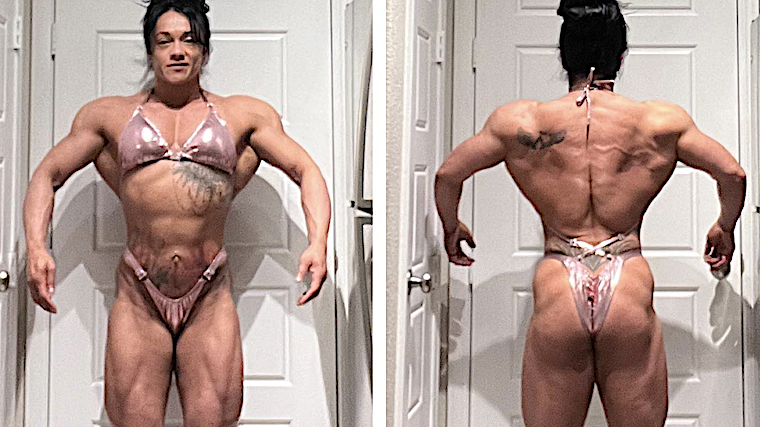 [Related: How to Do the Chest-Supported Row for a Bigger and Stronger Back]
Athletes to Watch
With a roster as wide as this one, any athlete has the potential to the podium. Below are three likely favorites as judges make callouts:
Ana Harias
Harias has competed once in 2023 — third place at the 2023 Optimum Classic Pro contest. She was fifth at the 2021 Olympia in Orlando but didn't compete in the 2022 contest in Las Vegas, NV. The 2020 Arnold Amateur champion needs to win a show this season in order to qualify for the 2023 Olympia.
Kim Drizen
Drizen will make her pro debut in Omaha. She won her pro card at the 2022 NPC USA Championships Class A, thanks to great shape and definition.
However, she might need more muscle to win this show. The time she took between her last amateur win and her first pro show may have been enough for her to add that size.
View this post on Instagram
[Related: How to Do the Plank Jack for Killer Abs and Better Conditioning]
Maudienne Profas
Profas is the only non-American in this lineup. She turned pro at the 2022 NPC Worldwide Caribbean Grand Prix Bermuda contest. Like Drizen, this is her pro debut. She has a well-built back and nicely defined abs.
Profas showed great proportions when she earned her pro card. This would be a great show to make her presence known in the pro ranks.
Other Notes
Going into this contest, there are six qualified athletes for the 2023 Women's Physique Olympia. They are listed below and include defending champion Natalia Abraham Coelho:
Natalia Abraham Coelho (USA)
Sarah Villegas (USA)
Brooke Walker (USA)
Anne-Lorraine Mohn (France)
Pamela Canfield (USA)
Elena Aviles Romero (Spain)
The 2023 Omaha Pro is one of two Women's Physique shows this weekend. The other is at the 2023 Toronto Pro Supershow on Sunday, June 4, 2023, in Toronto, ON, Canada.
Featured image: @profit_ifbbpro on Instagram