The founder of Afrobrutality Sports Syn Martinez and New York Police Department (NYPD) Lieutenant Ronald Perez have partnered together to start a fitness initiative. As the former owner and coach of CrossFit Harlem and founder of NYPD CrossFit, respectively, they aim to utilize fitness as a means to unite the police and the communities they serve. By organizing events in New York City (NYC), they are building a blue print to potentially take the initiative to the national level.
Their first organized event saw officers from every precinct in Harlem, the housing authority, and the Chief of Counterterrorism perform a joint workout with a youth football team known as Harlem Jets (who Martinez previously trained). It took place in Morningside Park in West Harlem, NY on July 14th. They held a second event at 143rd and Lennox in Harlem, NY that featured a full court basketball game between the Harlem Jets and the NYPD and included kids from Brooklyn, Queens, Harlem, and Staten Island.
They have already scheduled their third event to take place on August 6th in Highland Park in East New York, Brooklyn. It will feature CrossFit workouts similar to previous events, as well as volleyball, basketball, handball, push-up challenges, and other activities to engage the police and the community in sport. According to Martinez:
It's time to show some muscle in Brooklyn.
That night, there will be an additional event in the Bronx that will also include rock climbing.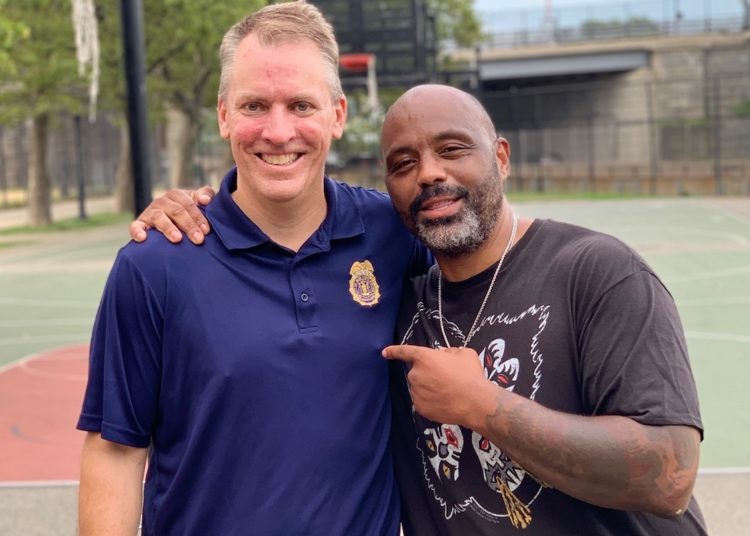 We had the opportunity to hop on a phone call with Martinez, who has been a community organizer working towards unity between the police and communities of color for 11 years. It his words, he is "just a humble dude trying to do [his] part in the neighborhood." He shared how the initiative has progressed thus far.
It's been happening super organic and natural. We're creating something.
This fitness initiative came at a tense time as Black Lives Matter protests have and continue to take place around the world to take a stand against police brutality, with NYC being one of the most prominent locations for marches. Martinez believes that fitness can be an equalizer and that no matter an individual's background or current situation, it can build the connections with others in the community.
"It's too simplistic to look at this as white versus black. I'm coming in when the community needs me, and if the police commissioner believes in me, that's what I see — bringing the world together through fitness. If I can get people at odds into the gym, they'll recognize how much they have in common."
View this post on Instagram
With a continuation of these events, Martinez hopes that it can break down barriers and generate some actionable change that starts from seeing other people for who they are.
We have to keep it going, make it bigger, and bring the community together. If we sit and have conversations with authority figures and show some commonality, you can have a real conversation.
Feature image from Syn Martinez.