Beginning early this summer, numerous weightlifters from the 2008 and 2012 Olympic Games were provisionally suspended following doping retests from those competitions. With numerous waves of sample retests and announcements by both the International Weightlifting Federation (IWF) and International Olympic Committee (IOC), it became difficult to keep track of what exactly was going on, the details on testing protocols, and why the retests were occurring nearly eight years after the 2008 Beijing Games.
This was compounded by the fact that some lifters — like 2-time Olympic gold medalist Ilya Ilyin of Kazakhstan — had retests from both Olympic Games come back positive.
Thus far, nearly 50 positive weightlifting tests (listed below in this article) from those two Olympics have been confirmed. To clear up confusion on the retesting process — and to give the public updates on the status of the suspensions and investigations — IWF has published a helpful guide that details the retesting process from those two iterations of the Games. From the IWF guide:
Due to the outstanding scientific development of analysis technologies since the 2008 and the 2012 Olympic Games, the IOC decided to reanalyze samples from the 2008 Beijing and the 2012 London Olympic Games based on its own selection procedure.

In case of an Adverse Analytical Finding, the IOC notifies the relevant NOC and the IWF. After that, the IOC proceeds with the results management followed by that of the IWF.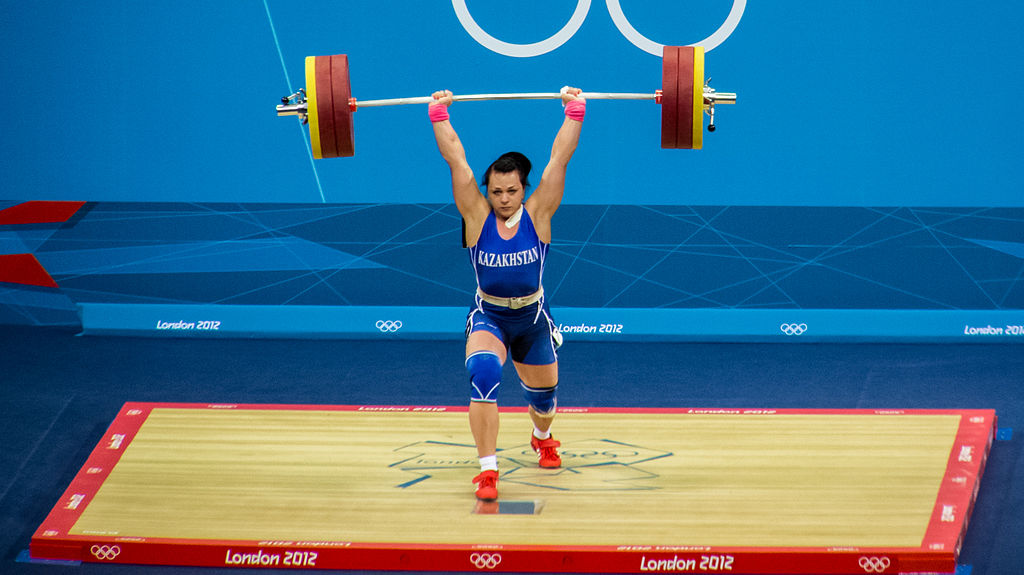 Svetlana Podobedova at the 2012 London Olympics. Image by Simon Q, licensed under CC By 2.0
The IWF guide lists the current state of retesting procedures and cases in their guide. We've also compiled the list below.
It's worth noting that in many cases, the suspension status for these lifters is still provisional, and a final suspension length has yet to be determined as investigations, appeals, and hearings take place.
2008 Beijing Olympics
Men's 62kg
Sardar Hasanov (AZE)
Men's 69kg
Alexandru Dudoglo (MDA)
Tigran Martirosyan (ARM)
Men's 85kg
Intigam Zairov (AZE)
Andrei Rybakou (BLR)
Vladimir Sedov (KAZ)
Men's 94kg
Ilya Ilyin (KAZ)
Nizami Pashayev (AZE)
Khadzhimurat Akkaev (RUS)
Men's 105kg
Dmitry Lapikov (RUS)
Women's 48kg
Xiexia Chen (CHN)
Sibel Ozkan (TUR)
Nurcan Taylan (TUR)
Women's 53kg
Nastassia Novikava (BLR)
Women's 58kg
Marina Shainova (RUS)
Women's 63kg
Maya Maneza (KAZ)
Irina Nekrassova (KAZ)
Women's 69kg
Natalya Davydova (UKR)
Chun Hong Liu (CHN)
Women's 75kg
Lei Cao (CHN)
Nadezda Evstyukhina (RUS)
Hripsime Khurshudyan (ARM)
Iryna Kulesha (BLR)
Women's +75
Mariya Grabovetskaya (KAZ)
Olha Korobka (UKR)
2012 London Olympics
Men's 85kg
Apti Aukhadov (RUS)
Rauli Tsirekidze (GEO)
Men's 94kg
Anatoli Ciricu (MDA)
Ilya Ilyin (KAZ)
Intigam Zariov (AZE)
Almas Uteshov (KAZ)
Alexandr Ivanov (RUS)
Andrey Demanov (RUS)
Norik Vardanian (ARM)
Men's +105kg
Yauheni Zharnasek (BLR)
Women's 53kg
Zulfiya Chinshanlo (KAZ)
Cristina Iovu (MDA)
Women's 58kg
Boyanka Kostova (AZE)
Yuliya Kalina (UKR)
Women's 63kg
Maiya Maneza (KAZ)
Svetlana Tzarukaeva(RUS)
Sibel Simsek (TUR)
Women's 69kg
Dzina Sazanavets (BLR)
Maryna Shkermankova (BLR)
Women's 75kg
Svetlana Podobedova (KAZ)
Nataliya Zabolotnaya (RUS)
Iryna Kulesha (BLR)
Women's +75kg
Hripsime Khurshudyan (ARM)