Have you noticed over the last year how multiple international weightlifting events have popped up aside from the normal World Championships and Pan American Championships? These have happened already at IWF Grand Prix events in China and Russia, with the latest event happening April 7th to 10th in Rio de Janeiro, Brazil as a test event for the 2016 Summer Olympic Games. For these non-Championship events, how are individuals chosen to represent the USA? And what's the significance of competing in these events?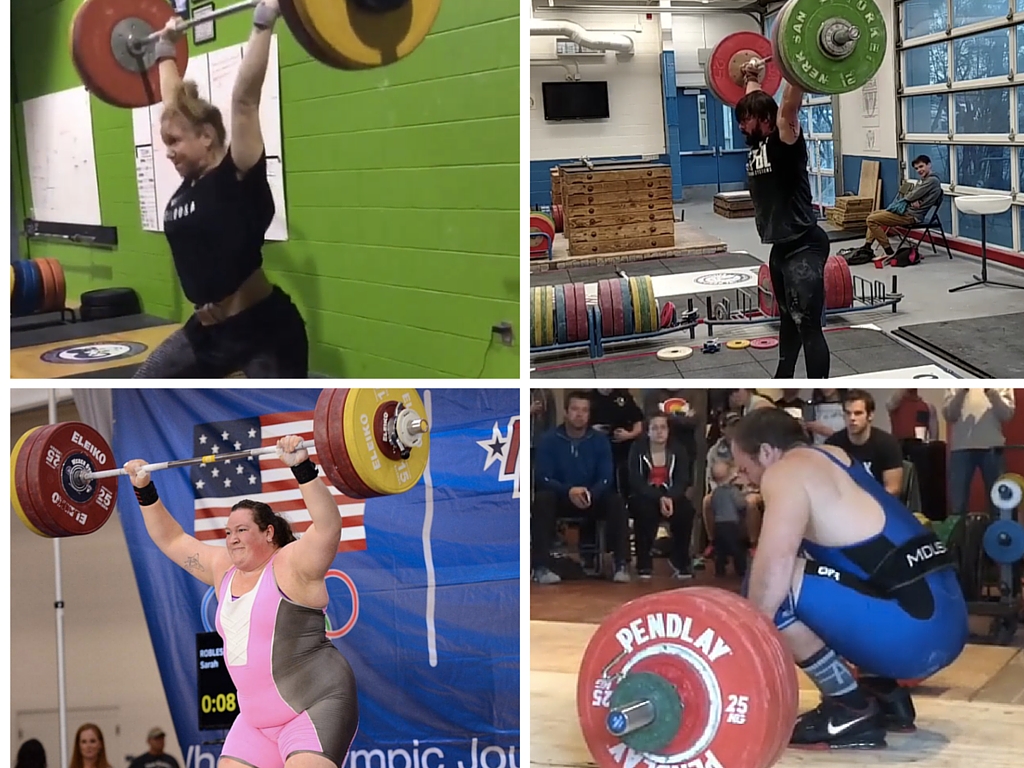 To understand why these events are significant, you have to go back to 2013, when the International Weightlifting Federation (IWF) mandated that any athlete who will compete in the 2016 Olympic Games is required to have competed in two international events between 2014 and 2016.
Obviously, the Junior and Senior level World Championships would count towards this requirement, as well as Junior and Senior level Continental Events (for example, Pan Ams, European and Asian Championships). However, with limitations to the size of a team that a country can send to these events, this leaves a high demand from athletes and a low supply of international event opportunities for athletes. What's more, there are more athletes and coaches than ever before with the mindset that they are "Olympic hopefuls;" therefore these international qualification events were added. The first weekend in June, there will be one more IWF Grand Prix Event in Iran; just in case any athletes destined for Rio still need one more international qualification event.
Just like any international team, athletes are ranked based on results from drug tested USA Weightlifting and IWF events from the past six months; so this really entails the 2015 World Championships, 2016 Junior National Championships, and the 2015 American Open.
These Grand Prix and Test events will not help the USA obtain Olympic Spots or gain anything as a country, so are these teams funded for the athletes? For the most part, no, the individual athletes and coaches are paying thousands of dollars out of their own pocket to attend these international competition merits, with the main costs being airfare and hotel.
For the China Grand Prix, four of the 12 American athletes who competed were invited to compete based on ranking from previous international competition; their trip was paid for by the Chinese Weightlifting Federation.  The Brazil test event will not help individual athletes towards Olympic Games qualification like the IWF Grand Prix events will. However, it will be the 4th non-Championship international event since September 2015 that the USA will send athletes to, and 31 of the 38 athletes that have competed were responsible for their own self funding.
The Rio Test event has 13 countries sending athletes to compete. This is an IWF drug tested event, meaning world and national records can be set, and medals will be awarded. For athletes planning on competing in the Olympic Games, this is a great opportunity to get familiar with the weather, the venue, and any other nuances that will be different from home.
The USA delegation is sending a team of 5 women and 2 men to compete:
Stephanie Spencer (58KG)
Vanessa McCoy (63KG)
Jennyfer Roberts (63KG)
Samantha Poeth (75KG)
Sarah Robles (75+)
Travis Cooper (77KG)
Colin Burns (94KG)
Robles, a 2012 Olympian, is within shooting distance of all the American records in the 75+KG weight class that are currently held by Olympic Medalist Cheryl Haworth. Cooper has made some close attempts with a 191 CJ, which would be a new American record, and Burns has twice owned the snatch record in his weight class. It is realistic to think they all could set American records next weekend.
Most who end up on these trips have little chance of making the 2016 Olympic Team based on the limited number of spots and the competition for them. These trips have no merit in obtaining Olympic Spots for Team USA in the Summer Olympics. The Woman's Team earned three spots through the main qualification method of performing well at the World Championships.
The men did not perform well enough to earn any Olympic Spots from their performance at the World Championships. Barring any future failed drug tests that would vault the team higher in the standings from the 2015 World Championships, the final way that Team USA will earn an Olympic Spot for the Men will be at the Pan American Championships this June in Colombia. There, the top seven teams without an Olympic Spot will earn one Olympic Spot. Competition for these spots will be fierce, as many countries are in a similar situation as the USA, including Canada, Cuba, Mexico, and Venezuela.
Is it worth it to the athletes to compete in these international competitions? For most of the athletes going to Brazil, or who went to China or Russia, it will be a great story to tell about a highlight in their weightlifting career. However, they will have a valuable experience, regardless of how well they compete on the platform. For the few athletes such as Robles, Cooper, and Burns — who have legitimate opportunities to represent the USA in the Summer Olympics — the more international experience they have, they better off they will be.
Editors note: This article is an op-ed. The views expressed herein are the authors and don't necessarily reflect the views of BarBend. Claims, assertions, opinions, and quotes have been sourced exclusively by the author.