This week, the International Weightlifting Federation (IWF) released the final start list for the 2016 Youth World Championships, to be held in Penang, Malaysia from October 19th to 25th. For just under a week, the best weightlifters in the world, aged 13 – 17, will battle it out for a world championship. USA Weightlifting (USAW) will be sending a full squad of 8 men and 7 women to this competition. Here is a preview of the American team as well as some of the top international talent that will be showcased.
Men
CJ Cummings (69KG, Beaufort, SC)
William Cohen (69KG, Savannah, GA)
Harrison Maurus (77KG, Seattle, WA)
Dale Loch (77KG, Fleetwood, PA)
Jaden Washington (85KG, Benicia, CA)
Kolton Koontz (85KG, Mesa, AZ)
Marcos Bribiesca (94KG+, Amarillo, TX)
Heavereth Tan (94KG+, Queen Creek, AZ)
Women
Hayley Reichardt (48KG, Reading, PA)
Chloe Tacata (48KG, Rohnert Park, CA)
Juliette Chang-Fane (63KG, Merritt Island, FL)
Athena Schrijver (69KG, Santa Rosa, CA)
Madison Stenbo (69KG, Carroll, IA)
Shala McMillan (69KG+, Palmetto, FL)
Jessica Sipos (69KG+, Santa Fe, NM)
The Men
69KG – Any preview has to begin with CJ Cummings. When we last saw him on a world stage, he won the Junior World Championships and set two new Youth world records in the process. His 180KG (396lb) clean & jerk and 317KG (697lb) total are Senior American Records in this weight category. His entry total of 317KG is at the top of the start list, with the next competitor entered at 292KG. While this total came less than 5 months ago, it may be a lofty expectation to see similarly high lifts in such a short time frame. Still, if Cummings competes to his abilities, a second World Championship should be his for the taking.
Also competing in this category will be William Cohen, son of 1980 US Olympian Michael Cohen. William, at age 16, will be competing in his third Youth World Championships. At last year's event in Lima, Peru he placed 10th with a 218Kg (480lb) total. He won the 2016 USAW Youth National Championship with a 247KG (543lb) total, and will be looking to improve his international ranking in a very competitive category.
77KG – Another medal favorite for the American team is Harrison Maurus. At this past year's Junior Pan American Championships, he attempted a Youth World Record 184KG (405lb) on his third and final clean and jerk attempt. He placed 2nd at that competition with a 307KG (675lb) total. A year ago at the 2015 Youth World Championships, he placed 5th with a 278KG (612lb) total; his lifting abilities have skyrocketed over the past year. Maurus has the fourth highest entry on the start list, however he within 8KG (17lb) of the next two athletes on the list, so anything can happen! Bottom line, if Maurus lifts to his abilities; he has a great opportunity to be on the podium.
Also competing in this category will be Dale Loch from Garage Strength. He is the current USAW Youth National Champion in this category; at the competition he totaled 270KG (594lb).
He goes into the Youth World Championships ranked 14th on paper, with a declared entry total of 271KG (596lb).
85KG – In a long line of weightlifters to represent USAW at an international competition, the next man up from California Strength is Jaden Washington. He also is the 2016 USAW Youth National Champion in the 85KG category, he made all five of his attempts (skipped his last attempt) and won with a total of 278KG (612lb). His declared entry of 278KG places him in 15th place on paper in a very deep and competitive category.
Also competing in this category will be Kolton Koontz, who was the youth national runner-up to Washington by 1KG, with 277KG (609lb). He recently has jerked 160KG off the rack, as per the below video he posted on October 12th. This represents a 9KG (20lb) improvement over his best clean and jerk at the Youth National Championships; it will be interesting to see how he performs in Penang.
94KG+ – USAW will have two representatives in the youth superheavyweight category. Marcos Bribesca is ranked 13th on the start list with a 290KG (638lb) entry declaration. He accomplished his total at this summer's Youth National Championships where he won his 3rd Youth National Championship in the superheavyweight category. Not far behind on the start list is Heaverth Tan with a 277KG (609lb) entry. He's the Youth National Champion in the 105KG (231lb) category; however at the world level the Youth weight classes are smaller than at the Junior and Senior levels. Tan did improve his total by 50KG (110lbs) from the 2015 to 2016 Youth National Championships, and it will be interesting to see how both young men improve in Malaysia and in the years to follow.
The Women
48KG – One of the most accomplished women on this year's team happens to be one of the lightest in body weight. Hayley Reichardt placed 11th at the 2015 Youth World Championships with a 133KG (293lb) total in the 48KG (106lb) category. She won the 2016 Junior National Championships with a 152KG total (334lb), and set a Junior American Record with an 86KG (189lb) clean & jerk on her final lift of the competition. Reichardt currently holds five youth records in USAW. She goes into this competition ranked 4th on the entry list, however if she lifts to her abilities; she has a great chance to end up on the medal podium.
Another very accomplished athlete in this category is Chloe Tacata, herself a 3 time Youth National Champion and 4 time medalist. At the Youth National Championships she totaled 122Kg (268lb) and set an overall personal record by 5KG (11lb). This will be her first international event, and it will be interesting to see how she continues to progress,
63KG – Juliette Chang-Fane is currently ranked 15th on the start list in what is shaping up to be a very deep and competitive category. The 2016 Youth National Champion totaled of 171KG (376lb) at the competition, including a 77KG (169lb) snatch and 94KG (207lb) clean and jerk. In 2015, she set a 14&15 year old youth American record with 90KG (198lb) in the 58KG (128lb) category. At the end of September of this year, she successfully clean & jerked 102KG (224lb) in a local meet; an 8KG (17lb) improvement in less than four months.

69KG – USAW has two entrants in this woman's category. Athena Schrijver is entered with 190KG (418lb) total, placing her 5th on the start list. At age 15, she is already a three-time Youth National Champion and four-time medal winner. She currently owns five American youth records. This past week she snatched 90KG (198lb) which is a 6KG (13lb) improvement on the lift from her last national event in June.
Also competing in this category will be Madison Stenbo, herself a five-time Youth National Champion and six-time medal winner. She competed at the 2015 Pan American Youth Championships where she placed 4th with a 169KG (372lb) total. She comes into the competition ranked 8th on the start list with a 184Kg (405lb) total. Needless to say, it should be a tight competition between both of these ladies as well as the balance of the field.
69KG+ – Shala McMillan is ranked 6th on the start list with an entry of 213KG (469lb). This will be her second Youth World Championships, last year she totaled 182KG (400lb) and finished in eighth place. She currently owns 7 American Youth records; if she is able to add 5KG (11lb) to her clean and jerk she can break the 16/17 year old Clean and Jerk record currently held by Marissa Klingseis, and make that number an even 8 records.
Last but not least for the American team is Jessica Sipos, who enters the competition with an entry total of 194KG (427lb); which ranks 16th place for the time being. She also competed at the 2015 Youth World Championships where she placed 10th with a 163KG (359lb) total. She is a four time medalist at the Youth National Championships.
The Team Manager for USAW will be Dave Fleming of Elmira, NY. The official USAW coaches for this event will be Dane Miller of Garage Strength, Freddy Myles of Myles Ahead Weightlifting and Ray Jones of Team Savannah.
International Athletes
The start list does provide four exciting international athletes I want to call attention to. 2016 Olympian Christian Amoah of Ghana will be competing in the 85KG category. Ghana received one men's Olympic spot based on their performance at the 2016 African Championships, and Amoah is their best athlete. He placed 28th at the 2015 Senior World Championships in Houston, and 21st at the Olympic Games. American weightlifting fans know the Ghana National Team Coach as Dr. Kyle Pierce, the director of weightlifting at Louisiana State University in Shreveport (LSUS) and personal coach of Kendrick Farris.
Another 2016 Olympian who holds the top entry in the 69KG category is Rebekah Tiler of Great Britain. Great Britain received one women's Olympic Spot based on their performance at the 2016 European Championships, and Tiler was deemed the best candidate. In the past, she has won the Commonwealth Youth and Junior Championships, European Youth Championships and won medals at the European Junior and Senior Championships. She placed 10th at the Olympic Games.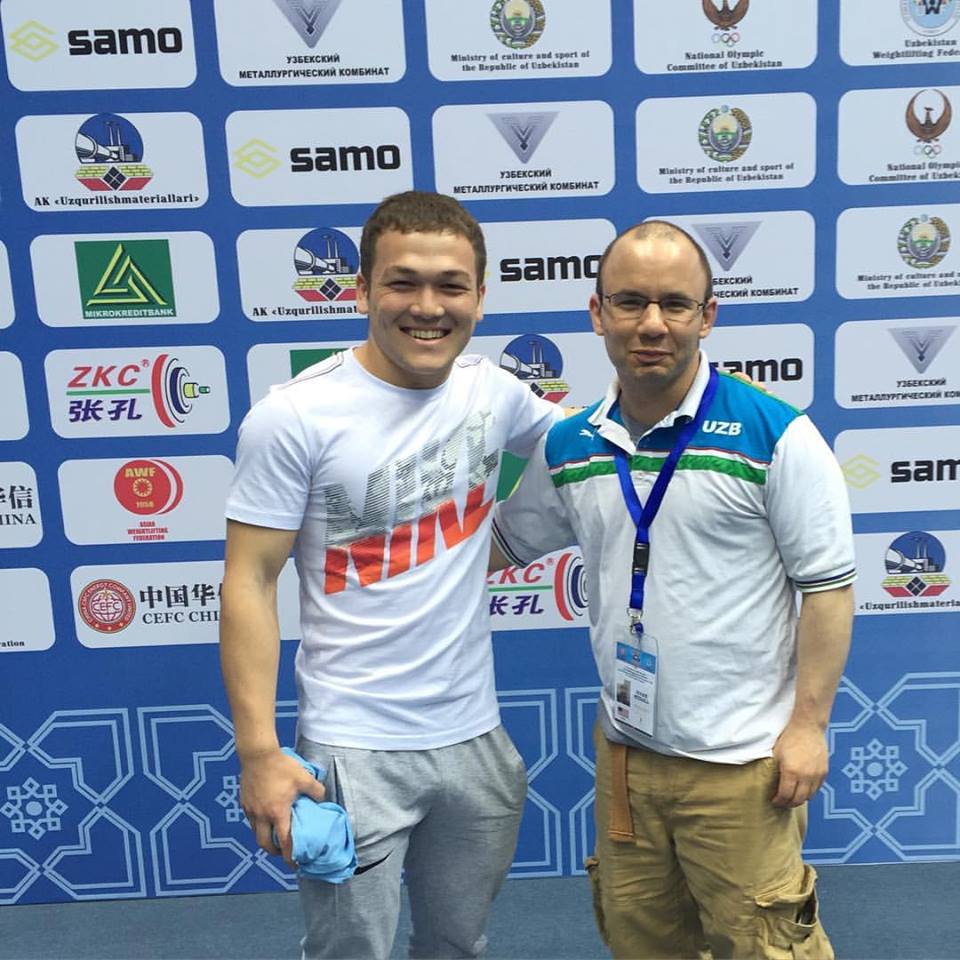 The author and Uzbekistan's Adkhamjon Ergashev
The top ranked male athlete at 62KG is Adkhamjon Ergashev Adkhamjon Ergashev of Uzbekistan. He placed fourth overall at the 2016 Junior World Championships with a 284KG (625lb) total. Additionally he snatched 130KG (286lb), which is over double his bodyweight. I personally saw him compete at the 2016 Asian Championships, where unfortunately he did not place a total, but I will be excited to see how he competed with more athletes his own age.
Finally, I have to include Yeisson Lopez of Columbia, the top ranked 77KG athlete in the field. In the past two years, he has won the 2015 Pan American and Youth World Championships, and the 2016 Pan American and Junior World Championships. In addition, he has set 1 youth world record in the snatch, 3 youth world records in the clean & jerk, and 3 youth world records in the total (for 7 youth world records overall). At the Junior World Championships this past June, he snatched 156KG (343lb), clean &and jerked 190KG (418lb), and totaled 346KG (761lb) at age 17.
Best of luck to all the athletes going out to Malaysia for the World Championships.
Featured image: @cj__cummings on Instagram