Almost every sport requires its athletes to make spur of the moment decisions. Whether in short bursts like in football and basketball or long stints like in soccer or hockey, increasing your agility can take your game to the next level.
Agility cones come in more forms than one might suspect. Some are stackable and accompanied with carriers for easy travel, while others have traits that benefit specific styles of training. So let's maneuver through the field to find the best agility cones for your needs.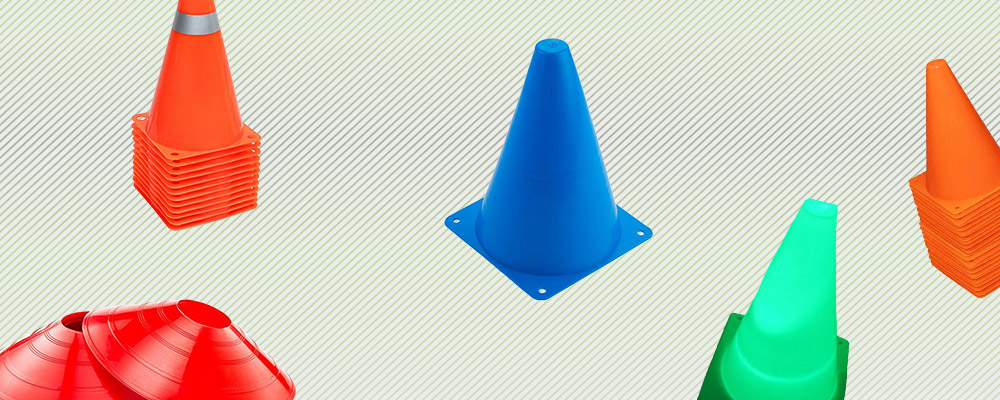 Editor's Pick: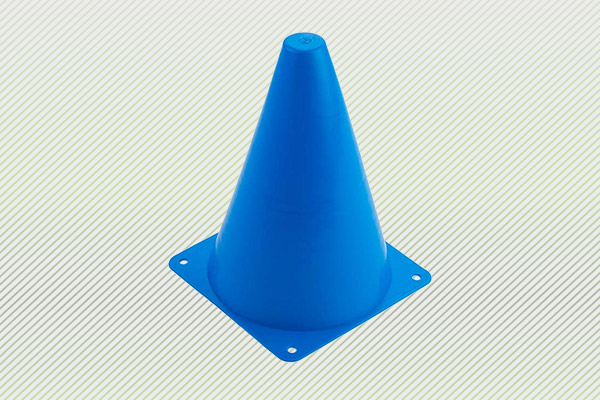 Faswin Indoor/Outdoor Agility Cones
Pros:
Multiple colors open up the variety of drills and exercise possibilities.

Made of durable vinyl resistant to extreme cold and heat.

Works well on dirt, grass, and/or asphalt.

Dishwasher safe, which might make them easier to clean.
Cons: 
Lightweight means they may be prone to moving in stronger winds.

The vinyl may be prone to retaining scuffs.
Faswin Indoor/Outdoor Agility Cones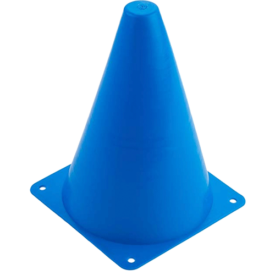 Faswin Indoor/Outdoor Agility Cones
Two dozen 7-inch tall agility cones in six assorted colors; four each of red, orange, yellow, green, blue, and purple. Stackable for easy storage and safe for hardwood floors.
Contender: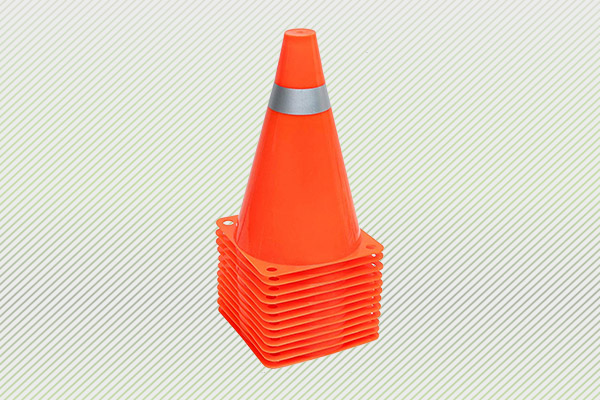 Traffic Cones Soccer Drills Sport Training Cones
Pros:
The silver band that wraps around the upper part of each cone can better enable exercises that involve a specific route or course.

Cost per cone is more affordable compared to similar products.
Cons:
Made of a rigid plastic that might be prone to crack.

The silver band may fade over time.
Kiddie Play Traffic Cones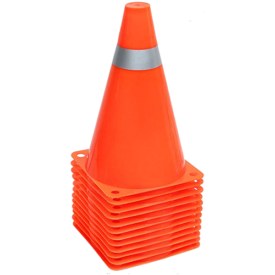 Kiddie Play Traffic Cones
A dozen 7 and ½ inch tall stackable bright orange cones with a silver band across the top. Great for designating boundaries or highlighting zones.
Best for Soccer and Basketball Players: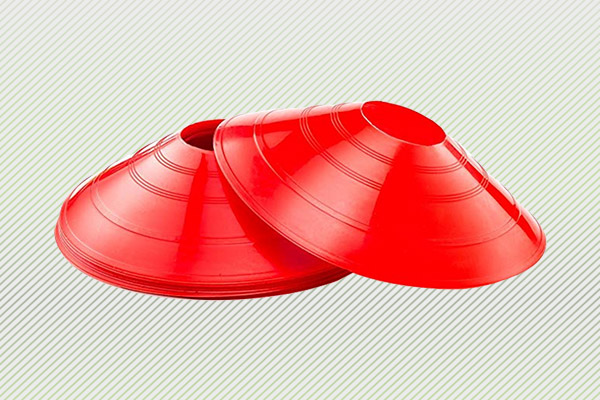 Disc Cone Set of 50 Flexible Multi Color Cones, With Plastic Carrier
Pros:
Made of a flexible plastic that will retain its shape even if stepped on.

Excellent for courts and smoother surfaces as well as field terrains. 

At 2 and ½ inches high, athletes can maneuver over them without tripping.

Stackable and the carrying net makes for easy travel. 
Cons:
Potentially more difficult to see from further distances.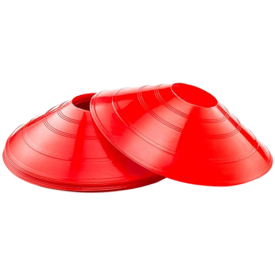 Fifty disc cones that stand  2 and ½ inches high and come in five colors; ten each of red, yellow, orange, green, and blue. Includes a carrying net.
Best for Night Training: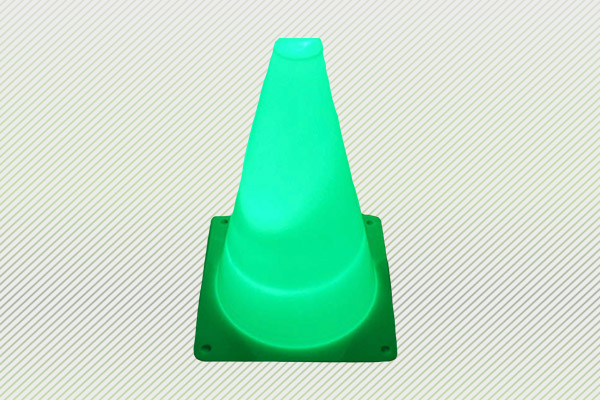 GlowCity Light-Up Soccer Training Cones
Pros:
The LEDs help with visibility and enable athletes to train at night.

Made of a bright white plastic, these cones can be used during the day with their lights off and still be visible.

Waterproof plastic protects the LEDs on rainy days.
Cons:
More expensive than non-LED agility cones.

Not stackable due to the bottoms of each cone being covered to protect their respective battery and LED.
GlowCity Light-Up Soccer Training Cones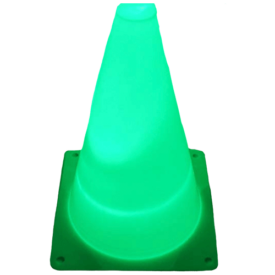 GlowCity Light-Up Soccer Training Cones
Six cones, 7 inches high that have built in LED lights with four different color options; blue, green, red, and pink. Batteries included and already installed.
Best Value: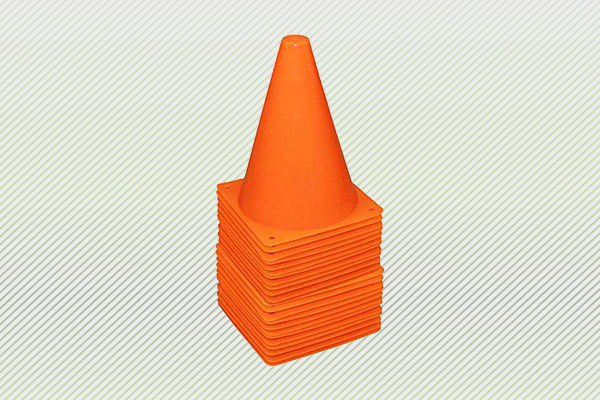 BLQH 36 Pack Sport Training Cone Sets
Pros:
The best bang for your buck for basic agility cones.

Made of plastic that pops back in place if stepped on.
Cons:
Lighter than other available options makes these cones more susceptible to moving in windier conditions.
BLQH 36 Pack Sport Training Cone Sets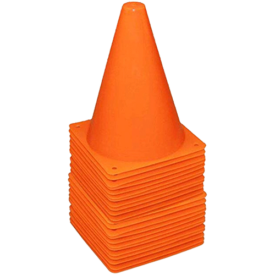 BLQH 36 Pack Sport Training Cone Sets
Three dozen bright orange 7-inch stackable plastic cones. Versatile for sport and agility training, laying out skating and bike courses, and lining specific routes for field sports.
Methodology
Agility cones, for the most part, differentiate in few ways. Those few ways, however, are reason enough to influence choosing one option over another.
Height
Agility cones can range in height from 2 inches to 10 inches and above. Depending on what you're training for, the proper height cone can help you train or can get in your way. Knowing the specific drills you plan to do ahead of time can be helpful when shopping around.
Terrain
Most agility cones will be comparable on grass, dirt, or turf, but some are steadier on harder terrain such as asphalt or hardwood.
Material, Weight, and Thickness
Cones will most commonly be made of either vinyl or plastic, and the thickness of the cones might indicate how durable they will be. Flimsier cones can crack in the cold or bend easier in heat. Heavier cones made with a denser plastic will usually be bendable and able to withstand stronger winds.
Wrapping Up
Athletes with advanced agility often have an edge over the competition. Agility cones can help you achieve that edge and make for great additions to your training equipment.