We receive free products and receive commissions through our links. See
disclosures page
.
Agility ladders are great for improving your coordination and nimbleness while giving your body a thorough warm up during your regular exercise routine. When you add a parachute into the equation, you're introducing resistance that helps you train harder. Here are a few choices for you to select from the next time you're looking to amp up your training session.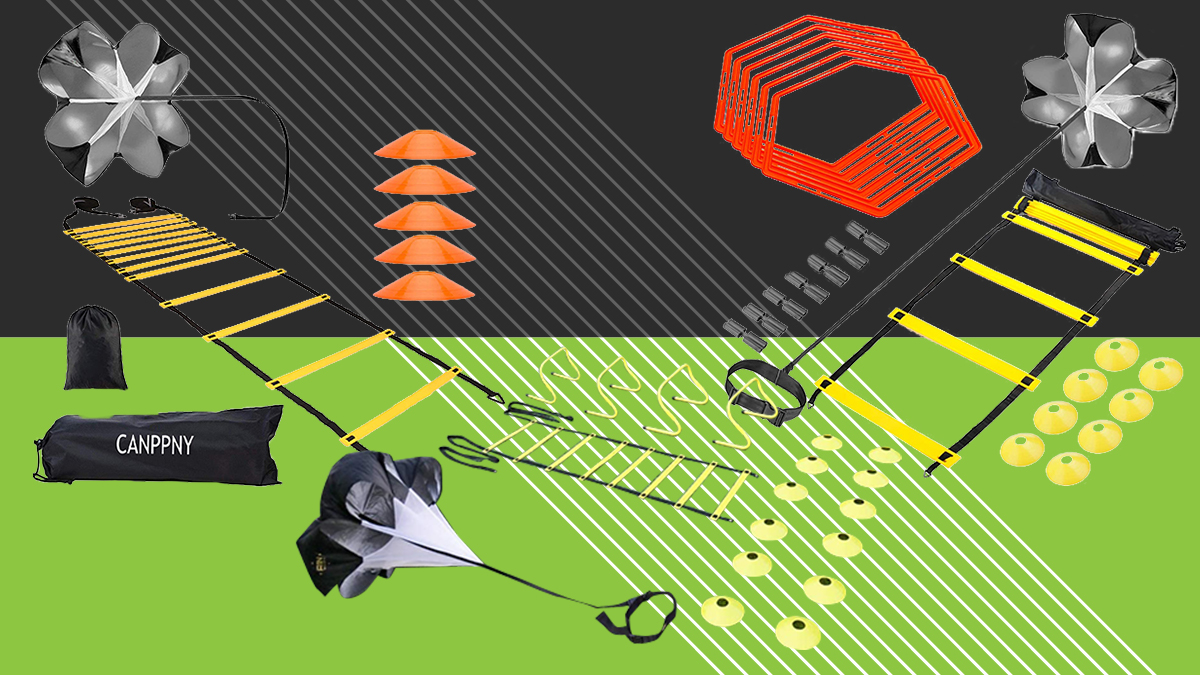 Best Value
The Total Speed & Agility Package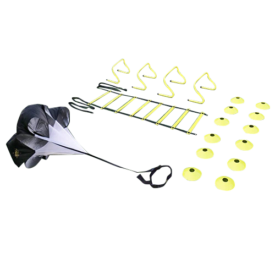 With a speed chute, ladder, twelve cones, and adjustable hurdles, this kit delivers enough equipment to keep even the most experienced fitness enthusiast busy. Sporting a 13-foot ladder, there's more than enough room for you to execute your most intense footwork drills. 
Pros:
Speed chute includes nylon webbing, making it extra resistant.
Adjustable ladder is good for various sports drills.
Parachute's fastening belt is easily resizable.
Cons:
Parachute belt only goes up to 32 inches, and may not fit larger users.
Ladder is made of thin plastic, and may crack under pressure.
Lack of a storage bag makes travel somewhat difficult.
Quickest Set Up
The Fastest Agility Solution
Sportout Agility Ladder Set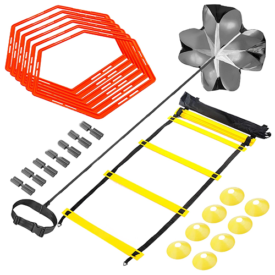 Sportout Agility Ladder Set
Featuring an easy to manage roll out design, plus additional hexagonal agility rings, this kit can be set up/broken down in a flash. The collapsible parachute is also sized up to thirty-six inches, making it fit for larger athletes. 
Pros:
Roll out design is quickly set up/broken down.
Parachute belt is adjustable up to thirty-six inches, fit for larger users.
Hexagonal agility rings add variety to workout routines.
Cons:
Hexagonal rings are made of easily breakable plastic.
Parachute is very thin and doesn't provide much resistance.
Buckle on the parachute belt snaps off easily.
Most Professional
The Ultimate Kit
FastFit Agility Training Kit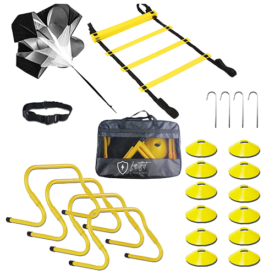 FastFit Agility Training Kit
Ready to be hauled around in a designer bag, this kit is the trainer's choice, coming with everything from a securable agility ladder to heavy duty speed hurdles. Plus, it's backed by FastFit's money back guarantee, ensuring you'll be satisfied with the product. 
Pros:
Designer carrying bag lends kit a professional feel.
Heavy duty hurdles are sturdy/long lasting.
Backed by 100% satisfaction guarantee.
Cons:
Adjustable parachute belt is rather small (thirty inches max).
Ladder stakes are also small, making them easy to misplace.
Agility cones are made of thin plastic and easily crackable.
Best Starter Kit
The Beginner's Choice
CANPPNY Speed & Agility Training Kit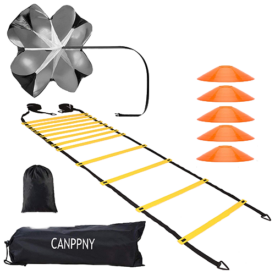 CANPPNY Speed & Agility Training Kit
Arriving with an agility ladder, resistance parachute, five disc cones, all in a convenient carrying bag, this kit delivers what you need to start training today. As an added bonus: there's even a list of suggested exercises, in case you're not entirely sure where to start. 
Pros:
Includes convenient packing/carrying bag.
Distance between agility ladder rungs is adjustable for added variety.
Running parachute can provide up to 33 pounds of resistance.
Cons:
Parachute is made of thin material, and can rip after too much pressure.
Adjustable ladder rungs need to be reset before each workout.
Ladder stitching may fray after heavy usage.
Wrapping Up
Agility, speed and coordination. Whether you're training for the next competition, or simply looking to step up your amateur game, the right agility ladder set will get keep you light on your toes and ready for the next obstacle in your way.