We receive free products and receive commissions through our links. See
disclosures page
.
Exercising with a phone in your pocket is a pretty brutal experience. The phone bang sagainst your leg incessantly during a run or falls to the ground during sit ups or any other ground work. Fortunately, armband phone holders are designed to keep phones in a secure, accessible position throughout a workout.
While earlier armband phone holders were often not super user-friendly, today's models are sleeker and more secure. Some even offer compartments to store keys, IDs, or credit cards, making it possible to leave the house on a long run without your wallet. There are a ton of armband phone holders available on the market. We rounded up some of the best versions and compared their distinguishing features to help you make an informed decision.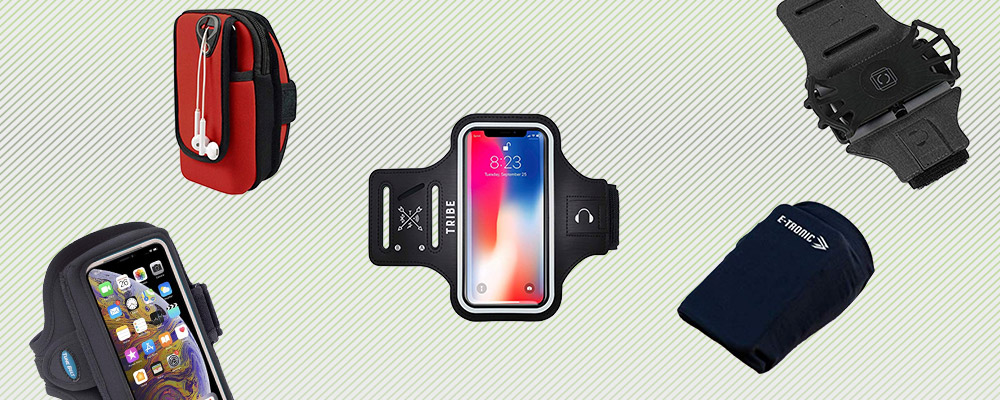 Best App Compatibility
Uses Your Favorite Apps
Pros: 
Music storage. This Samsung Fit2 Pro Smartwatch Fitness Band allows users to store mp3s directly to their device. Those wearing the device will also be able to play Spotify playlists, allowing almost limitless music-listening potential.

Under Armour apps. Samsung has partnered with Under Armour to create a seamless system for tracking physical activity on the Samsung fitness bands using Under Armour applications. MapMyFitness plots routes ran, Endomondo provides coaching plans and tracks goals, and MyFitnessPal counts calories and logs meals.

1.5" screen. The 1.5" screen is quite large for a fitness band and is comparable to most smartwatches. The large but narrow screen allows more useful data to be shown on the screen while not making the band too thick.
Cons:
Not compatible with all exercises on Samsung app. One disappointing aspect of this product is that not all of the exercises listed on the Samsung app are compatible with this fitness tracker. Weightlifting and golf are two of the omissions. 

Lags when playing music and tracking fitness simultaneously. It is awesome that this fitness tracker can play music, but often the music lags when tracking fitness at the same time. This can be frustrating as many people use music as a motivator while training.
Samsung Gear Fit2 Pro Smartwatch Fitness Band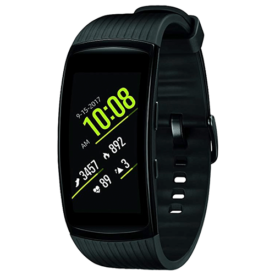 Samsung Gear Fit2 Pro Smartwatch Fitness Band
Samsung's Gear Fit2 Pro Smartwatch Fitness Band is another smartwatch and fitness band hybrid. With a large screen and music storage capabilities, this fitness tracker has functions and features that are not often found with many fitness bands like music storage and a GPS tracker with a map view.
Editors' Choice: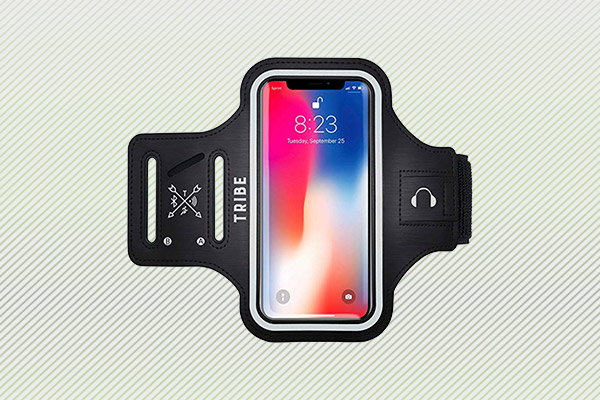 TRIBE Water Resistant Case
Pros:
TRIBE's Water Resistant Case is available in three sizes, making it suitable for a wide variety of phones. 

Manufacturer asserts that this armband keeps a full enclosure of your phone while still maintaining touch screen functionality. 

Includes a built in pocket for key storage, making it great for folks who take off for outdoor runs. 

Available in a wide variety of colors
Cons:
This armband is not really equipped to hold phones that are in phone cases.

No space for an ID or credit card. 
TRIBE Water Resistant Case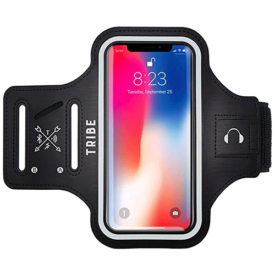 TRIBE Water Resistant Case
Those looking for fully encased protection while maintaining touch screen access may consider this offering from TRIBE. It's also water resistant, which may make it appealing to folks who enjoy running outdoors.
Contender: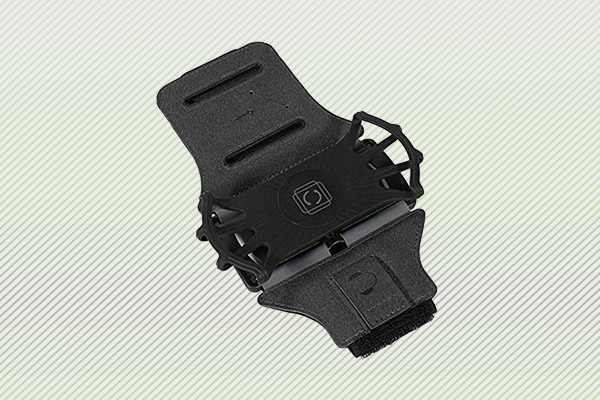 VUP Running Armband
Pros:
VUP Running Armband features a unique elastic design that holds the top and bottom of a phone in place while still allowing the user to fully access the screen. 

Able to accommodate phones with screens ranging from 4" to 6.5" tall. 

The mechanism that holds the phone in place is now detachable, meaning it's possible to take your phone off the armband without taking the armband off or removing the phone from its secure fastening. 

Includes multiple slots for the band to wrap, making this suitable for folks with arms ranging from 8" to 14" in circumference.
Cons:
No compartment to store keys, ID cards, or credit cards. 

Some reviewers noted that the elastic fasteners keeping the phone in place wears down after a bit of use.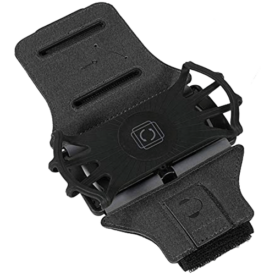 With a unique design that keeps the phone's screen completely accessible, VUP Running Armband is great for folks who want access to their phones during a workout. This armband also allows for 360° rotation, making it easy to check messages or other apps in landscape mode. 
Best For Bulky Phone Cases:
Tune Belt Armband
Pros:
Designed to hold some of the largest phones on the market, even if they're housed in a bulky, heavy duty case.

Includes a neoprene fabric that's designed to wick away moisture.

With a space at the bottom of the armband for a pair of corded headphones to attach and a flap to stash away excess cord, this case is compatible for folks who use headphones with wires. 

Designed for a phone and case with max height 6.3" and a circumference of 8.3"
Cons:
This case is really only designed for folks who intend to keep their cases on while working out. 

No compartment for keys, ID cards, or credit cards.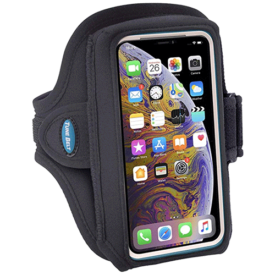 Tune Belt's armband is equipped to hold some of the largest phones on the market, even if they've got a large case around them. For folks who want to avoid the hassle of taking their phones in and out of their heavy duty cases every time they exercise, this may be a great option.
Best For Storage: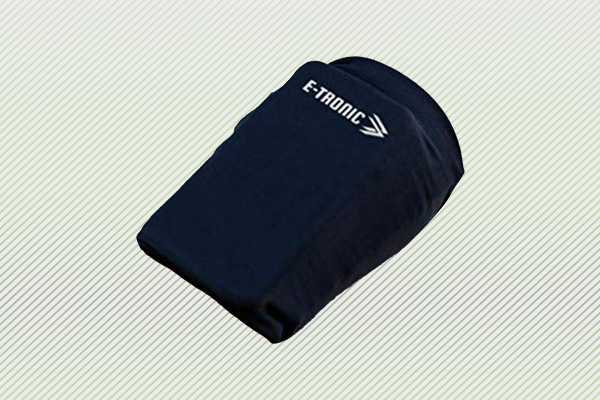 E Tronic Edge Armband Sleeve
Pros:
Includes a convenient and secure pouch to store your phone, keys, and other small personal belongings, such as an ID or credit card. 

Designed to be water resistant, making it great for intense workouts or outdoor exercise. 

Available in four different sizes, making it compatible with a wide variety of arm sizes. Also available in a variety of colors. 

Thanks to its unique pouch design, almost any phone will fit into this armband sleeve. 
Cons:
No access to your phone's screen during use, which may make it inconvenient for some. 
E Tronic Edge Armband Sleeve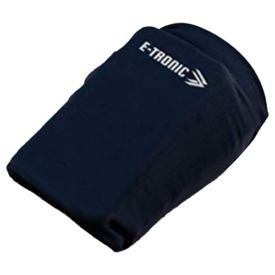 E Tronic Edge Armband Sleeve
E Tronic Edge's sleeve serves as a convenient pouch to store phones, keys, and small belongings - such as an ID or credit card - while working out. Available in four sizes and a variety of colors, this unique item is designed with comfort in mind.
Methodology
Armband phone holders are a key piece of equipment for a lot of gym goers, providing piece of mind that your phone is on your person and in a secure place. The options on the market vary widely in terms of style and function. Before you add one to your shopping cart, consider some key features.
Size Matters
Pay special attention to the specifications of which phone models each armband is capable of holding. Additionally, bear in mind what type of case you use on your phone, and whether or not you intend to keep your case on while exercising. Some armbands are designed to accommodate phone cases, while others are intended solely for phones.
Touch Screen
Depending on your personal level of phone addiction, having access to the touchscreen while working out may be important. Some armband holders make a point of making their phones touch screen compatible, while others do not.
Water Resistance
If you're an all weather outdoor runner, you may want to pay special attention to armband holders that claim to be water resistant. These will likely hold up better in inclement conditions than other models.
Style
Some armband holders are very utilitarian in design, focusing on keeping things incredibly basic. Others are available in a variety of colors, adding a bit of pizzazz to your workout ensemble.
Headphone Hole
While an increasing number of folks are switching over to Bluetooth headphones, there are still a lot who swear by their corded headphones. Take a look at the design of each phone holder and ensure there's a hole that matches up with the location of the headphone or lighting jack on your phone.
BarBend Tips
When you're trying out an armband phone holder for the first time, ease into your workout a bit. It's wise to test its limits and strength before heading into a full set of wind sprints.
If the armband phone holder you choose does not include a space to hold your ID or credit card, you can usually sneak them into the same compartment as your phone.
If you're tired of holding your phone while out for a run or dealing with it banging against your thigh, it may be worth investing in an armband phone holder. Before clicking purchase, double check that the version is equipped to house the correctly-sized phone.