We receive free products and receive commissions through our links. See
disclosures page
.
Core sliders may be an affordable and effective way to switch up your exercise routine. Designed to be placed underneath feet or hands, these simple tools add a layer of difficulty to your existing bodyweight exercises. As your core muscles stay engaged while moving through movements, you may end up feeling soreness in muscles you didn't even know you had.
There are a host of exercises you can modify with core sliders, including mountain climbers, lunges, and planks, to name a few. In addition to adding some intensity to your bodyweight workouts, these simple devices may help improve balance. Available in a variety of colors and designs, there are a lot of core sliders available on the market. We took a look at a few of the best options and gave our picks.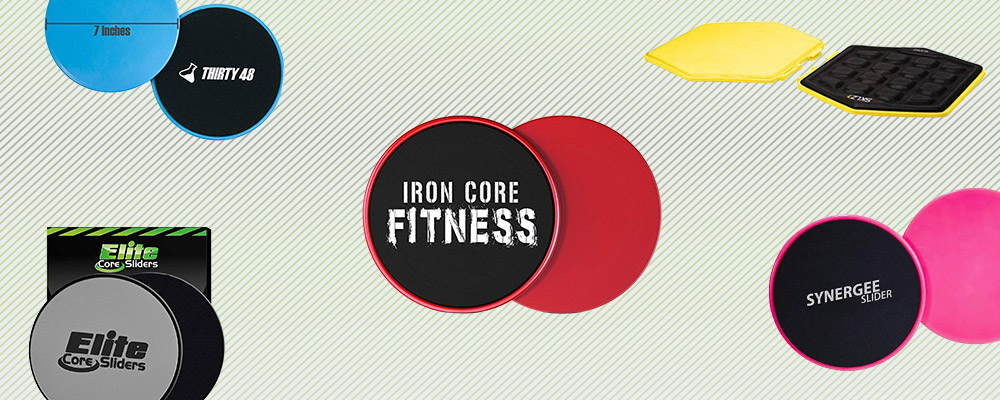 Best for Travel
For a variety of floors.
Pros:
Includes an illustrated workout guide.
Less expensive than most competitive options on the market.
Dual-sided design can better ensure ease on the intended surface for training.
Cons:
May not slide smoothly on a yoga mat.
Might leave scuff marks on wood floors.
AZURELIFE Exercise Core Sliders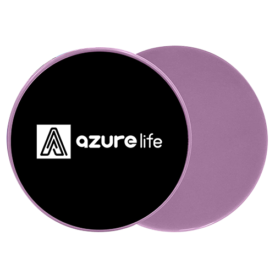 AZURELIFE Exercise Core Sliders
These core sliders have dual-sided design (one smooth plastic side and one foam side) to function on a variety of floor types. Each slider has a 7 inch diameter and are made with EVA foam and ABS plastic.
Best on Carpet
For tough surfaces.
Pros:
Can slide smoothly on a range of floor textures, including carpet.
Textured top and offer a better grip.
On the more affordable end of the market.
Cons:
May feel flimsier than several comparable options.
Not designed to function on shag carpets.
Live Infinitely Core Sliders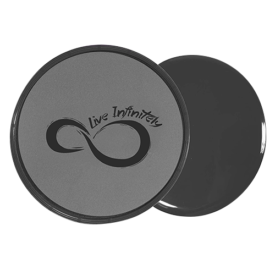 Live Infinitely Core Sliders
These core sliders come in six different color options and have a 7 inch diameter. They are constructed from EVA foam and ABS plastic and designed to slide smoothly on tile, wood, and carpeted surfaces.
Editors' Choice
Great on artificial turf.
Pros:
Available in a variety of colors, including camo green. 

Comes with a free PDF along with exercise videos to help provide instruction on how to use these sliders effectively to accomplish a full body workout. 

Includes a foam side intended for hardwood or tiled floors and a smooth plastic side intended for carpet or artificial grass. 

Very competitively priced.
Cons:
A number of folks mentioned that the foam side does not slide on the hardwood effectively.
Iron Core Fitness Sliders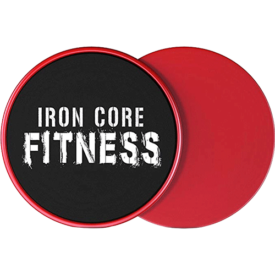 Iron Core Fitness Sliders
This is a very solid pair of core sliders at a very reasonable price. With a foam side intended for hardwood or tiled floors and a smooth, plastic side for carpet, or artificial grass, these sliders can be used in a variety of places.
Contender
Training manual included.
Pros:
Includes different material on each side, making them suitable for use on carpet or hardwood floors. 

Available in black, green, pink, yellow and red, giving you a variety of ways to stand out at the gym. 

Comes with an exercise manual highlighting five core exercises that can be modified with the sliders. 

Available at a very competitive price point.
Cons:
Without any treads on the sliders, some folks noted that their feet sometimes slipped off while using.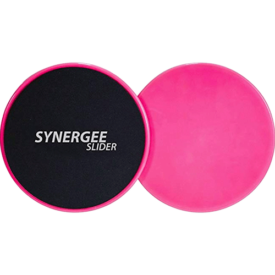 Available in five colors, this solid pair of core sliders sits a competitive price point. Each package also comes with a printed exercise manual depicting five different ways to use these sliders.
Methodology
Core sliders may be an effective means to add intensity to a core workout. Going through bodyweight exercises while keeping your hands or feet on the floor fires muscles in a different fashion. While there are a number of core sliders on the market, it's important to note a few key features before selecting a pair.
Size
Most core sliders measure about 7" in diameter. While this is suitable for most, some folks with very large hands may need to do some digging for a bigger option, or try out a pair of paper plates.
Surface
Before you choose a pair of sliders, take into account where you plan to use them. Not all pieces of equipment work as well on hardwood as on carpets. Be sure to look for a pair of sliders that are designed to work on the surface where you typically exercise.
Grip
Some core sliders are designed with an additional grippiness added to one side to prevent hands from slipping during exercise.
Design
While some core sliders are only available in black, others come in a variety of colors. If you're looking for a pair of sliders that matches your favorite outfit or sticks out at the gym, take a look at some of the more colorful options out there.
BarBend Tips
Switch up your routine. Try to break out of your normal core workout while incorporating these sliders.
Consult a fitness professional. To get the most of your core sliders, it may be worth working with a fitness professional to ensure your form is correct.
Core sliders are an affordable, lightweight, easy-to-transport tool for switching up your bodyweight workouts. When used effectively, these core sliders are meant to engage your core and improve your balance.