One of the hardest things about working out, no matter your age, skill level, or the type of fitness you practice, is the monotony of it. Everyone should give themselves as many opportunities to be excited about working out every day, not finding excuses to avoid it.
Exercise dice are a unique way to gamify and randomize a routine. With a simple toss of a couple dice, fitness enthusiasts can discover new combinations of reps and exercises to make every day a new routine while adding an extra level of fun to the proceedings. Or, for workout novices, exercise dice can provide a jumping off point to exploring new exercises or yoga poses to help establish a routine that works best. Here are some of the best exercise dice available on the market today.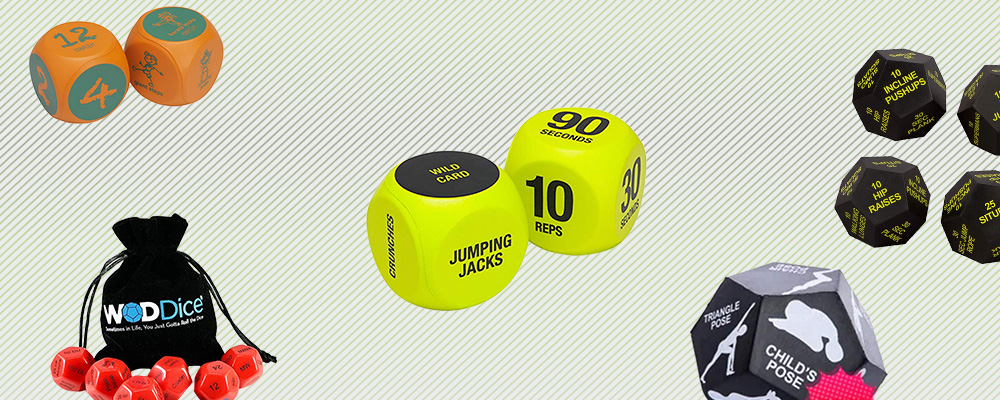 Editor's Choice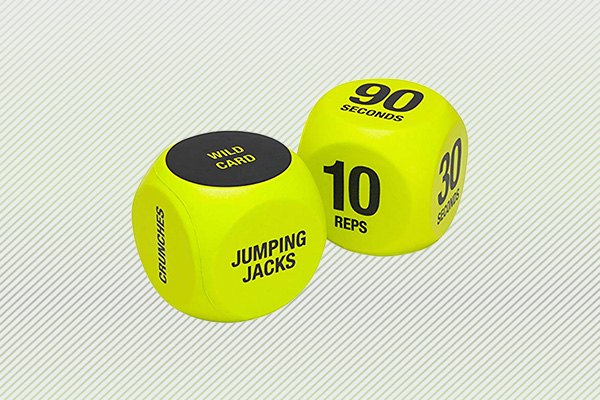 SPRI 6-Sided Exercise Dice
Pros:
The set contains two dice, one with basic workout moves and one with a combination of rep number and time limits.

Included exercises are basic enough for beginners or for classes, featuring jumping jacks, lunges, squats, push ups, crunches, and even a wildcard so the user can add their own option.

The second dice features both rep number and time limit, which adds an extra workout variable into the exercises.

The lightweight dice feature a fun, bright design with easy visibility and come in a convenient carrying bag.
Cons:
The included exercises are pretty basic, which can be good for someone looking to supplement a different routine but may not be ideal for a more advanced fitness practitioner.

With only six sides to the workout dice, the options may become repetitious in a shorter amount of time.
Contender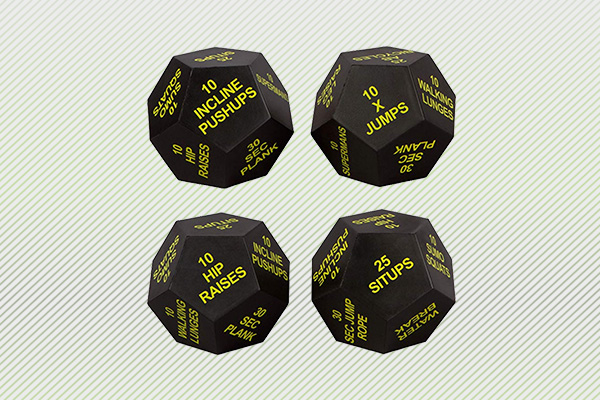 Juliet Page Exercise Dice Multi-Pack
Pros:
Pack contains four 12-sided dice, all with unique workout routines.

Each of the dice represent a different level of workout (easy, medium, and hard), with an additional dice dedicated to yoga poses.

The dice can be mixed and matched to diversify the workout between cardio and more aggressive strength training.

The dice are large and well-suited to group workouts.
Cons:
The dice have set reps built in (ten incline pushups, for example), which doesn't provide the same level of variance or customization as other exercise dice.

There isn't an included carrying case for the dice to bring them to and from a gym.
Best for Beginner Yoga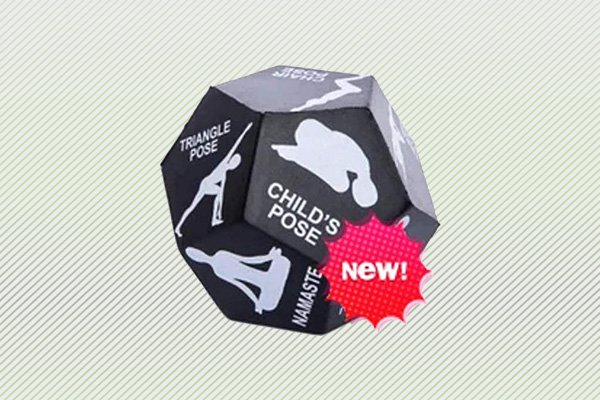 Series-8 Fitness 12-Sided Yoga Dice
Pros:
The dice contains 12 distinct yoga poses, perfect for beginners looking to get started on yoga but may not have a set routine in mind.

By relying on the dice, novices don't need to attend a class or try and keep up with a video; simply go at their own pace.

Because of the lower difficulty of the poses and the interactive element of the dice, it's a great option for getting children into yoga.

The dice is made of a soft polyurethane which is both durable and light when rolled on the floor.
Cons:
The poses are relatively basic, and would be best suited for a beginner new to yoga or someone looking to break the monotony of their usual routine.
Best for Kids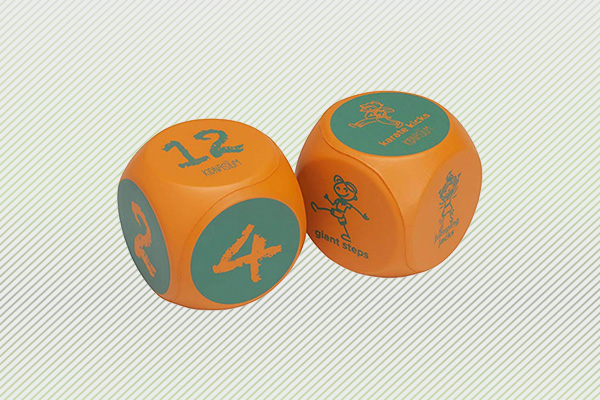 Kidnasium Activity Exercise Dice
Pros:
These dice contain fun exercises for kids like karate kicks, giant steps and jumping jacks.

The second dice controls repetitions from two to 12 so it provides both diversity in movement and an increase in intensity.

These dice are a great way to get kids active in a classroom or gym setting.

The dice are made for ages four and up, so a wide range of children can use them.
Cons:
The limited number of exercises are great for short workouts to get kids moving for a little while, but may not be engaging for long periods of time.

Because the dice are best for younger kids (older ones may find the movements a bit too basic), it's important to have a larger amount of space designated for the activity to avoid any injuries.
Best for Intense Workouts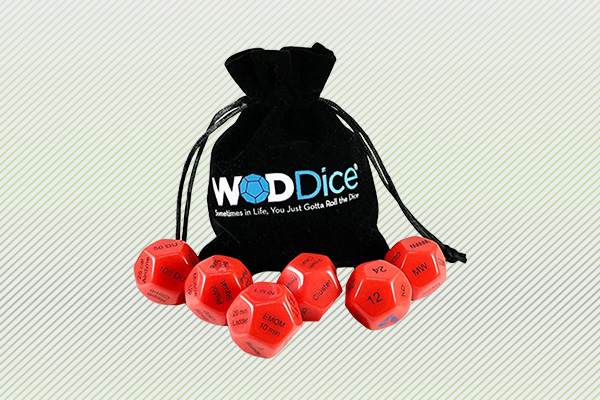 WODDice® Firebreather
Pros:
The six-dice set goes beyond standard movements and reps, to provide an intense workout routine.

The six dice control everything from the types of exercise (everything from weighted movements to bodyweight movements as well as time and reps).

The randomized circuit training is a unique way to make your workouts dynamic and unpredictable.

The kit comes with a carrying case and detailed instructions to explain all of the aspects of the dice and avoid confusion.
Cons:
The print quality on the dice can be difficult to read.

These dice are not for novices, but rather a great way for more intense circuit training enthusiasts to supplement their routines with a randomized workout.
Methodology
Exercise dice can be a great alternative to the monotony of daily workouts, even if they don't become a replacement for an entire workout regiment. Having them on hand for a day when an individual or a class wants to do something different can bring a bit of variance to the drudgery of training. And, because they come in so many skill levels, they can be an ideal way to get young people and fitness novices to get involved in a dynamic and interactive way. Here are some of the factors we considered when determining the best exercise dice.
Combinations
Having a single dice with six workout options is the bare minimum for an exercise dice. In the pantheon of workout dice, we tended to favor options that provided hundreds of movement combinations that help keep the activity from becoming stale. On some occasions, that meant having two dice, one for activity and one for reps, or having multiple-sided (more than six) dice that can extend the excitement of the exercise as long as possible. An increase in exercise variations also works to keep the routine as dynamic and unpredictable as possible.
Fitness Level
There is a wide variance in the intensity of workout available for exercise dice. Some are basic movements designed to get kids moving, while others are highly complex circuit training workouts made for those training for endurance races. We tried to highlight exercise dice that covered the most amount of fitness levels, with special weight given to those that could be used by the largest groups of people.
Customization and Creativity
One of the best parts about exercise dice is they leave your workout to chance. The element of uncertainty keeps the workout fresh and exciting while remaining within the structure of functional and effective exercises. That said, having some element within your control allows you to add exercises that you know you enjoy or know are effective. Exercise dice that have some element of a wildcard or customized option that encourage your own creativity were also given extra consideration.
Longevity
One of the bigger concerns with exercise dice is their longevity before they become as rote as other workout routines. As you're using the dice, it's important that they're sustainable over a longer period of time to keep the exercise engaging. Part of that has to do with the number of combinations and outcomes of the dice, and the other has to do with the type of movements the dice instructs. We favored dice that had a dynamic offering of both.
Build Quality and Transport
Since the dice aren't actual workout equipment, it's not strictly essential that they're so tough that they need to be made of hardwood or a dense rubber. That said, they are being used in a gym or home setting, and should not only remain legible but also functional over time. It also helps if they feature a carrying bag to make transporting and storing them convenient.
BarBend Tips
There are a number of types of different exercise dice available, and many of them contain the same type of exercises. Do a little research and compare and contrast different dice to find ones that have the right combination of exercises that you enjoy doing. There's no need to settle for dice that only contain workouts you find ineffective or boring.

Find dice with as many combinations that will fit your needs without being too complicated. While some people may look to workout dice to be a complete fitness training regiment, many more will see dice as a fun way to add something different to their routine. If you're part of the latter group, you may not need a six-dice pack that requires an instruction book to figure out.
Exercise dice are a unique way to gamify working out that are perfect for reigniting your individual commitment to fitness or getting novices or young people involved in exercise. No matter your skill level, there is some combination of exercise dice that will fit your needs and provide the right level of intensity while remaining dynamic and entertaining.