Racking your weight plates on a plate tree can not only save time during a training session by offering easy access to the desired weight plates, but it will also keep a training space organized. Weight plates laying on the ground can take up valuable floor space. And if they're piled up, moving plates around simply to get to the weights needed could require a lot of unnecessary work.
Plate trees are pretty simple in function — hold the plates and keep them organized in one place. However, there is a good amount of variety on the market though between size, shape, height, design, and other factors that should be taken into consideration before committing to one. Let's get right to it and find the best plate tree for you.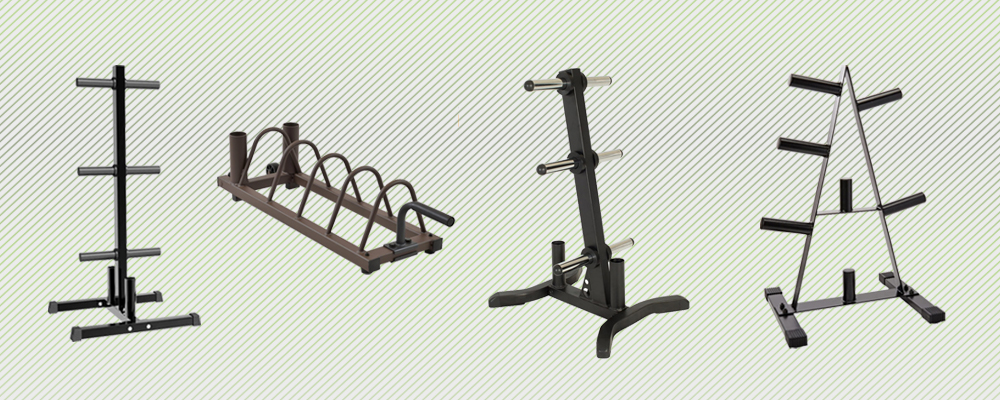 Editor's Pick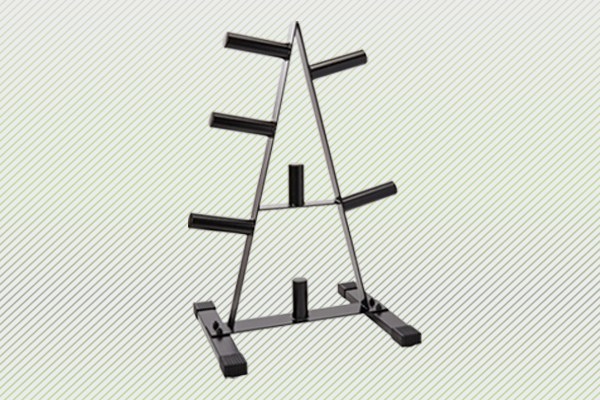 An A-frame with strategically placed weight pegs.
Pros:
Base is equipped with rubber supports to prevent sliding or floor damage.

Weight pegs are strategically placed for easier plate organization.

On the more affordable end of the market.
Cons:
Weight capacity of 500lb is less than many comparable options.

The welding may be susceptible to rust.
Contender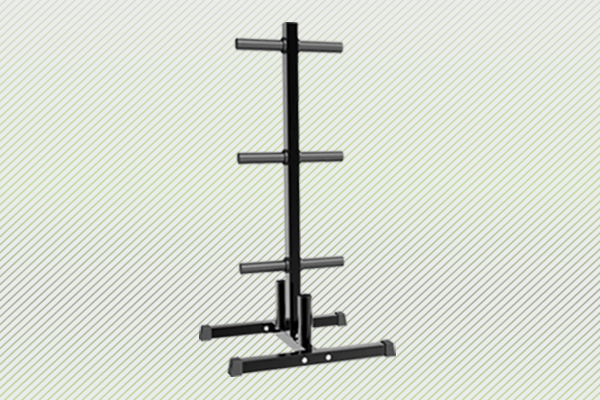 Tall with heavy weight capacity for tighter spaces.
Pros:
Each end of the tree is rubber foot capped to prevent sliding when racking weights.

The barbell holders can save space for athletes without a power or squat rack.

Weighs less than most competitive options with barbell supports at 22lb.
Cons:
Barbell holders may not be compatible with spaces that have lower ceilings.

May wobble slightly are flat hard surfaces.

Pegs may not extend far enough to support a large number of bumper plates sufficiently.
Also Consider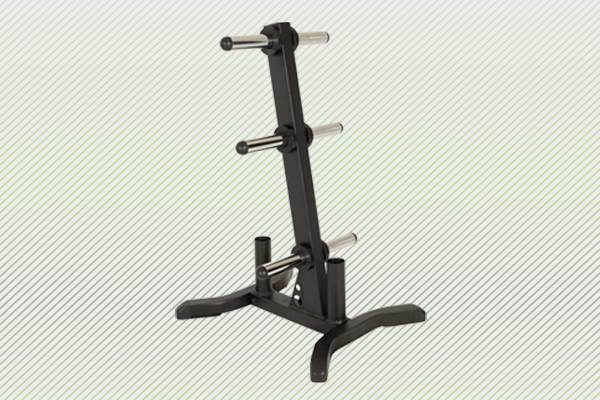 Well-balanced frame for better durability.
Pros:
Storage caps on each weight peg can enable easier re-racking.

The base is designed with curves for additional balance and to prevent wobbling.

Can support two different sized barbells simultaneously and remain balanced.
Cons:
On the more expensive end of the market.

The frame weighs 33lb which is heavier than more comparable options.
Best Non-Vertical Rack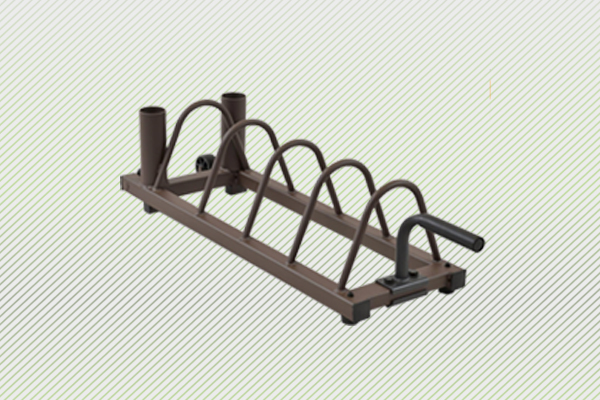 Equipped with castors for easier transport.
Pros:
Horizontal design may make this a better choice for smaller areas.

Castors and a gripped handle can make for easier positioning or movement of weights in a space.
Cons:
Weight capacity of only 300lb may not be compatible for athletes who lift heavier.

Area between the most of the spacers may not be wide enough to support multiple thicker bumper weights.
Methodology
Weight Capacity
This is fairly straightforward but plate trees can range from approximately 300lb all the way up to 1000lb in weight capacity. For athletes who compete in strongman, heavy powerlifters, or heavy weightlifters, having a higher capacity plate tree that can hold more plates should be a priority.
On the flip side, if you are an athlete doing more functional fitness training and are unlikely to require an excess of weight, choosing a lighter or smaller rack with less weight capacity could save space in your training space or be more affordable.
Weight Peg Placement and Length
Many frames will have weight pegs with an idea of which sized plates will fit to which peg. For example, 45lb plates and other large plates will be placed on pegs that have more distance from the next in order to fit them comfortably. The opposite goes for smaller plates needing less space between pegs. If you have a weight plate set that ranges widely in size then it will likely prove valuable to make sure the spacing between weight pegs is compatible.
In addition, the length of each peg is some to note when comparing two different plate tree options. Many plate trees do not take into consideration the additional width of bumper plates. If your weight set includes bumper plates, double check that the weight peg length will match your needs.
Barbell Support
A plate tree having a place to store barbells may be more appealing for athletes who don't have another place to leave barbells other than the floor. For athletes who have a squat rack, a power rack, or something similar and can leave the barbell there may not need the additional storage.
For athletes that don't have the space for that kind of equipment or like to lift using different sized barbells, having a place to rack a barbell instead of leaving it on the floor might be worth investing in.
Wrapping Up
When building out a home gym or just trying to have a cleaner and more organized training space, a plate tree is likely worth the cost. Be sure to take into account all the nuances between options on the market to ensure you get the best option for you.