We receive free products and receive commissions through our links. See
disclosures page
.
Resistance bands have a bevy of fitness benefits. They are usually made of rubber with varying elasticity to provide light resistance to heavy resistance. Basic resistance bands are just that; bands. The addition of handles or attachments opens up a wide range of possible exercises.
Finding the right resistance band with handles has some subtlety to sift through, so let's get a handle of the situation and find the right resistance band for you.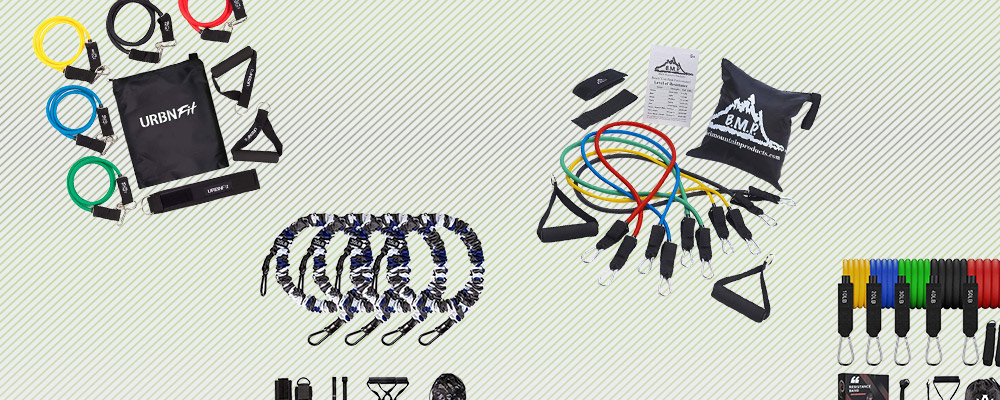 Editor's Pick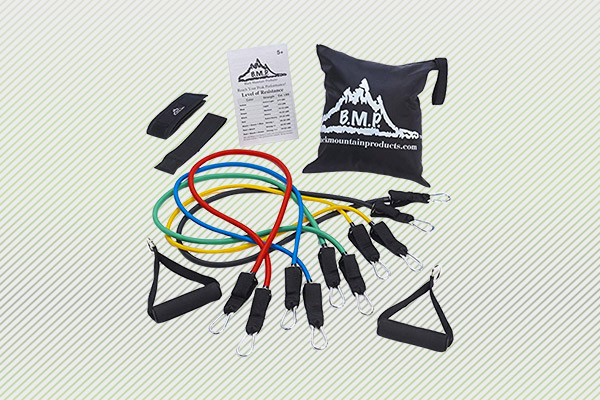 Black Mountain Resistance Band Set
Pros:
The case provided can make for easy travel and storage.

The bands can stack comfortably on the handles for up to 75lbs of resistance.

On the more affordable side of the market.
Cons:
The anchor wedge may not be thick enough to function with some doors.

The ankle strap may be less durable than the handles.
Black Mountain Resistance Band Set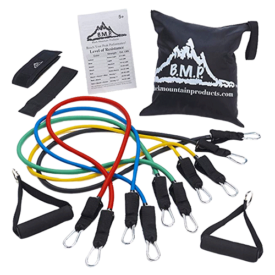 Black Mountain Resistance Band Set
The Black Mountain Resistance Band Set comes with five 48inch resistance bands that range from 2lbs to 30lbs of resistance. The bands have metal clips at each end that can clip to the padded handles or ankle strap, all included.
Contender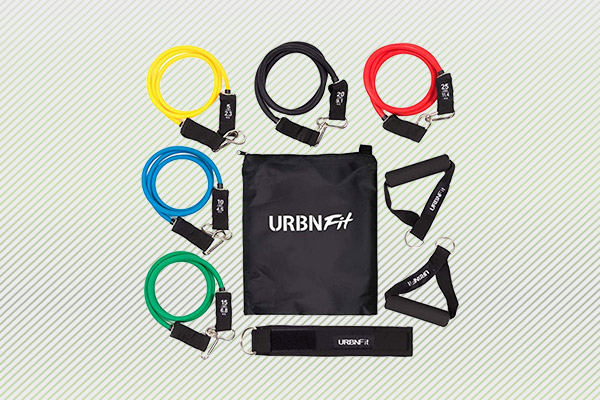 URBNFit Resistance Bands Set
Pros:
The flexible clip attachments can allow easier for easier rotation with less friction.

Exercise guide included with purchase.

More affordable than other available options.
Cons:
Might be clunky in storage.

Ankle strap is unpadded.
URBNFit Resistance Bands Set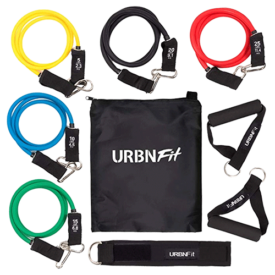 URBNFit Resistance Bands Set
URBNFit Resistance Bands Set includes five bands with metal clips that provide up to 30lbs of resistance, two handles, an ankle strap, and a carrying bag. The handles are capable of maintaining the resistance of three resistance bands simultaneously.
For Heavier Resistance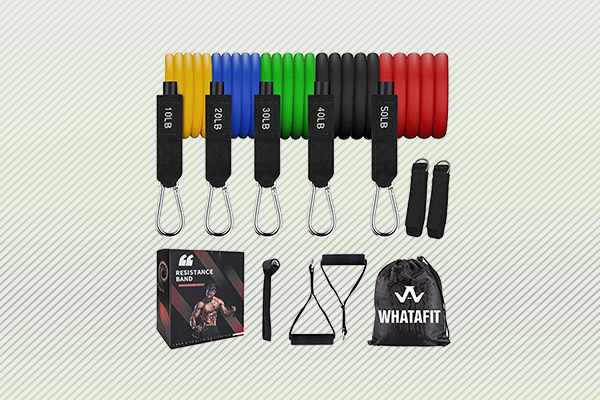 Whatafit Resistance Bands Set
Pros:
The bands can be used together to supply up to 150lbs of resistance.

Two ankle straps is more than many competitors and can enable more variety in lower body workouts.

Reinforced clip link may help prevent the bands from snapping under pressure.
Cons:
The ankle straps do not have metal attachment clips which could lead to fraying over time.
Whatafit Resistance Bands Set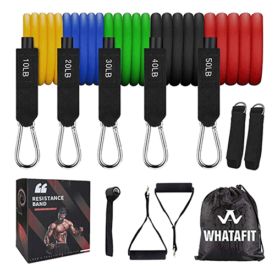 Whatafit Resistance Bands Set
Whatafit's resistance bands come five to the set and have a resistance range in increments of 10lbs up to 50lbs. The set includes a travel pouch for athletes on the move along with two ankle straps and a user manual with exercise explanations.
Best Snap Prevention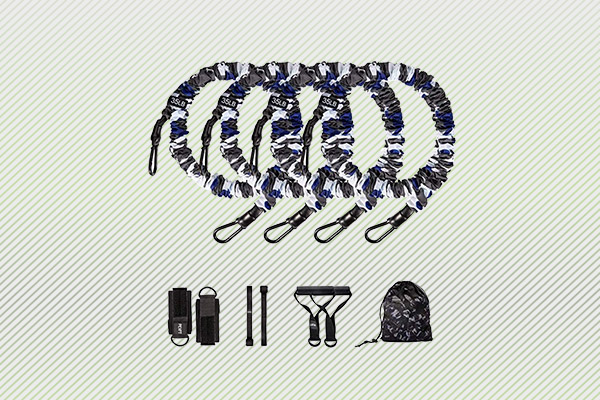 PEXFT Resistance Exercise Bands
Pros:
Protective nylon sleeve may provide better safety during workouts.

The door anchors can function on the tops and bottoms of doors. 
Cons:
More expensive than most options on the market.

All four resistance bands each provide 35lbs of resistance.
PEXFT Resistance Exercise Bands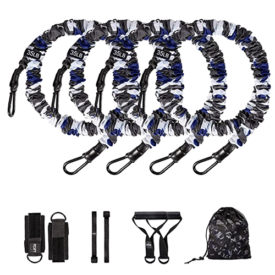 PEXFT Resistance Exercise Bands
The PEXFT Resistance Exercise Bands are a ten piece set that includes four resistance bands, two cushioned handles, two ankle straps, two door anchors, a carry bag, and a user manual. Each band is covered in a protective nylon sleeve to prevent snapping and wear over time. 
Methodology
Set Components
Resistance bands with handles will usually come with some additional items. More often than not, resistance band sets will include one or two ankle straps and door anchors. The variety of those items can be vast.
Athletes who intend to perform lower body workouts frequently should be on the lookout for multiple ankle straps, specifically ones that are padded. Athletes should be check first that the door anchor provided in a desired set is compatible with the door they will be used with. For beginners, some sets include an exercise manuals that can be helpful.
The kinds of additional items available is fairly customizable and an athlete should look for the set that best meets their needs.
Resistance Volume
The volume of resistance provided by each set of resistance bands will vary. Most handles can support multiple resistance bands simultaneously to increase the weight. Athletes who prefer heavier resistance for their training should specifically seek band sets that provide more resistance or a set with handles that can support the largest number of bands simultaneously.
Wrapping Up
Resistance bands are great additions to a home gym or for athletes with a heavy travel schedule. There is a large variety on the market that fulfill fairly specific needs of individual athletes. If you know what you're looking for, chances are you'll be able to find it.
FAQs
Do all resistance bands have handles?
No. There are resistance bands that do not have handles or a means to attach to handles. The resistance bands that can attach to handles usually do so via metal carabiners.
What color resistance band is what weight?
The color coordination to pounds of resistance will vary from product to product. Most manufacturers will mark their resistance bands clearly.