We receive free products and receive commissions through our links. See
disclosures page
.
Shaker bottles with extra storage make following a fitness program a little less complicated. Your supplements or protein powder can be kept with your bottle so mixing and consuming it is a little less time consuming. This extra step makes organizing simpler which means people will be more likely to follow a program consistently.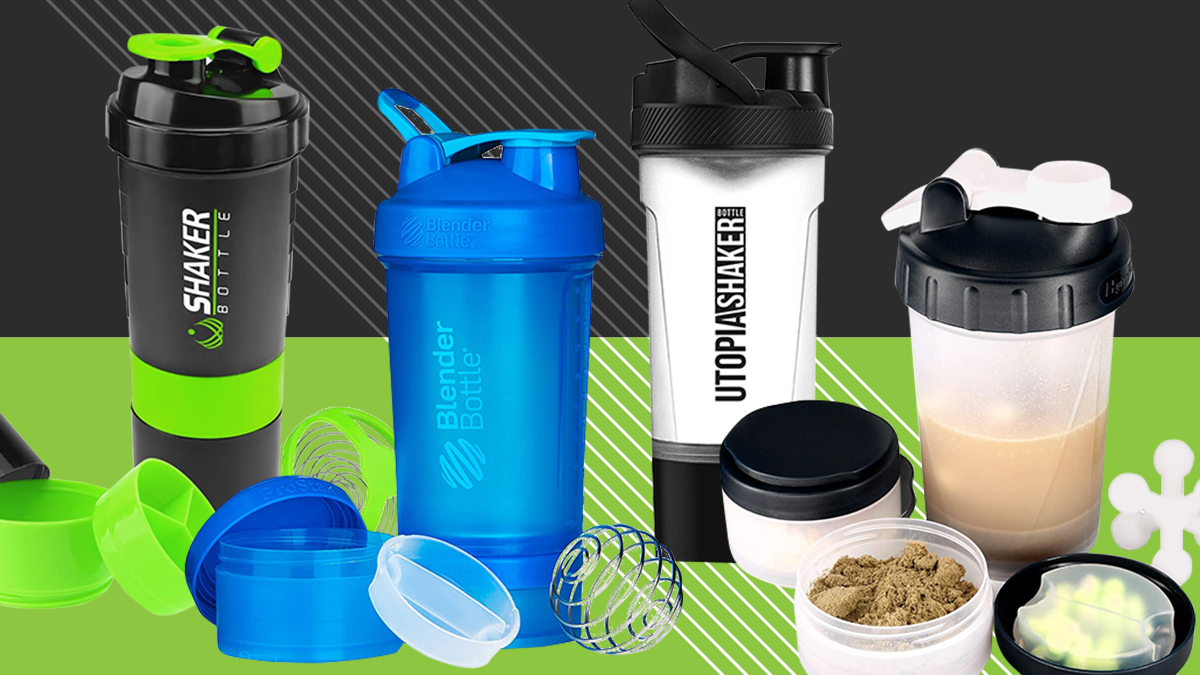 These four bottles are quality products that can help anyone who likes to have their protein or supplements on hand without taking up extra space in the gym bag.
Most Storage Space
Save Powder and Pills
Pros:
There are two storage jars for powder that both attach to the shaker bottle.
The bottle comes with a shaker ball to help with mixing the powder and your liquid.
The materials used to make the product are non-toxic and won't hold odor.
Cons:
The bottle holds 16 ounces of liquid which may not be enough for some powders.
There is no separate carabiner for the lid. You would have to attach the lid directly which could cause spilling issues.
Hydro2Go 16 oz. Shaker Bottle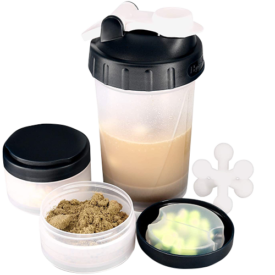 Hydro2Go 16 oz. Shaker Bottle
This bottle has two storage jars as well as a pill case. So you can use one powder during your workout and still have the post-workout powder with you. The pill case allows you to store other supplements too.
Most Choices
Color Coordinate Your Cup
Pros:
The bottle can hold up to 22 ounces of liquid and powder.
The pill case can be stored within one of the storage containers that connect directly to the bottle.
You can choose from up to 14 different colors whereas other brands offer very few options.
Cons:
The metal shaker ball makes extra noise when the bottle is shaking which can bother some consumers.
The bottle is dishwasher safe but the bottle may not fit in the top section of some dishwashers.
The lids of some Blender Bottle products have been subject to damage issues.
Blender Bottle ProStak System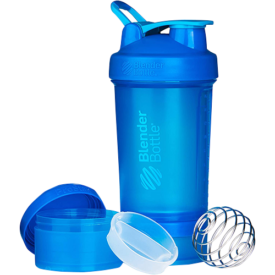 Blender Bottle ProStak System
Blender Bottle offers 14 different colors for you to choose from. There are also two storage containers. You can connect both of them or only one if you prefer.
Best Powder Breakdown
Easiest for Mixing
Pros:
The shaker ball and inside disc helps improve mixability of your powder and liquid.
The bottle holds up to 24 ounces which would support most supplements.
The storage container holds up to 200 cc of powder.
Cons:
This bottle only comes with one storage container.
You don't have the option of buying only one bottle if that is your preference.
There is no warranty with this product.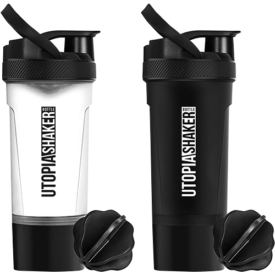 This product includes a shaker ball as well as a disc inside the lid which makes mixing the powder even easier. You also get two bottles when ordering this product.
Least Likely to Leak
What Goes Inside Stays Inside
Pros:
This company offers a leak-proof guarantee if you make a purchase.
The three storage containers offer a total of eight ounces of extra storage.
The markings on the side of the bottle are easy to see so you know exactly how much you have inside.
Cons:
When everything is apart, you do have to keep up with several pieces at once.
The pill compartment may not hold as much as other products on this list.
The whisk inside the lid comes off easily when shaking the bottle.
While it's dishwasher safe, the labeling may come off after only a few runs in the dishwasher.
VIGIND Protein Shaker Bottle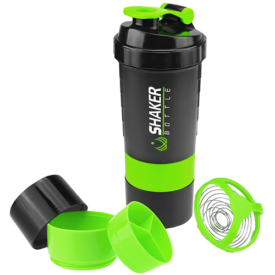 VIGIND Protein Shaker Bottle
The lid and flip cap are durable so regardless of how many times you use it, it won't leak. The wire whisk inside the lid also helps with powder breakdown. There are six colors available.
Conclusion
Organization makes all processes easier to follow. This is true with a supplement or fitness regimen like it is with other tasks. Choosing the right shaker bottle that can store everything you need will save time and will make sticking to the plan a little easier.