For some, watches are an everyday companion, something they look at all the time and rarely take off. Others may be looking for a sports watch specifically to help train for a race or to help with a tough new job. The leading sports watch brands make products that can be worn in professional settings while also being useful while doing physical training.
This fine line between aesthetic and efficiency is a hard one to balance for sports watches, but many have figured out a way to do this. With this in mind, we have taken a look at some of the top offerings to see what makes them tick: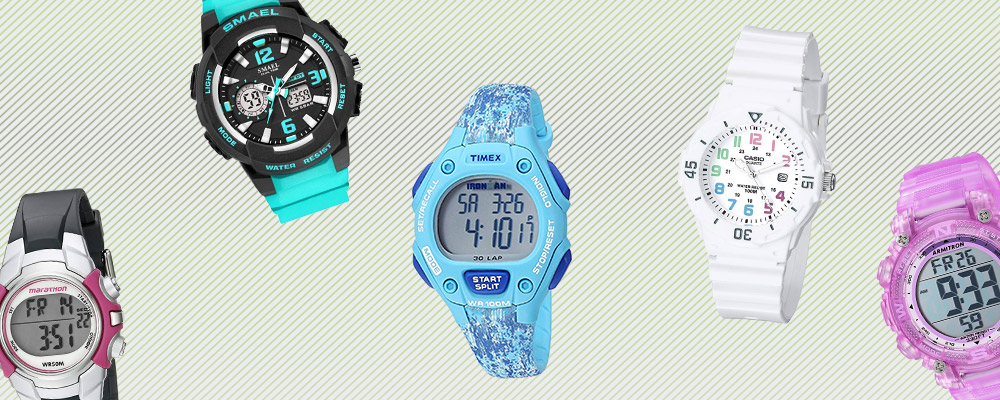 Editor's Choice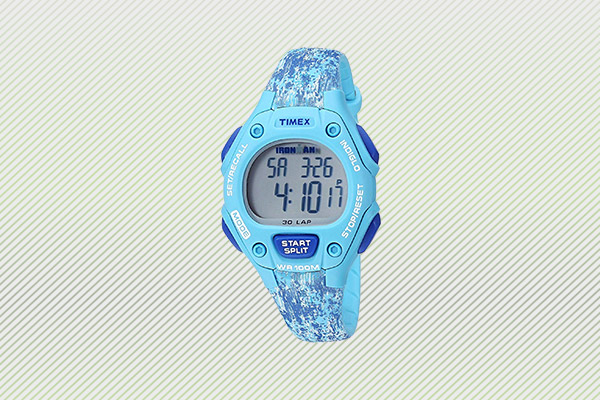 Timex Ironman Classic 30 Mid-Size Watch
Pros: 
Occasion reminders. A feature that is distinctive to this version of the Ironman Classic, the Timex 30 can store fifteen different reminders for events. This is ideal for those doing a multi-faceted training regimen, say for a triathlon.

30 lap memory. This watch has a thirty lap memory, meaning its stopwatch feature will save lap times in its memory. This is helpful for training and pushing to achieve goals.

Blue dye. One of the four color variations of this watch, the blue dye version is unique and spunky. The speckled white and gradations of blue intimate water and this watch's better-than-average water resistance.
Cons: 
Can't recall the date of best lap. While some offerings from Timex have the ability to recall by date the best lap and average lap, this watch has neglected to add that feature.

Lacks interval timing. Another feature that is present in some sports watches but has been left out of this one is interval timing. Those doing interval or high-intensity-interval training may need to do the math in their heads or look for another watch.
The Contender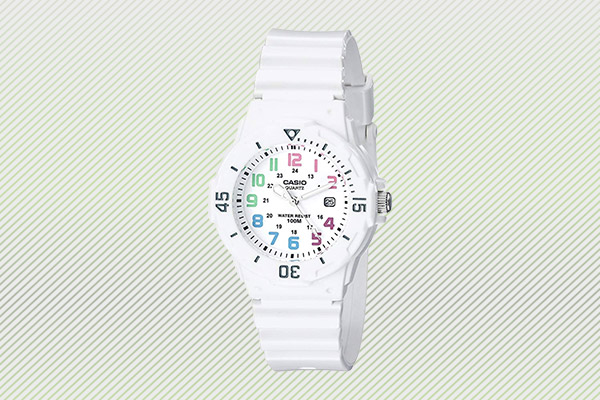 Casio Women's LRW200H-7BVCF Watch
Pros:
100 meter water resistance. This Casio women's watch can be used for swimming, snorkeling, and showering, as it is rated for 100 meters of resistance.

Pastel-tone numerals. The hours are divided into three hour increments, each with their own pastel color. This creates a colorful splash against the all-white face and band.

Bi-directional bezel. The notched bezel encasing the watch face can be turned in either direction, which is a great help for those hoping to measure elapsed time or juggling various time zones.
Cons:
Second hand is white. For a watch that is almost entirely white, it is an odd choice to make the second hand white as well. The lack of contrast can make it hard to see.

24 hour index hard to read. While it is a nice feature for this watch to include a 24 hour index as well as a standard 12, the numbering is quite small and hard to read unless observing from up close .
Best Bargain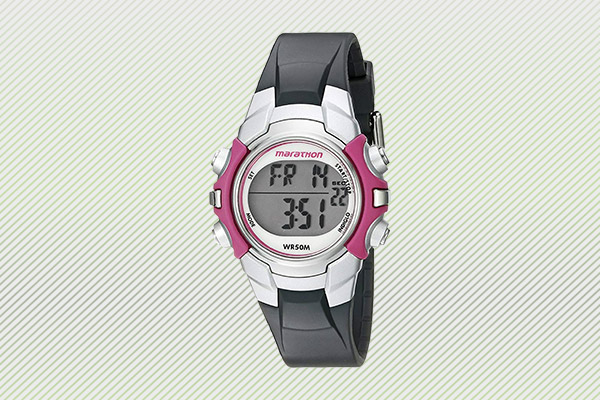 Timex Marathon Mid-Size Watch
Pros: 
10 colors. This Timex comes in ten different color options. Colors included are black/purple, black/silver, blue/silver, pink, grey/coral, gray/pink, light blue/silver, orange/silver, pink/silver, and purple/silver.

Two time zones. This watch allows two different time zone settings. This is perfect for those conducting business or with family in another location.

Cost. This watch is affordable enough for users to use during all sorts of types of activities without fear of losing much of an investment Given that it is a sturdy and rugged watch, it can withstand vigorous training in any event.
Cons: 
Only water resistant to 50 meters. This watch is suitable for swimming and showering, but diving and snorkeling may damage the watch.

No countdown timer. In a departure from other Timex watches, this one does not offer a countdown timer. Only stopwatch and alarm functions are available.
Most Versatile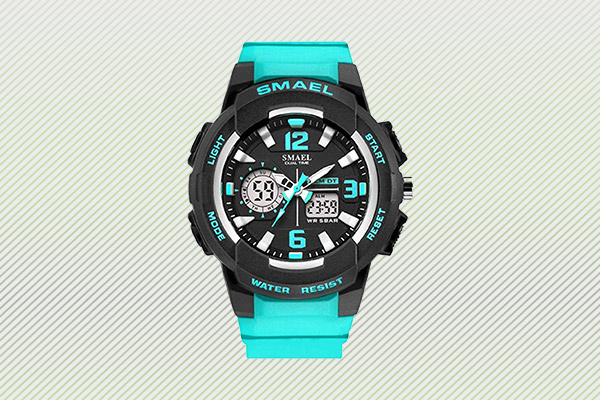 SMAEL Women's Sport Wrist Watch
Pros: 
Hourly chime. A feature on this watch that is sure to get plenty of use is the hourly chime. This can notify athletes or professionals of certain events without presetting alarms.

Professional coloring. This SMAEL watch comes in five colors, some fun (pink) and some suitable for professional settings (black with gold accents).

Analog and digital display. A great feature of this watch is that there is both an analog and digital display of the time. It can be helpful to have two viewing options for those needing quick reference of the time.
Cons: 
Can't operate keys underwater. Though this watch is rated for 50 meters of water resistance, it is recommended to not press any buttons any water, as this may interfere with its functionality.

Band is stiff.

The band will loosen over time, but initially it may feel a bit stiff for some users. Depending on the size of the wearer's wrist and how tightly it is put on, this may cause some minor discomfort.
Most Rugged Design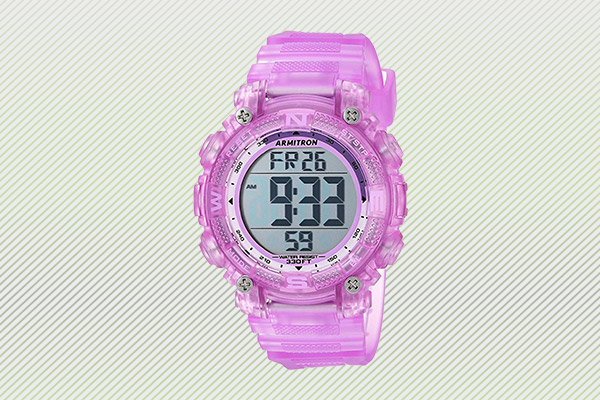 Armitron Sport Women's 45/7086 Digital Chronograph Watch
Pros: 
Large numbers. The display on this sports watch features large numbers for showing the time. This is beneficial for those who need to quickly reference the time and get back to an activity.

Rugged and sporty look. This Armitron watch features a grooved band that connotes a serious and athletic purpose. Great for professional settings. 

Easy to set up. This watch is straightforward and many of the features (alarms, stopwatch) can be quickly accessed without even reading the instruction manual.
Cons:
Difficult to contain excess band. If the band is too long for a user's wrist, it may be difficult to corral the excess material. The strap's design makes it difficult to fold excess band back into the strap. 

Only has a 24 hour alarm. Those wanting to wake up at the same time everyday should be satisfied, but this watch won't set, say, a recurrent 30 minute alarm. It will only set one to recur every 24 hours.
How We Picked
Sports watches can be an instrumental way to keep on track with whatever objectives are planned for that day, whether they are work-related, part of a fitness routine, or for managing a household. These devices are made to withstand the ups-and-downs of daily life and tend to be affordable enough that users won't think twice before wearing them in any environment. What sets these watches apart are the details. Here are the aspects we used to determine our favorites:
Colors
The first thing that most people will notice with a watch is its color. Even if a user is looking for the most functional watch possible for their needs, the color of the watch is still something that will affect the decision-making process. Many sports watch makers have lines of watches that feature fun, vibrant colors such as pink, light blue, and turquoise. These are often combined with accent colors that either subtly supplement the main base color or add a flash of spunk.
Alternatively, most manufacturers also make more subdued options that feature gray or black as the main base color. These watches can usually double as professional accessories appropriate for work or other more formal settings. A watch that are all-white or that have flashes of color may satisfy both the casual and formal needs of its wearers.
Features
In general, many sports watches have similar functionality. Alarm clocks, stopwatches, and calendar dates are fairly standard. Digital sports watches have developed backlights to see the time in darkness as a regular feature, as well as having an option to see the display in military time. These features are so common that it is hard to find a sports watch without them.
However, some of the typical features have different levels of utility. For example, some watches have 30 lap-time memory while others can have upwards of 100. Some watches have an alarm feature, but can only be set for 24 hour intervals. This can make interval training more difficult. It is important to check the exact specifications of different sports watches, as tiny variations in the same functionality may make or break a purchase.
Display
A third crucial area of significance when choosing a sports watch is the ability to quickly read, reference, and decipher the display. There are different manners in which sports watches make a display easier to read, depending on what information is most important. Some have large numerals that take up most of the watch face. Others will have other data, such as the date or a seconds meter, that take up more space on the face.
A novel way that some watches have been designed to show time is to have a digital and analog display at the same time. This caters both to those who find looking at a clock face easier to read as well as those who prefer digits. Most sports digital watches with have a backlight feature for when it is dark; the difference will usually be how long the backlight stays on after having been turned on.
Tips
Not sure which sports watch is right for you? Take a look at this list of tips we've compiled to help make your decision:
Will you be using this for underwater activities?

While most sports watches have some degree of water resistance, some nearly double their nearest competitors in terms of how much resistance they can withstand. Those who are hoping to go snorkeling and diving should look for watches with the most resistance.

Watches without high water resistance may be able to be used while showering or washing hands, but be careful not to activate any features while submerged. Often times pressing buttons on a watch can let water into the device, causing malfunction and degradation.

Are you using this for work, pleasure, or both?

Many times people looking for a sports watch are simply looking for an affordable and durable timepiece that can withstand some environmental trauma. Professionals in fields such as law enforcement, civic services, medicine, and scientific lab work should be able to find such a sports watch that has a simple, low-key, and dignified look.

For those hoping to train or use casually, there are sports watches with fun colors and extra features that make training more efficient. There are a plethora of different color combinations that should fit most people's sartorial tastes, so finding a watch that you want to wear should not be difficult. The extra features such as lap memory and interval alarms may be only found in certain brands, but only those people with specific training needs may need that functionality.