Blue Apron is a company you have probably heard of in the world of Home Meal Delivery Services. They were founded in New York City in 2012 and have gained popularity in their offerings and accessibility. Blue Apron offers eight dishes to choose from each week along with a variety of serving sizes. If you are located in California, you're in luck because you can pop into a Costco and grab your kit just off the shelf.
In this review, I'm going to take you through everything from first grabbing your Blue Apron box off your front porch, to unboxing and it's packaging, the ins and outs of what's on the menu, and all the nutritional information you could possibly need to determine whether Blue Apron is the right fit.
I'll touch more on this below, but overall I found Blue Apron to have some of the freshest ingredients and tastiest meals of any service I've tried. However, there are a few dietary regimens that might not fit well into Blue Apron's options, and I go in-depth on those below. So, grab your apron, and let's get cooking.
Save $60!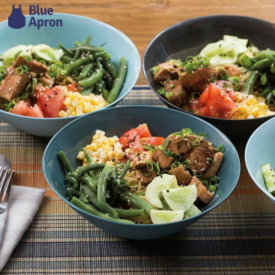 One of America's largest meal delivery services, Blue Apron scored high for us on freshness and taste. Get $60 off your first three boxes with this link.
Blue Apron Company Background
Blue Apron was founded in New York in 2012 by Matt Wadiak, Matt Salzberg, and Illia Papas. The three founders took it upon themselves in the early stages to package and ship the first 30 orders. From there, the company took off, expanding in 2014 to a fulfillment center in California, and then launching Blue Apron Market where kitchen and cooking supplies were sold. In 2015, Blue Apron joined the wine scene and created Blue Apron Wine, another delivery service.
Blue Apron claims to create incredible experiences by honing into the emotional human connections that are cultivated through the entire cooking experience.
Blue Apron also offers a comprehensive blog where you can find tips and tricks on cooking, how to videos, and live demonstrations. In addition to meals and access to the blog, they also offer a wine subscription service as well as their own marketplace filled with kitchen supplies available for purchasing.
Blue Apron Website and Ordering Experience
I found Blue Apron's website pretty easy to navigate. It's simplicity and organization makes it user friendly. Whether you are looking to see what's on the menu, interested in the pricing, or are looking to order wine, there are specific tabs right on the homepage.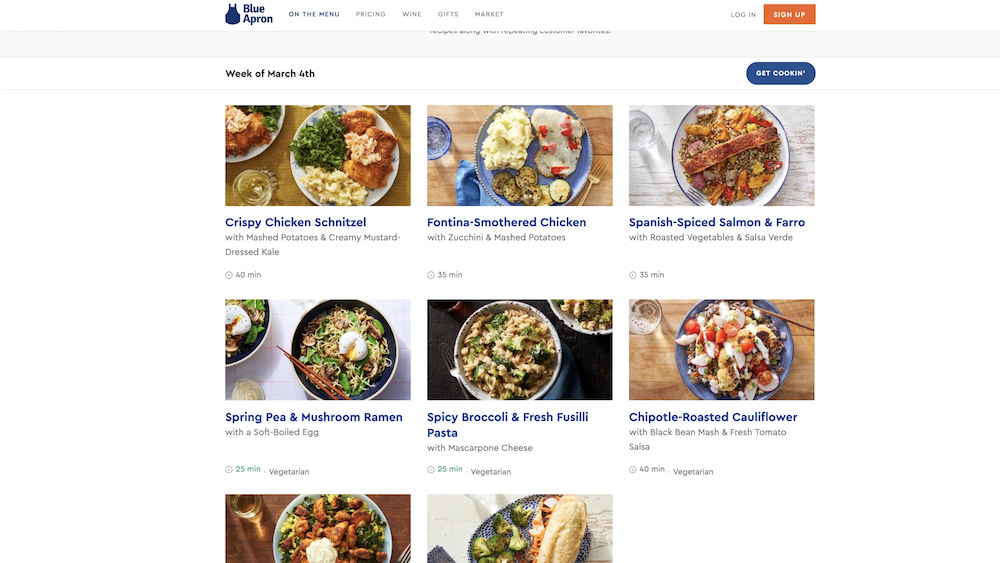 They lay out the four options you can choose from: The two serving signature, the two serving freestyle, the two serving vegetarian, and the four servings signature. Depending on which style you select, below they provide a list of recipes for the upcoming week along with the time it will take to cook the meal and all of the nutrition facts.
This was effective for me, because I could actually see and learn more about the meals and ingredients that would eventually come to my doorstep. It was also a major plus that Blue Apron offers a lot of flexibility in their ordering process.They have clearly recognized that not every week may be the same for people so have made it possible to skip a week and change up the menus.
What's in the Box?
The Blue Apron kit arrived at my doorstep neatly packed and well organized. All of the fresh ingredients were packaged separately from the meat, and everything was kept and maintained at a nice, chilly temperature thanks to the cellophane wrapping. (I've unfortunately had some less-than-stellar experiences with ingredient freshness with some other services.)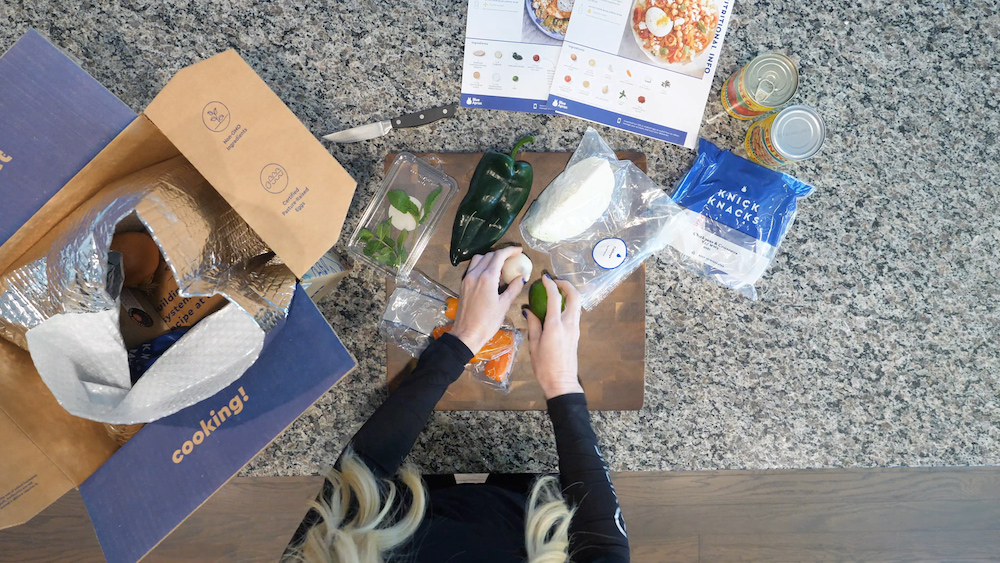 When I took a closer look at the individual ingredients packed in, I was pleased to see just how fresh everything was. I would give high marks to Blue Apron on this front, and I would say they very well may be the best we have seen where quality of produce is concerned. I didn't find a blemish on anything!
As for the food, I ordered two meals. I got the Spanish Style Stewed Chickpeas and the Tandoori- Style Roasted Chicken. Before I was expected to, or felt any pressure to just dive in and begin cooking blindly, I was pleased to see a large recipe card next to the packaged food. There was also a photo for what the finished product should look like, a list of the ingredients in the meal, and comprehensive step-by-step directions.
Here are the specific details of what ingredients I received for each of the two meals.
Spanish Style Stewed Chickpeas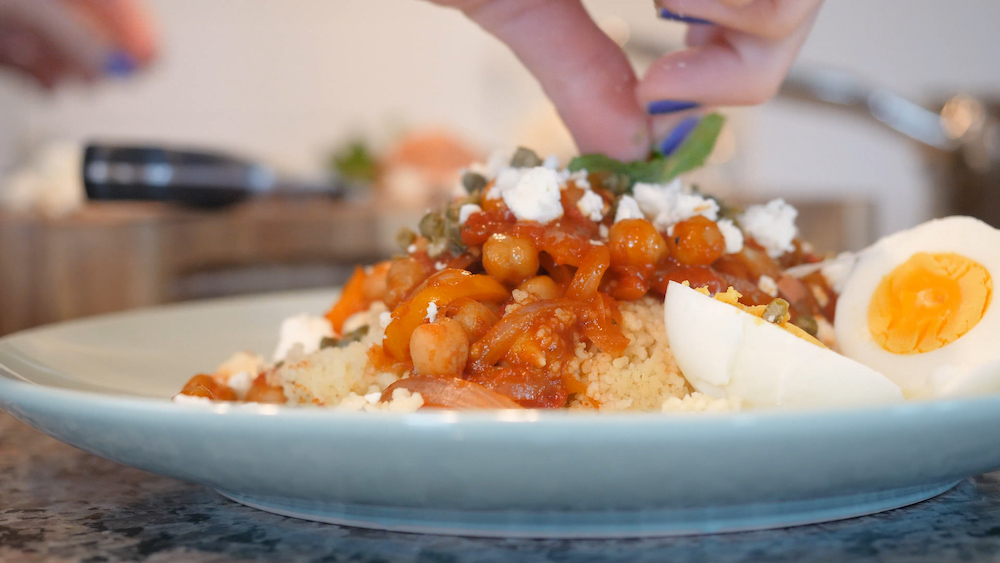 Serving size: 2
Cooking time: 30 minutes
Tools: Cutting board, Prep Bowls, Chefs Knife
2 Pasture raised eggs
1/2 Cup yellow couscous
1 14-OZ Can whole peeled tomatoes
1 15.5 Oz Can chickpeas
Yellow onion
4 OZ Sweet peppers
1 Bunch mint
1 ½ OZ Feta cheese
1 TBSP Capers
1 TBSP Spanish spice blend
Tandoori- Style Roasted Chicken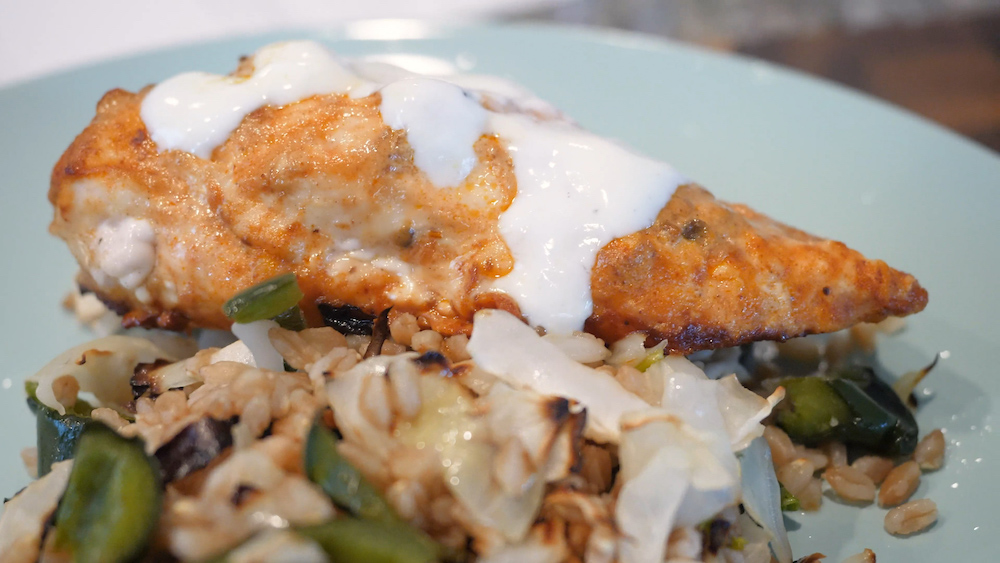 Serving size: 2
Cooking time: 45 minutes
Tools: Cutting board, Prep Bowls, Chefs Knife
2 Boneless, Skinless Chicken Breasts
1/2 Semi Pearled Farro
1/2 LB Cabbage
1 Lime
2 TBSPS Savory Tomato Chutney
1/2 Cup Plain Non-Fat Greek Yogurt
1 Poblano Pepper
Blue Apron Cooking Experience
Between the packaging and the fresh ingredients, I was excited to get cooking. I was curious to see if it would all come together, and end up matching the meal's photo finish.
First, let's get started with my Spanish Style Stewed Chickpeas cooking experience.
Prep: Bring a medium pot of water to a boil and wash and dry the fresh produce. Drain and rinse the chickpeas, and seperate your tomatoes in a bowl. Pick the stems off the mint leaves.
Cook: Add the eggs to the pot of boiling water for six to seven minutes. After, make sure to drain, peel, and then properly season with salt and pepper.
While the eggs are boiling, cook your veggies and couscous. Combine the onions and peppers with olive oil and then eventually, when the veggies have softened, you will add in the chopped garlic, chickpeas, and spice blend. Cook, stirring frequently for another 2 to 3 minutes, or until thoroughly combined. The final step here will be adding the tomatoes.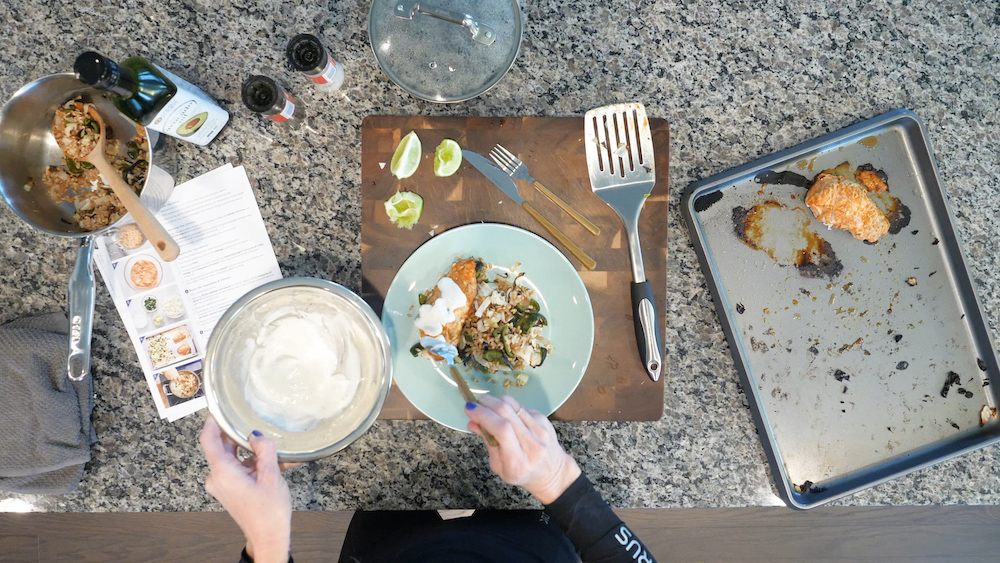 While the vegetables cook, combine the couscous and ¾ cup of water to boil on high. Once boiling, turn off the heat and let the couscous cook for 6 to 8 minutes, or until the water is absorbed and the couscous is tender. Fluff with a fork to make sure it's just right. Then add in the chopped capers and 1 teaspoon of olive oil.
Plate everything starting with the couscous, and then top with the cooked vegetables and your seasoned eggs. Garnish with the cheese (crumbling before adding) and mint leaves (tearing just before adding.)
Taste: Honestly, I thought it was fantastic! The ingredients all melded well together. It was packed with flavor (thank you garlic) and had a wonderful combination of textures. The onions gave the dish a bite, the egg offered some smoothness, and feta and capers gave this delicious saltiness. I can't reiterate enough how fresh the produce was too, and this translated over to taste. The touch of mint leaves for garnish at the end made the stew scream freshness, and a touch of cheese really took it over the top for me.
Thoughts: I thought the dish was clean, refreshing, and interesting in its flavors and ingredients. Also, for a serving size of two, I still felt like it made quite a bit that would make for plenty of leftovers. My only negative is that the amount of couscous provided in relation to the chickpeas and veggies is a little bit disproportionate. At the end there was no couscous leftover, but still at least another serving or two of vegetables.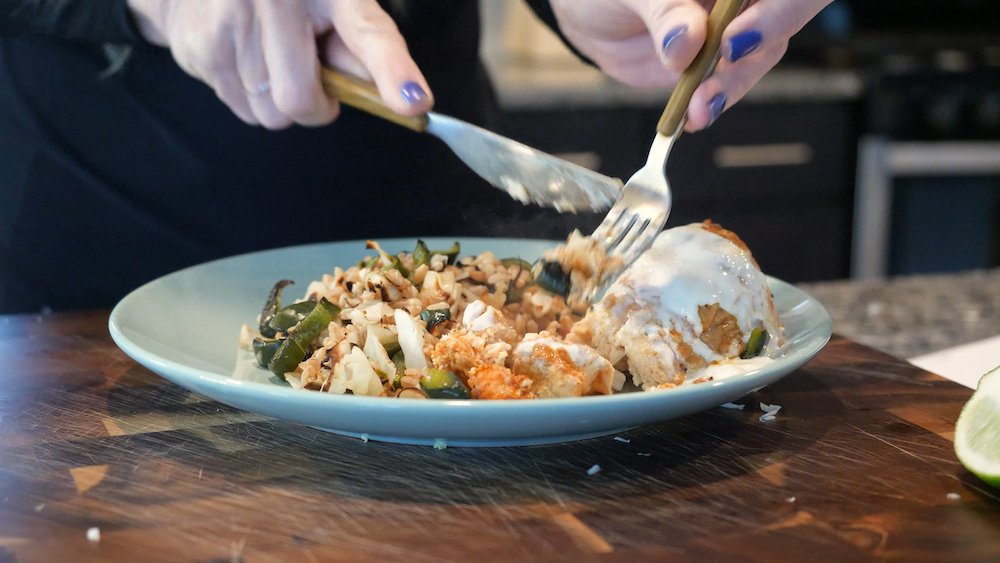 Now, onto the Tandoori- Style Roasted Chicken.
Prep: Heat the oven to 450°F, marinate the chicken, wash and prep the vegetables, and make the sauce.
Cook: Get started first with the farro! The farro will cook for 18-20 minutes so get that going while you add your cabbage and pepper onto the cooking sheet with olive oil, salt and pepper. The veggies will roast for five minutes and then you will add the marinated chicken to the other side of the pan. The veggies and chicken will roast together for the next 19-21 minutes or until tender. Once the chicken is cooked through, the veggies are tender, and the farro is ready get it all plated up! Top your chicken with the cooling yogurt sauce and garnish with the lime wedges.
Taste: This is a dish where what you expect is what you're going to get. The flavors were that of tandoori chicken; it was smokey and had a bit of a bite to it. The farro was a nice hearty choice and went well with the peppers and cabbage. The yogurt added a nice coolness and was a good compliment to the zing of the lime. All in all, if you are a fan of Indian food you will certainly like this hearty and flavor-rich meal.
Blue Apron Nutrition
As someone who is hyper aware of what I am putting into my body, I really appreciate the transparency from Blue Apron and their meals.
I also really liked that when it comes to having specific dietary needs and restrictions, Blue Apron has the "freestyle" option which allows you to play around with the ingredients and meals to fit your needs. Blue Apron teamed up with Weight Watchers, and the Weight Watchers meals are based on the Smart Points system. What this means is that each meal is worth a certain number of points which will help you track your specific health goals. The only downside here is that this might be an added stressor for someone who is not attuned to the Weight Watchers system of eating.
There are not any gluten free, vegan, or keto friendly ordering options with Blue Apron, so if you follow a diet other than vegetarian or a general mix of foods, you could find them limited in their offerings for your specific dietary needs. Their blog however offers some good insight and tips for accommodating guests that are gluten free and/or eating paleo. While this was informative and helpful, it would be nice to see those swaps or choices provided in their menu options.
I would say all in all, points to Blue Apron for the education/information provided, but they could improve in making their meals more accessible to all eating plans and dietary needs.
Here's the caloric and macro breakdown for each of my meals:
Spanish Style Stewed Chickpeas
Calories 510
Fat 9g
Protein 53g
Carbs 53g
Tandoori- Style Roasted Chicken
Calories 620 Cal
Fat 15g
Proteins 33g
Carbs 89g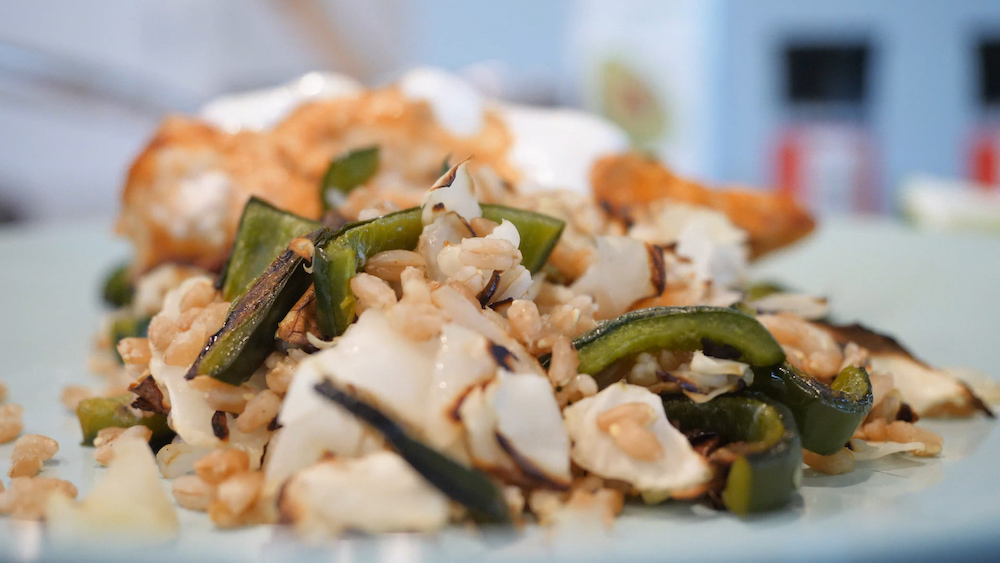 Is Blue Apron Good for Weight Loss?
If losing weight is the concern, Blue Apron does offer a thorough calorie breakdown for each recipe. Their partnership with Weight Watchers is designed to help you make "healthier" choices, however I would say there is pretty limited information and backing around what "healthier choices" even means, at least in terms of it being backed up by qualified nutritional information.
Nutritional needs and wants vary from person to person, so it would be nice if they offered a more structured menu accommodating those needs. While they are interested in supporting healthy eating habits, they don't go far enough to create diet specific menu plans.
If you're vegan, pescatarian, paleo, keto, you're going to have to do some digging to find meals that will work well for you. This may not be the most convenient option if you're seeking a meal service to cut down on some of the leg work.
Blue Apron Pricing
I'll cut right to the chase: Blue Apron certainly isn't the cheapest home meal kit service out there, and it's certainly not the most expensive. It's somewhere squarely in-between. And perhaps most importantly, the pricing is incredibly consistent per serving. (See below.)
I think the freshness, taste, quality, and convenience generally make it a solid value. Here are a few important points to keep in mind for anyone assessing the cost and value of Blue Apron meals.
The Signature, Freestyle and Vegetarian options are all priced the same at $9.99 per serving with free shipping for the 3 serving option.

The price is the same if you drop it to 2 servings, however they do add a $7.99 shipping charge if you do this.

The Signature for 4 at 2 servings is $8.99, 3 servings drops to $7.99, and 4 servings lands you at $7.49. All pricing options for this level include free shipping which is awesome.
Blue Apron Pros
In general, I had a good experience cooking with Blue Apron. I enjoyed the process from the online ordering, unpacking my box, and then cooking. While Blue Apron was a good fit for me, it may not be for you, so please keep in mind when I list my preferences.
Simple and straightforward. The website and ordering process is mapped out clearly and there is enough information provided to know exactly what you're ordering.
Flexibility. Anytime an online ordering food service has the ability to recognize that not every week is the same, and plans can change, I'd say it's a huge win.
Accessibility. All the information you need, whether it be nutrition, ingredients, cooking time etc, it's all there.
Easy to follow nutritional breakdown. If you are someone who considers yourself granular when it comes to nutrition, Blue Apron is a good fit. They offer a nutritional breakdown beyond macros and go so far as to include a nutrition card in your box to have right in front of you.
Gold star for produce. One more time for the produce and it's freshness. Best I have ever seen. There wasn't any bruising, no wilting leaves. It was spotless!
Blue Apron Cons
While I did really enjoy my experience with Blue Apron, I do feel there are a few areas that they could have done better.
Menu limitations. I will say my main concern here is that their weekly menu is a bit limited with just eight meal choices.
Restricted for those with dietary restrictions. If you are paleo, trying out keto, etc., Blue Apron doesn't really offer in-depth customization for people that may have different dietary needs and restrictions. While there are freestyle and vegetarian options, it doesn't go so far to make it as rich and exciting as the other menu options.
Information doesn't translate to the menu. The website offers some really good educational information on specific nutritional plans, however this does not always translate to the menu and ordering options.
Wrapping Up
In general, I had a good experience cooking with Blue Apron. I got my box on time, it was thoroughly packed, and what I signed up for, I got! Again, the fresh produce blew me away and made my two dishes really standout.
Because I don't follow any specific dietary restrictions, apart from just being very conscious to eat healthy and intuitively, if I were to decide to start eating keto or paleo this meal delivery service would present some challenges. While there is plenty of information on making meals keto or paleo friendly on their website, when it comes to the actual meals provided and listed, it's hard to find. Generally speaking though, I found their meals healthy, packed with good fats and protein, and really tasty.
So, whether you are looking for a few healthy meals a week, but can't commit to being at home all the time, Blue Apron does allow you to skip weeks and switch between meals and meal kits. I found this really smart because Blue Apron clearly recognizes that we're human beings! I would say if you are someone that wants a few healthy meal options a week, likes good, tasty, and nutrient-packed ingredients, Blue Apron could be a great fit for you!