CITYROW is a popular New York City studio that is bringing the rowing experience into customers' home gyms with their CITYROW GO Classic and CITYROW GO Max rowing machines. CITYROW has an app with live and on-demand classes from in-studio trainers that offers class experiences at home. You don't have to take classes if you don't want to though. Both the Classic and Max versions of this rower sport water resistance, have a smooth feel, and offer all the stat-tracking you need for a full at-home workout experience.
Main Takeaways
The CITYROW rower brings the studio experience to your home when combined with the CITYROW GO app. 

Both the Classic and Max versions of the CITYROW GO are water rowers, so it feels very much like you're rowing in an actual shell out on the water. 

The machine is equipped with either a mobile device arm or a screen, so you can

stream classes

from the CITYROW GO app.
$200 Off
CITYROW GO Rower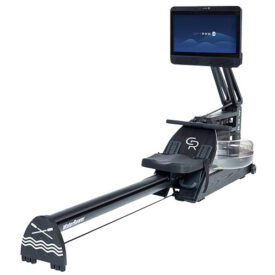 The CITYROW GO rower was made to bring the studio vibe home. Paired with the CITYROW GO app, you can basically workout just as you would in-studio. The app features classes that range from rowing, to HIIT and endurance, to strength and yoga. Get $200 OFF any rower through the end of July.
CITYROW Rower Highlights
​
The CITYROW GO rower is definitely made for those who love rowing and enjoy doing so in the studio. It's a great rower on it's own, but is also built to supplement classes on the CITYROW GO app that range anywhere from HIIT to yoga.
The higher-end Max version is one of the more tech-forward rowers out there, but it is still a water rower. If you're looking for something similar to the experience you feel in-studio with CITYROW or just a machine that is great for streaming classes and breaking a sweat, the CITYROW rower might be a solid option for you.
Who Should Buy the CITYROW GO
Anyone who frequents a rowing studio and wants to bring that experience to their home.

Users who prefer rowers that work well with class streaming options.

Athletes who want a quality water rower that feels similar to the experience of actually rowing on water.
Who Shouldn't Buy the CITYROW GO
Athletes who want a quiet machine to add to their home gyms.

Anyone who wants the option to change resistance levels.
Price
​
This Classic version of this rower goes for $1,495 or $83 per month for 18 months if you want to break up the cost. There's also a high-end version of the CITYROW GO called the 'Max', which includes a 19.5 inch sweat-resistant touch screen and built in speakers for a more immersive experience catered towards those prioritizing class-streaming.
Overall Build and Quality
​
This rower was definitely made for wear and tear in the studio atmosphere. It's a cheaper option than paying for a monthly studio membership, and you get a high-quality, lasting piece of equipment to boot. The CITYROW GO with all the stat-tracking, ample fitness class options and a real-life on-the-water feel. Plus, it even has a mobile device arm for your phone, which is a feature we rarely find in a rower.
Features
​
You can expect all your major stat-tracking on this machine, along with an above-average amount of streaming options. The CITYROW GO app offers live and on-demand classes with CITYROW instructors that range from HIIT and cardio to yoga and stretching. The idea is that you get the full studio experience at home, which means you're not only rowing, but also training strength and recovery to supplement your rows — just like you would in class.
Stats Tracking and Metrics
​
You can track your meters, stroke rate, split time, intensity and watts with this machine. You can also stream real-time performance data to the CITYROW GO app so all your information is saved in one place.
Display
​
There's an LCD backlit monitor with Bluetooth connectivity that comes with the 'Classic' version machine. It also has a mobile device attachment arm, so you can set up your phone to stream classes as you row. If you want to go full tilt, the 'Max' version of the CITYROW GO comes equipped with a 19.5' sweat-resistant touch screen that can angle up or down depending on your height.
Included workouts
​
The CITYROW app features HIIT, endurance, strength, yoga, kinstretch, and cardio and core classes. You can access all of these classes in the app on your phone or tablet and mount them on Classic version, or you can access the CITYROW courses via the touch screen display on the Max version.
Workout Apps, Compatibility
​
and Subscription Options
The CITYROW GO app features unlimited classes, a just row feature and data streaming for $29 per month or $348 per year. You do get a 14-day free trial to test it out. Once you check yes, you'll get to choose from hundreds of on-demand classes taught by CITYROW trainers from New York City. You can even opt to cast to your home TV for a bigger at-home workout experience.
Feel
Since this is a water rower, the overall feel is smooth, just as if you were gliding on the water in a rowing shell.
Ergonomics and Comfort
The CITYROW GO rower features a contoured seat and adjustable foot straps and boards that provide comfort for all shapes and sizes.
Heart Rate Monitoring
​
There is no heart rate monitoring on this machine, so you will have to use your own fitness trackers to follow along with that stat separately.
Product Specs
​
This rower is built with sustainable American ash wood and black powder-coated aluminum, which means it's not only durable, but also stunning to look at — which can't be said for some more basic rowers that you should probably be hiding in your garage when they aren't in use. You can feel completely comfortable making this a part of your living space, but if you do have to move it, it's easy to maneuver on its wheels since it only weighs 61 pounds without water and 98 pounds with water.
Rower Type
This machine is a water rower, meaning it uses its WaterFlywheel to simulate the sounds and feelings of being out on the water.
Max Height
This rower can support user inseams of up to 39".
Weight Capacity
​
The max user weight for this machine is 375 pounds, which is lower than the average is 500 pounds, but shouldn't be an issue for most users, even those with above average heights and builds.
Folding Options and Dimensions
This machine measures 85″ x 22.25″ x 20″ when in use, and you can store it vertically in less than 20 seconds, fitting it into the same space you could fit a small end table.
Max Resistance
​
This is a water rower, so the resistance stays the same. If you want to make your workout harder, pull harder, and if you want to make it easier, go ahead and paddle it out.
Electrical Requirements
You power the Classic version with rechargeable batteries, so there's no need for an in-home power outlet. The Max version of the CITYROW GO may need to be powered with your typical wall outlet since it has a large touch screen display.
Warranties
​
With your purchase, you'll receive a 5-year warranty on the wood frame and a 3-year warranty for components.
Noise
This is a water rower, so the whoosh of the water flowing around the tank will be pretty loud. However, if you're looking for that on-water feel, the sounds of the stroke will definitely help with the authenticity.
Places to Buy
You can purchase this rower through CITYROW
Company Information
​
CITYROW studio started in New York City and has since spread to California, Colorado, Florida, Georgia, Iowa, Michigan, Texas and Virginia. The CITYROW GO rower comes as a way to bring the in-studio experience into customers' homes. For an upgrade, the company also makes a CITYROW GO Max rower, which has a built-in screen for streaming.
FAQs
Can you use the CITYROW rower without the app?
Yes. You can use this rower as you would any other water rower. Though for the full streaming experience, you'll need to pay the monthly membership fee for the app. You could just row, no strings attached, if that's all you wanted to do. But the rower was made to pair with the app that offers all sorts of fitness classes to make your workouts even more productive.
Is the CITYROW worth the money?
If you're looking for a high-tech rower and a way to bring the studio experience into your home for a lower cost than a monthly studio membership, then we'd say absolutely yes. If you're just looking for a solid rower that's pleasing to the eye the eye and will last a long time, we think the CITYROW GO is still a solid choice.
Is the CITYROW GO Rower the same as taking a class in-studio?
It's as close as you can get at home. It's a similar rower to the one you would find in-studio, and the instructors are actual CITYROW instructors, so you can expect the classes you stream to lead you through a similar experience to what you would find in-studio.