The CrossFit Games is a testing ground for the world's fittest athletes, and it's an event where youth and quick recovery can go toe-to-toe with experience. One rookie who brings some of both to the 2016 CrossFit Games is Australian Maddie Sturt. While she's just 19 years old, Sturt very much came up in the CrossFit community, and 2016 marked her fifth straight CrossFit Open and her second trip to Regionals overall (she competed in the Australian Regionals in 2014).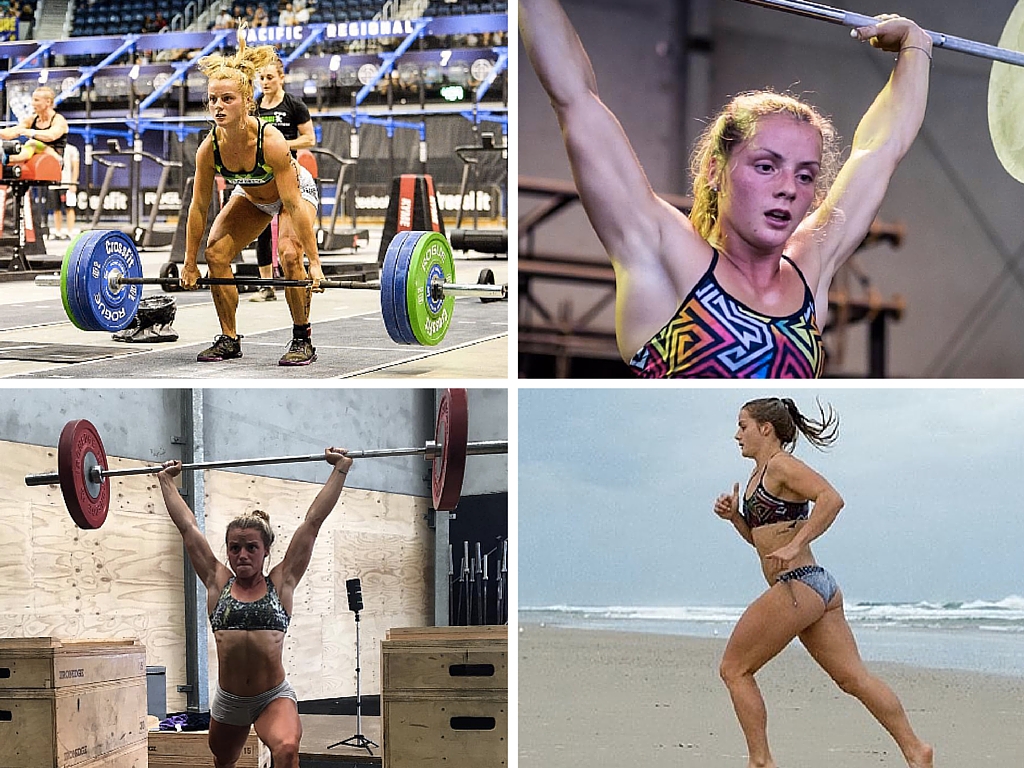 Sturt squeaked into Regionals qualification, finishing 26th in Australia out of the Open. But at the Pacific Regional, she performed like a wily veteran, fighting back from a 36th place finish on the snatch speed ladder to earn her first trip to the CrossFit Games.
Like fellow Australian Games rookie Zeke Grove, Sturt trains under coach Darren Coughlan, founder and owner of CrossFit Newcastle. I caught up with her to talk training, the mental side of fitness, and how she's preparing for her first trip to Carson.
How did you feel the week after Regionals?
It's still a big shock to me, I didn't really know what I was capable of or what was going to happen. It took forever to settle in, that I qualified for the CrossFit Games.
What's your athletic background, and how long have you been doing CrossFit?
I started CrossFit five years ago, I was 13/14 when I started. I started out with my mum, and it was just fitness, better than going to a normal gym. As a kid I was always into athletics and sprinting, and maybe around 15 I got a sprint coach. I ended up just choosing CrossFit, though!
You're among the younger qualifiers for the Games, but you've been doing this for longer than many.
This was my fifth CrossFit Open, actually. At first I think I had to forge my age, because you had to be at least 16 to do it…
Where'd you think you would finish at Regionals going into the competition?
Before the Open, Darren said I was capable of making the Games this season, and the whole time I thought, "No way, not this soon, definitely not." I wasn't terribly happy with my Open performance, I sort of scraped into Regionals. So I was happy to be there, and my main goal was to make the top heat. I honestly think I would have been very happy with top 10 before the weekend started.
Are you talking to any former Games athletes for their advice?
I'm lucky enough to have Pip Malone close by, in the same gym, and she's one of my coaches as well. So of course I'm chatting with her to get her past experiences, thoughts on what to expect.
Have you been to California before?
I haven't! I haven't been to the United States before. I'm dreading the flight there, I haven't done too much flying. I haven't ever thought about holidaying in America, my bucket list had making the CrossFit Games but not visiting America. I'm excited about all the Ben & Jerry's flavors I'll get to have over there.
How long have you been training with Darren?
It hasn't been quite a year yet, maybe 8 or 9 months.
When did you get connected originally?
I was always doing weightlifting alongside of CrossFit, and Pip had started weightlifting, so I was actually coming up against her in competition. One day Darren was there and was talking to my mom — for background, I made it to Regionals in 2014, when I was 17, but I missed out on 2015 Regionals.
Darren told my mom, "If Maddie wants to make the Games, tell her to come see me." A couple weeks later, I contacted him, and we went from there. He lived in Newcastle and I lived in Sydney, so it was a 2.5 hour drive or 3 hour train trip, and I traveled to his gym about once a week. When December rolled around, he asked if I was capable of moving out to Newcastle and being closer to train with them more regularly.
You picked up your life to train there.
I thought it was pretty crazy when he first offered that, because when I was in Sydney I was in Uni and I also had a job, AND I was also coaching — I've always tried to do everything. When he asked if I could move, I couldn't help but think, "What am I going to do for a job? What am I going to do for Uni?"
I thought if it could all work out, let's just do it. I got a transfer from my job, so I work up here now, and I switched schools. I'm taking classes online now, I can do it anywhere, anytime, which really suits me.
What are some of the weaknesses you all have been attacking?
Honestly, my mind towards training. My head game. I didn't seem to give myself credit or trust that I was capable of doing anything, so really trying to drum that into my head has been a priority.
How do you train the mental aspects of fitness and performance?
Darren has a few good sayings to help guide that. "Never stop" — if you want to stop, start doing singles so you're never resting and you're continuously moving. And if you're continuously moving, you're going to end up ahead of the people who are resting.
If you had all the time in the world, all the training hours in the day, what would you work to improve?
I don't feel like I know what my strengths are anymore, I take myself by surprise in different movements and different workouts. I'm 100 times fitter than what I was before I started training at Newcastle. I will say my strength probably won't hold me up against other girls at the Games — but as far as weaknesses, I'm still learning about myself as an athlete, so I'm really not sure.
Which athletes are you excited about meeting at the Games?
Chyna Cho. She seems really cool, really down to earth, she just works hard and has been doing it a long time. I hope I'm not too fan-girly when I see people there!
What do you think we'll see at the Games we haven't seen before?
I'm hoping the Wednesday event isn't too crazy. I never lived near the beach, and I just moved to Newcastle by the beach. So I'm not big on ocean swimming, so that definitely doesn't favor me at the moment.
What's your training schedule look like now?
Darren likes to keep things a surprise, so I don't really know how much volume I'll have going into a given week. Heading into Regionals, it was seven days a week, literally every day. Some days it was a longer session, one session, sometimes it's two shorter sessions.
Max snatch and clean & jerk?
The best I've ever hit was 92 kilos on the clean & jerk and 72 kilos on the snatch.
You're a smaller athlete compared to a lot of Games competitors. Do you think you'll need to make up ground on gymnastics?
Of course that concerned me a little bit, just being smaller and lighter, more likely to be held down by heavier weights. But I think I can make that back up with gymnastics and more cardio-style workouts, and I'm getting more comfortable with heavier weights.
Any Games performances from previous years you want to emulate as far as performing under pressure?
You have to start with Rich Froning, but his performance on 2014, when he didn't start off so hard. Usually he's very calm and collected, and all his reps are beautiful reps, he always looks like he's in control. But in a few of those workouts, you could tell he was absolutely going for it, that little bit of fire was pretty amazing to see coming from him.
Who's making the trip to cheer you on?
We weren't really sure if my mom, sister, and friends should come, it's a big trip. Plus, I'll be busy when I'm there, obviously. So I don't think my family is going to make the trip this year, I'd feel a little bad if they came to watch me and then I was half asleep whenever they actually did.
Anything you want to say to your new fans?

Keep an eye out for me — I plan to stick around for a few years. And congrats to Zeke, the other athlete Darren works with who qualified for the Games. It's cool to have another rookie to head out there with.