"But I'm not fit enough to start CrossFit."
It's a phrase CrossFit affiliate owners and coaches hear regularly. After a year of lockdowns, online classes, and pivoting gym structures, CrossFit headquarters in February announced its online course, CrossFit OnRamp. According to communications from CEO Eric Roza and Director of Training Nicole Carroll, the course will teach anyone the basics of CrossFit from home in a self-paced course.
They also tout CrossFit OnRamp as a way to help affiliates gain new members during a pandemic, though the program could have implications for gyms that offer their own onboarding programs.
The course is currently in a pilot phase, accepting prospective participants in the Miami and Dallas areas, with plans to expand to more U.S. markets later in the year. OnRamp marks a new chapter for CrossFit training programs, but many affiliates worldwide have been offering their own version of foundational classes for years.
View this post on Instagram
[Related: What Wodapalooza's Cancellation Could Mean For the Future of CrossFit Sanctionals™]
Speaking of Foundations: How CrossFit OnRamp Works
People who have an interest in CrossFit but haven't reached out to an affiliate yet because of fear, lack of confidence, COVID-19 concerns, or injuries can:
Head to crossfit.com/onramp.

Pay $150 upfront.

Work their way through 12 online, coach-led sessions to learn the basics of CrossFit at their own pace.

Users can choose to connect with a local affiliate for a free in-person training session at any point in the course.

Participants will have continuous access to over 50 hours of additional supporting material, including movement demos, workouts, and real-life stories from CrossFitters of many ages, backgrounds, and fitness levels.
According to an email CrossFit sent to affiliate owners, "Affiliates that opt to join OnRamp have the opportunity to connect with participants during this final session and convert leads into new members."
Is It a Welcome Opportunity?
Affiliate owners like Craig Howard of Diablo CrossFit in Pleasant Hill, CA, have a long history of preparing people for CrossFit classes. Howard, in particular, founded his affiliate in 2005, making it a practical relic in the CrossFit world. He says he was apprehensive of the program initially, as Diablo runs its own proven onramp program.
However, after learning more about the program, Howard thinks CrossFit OnRamp is a better fit for today's prospective CrossFitters than those in CrossFit's early years who were often fitness enthusiasts looking for the next great thing.
"That fruit has been picked from the prospect tree," Howard says. "Today's prospective clients come to CrossFit, in general, more apprehensive and with less fitness experience."
As an owner of a self-described beginner-friendly affiliate, Ren Allen has a lot of practice introducing people to CrossFit at FLXR Fitness. She, too, offers an onramp course and was concerned about losing business. Then she considered prospective members who express worry about needing to be fit before starting CrossFit.
Allen's coaching staff is experiencing a flood of new members as gyms open back up in California, and vaccinations are on the rise, helping people feel more at ease with group fitness. It's a great problem to have — and, as a result, Allen shifted her business strategy when it came to FLXR's foundation-level classes: She was previously charging $200 for a "strongly suggested," but not required, foundations program to help new members familiarize themselves with CrossFit movements. However, people didn't want to pay the foundations fee on top of a monthly membership.
"People would come in who have never done CrossFit, didn't move well, and it was becoming a distraction for our members because our coach was trying to give them attention to catch them up to speed for the class," Allen says.
Instead of collecting $200 per head for foundation classes, Allen dropped the fee but made them mandatory for new members.
View this post on Instagram
[Related: Build Ridiculous Core Strength With the Toes to Bar]
Matthew Barksdale — manager of CrossFit White Rock in pilot city Dallas, TX — says their affiliate requires an in-house foundational program and an initial interview. Barksdale says the interview was the best decision he's made in his three years as a manager.
"I've had people in a meeting that I'm telling you right now I would have to kick them out of the gym within minutes," Barksdale says.
While his affiliate is located in a pilot location for CrossFit OnRamp, Barksdale says he has no interest in participating in the program. It provides no value, he says, as someone building both a business and a cohesive community.
Through his initial meetings and on-ramp courses, Barksdale and prospective members can feel out the culture fit. He's also able to ensure athletes receive the education and hands-on coaching for complex movements at a satisfactory level.
"We're a level above…so we offer a lifetime of education. And the process that [CrossFit] has come up with is, 'Here's a little bit, go into it, good luck.' To me, that is exactly the opposite of what CrossFit truly should be," Barksdale says.
Allen worries the $150 price tag on the CrossFit OnRamp program may be prohibitive for prospective clients who want to join a gym later where there will also be monthly membership dues. But, perhaps OnRamp will provide a safe starting block for those prospective clients whose worry isn't about cost — but competency.
"Maybe this will give people some self-confidence to be able to do something from home before they come into our classes for those individuals who maybe are fearful of doing it in front of somebody," Allen says.
Howard doesn't see it as a one-or-the-other issue when it comes to affiliate versus CrossFit online foundational programs: "Most affiliates will likely retain their onboarding requirements, but the training process will be far more efficient with a more confident participant."
Varying Paths to a Solid CrossFit Beginning
While the potential for both prospective CrossFitters and affiliates remains in the air as the OnRamp pilot program gets underway, CrossFit communicated expected shifts in the execution and content of the course.
In an email to affiliate owners, CrossFit stated:
"This is a huge step for CrossFit, and while we've spent months developing the course, we still have a lot to learn in the real world. That's why we'll be launching a small pilot test of OnRamp later this month in two U.S. markets (Miami, Florida, and Dallas, TX).
After we integrate what we learn from the pilot into the course, we plan to bring OnRamp to additional U.S. markets beginning in April."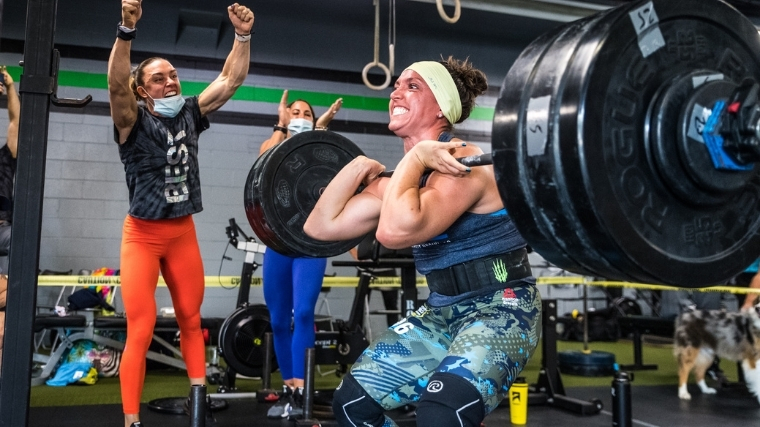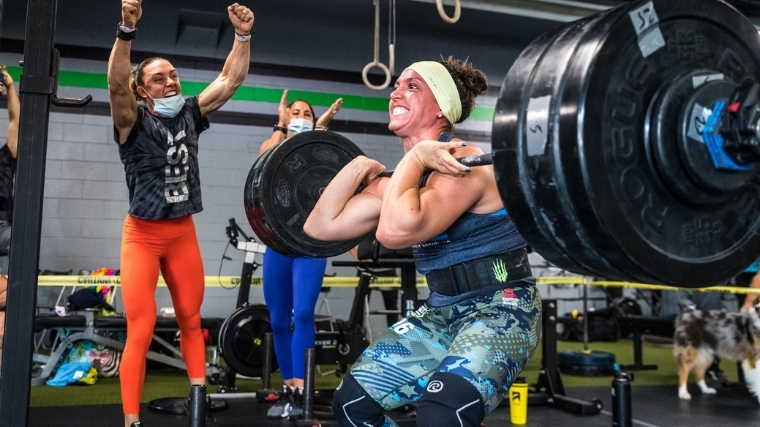 [Related: Nail the Front Squat For Leg Muscle and Power]
No additional communication has been released about these additional markets. A CrossFit spokesperson emphasized they're still in the early testing process of the CrossFit OnRamp course, and CrossFit intends to "iterate and improve" the course before it hits a larger market to best suit affiliate-focused goals.
But more importantly, Allen wants to understand course content better so she can offer a consistent experience to members coming from two schools of introductory courses: those from OnRamp and those from her own intro course.
"It would be good to have some way to connect things," Allen says. "I would want to know what's involved in that OnRamp course: Is it something that when the individuals come to my gym, are they already prepared, and can they forego the foundations class that I offer? Or do I need to rewrite my foundations course, so we're covering movements that haven't been covered [in OnRamp]?"
Barksdale feels members who find his affiliate organically are more likely to be there for the long haul and a better fit for his community than those filtered in from the CrossFit OnRamp program.
"People need more members — I can't say I couldn't use some more," Barksdale says, "But I would rather take five members… that want me to work with them truly… and fall in love with what we do through coaching… instead of 50 people at a lower price just handed to me."
While the road to success starts with great beginnings, Howard notes that delivering a quality CrossFit experience, regardless of how it starts, is where he'll continue focusing his attention as an affiliate owner — hopefully with an influx of newly qualified CrossFit rookies.
"The bottom line is affiliates succeed by delivering a quality CrossFit program combined with a welcoming, supportive community," Howard says. "But, we have to get prospects to want to come through the doors and participate in the experience."
Howard feels the CrossFit OnRamp program is a step toward getting otherwise inhibited prospects through the doors of affiliates.
"The rest," he says, "is up to us."
Featured image: @crossfit on Instagram