In the realm of American Weightlifting, no team has provided more larger than life athletes or coaches than California Strength in San Ramon, CA. Some of the current and past team members include:
Most people know these names, and the countless others, that they associate with the lore of California Strength. However, over the last decade, there has been one significant constant that keeps California Strength pushing the momentum of weightlifting. His name is Dave Spitz; some people refer to him as "The Godfather," and he is the catalyst converter that powers this high octane machine.
Roughly five years ago I accepted an invitation to visit and train at the California Strength facility – and consequently sleep on Jon North's couch for two nights. From that trip I developed a friendship with Dave Spitz. However it was not until September of this past year, when I ventured to Sacramento for the 2016 Hassle Free Invitational, where I really had a chance to get to know him and the program he has built. I had always wanted to ask him about the creation of his club, his original vision for a weightlifting program, and the role he fills today within USA Weightlifting (USAW). I found out that the answers to all these questions start by learning more about the man himself.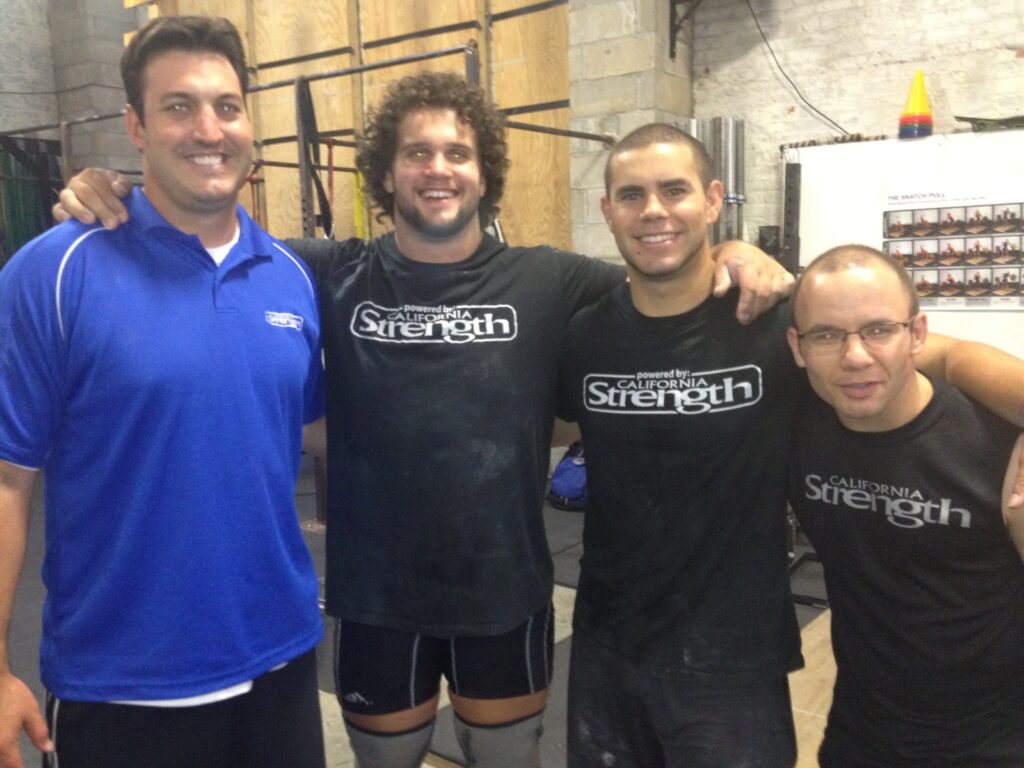 The author (far right) with Dave Spitz (far left), Spencer Moorman (left center), and Rob Blackwell (right center) in NYC
Growing up, Dave Spitz was a talented athlete in track & field. He represented America on the 1996 Junior World Championship team that competed in Australia. After high school, he went on to earn a scholarship to the University of Southern California where he competed in the Hammer Throw and Shot Put events. He was inspired by the Olympic Games, and the athletic movement that they represented; however, after college he retired from actively competing and moved to New York City, where he worked in Corporate America.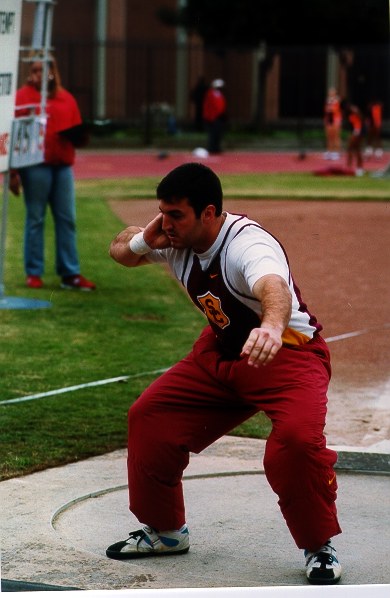 Dave Spitz. Photo courtesy of University of Southern California athletics.
After several years sitting at a desk in Lower Manhattan, he began to realize there was more to life. In his own words:
"I had set a goal to be successful monetarily, and I achieved that goal. However I felt unfulfilled as an athlete, and I looked back at my track career where I never felt I did as well as I could have."
In the early 2000's, Spitz returned to Northern California with the intent to make a return to athletic competition. He had initially learned about Olympic Weightlifting from his days in track and field, and he decided he had better opportunities to be successful in weightlifting. In addition to training, Spitz was coaching throwers at a local high school. One of his athletes happened to be named Chris Krychev, and Chris' father happens to be the 1972 Olympic silver medalist weightlifter from Bulgaria – Alex Krychev.
Spitz began training under the elder Krychev, who utilized an antiquated Bulgarian System of training, which he would have used in and around 1972. Training 5-6 times per week, Spitz' numbers gradually improved to where he was snatching about 130KG (286lb) and clean & jerking around 175KG (385lb) as a light heavyweight in the 105KG category. These numbers were national level; however, Spitz wanted to be better and was driven by his regret over his past athletic experiences to not hold anything back.
This drive took Spitz and Krychev back to Bulgaria, where they met with Ivan Abadjiev, the world renowned weightlifting coach. In the late 1960s and early 1970s, Abadjiev actually studied the American Basketball training system, and realized that to become better at your sport the athlete needs to practice the sport. Before, many weightlifters were practicing bodybuilding exercises to look great, as compared to practicing their snatches so they snatch great.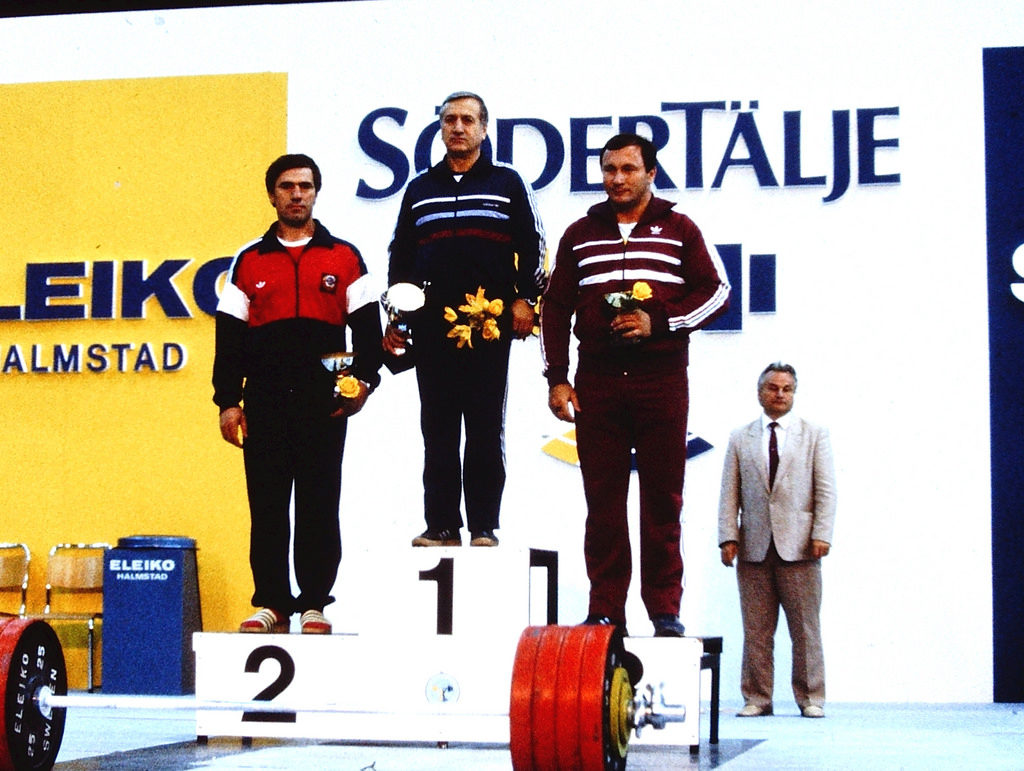 Ivan Abadjiev (center podium) accepting a team award at the 1985 Worlds. On the left is David Rigert of the USSR. On the right is László Ambrus of Hungary. Photo courtesy of Bruce Klemens.
Abadjiev's model concentrated on the actual lifts themselves, and this led the country to a stunning Olympic victory over the Soviet Union in 1972. By the 1980s, Bulgaria, a country of less than 8 million people, was the world power in the sport, routinely defeating the Soviet Union, a country (at the time) that had a population of almost 300 million people.
Not wanting to regret anything this time around, Spitz formed a 501C3 non-profit organization called "American Weightlifting" and raised money to grow the sport and foster athletes who wanted to compete at a high level. He brought Abadjiev to California to be a coach along with Krychev, and athletes Martin Pashov and Nikolay Hristov to be his training partners. In 2007, Hristov snatched 190KG (418lb) as a superheavyweight and Pashov was clean & jerking 200KG (440lb) and more as a 94KG or 105KG athlete; no one in America was close to weights of that magnitude at the time.
Spitz rented a house, where he and the Bulgarians lived and trained; it became a one-stop shop and more efficient overall as the training program revolved around training and resting up to go back to training. They turned a four car garage into their training hall, and for months on end it would be the four men training, day in and day out, multiple times a day.
Spitz set up a website and encouraged athletes who wanted a platform to be successful in Olympic Weightlifting to come to his base in California. Among the first athletes to accept the challenge was a young Donny Shankle, who would go on to win several USAW National Championships, be part of three World Championship teams, and win a bronze medal at the 2011 Pan Am Games. There was a young man from Montana named Max Aita — who could squat a house — who became another protégé of Abadjiev in this program. Finally, a tall, lanky junior aged athlete named James Moser, who in my opinion had as much potential as anyone else in USAW, was another athlete added to the group.
Unfortunately, "American Weightlifting" came to an end around 2008. In Spitz' opinion, "Abadjiev coached with flawed logic and an authoritarian brutality," where eventually everyone was hurt and no one was improving.
In its ashes rose the program that we know today: California Strength. Glenn Pendlay, an established coach from Wichita Falls, Texas, came to California to coach along with Spitz and help grow the team, which he was successful at. A new athlete named Jon North broke out onto the USAW scene and won a silver medal at the 2009 American Open. Over his career he would go on to qualify for three Pan American Game's teams and become the stuff that platform legends are made of.
In addition to Olympic Weightlifting, Dave Spitz has made California Strength one of the premier strength and conditioning facilities in the country to train college football players for the National Football League (NFL) draft. Since 2010, over 30 college athletes have trained at the facility and successfully made it onto an NFL team. The most noteworthy athletes who have gone through this program were Kiko Alonso, currently on the Miami Dolphins, and Zach Ertz, currently on the Philadelphia Eagles.
When I sat down with Coach Spitz this past fall, the US Olympic Training Center Residency Program for weightlifting had just closed. Spitz sees that as a positive for the country, because he believes flattening the architecture of USAW will lead to de-centralized training, which will place the athletes more at the center of attention. He sees programs such as the one he has built, being key to providing the support athletes need to help give them a platform to being successful. In terms of building a successful program, he identifies athletes and talks to them about their goals and if there is a way for him to help make those goals a reality.
Spitz, like many coaches, wears two hats: Coach and Entrepreneur. The coach in him tries to be fair to everyone; however, the entrepreneur knows that he cannot treat everyone equally in all instances. The athlete we talked about the most was Wes Kitts, who moved to California this past year to train with the team and work towards his goals.
In the fall, Spitz referred to him as "a big, strong, talented athlete who needs coaching. We presented a package to him to help with his training and his living situation and it is a good opportunity for him, however someone with less potential would not have been offered the same amount of help."
It has been working well for both Kitts and Coach Spitz, as Kitts broke the American Record in the snatch for the 105KG weight class in early December of this year. So far, they've been actualizing on the potential that Spitz saw months prior.
Over the last few years, Spitz has built a prominent online program so athletes can obtain some sort of opportunity regardless of where they are in the world. Through the Barbell WOD, fitness athletes are provided with programs designed to help add strength training to metabolic conditioning and Gymnastic/Skill programs that are created by their local instructors or on their own. In the world of online coaching, he feels providing any information he can is beneficial to the cause, and far better than the alternative of limited resources being available. There are a lot of people who may not have access to a competent coach, and providing an online program at a good price helps them with their own goals.
In my opinion, Spitz is still driven by unfulfilled promise and working towards the Olympic dream in the capacity of coach. He has built a program that awards hard working athletes, men and women, who have that desire and need help. He wants to provide that help if an athlete is willing to make sacrifices for themselves. For years he has been working on a local and national culture change in American Weightlifting, and it will be exciting to see how California Strength continues to grow over the next quad with Spitz manning the wheel.
Editors note: This article is an op-ed. The views expressed herein are the authors and don't necessarily reflect the views of BarBend. Claims, assertions, opinions, and quotes have been sourced exclusively by the author.