2008 Olympic Silver Medalist and everyone's favorite weightlifting ham Dmitry Klokov has announced his second annual "Power Weekend," and the event is already shaping up to be a strength sport fan's dream. The event is scheduled for November 19-20 in Moscow (because Russia), with cash prizes for top finishers and an invite list with some names you're bound to recognize in a big way.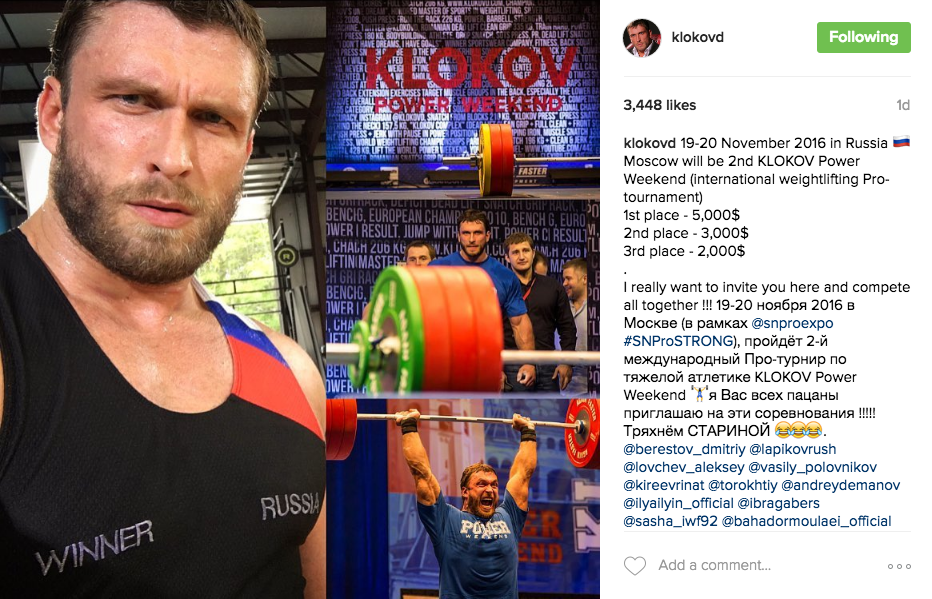 Last year's Power Weekend featured many of the world's best weightlifters competing in some less-than-common-in-competition disciplines, including max weight thruster, front squat, rack jerk, hang snatch, and snatch-grip-deadlift, to name a few. No, it didn't settle once and for all who has the highest weightlifting total, but it did let some of these true strength freaks a chance to show off training numbers and lifts we don't normally get to see on stage.
And if even half of this year's invitees actually show up, we're going to be talking about the results for awhile. Klokov's invite list, as announced on Instagram:
Dmitriy Berestov
Dmitry Lapikov
Aleksey Lovchev
Vasily Polovnikov
Rinat Kireev
Aleksey Torokhtiy
Andrey Demanov
Ilya Ilyin
Ibrahim Bersanov
Alexandr Zaychikov
Bahador Moulaei
Artur Splesnieks
Mart Seim
Vladamir Sedov
Zhassulan Kydyrbaev
Chingiz Mogushkov
Bartlomiej Bonk
In addition, we're assuming Klokov himself will be competing.
There's no confirmation they're actually going to show up and compete, but we're already nerding out over what lifters like Ilyin and Lovchev can do during their IWF-mandated doping suspensions. It's a voyeuristic weightlifting fantasy if there ever was one.
Last year, All Things Gym was at Power Weekend to document some of the craziness, including the pretty-awesome hang snatch event (embedded below):
Which lift would you most like to see tested? Will these lifters actually show up to throw down with other strength legends?
Unfortunately, we'll have to wait until November to find out.