If the Soviet Union could be exemplified in one human, that human would be weightlifter Vasily Alekseyev. With his accomplishments, attitude, and sheer size and strength, Alekseyev embodied all that the Soviet Union's athletic program stood for during the Soviet heyday.
At a massive 6'1″ and 350lbs, Alekseyev is one of the most accomplished weightlifters of all time. He set over 80 world records, and because he lifted during the days of three lifts — the clean & jerk, snatch, and clean & press — his world record 645kg total will literally never be broken. Alekseyev was also a two time Olympic gold medalist, taking the top spot in 1972 and 1976 in the super heavyweight category. His best lifts included a 256kg/563lb clean & jerk, 187.5kg/412.5lb snatch, and a 236.5kg/520.5lb clean & press.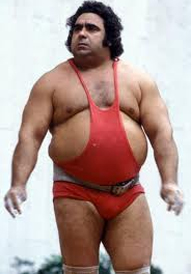 Born on January 7, 1942, Alekseyev got a late(ish) start in weightlifting. He began training at 18 years old at the Voluntary Sports Society of the USSR, the government run sports facility that churned out Olympians like a children's toy assembly line. Vasily spent eight years under the tutelage of Ukranian weightlifter Rudolf Plyukfelder before turning to solo training, claiming that "Only I understand what is right for me." In 1970, he set his first world record, and later that year, he became the first man to clean & jerk over 500lbs in competition during the World Weightlifting Championships in Columbus, Ohio.
From 1970 to 1977, Vasily continued to stockpile records and help solidify Soviet dominance. He frequently enjoyed setting his opening weight just above his competitors' third lift weight, so he could wait in the back room while they grunted their way through their lifts. Then, when it was his turn, Vasily effectively won the competition on his first lift, and regularly set a world or Olympic record by his third lift. Every time he broke a record, he received a bonus from the Russian Federation, so Alekseyev got in the habit of constantly breaking records by 1.1lbs or .5kg.
Alekseyev attributed his success to Soviet mental attitude. His fan mail was frequently addressed not to Vasily Alekseyev, but to "Alekseyev the Kremlin." He kept all of his medals in one room of his house, telling Sports Illustrated that while he won the medals, they "in fact, belong to the people of the Soviet Union. I am keeping them safe for them." He continued, "As the weight is greater, the more the mind makes the weight seem to be. But we are from the U.S.S.R., and such a psychological situation is no problem. To successfully lift the weight cannot be avoided. I experience the tortures and the celebration. But I lift as well as I lift because it cannot be avoided."
Furthermore, Alekseyev thought it not only important to exercise the body, but to exercise the mind as well. He worked as a mining engineer and loved to read, stating that "There is too much literature, too much music in life to spend time at television." He also loved carpentry and gardening, and even hybridized strawberry varietals in his backyard.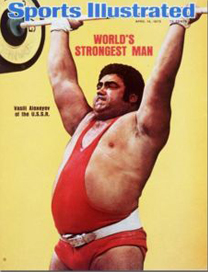 In 1980, after failing to repeat his 1972 and 1976 Olympic performances, Alekseyev officially retired from competition. He went on to coach, ultimately coaching the 1992 Unified Team. In 1993, Vasily was elected as a member of the International Weightlifting Hall of Fame. He spent the rest of his days living a quiet life in Shakhty, Russia. He died of heart disease at age 69.