In the increasingly crowded world of meal delivery services, Home Chef stands apart for a few reasons. They have a clear focus on accessible preparation, legions of fans, and the backing of one of the U.S.'s biggest grocery chains. But when it comes to the taste and user experience of prepping their meals, I didn't want to simply go off Home Chef's reputation. So I ordered Home Chef for ourselves to see how they stacked up to the competition (and my expectations!).
In this Home Chef meal delivery review, I break down my experiences with ordering from their website, the actual delivery and packaging, meal preparation, taste, and nutrition. Wondering if Home Chef is the right service for you? Read on to find out my full thoughts, along with the list of potential pros and cons I spotted along the way.
$30 Off First Order
Home Chef Meal Delivery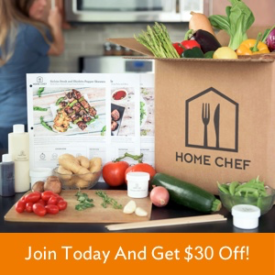 A nationwide meal kit service with bold flavors, a diverse menu, and easy-to-follow recipes. Meals are also sortable by dietary restrictions and preferences.
Home Chef Company Background
Home Chef was founded in 2013 and has been headquartered in Chicago ever since. According to the company itself, they deliver around three million meals to their subscribers every month. In the first half of 2018, grocery chain giant Kroger acquired Home Chef for around $200 million, with another $500 million going toward the acquisition depending on if the company meets certain growth and revenue targets.
One of the most interesting aspects about the Kroger deal was an integration with their brick-and-mortar locations. If you live in certain parts of the Midwest, you can buy ready-to-cook Home Chef meals at select Kroger locations. (If you ask me, picking up a meal kit with your regular grocery run is a pretty convenient upsell, and I'd probably take advantage if it were offered in my region.)
The service also delivers nationwide — convenient for me, since I conducted this review in Austin, Texas.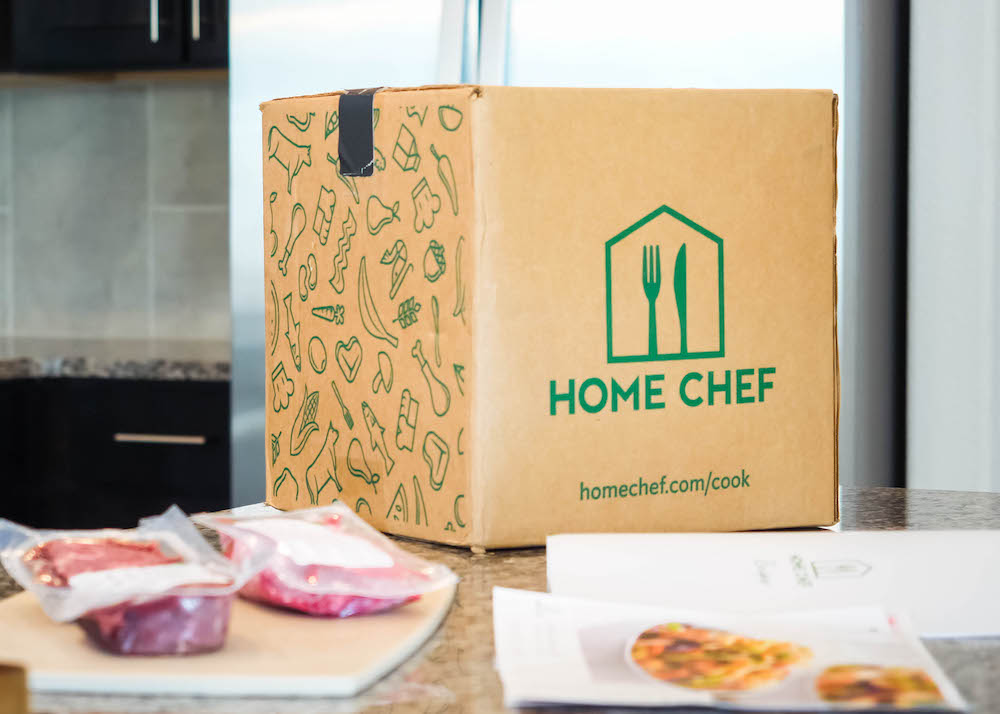 Home Chef Website and Ordering Experience
Right off the bat, I had a pretty good experience ordering on the Home Chef website. Their site includes big, clear photos of every meal. The menu is easy to navigate and includes 16 weekly meal options, which are released every Monday. Home Chef lets users sort options by general dietary preferences and restrictions, like vegetarianism. The site also makes it easy to indicate if you want to avoid certain food groups altogether, like seafood. I'll touch on this more later in the review, and while I liked that Home Chef made sorting meals by broad category easy, there are a few diets that don't always fit in super clearly with their offerings.
For this review, I ordered two meals with two servings each: the Pork Egg Roll In A Bowl and Beef And Sherry Steak Diane. Since my order was over $45 total, I received free shipping, which is a nice perk.
One other thing I personally liked about Home Chef's website: They let you plan meals up to five weeks in advance, so you can tweak your scheduled deliveries based around events, travel, and even additional dinner guests.
Home Chef also gives subscribers the option to add smoothies and/or fruit to their orders, which is a neat way to get some extras snacks or produce in the kitchen if you won't be making a trip to the grocery store anytime soon.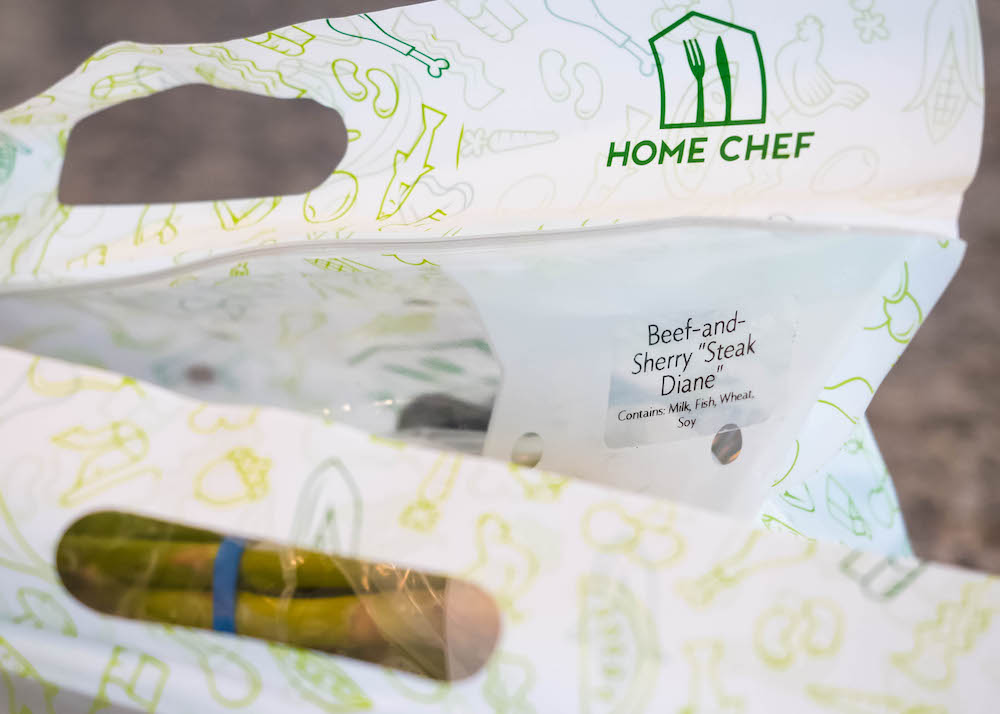 Home Chef's Delivery Packaging
One thing that immediately stood out to me about Home Chef's packaging (or maybe what didn't stand out to me!) was that the box was free of any blemishes. Not a scratch, ding, or scrape in sight. Seriously. That left a clean impression right off the bat.
Home Chef's interior food packaging was also impressive in its own right. Each meal (and again, I ordered two in the same delivery) was packed separately in it's own bag including all of the necessary ingredients. Within those bags was further separation between different types of ingredients; the meat came in vacuum seal bags, ready to use portions and was kept separate from the fresh ingredients.
When unpacking the ingredients, I only had one main criticism, and that had to do with the freshness of the produce. In fact, there was one ingredient I threw out instead of using. I'll go into more detail a little later on with this, but it's one area I think Home Chef may be able to improve for their service moving forward.
My box was filled with several cold packs between each layer of food, along with insulated packing foam layers to keep everything in its place. While this seems like quite a bit of material for two meals, it's worth noting all Home Chef packaging materials are 100% recyclable, and the cold packs are reusable, so I can keep them in my freezer and grab them to keep items cold on the go.
Beyond the packaging itself, Home Chef includes two large recipe cards which cover the cooking process for the individual meals with step by step photos and written instructions, ingredient lists, additional ingredients and utensils you'll need, and serving size/nutrition information. In my first order, I also received a plastic three ring binder to organize and store your recipes neatly. I thought that was a nice touch.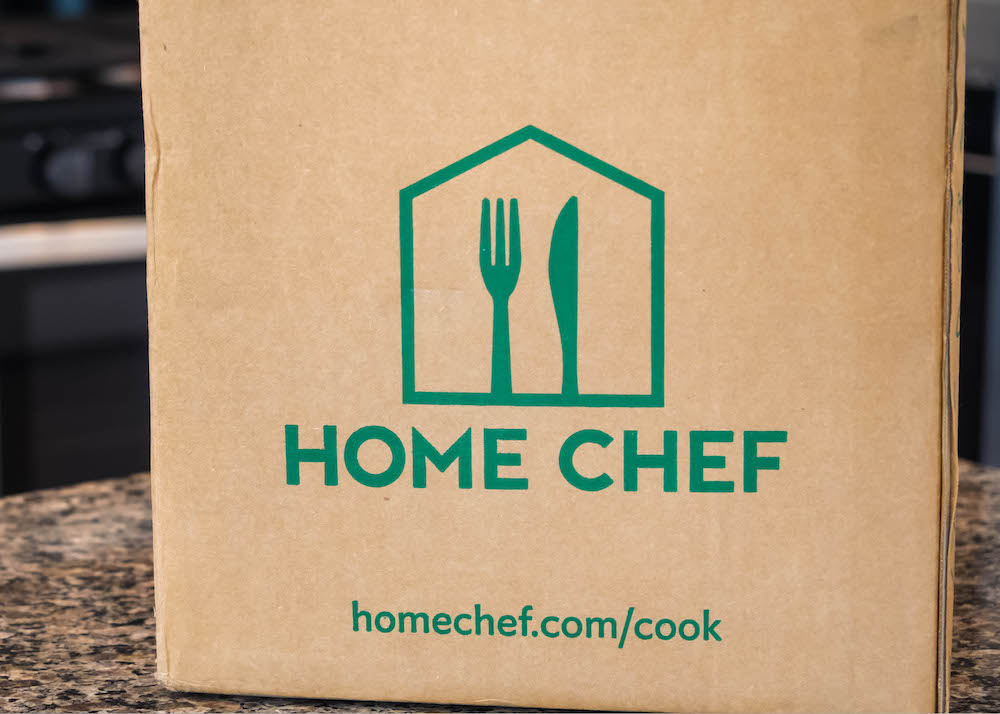 Below I've listed the ingredients that came for each meal, along with the basic extras and cooking utensils needed to finish prep.
Pork Egg Roll In A Bowl Ingredients:
2 Green Onions
1½ fl. oz. Ponzu Sauce
2 Celery Stalks
1½ fl. oz. Hawaiian Sweet and Sour Sauce
½ oz. Dijon Mustard
12 oz. Ground Pork
8 oz. Slaw Mix
1 oz. Wonton Strips
½ oz. Roasted Peanuts
Necessary Extras: Olive Oil, Salt, Pepper, 1 Mixing Bowl, 1 Large Non-Stick Pan
Beef And Sherry Steak Diane Ingredients:
2 Russet Potatoes
12 oz. Asparagus
6 oz. Cremini Mushrooms
1 Shallot
2 Sirloin Steaks
⅗ oz. Butter
4 fl. oz. Light Cream
½ fl. oz. Worcestershire Sauce
2 tsp. Beef Demi-Glace
½ oz. Dijon Mustard
2 fl. oz. Sherry
Necessary Extras: Olive Oil, Salt, Pepper, 1 Baking Sheet, 1 Colander, 1 Medium Pot, 1 Medium Non-Stick Pan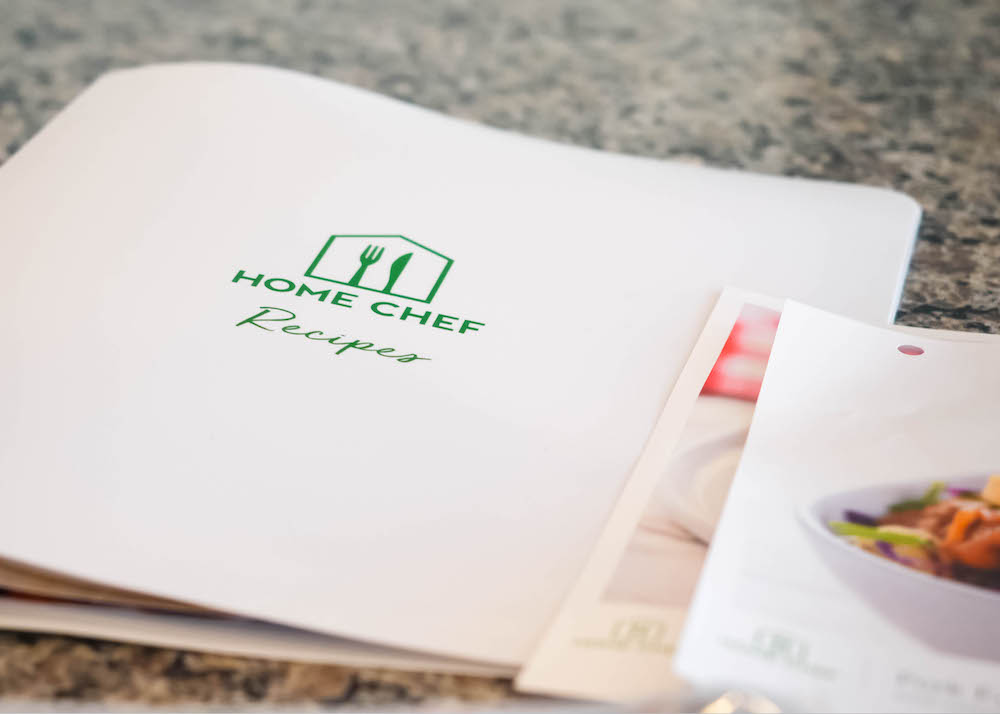 Home Chef Cooking Experience
My experience cooking Home Chef can be summed up in two words: Easy peasy. I do consider myself a pretty experienced cook, but I still don't anticipate many subscribers having a lot of difficulty preparing these meals. The recipes are specifically designed to be straightforward and easy to follow, and I found that to very much be the case.
There is a large recipe card for each meal with a photo of the finished meal on it, along with a list of the ingredients that are packaged for it. The cards also include Prep Time/Exp. Date for preparing the meal, Difficulty Level, and Spice Level.
My prep for the Pork Egg Roll In A Bowl — which is documented in the video embedded up top — was as A to B to C as it can be.
Prep: Clean produce. Chop Celery and Green Onion. Mix Sweet & Sour Sauce with Dijon Mustard and set aside.
Cook: Add olive oil to a non stick skillet and add pork, season with salt and pepper, cook through, add half of ponzu sauce. When liquid is absorbed move pork onto a plate and set aside. To the same pan, add olive oil, veggies (white part of green onion, celery and cabbage mixture) Cook until tender but still crisp. Reintroduce pork to the pan, mixing all ingredients together, add the remaining ponzu sauce. Transfer to a medium size mixing bowl and dress with sweet & sour sauce, peanuts and wonton's. Serve.
The prep time and cooking time were both in line with what the recipe card said it would be. The onions and celery got a quick chop, mixing the sweet & sour into the dijon took only seconds, and I was off to cook up the pork. With each ingredient portioned out, I didn't worry about measuring anything out. Home Chef took the guesswork out of this preparation. Everything looked like it should and flowed smoothly from preparation to execution. The end result looked similar to the photo they provided, and it actually tasted like a pork egg roll!
Home Chef lists total prep time to be 25-30 minutes, and from start to finish I was just under 24 minutes.
This meal specifically is perfect for a quick meal fix. There isn't much experience required to prep or cook this dish. So, if you are just learning or have less experience in the kitchen, this could be a good way to try out a new recipe that shouldn't challenge your comfort zone too much. You get to practice a variety of cooking skills — chopping, mixing and cooking both meat and veggies — but none of the ingredients here should throw you for a loop.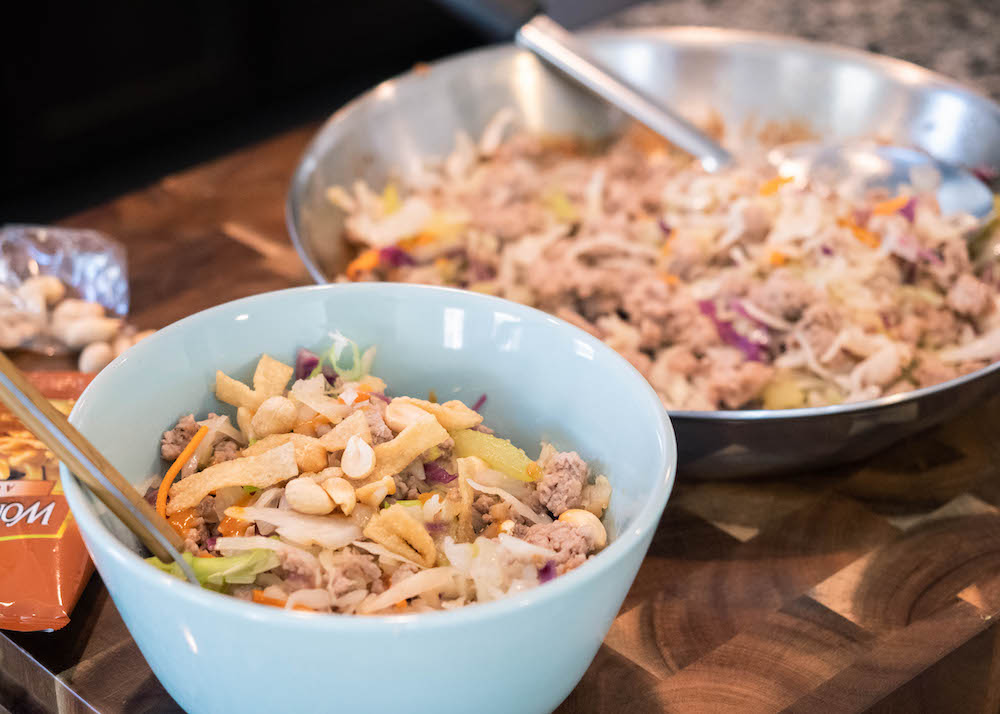 Taste
I picked these two meals because they seemed like obvious choices: They were popular, easy to make, and intuitive, but they also came with bold flavors, which isn't going to be everyone's preference (though it's a plus for some!). For the Pork Egg Roll in a Bowl specifically, I thought cabbage was crunchy, and the sauce made it savory. The pork was rich. And, importantly, it tastes just like it looks! Crunchy bites of cabbage, pork, wontons, and peanuts mixed with fatty bits of salty pork and a zing from the sweet & sour sauce. It was definitely a rich dish.
Overall, I thought both meals from Home Chef were tasty, though perhaps a bit salty for my personal preferences. If I prepared them again, I wouldn't use the entire serving of sauce or glaze.
Nutrition
Unlike some meal kit delivery services I've seen, Home Chef is very clear about nutritional labeling, both on their site and in the recipe cards you get with each meal. Their weekly meal selections cover a broad nutritional range. That makes it relatively easy to sort through those meals based on nutritional profiles and macronutrients, but there's not guarantee one or more of those will fit exactly what you're looking for.
One thing I noticed about both meals I tried: The sodium content was pretty high. (This can, however, be modified by using less of the provided sauces.) Though not everyone subscribes to this, the USRDA for sodium is around 2,300 milligrams. The Pork Egg Roll in a Bowl featured 1,574 milligrams of sodium per serving.
That meal had the following calorie/macronutrient breakdown:
Calories: 622
Carbohydrates: 36g
Fat: 37g
Protein: 38g
It seems to me like Home Chef designs their meals with taste and convenience as top priorities, and while the food I tried might not be extravagant, nutrition seemed like a bit of a secondary or tertiary concern with these recipes.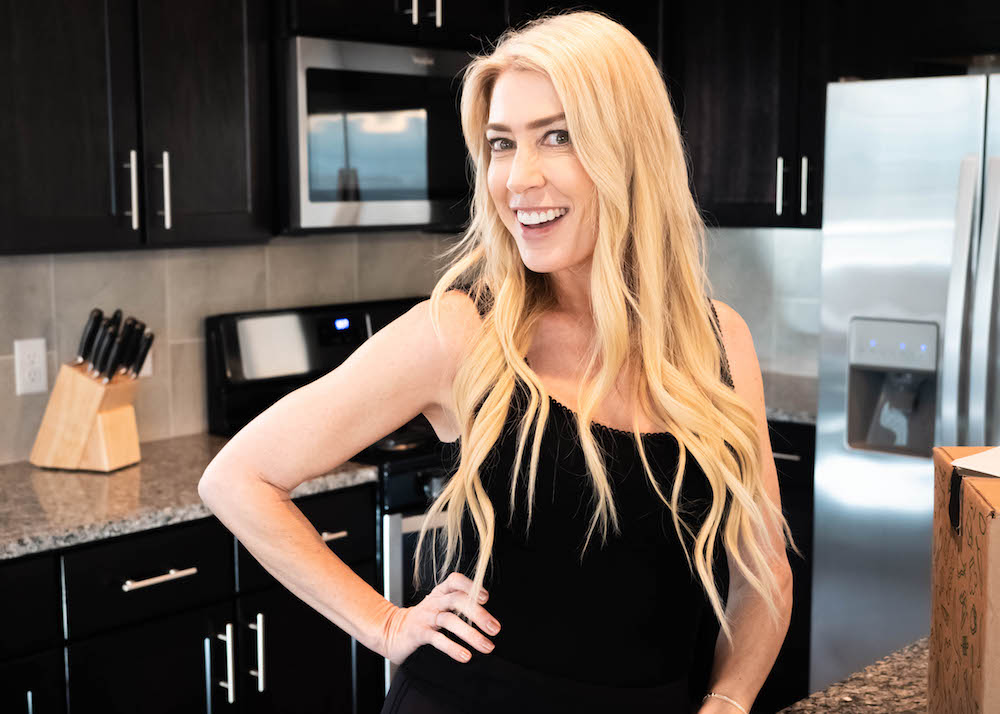 For the average person, I can easily see Home Chef's meals becoming a once or twice a week treat. For athletes or folks looking to really dial in a particular dietary regimen, options may run out fast. Paleo and ketogenic eaters may have to significantly modify these recipes to make them work on a regular basis. The same might be true if you're looking for very specific macro splits. If you're following one of those frameworks, you may want to look at some diet or athlete-specific services on the market.
Vegetarians, though, will likely find a lot of options on the Home Chef menu each week. And if taste and easy of preparation are your primary concerns, Home Chef could be a great fit.
Is Home Chef Good for Weight Loss?
Home Chef offers a lot of great information on their site regarding cooking, nutrition, and ingredient education. Offer a lot of great info on their blog: how to's on cooking, nutrition and ingredient education. They also do a solid job of allowing subscribers to customize meals based on restrictions like food allergies and food avoidance. The weekly menu choices the present will include those they think best fit your particular eating habits.
With all that said, I'd say Home Chef is a potentially fine choice for those looking to lose weight, but that will really depend on the specific dietary framework you're following to accomplish that goal. They aren't a service specifically designed for weight loss — at least not compared to some others on the market — so that could make it tough to start with them as your first decision on a weight loss journey. There are other services on the market that may better fit your specific needs if Paleo, Keto, calorie restriction, or another method is your primary diet.
Home Chef Price
Home Chef is pretty competitively priced, in my opinion. They aren't super low cost or a true "budget" option, but I didn't see anything I would grade as expensive, either. Meals start at $7.99 per serving and go up from there. Both meals in my kit were $9.95 per serving, both offering two servings in each kit. Portion sizes certainly weren't stingy. Lunch options generally fall into the $7.99 category, and dinners into the $9.95 category.
Some other things to keep in mind for Home Chef on the price side:
Home Chef offers free shipping starting at $45.
They're based on a subscription model, though I found it relatively easy to pause or cancel my Home Chef subscription directly on their website. It's also easy to cancel via the Home Chef phone number.
Home Chef claims they deliver to 98% of the United States. If your zip code is one of the few they don't reach, they'll let you know quickly during the signup process.
I find their prices generally beat grocery store prices in my area, and they offer a student discount, though that may change by amount given the season or special promotions.
$30 Off First Order
Home Chef Meal Delivery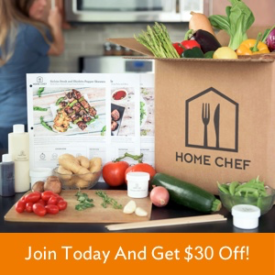 A nationwide meal kit service with bold flavors, a diverse menu, and easy-to-follow recipes. Meals are also sortable by dietary restrictions and preferences.
Home Chef Pros
I really enjoyed my experience with Home Chef overall. Below, I've outlined some of the specific highlights I found with their service; just keep in mind that what I'm looking for in a meal delivery kit may differ slightly from what you need!
Well-rounded service with a nice, broad selection of meals.
Relatively easy to customize, especially for food allergens and avoidance.
Easy-to-use website that lets you plan up to 5 weeks in advance.
A fun cooking experience made easy.
Packaging was clean, neat, and well put together.
Recyclable packaging and reusable ice packs.
Fair pricing.
Tasty meals with bold flavors.
Easy to cancel or pause your subscription.
Home Chef Cons
While I found my Home Chef experience to be a largely positive one, there are a few aspects of the service I wasn't quite so ecstatic about. The main knock against them had to do with produce freshness. This is a concern I've seen pop up in some other online reviews and recaps of Home Chef meal delivery.
Simply put, the produce wasn't as fresh as I would have liked. I actually threw away one of the pieces of celery, and the green onions required some trimming away of spoiled parts. I would have liked to have seen fresher produce, and in fact I have seen more consistent freshness in this regard from some other meal delivery kits. Overall my main potential cons for Home Chef included:
Not always super fresh produce, an experience shared by some other folks online.
Many meals higher in sodium than I liked.
While Home Chef is customizable, it's perhaps not the best for athletes who want many options for a very particular dietary framework (Paleo, keto, etc.). It may be tough to follow with a very strict macro plan.
Wrapping Up
Overall, I found Home Chef's meal delivery service to be a smooth experience from ordering to delivery and all the way through cooking. Their meals are tasty, intuitive, and pretty quick to make, even for an inexperienced chef or folks who may have limited kitchen space and supplies. The ability to plan your meals up to five weeks in advance is another huge plus that helps their website and ordering experience fit a cut above some other companies in the space.
My main criticism had to do with some less-than-fresh produce, though this could fall to variance from one meal (and week) to the next. If you're looking to try out a meal delivery kit at your home for the first time, Home Chef could be a great starting option that can keep you engaged with new and delicious flavors week after week.