The International Weightlifting Federation (IWF) announced today that International Olympic Committee (IOC) retesting of London samples has returned positive tests for 11 weightlifters. This is the latest in a series of announcements over the last three months announcing suspensions for lifters following 2008 and 2012 Olympic sample retests.
The findings — as indicated in the IWF announcement — came as part of a second wave of IOC retests for the 2012 London Olympic Games. While some in the international weightlifting community suspected suspensions from 2008 and 2012 retests were done, neither the IWF nor the IOC confirmed that was the case.
Information regarding previous suspensions from earlier this summer can be found here, here, and here.
The eleven lifters affected in this announcement are:
Intigam Zairov (94kg, Azerbaijan) (already suspended following Beijing retests)
Nataliya Zabolotnaya (75 kg, Russia)
Rauli Tsirekidze (85 kg, Georgia)
Almas Uteshov (94kg, Kazakhstan)
Svetlana Tzarukaeva (63kg, Russia)
Sibel Simsek (63kg, Turkey)
Iryna Kulesha (75kg, Belarus)
Hripsime Khurshudyan (+75kg, Armenia) (already suspended following Beijing retests)
Alexsandr Ivanov (94kg, Russia)
Cristina Iovu (53kg, Moldova)
Andrey Demanov (94kg, Russia)
2012 Olympic medalists from the above list include Alexsandr Ivanov (originally silver in men's 94kg), Cristina Iovu (originally bronze in women's 53kg), Nataliya Zabolotnaya, (originally silver in women's 75kg), Iryna Kulesha (originally bronze in women's 75kg), Svetlana Tzarukaeva (originally silver in women's 63kg), and Hripsime Khurshudyan (originally bronze in women's +75kg).
For reference, all three original 2012 podium finishers in the women's 75kg class (Zabolotnaya, Kulesha, and Svetlana Podobedova of Kazakhstan, suspended following an earlier retest) have now tested positive, and assuming their suspensions are upheld, each will lose their London Olympic medals. Lydia Valentin (Spain) will presumably become Olympic champion.
The announcement also means that, pending medal reassignments, Canada's Christine Girard becomes the women's 63kg champion, as both Maiya Maneza (Kazakhstan) and Svetlana Tzarukaeva (Russia) have now been suspended following London retests.
An excerpt of the IWF announcement — including which substances each of the lifters tested positive for — is embedded below.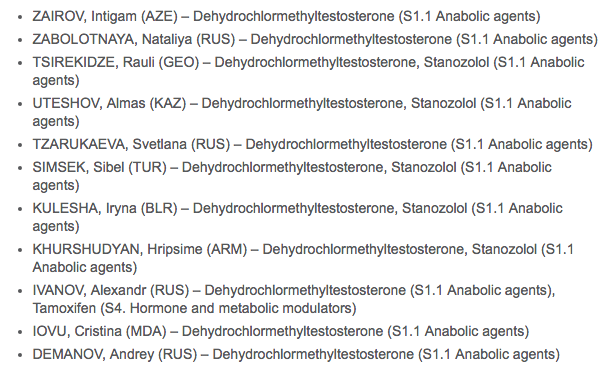 A video of Ivanov's performance from the 2013 World Weightlifting Championships is embedded below.
BarBend contributor Mike Graber contributed reporting to this article.