Earlier this week, the International Weightlifting Federation (IWF) published the preliminary start list for the 2019 Weightlifting World Championships. This year IWF World Championships are scheduled for September 18th – 28th in Pattaya, Thailand. I say preliminary simply because something always changes between the preliminary start list and the final start list at the technical meeting for all weightlifting meets.
This event will serve as the final Gold Level event of 2019, and the second to last senior level gold event prior to next summer's Tokyo Olympics. It's fair to assume that the top athletes who will be competing in Pattaya are positioned well to be competing in Tokyo next summer. Athletes across the globe are competing in Gold, Silver, and Bronze events in order to earn ROBI points towards qualifying for the Olympic Games. Gold level events, such as the World Championships, Junior World Championships or Pan American Championships, earn more points.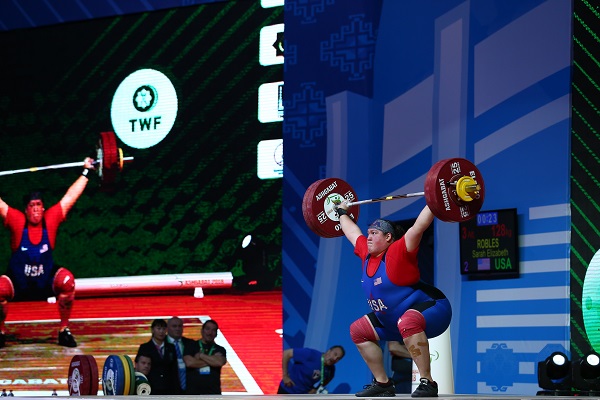 In comparison, the Pan American Games were classified as a silver event and earned less points, and smaller events such as last spring's Las Vegas International Open or the upcoming San Diego International Open, are bronze level events, and athletes can earn points here as well; however even less by comparison. Athletes earn points based on the number of international competitions they compete in, the prestige classification of the competitions they compete in, and how well they perform.
For example, American weightlifter CJ Cummings currently has the 4th highest amount of ROBI points for any male in the world, and the 2nd most for any athlete in the -73KG category. This is important because at the end of the Olympic Qualification period, the top 8 athletes in the weight classes will be invited to compete in the Olympic Games. With no more than 1 athlete per country in a weight class, and no more than 4 men and 4 women in total from any one country.
Each weight class will also have the next highest ranked athlete from each of the 5 continental federations (Africa, Europe, Pan-America, Oceania, and Asia) who is not in that initial group of 8 athletes. Finally, 1 spot will be provided for the host country or through a Tripartite Committee. Japan as the host country is guaranteed at least 3 men and 3 women. The Tripartite committee operates with the goal of including universal representation at the games.
Athlete Breakdown
This year, there are a total of 734 athletes representing 105 countries entered into the competition. The 395 men and 339 women represent a 54% / 46% division of the sexes.
For the first time ever, the Islamic Republic of Iran will be fielding a women's team. This is a development that has been over a year in the making. In March 2018, Iran hosted the Fajr Cup, and for the first time, Iranian women were allowed to spectate. USA Weightlifting President and IWF executive Ursula Papandrea was the first woman to coach a male athlete in Iran. Her visit also included teaching a weightlifting course for women to help grow the sport.
Additionally, IWF referee Sally Van de Water became the first woman to referee a men's weightlifting event in the country of Iran; progress towards athletic equality is starting to be seen. The republic of Iraq will also be fielding a woman's team at this year's event. After the 2016 Olympics, where Egypt's Sarah Ahmed won a bronze medal, more and more Middle Eastern countries are fielding women's teams in weightlifting. The youngest athlete entered is 2019 Youth World Champion is Nigora Abdullaeva of Uzbekistan in the women's 49KG weight class. She was born in 2004 and has a weightlifting age of 15 years old.
The oldest female competitor is Laurel Hubbard from New Zealand who was born in 1978. Chinthana Geetal Vidanage Vidanage from Sri Lanka is the oldest male entered into the event. He was born in 1981 and has a weightlifting age of 38 years old.
Which weight classes will be used?
At this point, most weightlifting fans are familiar with the new bodyweight categories that the IWF approved in 2018. There are 10 categories for men and 10 categories for women, all will be contested at the 2019 World Championships. In next summer's Olympic Games only 7 categories will be contested per gender.
As you can see in the chart below, the 6 categories that will not be in the Olympics – Women's 45KG, 71KG, 81KG Men's 55KG, 89KG, 102KG – have a relatively lower number of athletes entered.
That being said, it is still the World Championships. Winning a medal in the women's -81KG weight class is just as impressive as winning a medal in the women's -76KG weight class. So while the Olympics are coming up fast, countries are positioning themselves to maximize team points and win individual and team awards.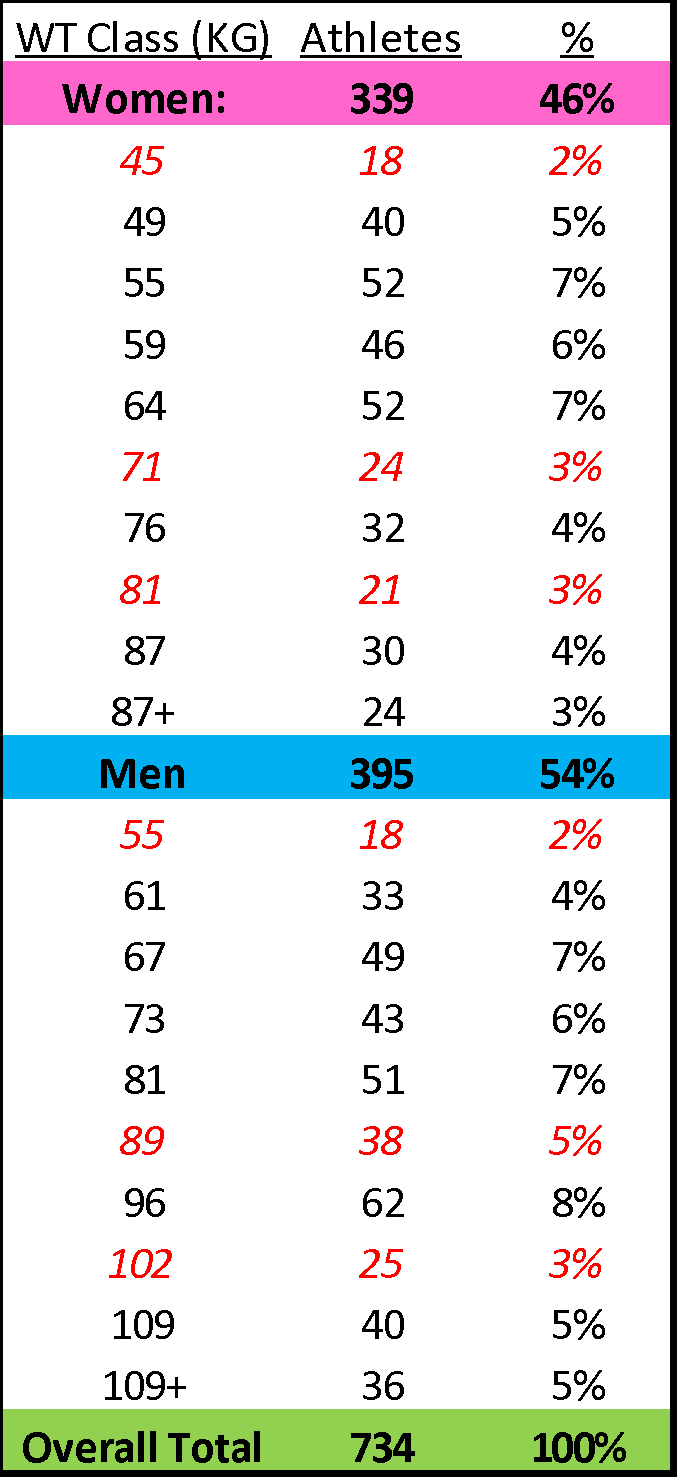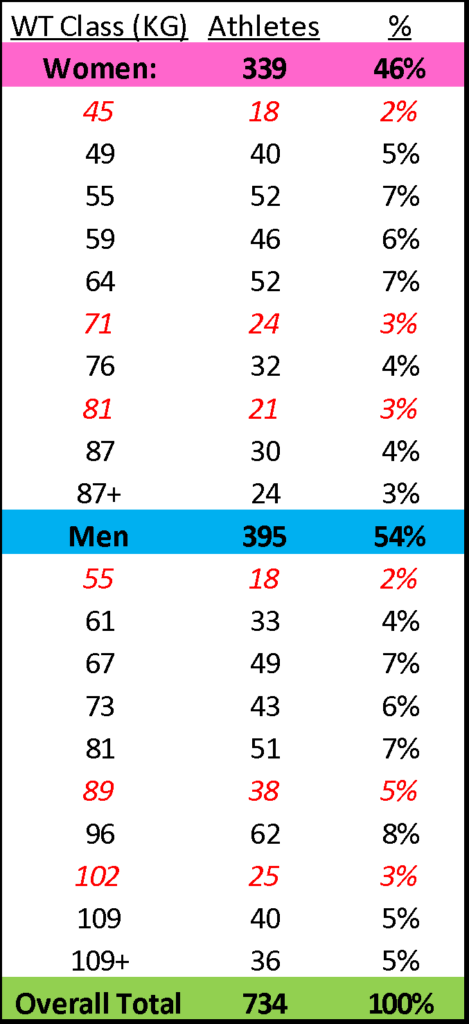 How does the American team look?
Earlier this year, the American Weightlifting team went to the Pan American Championships and won 43 total medals. They broke 51 World, Pan American and American Records, and were team champions in both the men's and women's events.
This performance sent a statement that they are the power to reckon with in the Western hemisphere. US National coaches Pyrros Dimas and Mike Gattone should have a swag in their walk when they get off the plane in Thailand. On paper, USA Weightlifting should have a lot more success if they compete to their abilities. The women's team appears to be setup for great team success. They probably will not catch China or North Korea in team points, yet they have the potential to be stronger than the rest of the Western hemisphere and most European nations.
This year, a majority of the American women's team has the potential to be in the A session for their weight classes and have a fighting chance to be on the medal podium. It starts with the reigning Queen of American Weightlifting Sarah Robles, who has the 5th highest entry total in the women's super heavyweight category. Even though she is an Olympic medalist and 2017 World champion, she is in a tough position as she has two world record holders and the reigning Olympic Champion in her category. She should finish in the top 5 and score some big points for team US; but barring a misstep by one of the other competitors, she will have a difficult time making the medal podium.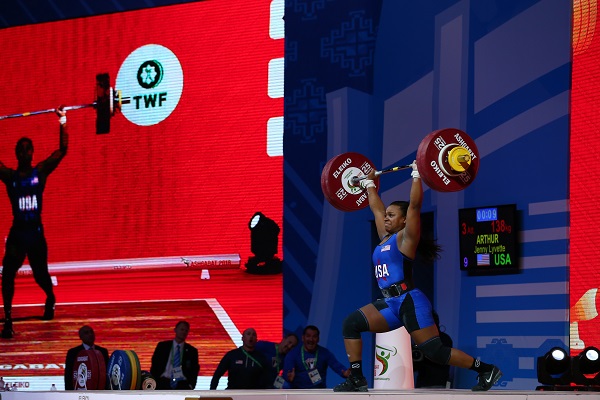 Additionally, Kate Nye and Mattie Rogers have the first and third highest entry totals in the -71KG category. Both athletes know how to compete in big time competitions. Nye has already won gold at the Pan American championships and Junior World Championships this year. While Rogers has won medals at the last two World Championships and is one of the most accomplished female athletes in American history. This is subject to the final draw, but if both women finish in the top five place finishes of the world, it will be a great day for USA Weightlifting. Potentially both can be on the medal podium if they compete to their abilities.
Olympian Jenny Arthur has the 8th highest entry total in the -76KG category. At last year's event she placed 4th overall in the 81kg category. It would not surprise this writer if Team USA places her in the -81KG category where she will have a chance to win a world Championship. At the very least she would be expected to score more team points compared to the -76KG category, but as of today, she is entered in the -76KG weight class where she has the potential to finish in the top 5 and possibly win an overall medal if she lifts to her abilities. Mattie Sasser has the 4th highest entry total in the -64KG category and is also expected to score big points for Team USA.
On the men's side, CJ Cummings has the 4th highest entry total in the -73KG category. American weightlifting fans have grown accustomed to him winning world titles and setting world records in every international competition he has been in over the last several years. While the 19-year-old has a lot of potential, it is a tall task to think that will continue to happen. He should improve on his 10th place finish from 2018, and finish in the top 10 or even top 5 overall if he lifts to his abilities.
Harrison Maurus has the 11th highest entry at -81KG, but is in a VERY deep weight category. His competition includes 2012 Olympic Champion Lu Xiaojun, 2017 World Champion Mohammed Ihab and many other world and Olympic medalists. 2019 Pan Am Champion Wes Kitts also has the 11th highest entry total in the -109KG category. However, his weight class is not as deep, and he has a much higher potential to finish in the top 10 at the world championships.
Depending how the final entry list turns out, these three have the best chance for Team USA to compete in the A session.
The full American Team roster can he found here.
What categories look the most exiting?
As of the most recent start list, the -96KG men's category looks to have the most excitement in a potential A session.
One reason is due to the presence of the most infamous weightlifter on the planet; Kazakhstan's Ilya Ilyin. Ilyin, who was the 2008 and 2012 Olympic Champion before losing both due to failed drug re-testing, is only entered with a 360KG entry total. However he recently showed off a 180KG snatch from blocks, potentially showing he has the ability to compete in an A session. The top entry totals of 390KG belong to 2016 Olympic Silver medalist Tian Tao of China and Jhonathan Rivas Mosquera of Columbia, one of the top snatchers in the world today on a kilo for kilo basis. Canada's Boady Santavy will also be someone to watch as he is coming in strong after winning a silver medal at the 2019 Pan American Games. 2018 Junior World Champion Fares Elbakh of Qatar and 2016 Olympic Champion Kianoush Rostami also headline this category.
Will the superheavyweights be exciting?
Yes! This looks to be one of the most exciting categories in the competition as literally everyone who is anyone is entered. Check out these names:
Lasha Talakhadze (Georgia, 2016 Olympic Champion, 3X World Champion)
Ali Davoudi (Iran, Junior World Record holder, 2018 2X Junior World Medalist)
Irakli Turmanidze (Georgia, 20126 Olympic Bronze Medalist)
Fernando Reis (Brazil, 6X Pan American Champion, 2018 World Championships 4th place overall)
Mart Seim (Estonia, 2015 World Championships Silver Medalist)
Gor Minasyan (Armenia, 2016 Olympic Silver Medalist)
In total, 23 men have entry totals of 400KG (880lbs) or more, including Team USA's Caine Wilkes who totaled 401KG at the 2019 Pan Am Championships.
Regardless of between now and the end of the competition, the World Championships will be a great show and I hope all the athletes lift to their abilities. I am looking forward to being in Pattaya next week and seeing all the athletes in action. Best of luck to everyone competing!
Feature image provided by and courtesy of Lifting Life.