Every year, qualifying for the Reebok CrossFit Games gets more difficult. The athlete pool grows, talent increases, and physical challenges climb in difficulty (in all aspects). While I learned a lot in my rookie year as a Games athlete, my greatest source of knowledge comes from the veterans who have been there before — often many times
One such Games veteran is Marcus Filly, a 32 year old, 6-time Games competitor who's known for being as thoughtful about fitness as he is fit. Marcus is one of those athletes who impresses you with their performance on the competition floor, only to blow you away with their perspective on fitness' broader role in our lives.
I recently caught up with Marcus to talk about his most recent Games performance (where he finished in a career-high 12th place), training philosophy, and diet. If you've ever wondered how top fitness athletes balance training volume with mental and physical burnout, Marcus' thoughts and experience are well worth your read.
1. How did you get started in CrossFit?
Marcus Filly: In 2007 I was working out with a group of friends, training 5-6 days a week at a local Gold's Gym, and taking classes that they offered there at the gym. One of the girls in our group lived a few blocks from the former San Francisco CrossFit location. She invited me one day to go workout there. I meet Kelly Starrett and had a very powerful first class experience. I start down the rabbit hole shortly after.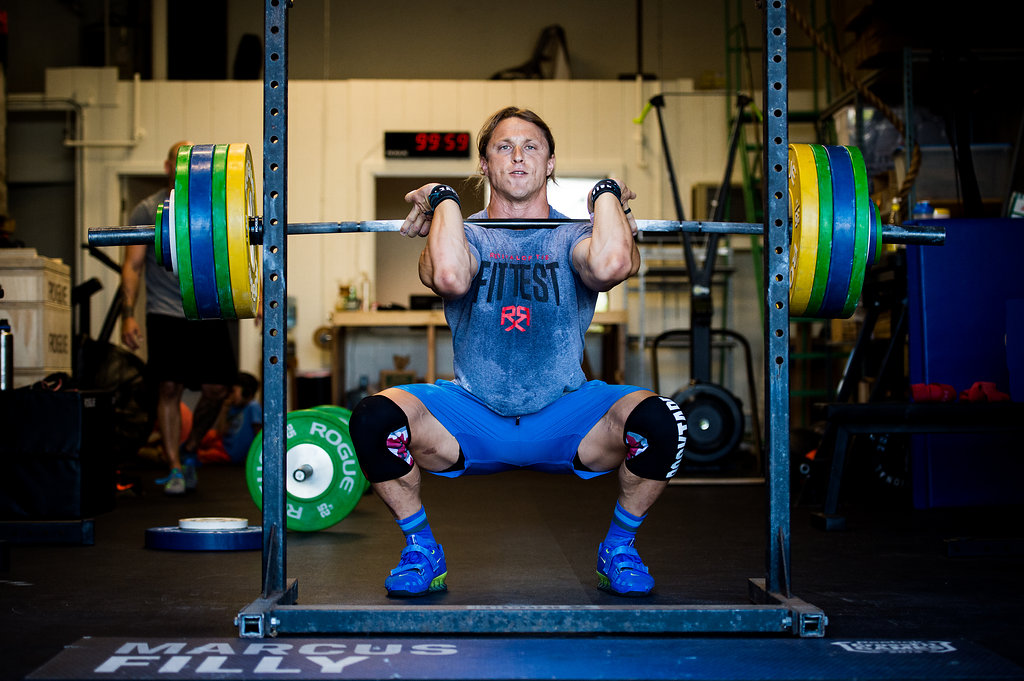 2. How many times have you been to the CrossFit Games?
I've made 6 trips to Carson as a competitor. Three times on an affiliate cup team, and three times as an individual competitor.
3. What does a typical training day look like you?
All my training days are currently split into an AM and PM session. I will focus most of my AM work around aerobic power or endurance training. I'll also mix in some unilateral and core work in my AM sessions. For my PM sessions I'll do a bit more strength training and depending on the time of year, I will do my mixed modal conditioning then.
4. Recently you have been posting your training and have incorporated a lot of what many would call "accessory work" — more than we're used to seeing from a lot of elite functional fitness athletes. How has this impacted your overall fitness?
It is hard to say exactly how this has impacted my overall fitness. I haven't had an opportunity to test my fitness in a CrossFit setting in a while. I look forward to seeing what, if anything, has changed.
What I can say is that my current training regimen has allowed my body to heal. Long competitive seasons in CrossFit generally leave me feeling pretty depleted by the end. Factor in another month of GRID competition after the CrossFit season, and I'm usually pretty tapped out. It hits me hard in September. So the change to my training approach has allowed me to stay excited about training, take pressure off myself to make progress in the traditional lifts we compete with, and find new areas to challenge myself in and uncover weaknesses. My squat strength, shoulder health, and runny capacity have all improved over the past 2 months. Not to mention I think my shoulders are looking pretty good right now 😉 (the 11th general physical skill – aesthetics!)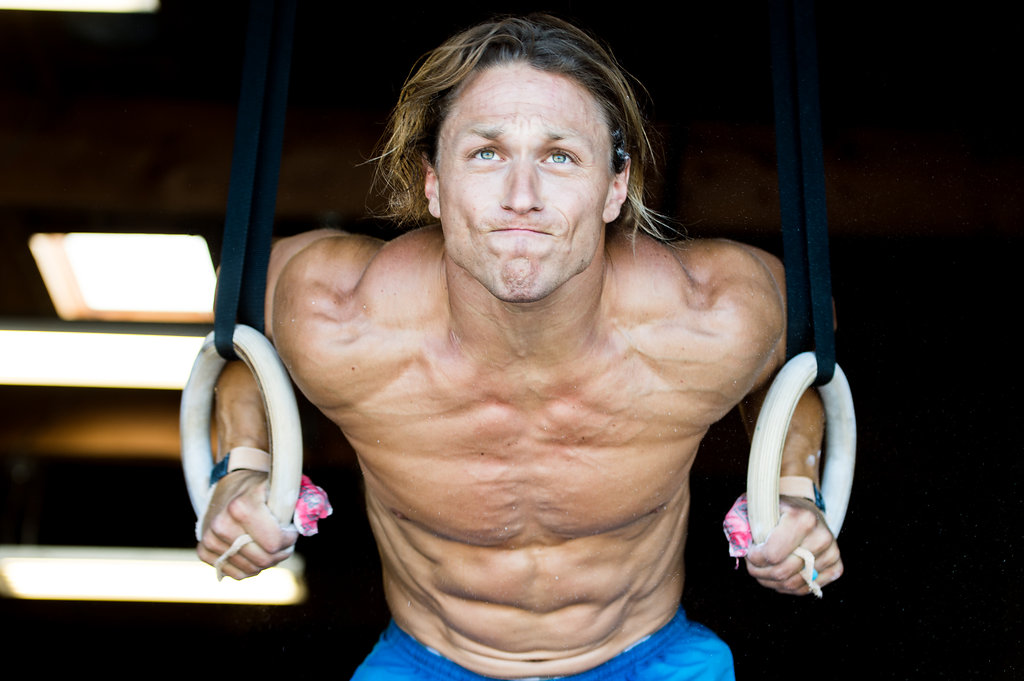 5. In 2016, you finished 12th at the Reebok CrossFit Games, your best-ever placing as an individual. What was the primary factor in your success this year?
I think last year my finish at the Games was a continuation on the build I had in previous years. In 2013 I placed 37th. I followed that up in 2014 with a 25th place. Then I skipped 2015 and came back and finished 12th in 2016.
What many people don't realize is that I trained for the entire 2015 season and made tremendous progress. I was growing as an athlete and a person in ways that I hadn't in years past. That lead directly into the 2016 season where the building just continued. I was fortunate to have a great plan and program from my coach for those 18 months that lead me back to the games.
Over the 5 days of the games I was able to maintain solid performances late into the weekend. I attribute this to more years of consistent training under my belt. A better awareness of what I am capable of and knowing when and where to push myself or hold back. I felt good on the 4th and 5th day and my consistency for 4 years is what allowed that to happen.
6. Do you program for others, and what is your programming philosophy?
When I'm not training or spending time with my friends and family, I'm coaching. Currently, about 95% of the coaching I do is online remote coaching. I write programs for clients from all over the world, I consult with them all monthly, and I communicate with them via the internet and text message daily. It has been tremendously rewarding.
A couple keys to my coaching philosophy are the following.
– Relationship First – I like to develop close relationships with my clients. This takes time and the longer I'm with a client the deeper my connection and understanding of who they are as a person and athlete becomes. I find coaching clients to become easier and easier as the months and years go by. I have always valued the support and care that my coach has offered me over the years and I prioritize this with my clients.
– Consistency – Clients with the most success are the ones that put in the same routine day in and day out for years. The key work there is years. Not days or weeks or even months. Get into the process and commit to it for the long haul. That is where we grow as people and as athletes. I make it very clear that we have a long road ahead and every day builds on the previous, so stay the course and play the long game. You will be surprised at how fast you arrive at your goals when you are thinking far in the future.
7. What does your nutrition look like?
Sample day (this happened to be what I had today):
– Upon Waking – Greens/Fiber Shake + Coffee with Heavy Cream + Lots of vitamins and mineral supplements
– Breakfast – 4 Eggs, 3 Bacon Strips, 1 Tbsp Butter
– AM Training – Revive Rebuild + Creatine
– Mid Morning Snack – Gluten Free oats with some berries
– PM Training – Revive Recover + Beta Alanine
– Late Afternoon Meal – White Rice + Ground Beef + Grass Fed Butter + Roasted Green Beans
– Evening Meal – Salad with Greens/Almonds/Peppers/Goat Cheese/Currants/Dressing + Sweet Potatoes + Chicken Thighs
– Pre-Bed – Dark Chocolate Chips + Revive Rebuild + Grass Fed Butter + Almond Butter + More vitamins and minerals
8. Explain your slogan "Honesty, Commitment, Persistence"?
– Honesty: What do you want? What do you need? What are you chasing? Be honest with yourself and others. Do not hide who you are and do not be afraid to show your true self. I've been dishonest with myself in the past and it lead me to frustration and blaming others for my downfalls. Until I could be honest with myself I wasn't able to find my path to success.
– Commitment: Once that path has been set and you have developed a foundation of honesty to build from, then you need to buckle up for the ride. Nothing good is going to come easy. You are going to need to stay the course for a long time. I haven't always approached new ventures in my life with a full commitment to seeing them through. Most of those failed. Now I only engage in things that I'm ready to commit to fully. I ask this of my clients and I demand it of myself. Be prepared for the long haul. That is where the magic happens.
– Persistence: Even when you know what you want through honest and thoughtful approaches, and when you have committed to the process for the long haul, don't think that you will have it smooth sailing all the way until your goals are reached. We all come face to face with adversity. Welcome the challenges and be prepared to persist through them. Without the challenges I have faced in my life i would never have grown into the person I am today. If I would have run at the first sign of adversity I may have missed a chance to become a deeper and more balanced person.
Thanks for giving me a chance to share my message!