Michael Miraglia is a unique kind of endurance athlete. He's deadlifted 500 pounds and ran a mile all within five minutes, combined strongman events and running for the world's first strongman marathon, and embarked on long bouts of functional fitness that last for hours and hours. Miraglia pushed his boundaries recently when he attempted to perform all 31 CrossFit benchmark "Girl" WODs in a row for the first-ever "Girl WOD Marathon." The event took place at Stay Classy CrossFit in San Diego, CA, in April 2021. Why, you ask? Miraglia told BarBend:
Fitness is my creative outlet, it's how I get to showcase and express myself to the world.
SPOILER ALERT: Miraglia only made it through 19 of those workouts, which might seem like a letdown at first glance. However, upon further examination of the sheer amount of volume he performed in six hours and 17 minutes, it is clear that it was one heck of an accomplishment.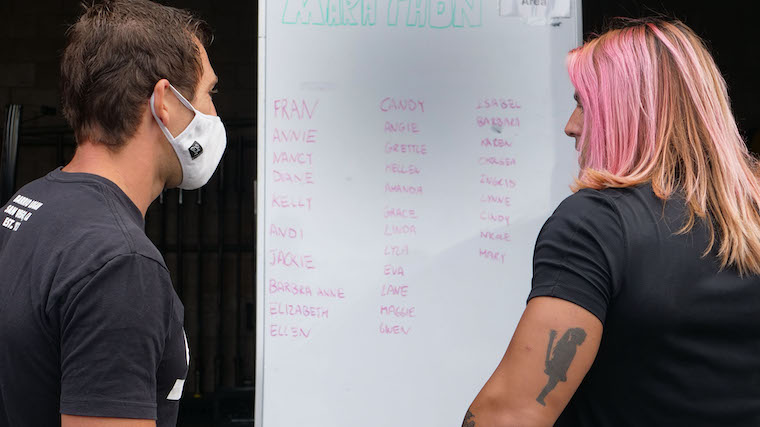 [Related: Fergus Crawley Ran a Sub 5 Minute Mile, Back Squatted 501lb, and Ran a Marathon In The Same Day]
Girl WOD Marathon
Here is the list of each CrossFit WOD Miraglia was able to perform and his corresponding times:
1. Fran — 3:14
Three rounds for time | rep scheme: 21-15-9:
2. Annie — 7:32
Reps for time | rep scheme: 50-40-30-20-10:
3. Jackie — 7:18
For time:
50 thrusters (45-pound barbell)
30 pull-ups
4. Diane — 6:35
Reps for time | rep scheme: 21-15-9:
5. Nancy — 13:36
Five rounds for time: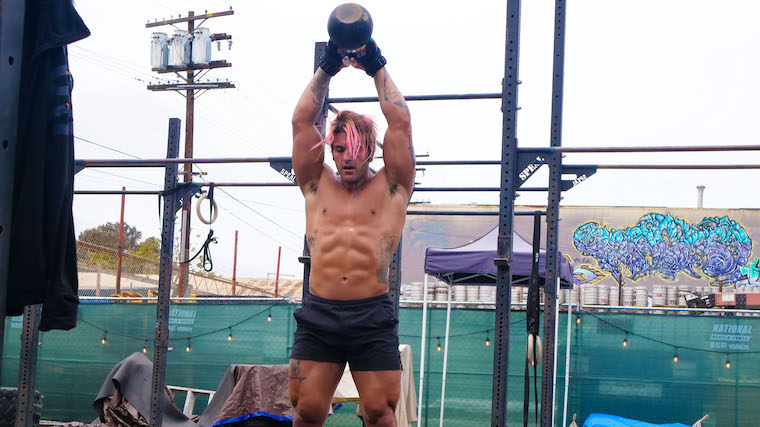 [Related: Burn Fat and Boost Your Work Capacity With Body Conditioning]
6. Helen — 9:07
Three rounds for time:
7. Linda — 28:11
For time | rep scheme: 10-9-8-7-6-5-4-3-2-1:
Deadlift (1.5-times bodyweight)
Bench press (bodyweight)
Clean (three-quarters bodyweight)
8. Isabel — 4:46
For time:
9. Ingrid — 9:10
10 rounds for time:
Three snatches (135 pounds)
Three bar-over-burpees
10. Grace — 4:58
For time: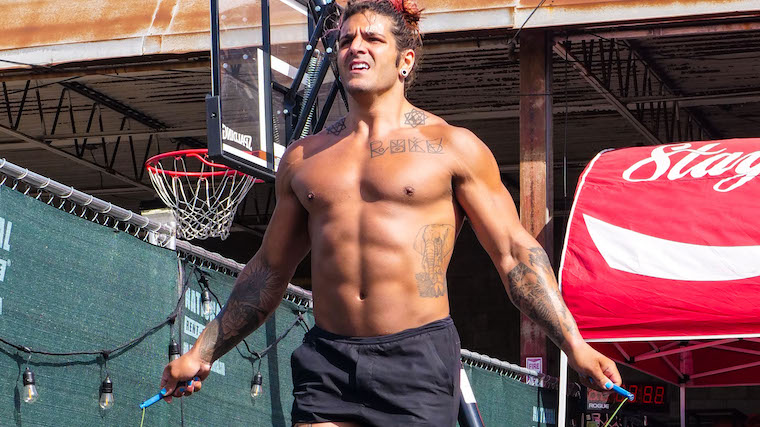 [Related: Check Out Trainer Dylan Miraglia's Smooth 341-Pound Stone of Steel Lift]
11. Grettel — 8:16
10 rounds for time:
Three clean & jerks (135 pounds)
Three bar-over-burpees
12. Elizabeth — 11:06
For time | rep scheme: 21-15-9:
13. Eva — 52:23
Five rounds for time:
800-meter run
30 kettlebell swings (two poods)
30 pull-ups
14. Barbara Anne — 50:58
Five rounds for time:
20 handstand push-ups
30 deadlifts (135 pounds)
40 sit-ups
50 double-unders
Rest three minutes
15. Lynne — 60 reps
As many reps as possible (AMRAP) in five minutes:
Max bench press (bodyweight)
Max pull-ups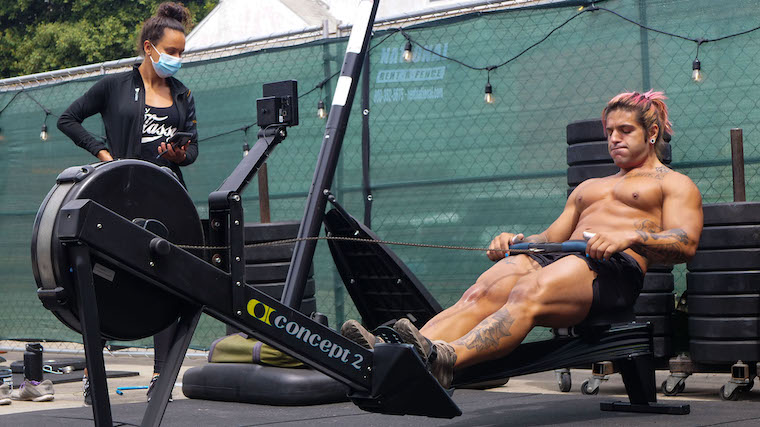 [Related: What You Need to Know About How to Increase Strength]
16. Lane — 31 reps
Five rounds for max reps:
Rest as needed between rounds
17. Gwen — 85 pounds
For load | Rep scheme 15-12-9:
Rest as needed between sets
18. Angie — 25:47
For time:
100 push-ups
100 pull-ups
100 sit-ups
100 air squats
19. Andi
For time:
Total time: Six hours, 17 minutes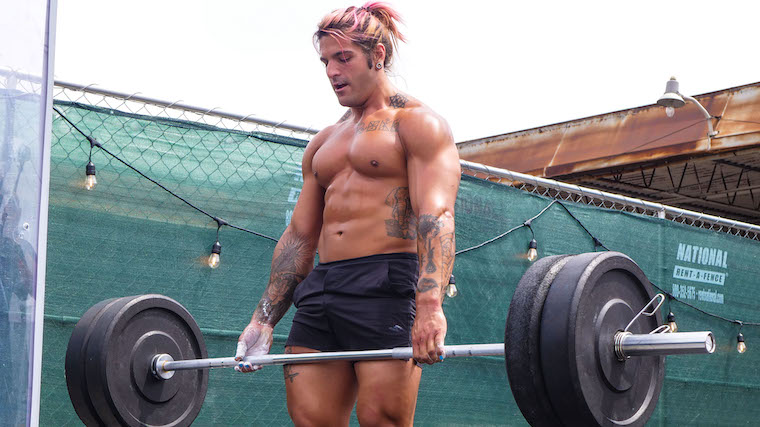 [Related: This Study Tried to See If CrossFit Endurance Stacks Up to Traditional Training]
Miraglia shared a post on his Instagram page discussing this extensive training session (to put it lightly). He admitted that the reason for stopping was due to torn skin on his hands and that his body began to cramp. He told BarBend:
"Felt great through the first 11 workouts. Then my hands started to rip, and the pull-ups became a big issue for me. Also was no longer able to hook grip a barbell, and I knew it was going to be a struggle to finish. I gave a good effort and am extremely happy with how I performed. I know even with this failure, I am definitely stronger for just attempting this feat."
Those hurdles that compelled Miraglia to stop are things he feels he can overcome when he attempts the "Girl" WOD marathon again — and he does intend to try again.
"I will complete this feat again, having learned from all of the mistakes."
Changes For Attempt Two
Miraglia said, "I know how to attack this marathon." Here are the changes he plans to make when he attempts this feat of fitness again on a to-be-determined date in the future.
Start much earlier in the day. Miraglia admitted that starting at 12pm PST was a "poor choice."
Perform all heavy barbell workouts first and the conditioning workouts last.
As was the case with Miraglia's strongman marathon, the challenge for the "Girl" WOD Marathon is now canon in the functional fitness world and Miraglia's effort is the one to beat.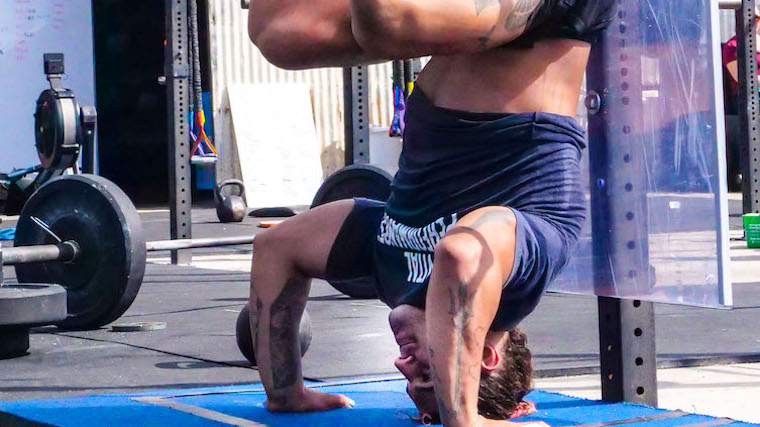 What's Next?
Miraglia loves "seeing what the human body is capable of" and seeks out the challenges that will be both "painful" and have a "low chance of success." The reward of completing a feat with those traits is gratifying for him and helps train his mind to push past its perceived limits.
His next feat of strength "will be the most impressive thing…it will be one of the most dangerous" he's ever attempted. While he couldn't disclose what that feat will consist of, he will continue to post about his fitness journey on Instagram.
Feature image: @BrookeJohnsonMedia on Instagram