MYX doesn't have the same brand recognition that Peloton, NordicTrack or ProForm may have, but they do offer a similar concept with regards to selling equipment designed to be used in conjunction with a virtual training subscription. The big difference between MYX and other brands? A much lower cost.
The MYX exercise bike is definitely a high quality bike, featuring both advanced technology and a sturdy flywheel, but it's not quite as dialed in. For example, instead of quiet magnetic resistance, this bike uses friction resistance, which means it's going to be a little louder than some of its competitors. However, if you're here because you want to bring the studio experience home with you at a relatively low cost, the MYX bike could be the perfect fit for your home gym.
Main Takeaways
The MYX bike works in partnership with MYX Fitness, the company's class

streaming service

that features over 1,000 workouts. 

This bike comes with a heart rate monitor that is the basis for all of the MYX Fitness classes, which focus on heart rate zone training. 

The heavy 41-pound flywheel provides a sturdy base for a smooth ride throughout your workout.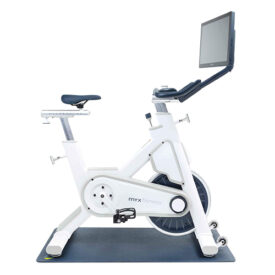 The MYX bike is a strong competitor on the studio bike market, offering a great in-home studio experience for almost half the cost of some of its competitors. It has a 21.5" swiveling touchscreen display, incorporated heart rate monitoring, fitness class streaming and a 41-pound flywheel that's both durable and powerful.
MYX Exercise Bike Highlights
​
The MYX bike is a great pick for athletes who want a studio experience and aren't willing to dish out Peloton-level cash for it. This bike is sturdy, comes with a heart rate monitor, tracks your stats and has a large touchscreen display for class streaming. However, the classes are a little different — you compete against your own heart rate rather than others on a leaderboard. And the bike itself uses friction resistance, which tends to be a bit louder than magnetic resistance.
Who Should Buy the MYX
Athletes who enjoy the in-studio experience and want to bring it into their homes.

Riders who like having a big touchscreen display and don't mind taking up a little extra space with it.

Users who like heart rate zone training and need a machine that can easily show those stats.
Who Shouldn't Buy the MYX
Anyone who wants a quieter machine that uses magnetic resistance.

Users who don't want to bother with added technology during their

at-home workouts

.

Riders who like to compete against others on a leaderboard during their class-streaming experience.
Price
​
The MYX bike goes for $1,299, which is on the less-expensive end of pricing for bikes with similar technology. Overall though, it's still an expensive bike if all you're looking for is a no-frills spinner with no added technology for hundreds of dollars less. But when it comes to the class of bikes offering interactive fitness and a quality machine all under one roof, the price is pretty appealing.
Overall Build and Quality
​
The MYX was built to compete in an already competitive market of indoor studio bikes, and it stands up to the challenge. It has a 41-pound flywheel that keeps a smooth ride and even though it uses friction resistance, this weight keeps the noise down more than lighter flywheels typically do. And when it comes to features, the MYX is high-tech with its touchscreen display, interactive fitness classes and heart rate monitoring. However, while the stat-tracking is all there, the basis of this bike's workouts is heart rate zone training, which is a little different from most of its competitors who zone in on leaderboards.
Features
​
The MYX bike tracks all of your necessary stats and even shows you a graph of your heart rate throughout your workout. Its swiveling 21.5" touchscreen display makes interacting with the MYX Fitness platform seamless, and the 41-pound flywheel keeps the ride feel smooth. You won't find fans or accessory trays here though, so you'll have to be comfortable riding without storage or an added breeze as you sweat through your endurance or strength training sessions.
Stats Tracking and Metrics
​
You can follow your time, calories burned, current heart rate, and maximum and minimum heart rate on this display. In addition, the bike provides a graph of your heart rate throughout your workout.
Display
​
This bike's 21.5" HD display can tilt or swivel to allow for classes both on and off the bike.
Included workouts
​
There aren't any programmed workouts on this machine, but MYX Fitness does have a fitness class subscription. There are over 1,000 training programs currently available through the subscription service, which include biking, endurance, high intensity interval training, stretching, yoga and more.
Workout Apps, Compatibility
​
and Subscription Options
This bike works with MYX Fitness, which is a subscription that provides access to over 1,000 training programs spanning the categories of biking, endurance, high intensity interval training, stretching, yoga and more for just $29 per month ($10 less than other popular fitness subscriptions). New sessions are added weekly and some of them are even scenic rides to amp up the entertainment.
Ride Feel and Comfort
The 41-pound flywheel provides a sturdy base, and even though it uses friction resistance, its added weight keeps the ride smooth. In addition, the seat is wider than most and well-padded to keep you comfortable throughout even the longest of rides.
Heart Rate Monitoring
​
This bike comes with a Polar OH1 Heart Rate Monitor. The basis of the MYX workouts is heart rate, so you won't be competing against other users on a leaderboard; it will be you versus your own heart rate during this heart rate zone training.
Fans
There are no fans built into this frame or display set-up, so you'll need to set one up nearby if you prefer a cooling breeze throughout your session.
Speakers
The speakers on this machine only project the class audio that you're taking — you can't use them to play additional music.
Water Bottle, Cup Holders, Tablet and Phone Holders
​
You'll find one water bottle holder by the handlebars for easy access to hydration throughout your workout.
Bluetooth and Audio Options
​
Bluetooth connectivity will allow you to sync both your heart rate monitor and Bluetooth headphones.
HDMI, USB and Other Inputs
​
There's a USB port located on the side of the display screen.
Product Specs
​
Overall, the MYX should be a piece of equipment that can last many years in your home gym. The 41-pound flywheel ensures a smooth ride even though this machine uses friction resistance to increase and decrease the difficulty of your workout. The pedals are dual-sided, so you can use both riding and running shoes. The weight capacity is above average and the seat and handlebars are both adjustable. However, this machine does run a little larger than most due to the size of its touchscreen, so if you're working with a small space, make note of the dimensions before you swipe right on this bike.
Bike Type
This is an upright bike, which means you will be in and out of the saddle and won't have added back support throughout your workout.
Resistance
The friction resistance on the MYX bike ranges from 0 to 100, so you have ample levels of resistance to choose from when you're looking to build up that leg muscle.
Pedals
These dual-sided pedals provide toe clips on one side and conventional cages on the other, so you can use both clip-ins and running shoes throughout your rides.
Seat and Handlebars
The seat and handlebars are adjustable both horizontally and vertically to accommodate users of all heights.
Dimensions
The MYX bike is 54.0″ x 21.0″ x 47.0″, which is a little larger than most due to the size of its display screen.
Weight Capacity
​
This bike can accommodate users of 350 pounds, which is higher than the average for indoor bikes.
Portability
You'll find front wheels on this machine, which will allow you to maneuver it on firm surfaces with ease.
Electrical Requirements
Simply place this machine next to a standard power outlet and plug it in for home use.
Warranties
​
With your purchase, you'll get a 5-year warranty on the frame and one year on labor and parts, which is shorter than most indoor bikes on the market that have 10 years on the frame and 3 to 5 years on parts.
Noise
Since this bike uses friction resistance, it's louder than those that have magnetic resistance. However, the heavy flywheel does keep it quieter than lighter friction resistance bikes you may find on the market.
Places to Buy
You can buy the MYX bike through MYXfitness.
Company Information
​
MYX Fitness is taking the studio bike world by storm with its MYX bike. With a lower cost than its competitors, MYX Fitness features bike classes, strength classes, recovery classes and more. Both its fitness membership and bike run at a lower rate and offer most of the same studio benefits of similar memberships and equipment.
FAQs
Is the MYX bike worth the money?
Our opinion is: Yes. It gives you a great studio experience at one of the lowest rates on the market. For anyone who's been wanting a Peloton or NordicTrack to stream classes on and off the bike but has been afraid of the price tag, the MYX is a solid investment at a much more manageable cost. 
Is MYX better than Peloton?
It depends on what you are looking for in your bike. The classes on the MYX bike are definitely more limited than Peloton's. The MYX is also a bit louder than the Peloton bike since it uses friction resistance instead of magnetic resistance. However, the overall quality is not that different, and at half the cost, the MYX is a great option for those who aren't willing to dish out a hefty sum for a Peloton. 
Is the MYX loud?
It's louder than bikes that utilize magnetic resistance, but as far as friction resistance bikes go, it's not super noisy. The heavy flywheel keeps the transitions quieter than what they may be on other friction resistance bikes with lighter flywheels.