I finally received my new high top camo basic trainers from NOBULL — but it took some time.
I was certainly one of the first to order them at the stroke of midnight on their launch date, and it took about about 3-4 weeks to deliver. They originally had set shipping date as 2/17, but they eventually shipped on 2/24. However, the company generally made good on that with a 20% off on my next purchase.  
I was really stoked to try these bad boys on. The CrossFit Open workout 16.1 has just been announced, and I wanted to not only kick some butt, but look pretty sweet doing so. Out of the box, they looked pretty slick.
When I put them on, I felt like Benny "The Jet" from the movie The Sandlot, right before he pickled the beast. Do you remember that scene when he finally comes to grips about taking on the big dog and he takes his new Fliers out of the box?  
That's exactly how I felt.
What Is NOBULL?
NOBULL is the new kid on the functional fitness apparel block. They fashion themselves the "David" of the fitness apparel industry, which I guess would be filled with brands they consider Goliath. Their hip and trendy branding — supposedly fueled by a "no nonsense" approach —  is what drew me in. The urban feel and smooth images on their social media made the gear look really cool.
Having a small but trendy roster of high-profile athlete ambassadors doesn't hurt either: Brooke Wells, Brooke Ence, Sam Dancer, and Jared Stevens. But flash doesn't always equal substance. Let's see how the NOBULL high top camo trainers held up.
High Top Pros
Style
The shoe is very cool looking, I'll give it that. Its grey camo features give it a very hip and trendy vibe. You can wear these outside of the gym and will definitely be complimented on them. When I say "hip and trendy," I really mean "badass and tough" on vibe. Both men and women will stop and give you some serious love. There are not many sneakers that have this type of appeal even when comparing to Converse or Vans.
The material allows for the high top and tongue to bend and be molded. Personally, I think this looks great, and with the right pair of socks, "You are crushing it!"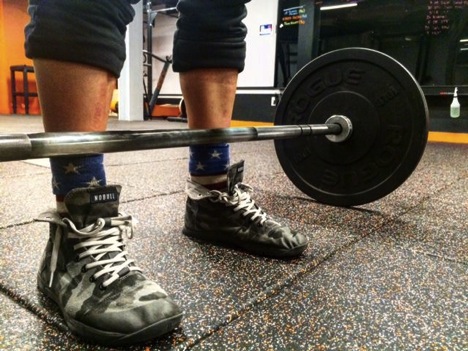 Here's my fashion advice for the NOBULL high tops: Leave the shoe laces untied, mold the high top and tongue, then put on a cool pair of socks. You can rock these with some shorts or roll up your joggers a bit to let 'em breathe. They even look sick in a cool pair of jeans.
Comfort
I christened these bad boys to be my all around everyday sneaker. I coach in these and hustle around NYC all day in them. They are comfortable, and once again, look really awesome.
Coaches, we have finally found a cool looking shoe to work and stand all day in.
I personally prefer to wear different shoes for when I train than to hang in. I'll train in my Nike Metcons or Reebok Nano's, but usually will wear Converse or Vans in everyday settings. The camo high tops are all I usually wear now, even when I'm not in the gym.
Performance (With Exceptions)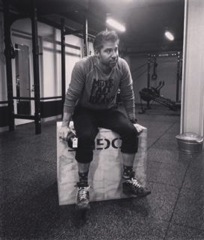 Because of the high top and flat stabile sole, it performs well as a powerlifting shoe. However, from my experience, it is a decent all around working shoe. It has more cushion than a traditional Chuck Taylor, which will allow for more comfort in short distance runs, box jumps, burpees, and other plyometric movements.
The best use for these bad boys are compound lifts. Squats, deadlifts, presses etc.
Although I usually train in other shoes, I will use them occasionally for days when I have straight lifting to do.
Performance advice: Stick to powerlifting in them or a short met con that doesn't have a lot of moving parts. The shoe has comfort, however it will take a beating and start to show the wear. If you don't care about that, then rock on while you look bad ass.
High Top Cons
Durability
Unfortunately, wearing these for every workout can quickly cause some unwanted wear and tear on them. The front part of my shoe slightly ripped itself from the rubber to the material within a few workouts. The material doesn't appear to be very tough.
The toe box is form fitting. I personally like that, however for those with wide feet, you may consider ordering a half size up.
The low top sneakers seem to hold up just fine when I asked other gym goers who have those. I decided I wouldn't really train in them as I prefer to keep them looking pretty new.
Functionality
The flip side to the NOBULL high tops being a good powerlifting shoe is that they don't offer a lot for multi-purpose use. It can be used for metcons, short distance runs, box jumps, or burpees as it offers more comfort than a Converse. I actually even like the sole comfort over the Reebok Nano, however the material on the outside isn't the best or as durable to hold up over a period of workouts or with movements like rope climbs.
Availability
NOBULL is still the new kid on the block, and it appears when they are always sold out or shipments take longer than usual; the supply has not been able to keep up with the demand. Good for them,but  frustrating for those who are looking to support them and make the purchases.  
Cost
Listed at $109.99, the price of these shoes is not terrible compared to these other companies that are charging boatloads of cash for performance sneakers these days. However, if we are comparing this particular sneaker to the Converse and Vans — which are typically made for skateboarding but commonly used by lifters — they're a lot more expensive than the $50-$65 you might be used to paying. Then you're going to have to dig just a bit deeper in your pockets for them. Overall, I'm glad I did.
Points Ratings (Out of 5)
Fit: 4

Style: 5
Running: 3
Squatting: 4
Durability: 2
Cost 4
Review Summary
I personally really dig the NOBULL high top camo sneaker, as it offers quality comfort and a trendy appeal as an everyday wearable shoe. If you want to train in them, powerlifting is where they will be best served, however they do offer a better comfort option than other similar sneakers for metcons and other performance work. Just know they will get beat up pretty quickly.
Here's what I really like: They are the new kids on the block. I can appreciate the growing pains that a company goes through when getting off the ground. Therefor, even though there were delays on shipping or a minor issue like the rubber tearing a bit off the sole, I still will fully support them.  Maybe if we really want America to be awesome, it starts by rooting for the Davids of the world.
Next up: Reviewing the NOBULL Duffleback.