On May 12, the National Pro Grid League (NPGL) announced its full regular and postseason schedule for the 2016 season. And the league's third season will be its shortest yet.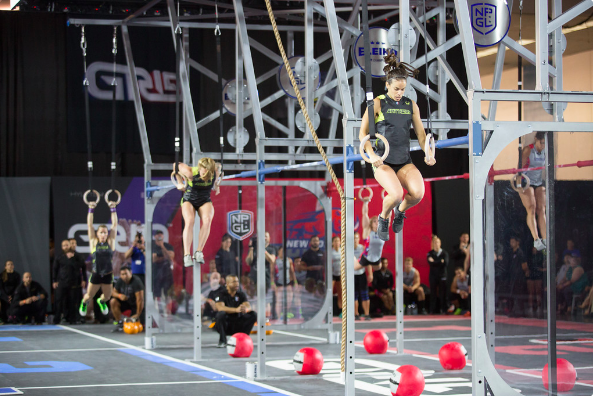 While the 2014 season seemed long with numerous pro days and draft events running from April through July, it culminated in a regular season that mostly ran from mid-August to mid-September. The 2015 GRID season was longer, with some matches occurring in mid-June and then picking up again August 9th, a couple weeks after the CrossFit Games concluded, and ultimately finishing in mid-September.
This year, the entire season — regular and post — runs from August 17 to September 7. All 12 regular season NPGL matches will happen between August 17 and 27, and the three postseason matches will happen on September 2, 3, and 7.
Every match will be held at the Utah Valley Convention Center in Provo, Utah. 
The full schedule is below and also available on the NPGL's site:
Regular Season Matches:
Aug. 17, 6 pm ET: Boston Iron vs. NY Rhinos
Aug. 17, 9 pm ET: Baltimore Anthem vs. DC Brawlers
Aug. 18, 6 pm ET: LA Reign vs. San Francisco Fire
Aug. 18, 9 pm ET: Phoenix Rise vs. Miami Surge
Aug. 22, 6 pm ET: Baltimore Anthem vs. NY Rhinos
Aug. 22,9 pm ET: DC Brawlers vs. Boston Iron
Aug. 23, 6 pm ET: Miami Surge vs. LA Reign
Aug. 23, 9 pm ET: Phoenix Rise vs. San Francisco Fire
Aug. 26, 6 pm ET: Boston Iron vs. Baltimore Anthem
Aug. 26, 9 pm ET: NY Rhinos vs. DC Brawlers
Aug. 27, 6 pm ET: LA Reign vs. Phoenix Rise
Aug. 27, 9 pm ET: San Francisco Fire vs. Miami Surge
NPGL Playoffs:
Sept. 2, 7:30 pm ET: Eastern Conference Final
Sept. 3, 6 pm ET: Western Conference Final
Sept. 7, 8 pm ET: NPGL Final
The NPGL has yet to release information on fan attendance, live streaming, and network coverage, but it says they have plans for all three to be available in some capacity.
The abbreviated season seems to make sense as far as streamlining filming, setup, and athlete transportation. But it also begs the question: Where is the NPGL headed, and is a compact season really the best experience for fans? Is the NPGL on its final legs, or can it still gain enough traction to become a grownup pro sport?
Let us know your thoughts in the comments.
Photo: NPGL.com