Last night, the International Weightlifting Federation (IWF) held the technical meeting for the 2016 Olympic Games. This included the verification of final entries from all countries and in each weight category.
More importantly, this produced the final lifting schedule for all sessions over the course of the competition. Altogether, there will be 29 sessions of weightlifting, 15 A sessions and 14 B sessions. Sixteen sessions will consist of men and 13 of women, due to the existence of one more men's category.
Morghan King, 48kg, will compete at 6pm EST on Saturday, August 6th. The 48kg A session is scheduled to air at 8pm EST on NBCSN.
Jenny Arthur, 75kg, will compete in the A session at 2:30pm EST on Friday, August 12th. NBCSN is currently scheduled to air weightlifting coverage beginning at 11pm EST that evening. The best bet may be to watch on the NBC Online Live Stream.
Sarah Robles, +75kg, will compete in the A session at 6pm EST on Sunday, August 14th. NBCSN will air coverage of weightlifting sometime between 5 and 7pm EST that day.
Kendrick Farris, 94kg, the United States' only male weightlifter competing in Rio, lifts in the B session as 12:30 EST on Saturday, August 13th. NBCSN is currently scheduled to air coverage of the 94kg weight class sometime between 6 and 9pm EST that day. We do now know if they will show the B session featuring Farris or the A session.
It's worth noting that while weightlifting may receive some primetime coverage on NBC, the primary television home for the sport will be NBCSN (NBC Sports Network). More info on how and when to watch can be found here.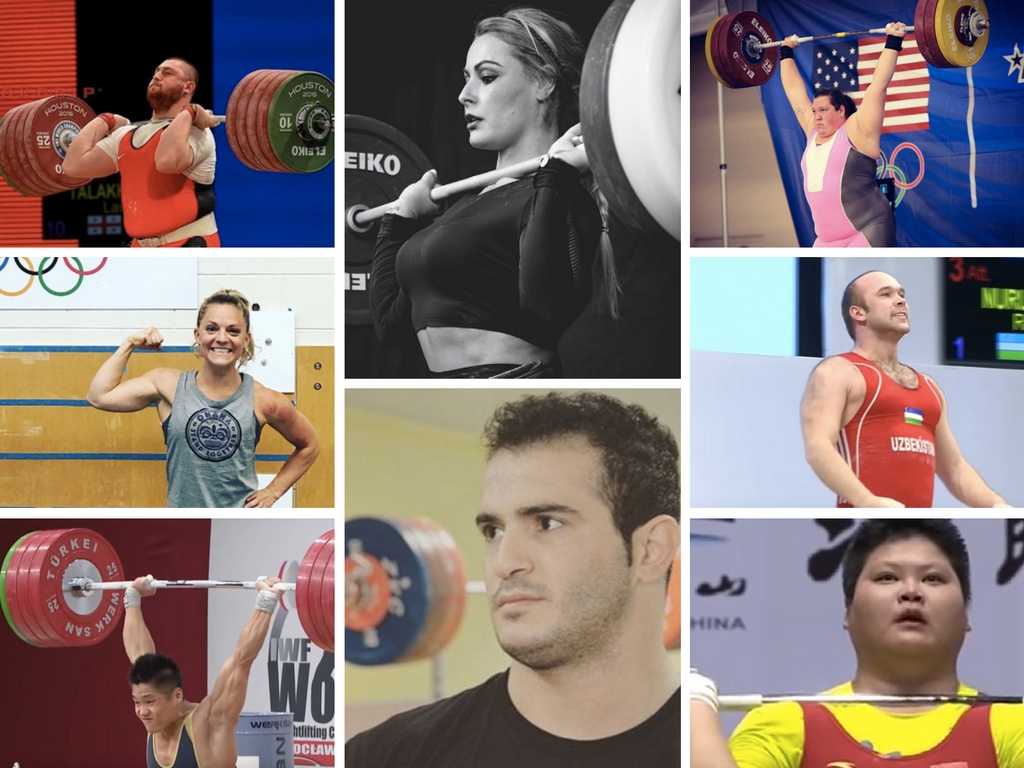 What Stands Out on the Start List?
Based on the final schedule, some athletes and their entry totals do stand out:
Women
48KG: Thailand's Sopita Tanasan (200KG) and Indonesia's Sri Wahyuni Agustiani (203KG) entered at 200KG or more, massive weights for a 48KG woman.
53KG: China's Li Yajun 225KG entry is well above the next athlete (Taipei's Shu-Ching HSU at 215KG).
58KG: Both athletes from Thailand, Pimsiri Sirikaew and Sukanya Srisurat, have the highest entry totals at 240KG.
63KG: Taipei's Tzu-Chi Lin has the top entry of 255KG, followed by athletes from Kazakhstan and China with 251KG.
69KG: Kazakhstan's Zhazira Zhapparkul (261KG) and China's Yanmei Xiang (260KG) have the top two entry totals. They won gold and silver medals at the 2015 World Championships, however in Houston Xiang finished in first.
75KG: The highest entry belongs to Jong Sim Rim of North Korea (275KG) the 2012 Olympic Champion at 69KG. Next highest is Darya Naumava of Belarus and Lidia Valentin of Spain, each at 255KG.
75+ KG: Meng Suping of China entered with 305KG, next is North Korea's Kuk Hyang Kim with 297KG.
Men
56KG: Four athletes entered with 290KG or more, including Yun Chol Om of North Korea at 300KG. The World Record total in this category is 305KG, set by 3X Olympic Gold Medalist Halil Mutlu at the 2000 Olympics.
62KG: World Record holder Lijun Chen of China has the highest entry total at 325KG. Next is Farkhad Kharki of Kazakhstan with 321KG.
69KG: Turkey's Daniyar Ismayilov and North Korea's Myong Hyok Kim have the top entry at 350KG. Three other athletes entered at 345KG, and this looks to be a very deep session with a lot of competition to medal.
77KG: Armenia's Andranik Karapetyan has the same entry total as 2012 Olympic Champion Lu Xiaojun (370KG). Last year's world champion — Nijat Rahimov of Kazakhstan — entered at 367KG, and Mohammed Ehab of Egypt at 365KG.
85KG: World Record holder Kianoush Rostami of Iran and 2016 Asian Champion Denis Ulanov of Kazakhstan both are entered at 390KG. Three other athletes entered at 385KG, including China's Tian Tao, who is another medal favorite. This will be an exciting session to watch, even when you consider who is not entered.
94KG: As expected, Sohrab Moradi of Iran is at the top of this list with a 407KG entry. 2012 Olympic Champion Adrian Zielinski of Poland entered at 405KG, his younger brother Tomasz entered with 403KG. When was the last time two siblings medaled at the same Olympic Games, let alone in the same category. The BarBend research team will need to inquire and find an answer – this could be a first if it happens. Five athletes overall are entered with 400KG or more.
105KG: Ruslan Nurudinov of Uzbekistan still looks to be the man to beat in this category. He is entered with 425KG, next is Armenia's Simon Martirosyan and China's Zhe Yang with 420KG. Martirosyan is still a junior aged athlete. In this category, the Olympic and Junior World Records happen to be the same, as both were set in at the 2008 Olympics by Andrei Aramnau of Belarus.

105+KG: Six athletes are entered with 450KG entries, including 2012 Olympic Champion Behdad Salimi of Iran and 2015 World Champion Lasha Talakhadze of Georgia. Hopefully this is a sign that Salimi is healthier than anyone really thought he was. It looks like the Olympic Games for Weightlifting will end with some big fireworks on the platform