Final Update: After a hard-fought Pan Am Championships, the U.S. men have earned one Olympic spot. USA Weightlifting has confirmed that spot will go to Kendrick Farris. The 2016 Rio Games will be Farris' third straight Olympics.
The Pan American Weightlifting Championships are currently being held in Cartagena, Colombia. While the U.S. Women have already secured and awarded three Olympic spots, the U.S. Men have yet to secure a trip to Rio. There are several pathways for American men to earn an Olympic spot — we've outlined them all here — but the clearest way is through Pan Ams, where they'd need to place within the top 7 teams among countries that do not currently have a spot. So while Brazilian and Colombian athletes are competing, their placements will not count toward points totals.
Six men's scores can be counted toward a team's placing, and while the U.S. was originally scheduled to send eight men, Alex Lee bombed out and Norik Vardanian withdrew due to injury. That means the remaining U.S. Men — Travis Cooper, James Tatum, Kendrick Farris, Donovan Ford, Wes Kitts, and Caine Wilkes — will all have their points counted. (We've analyzed their chances and predicted their approximate finishes here.)
Below, we've posted final results scoreboards for each men's weight class through +105kg (Saturday evening) from Pan Ams, which we'll updated as the event progresses. At the bottom of the article, we've included an overall scoreboard that calculates total men's team points, indicating which seven countries are in position to earn Olympic spots.
Men's 56kg:
| | | | | | | |
| --- | --- | --- | --- | --- | --- | --- |
| | Name | NAT | BW | Total | Place | Pts |
| 1 | DE LAS SALAS DE LA ROSA Habib | COL | 55.85 | 268 | | |
| 2 | BERNA GONZALEZ Carlos Andres | COL | 55.87 | 262 | | |
| 3 | MONTES GONGORA Jose Lino | MEX | 56.00 | 260 | 1 | 28 |
| 4 | GARCIA BRITO Luis Alberto | DOM | 55.92 | 255 | 2 | 25 |
| 5 | PINEDA Edgar | GUA | 55.95 | 244 | 3 | 23 |
| 6 | GUILLEN UTRA Yoan Arley | CUB | 55.73 | 240 | 4 | 22 |
| 7 | ROJAS CONCHA Marcos Antonio | PER | 55.88 | 238 | 5 | 21 |
| 8 | ROCAFUERTE BUENAIRE Enmanuel Enrique | ECU | 55.94 | 238 | 6 | 20 |
| 9 | LOPEZ CARRANZA Brandy | PER | 55.93 | 233 | 7 | 19 |
| 10 | BARRERA SANDOVAL Francisco Javier | CHI | 55.89 | 232 | 8 | 18 |
| 11 | ZURITA VALLEJO Walter Freddy | ECU | 55.88 | 231 | 9 | 17 |
| 12 | SOTO MONTECINO Diego | CHI | 55.84 | 230 | 10 | 16 |
| 13 | GUZMAN PEREZ Bryan Gilberto | PUR | 55.91 | 223 | 11 | 15 |
| 14 | ROJAS BRIONES Kevin Yorjanny | CRC | 55.73 | 180 | 12 | 14 |
Men's 62kg:
| | | | | | | |
| --- | --- | --- | --- | --- | --- | --- |
| | Name | NAT | BW | Total | Place | Pts |
| 1 | MOSQUERA VALENCIA Francisco Antonio | COL | 61.93 | 305 | | |
| 2 | SALAMANCA PINEDA Julio Cesar | ESA | 61.68 | 274 | 1 | 28 |
| 3 | VAZQUEZ MENDEZ Antonio | MEX | 61.90 | 270 | 2 | 25 |
| 4 | ACOSTA GONZALEZ Julio Cesar | CHI | 61.33 | 265 | 3 | 23 |
| 5 | PRECIADO REYES Miguel Angel | PER | 61.77 | 262 | 4 | 22 |
| 6 | DE LA ROSA BIBENE Efrain Antonio | DOM | 61.55 | 260 | 5 | 21 |
| 7 | RADA RODRIGUEZ Sergio Armando | COL | 56.17 | 259 | | |
| 8 | YOSEF Edward | HAI | 60.23 | 240 | 6 | 20 |
| 9 | CARRASCO VALDEZ Jefri Miguel | DOM | 61.27 | 239 | 7 | 19 |
| 10 | CRUZ ESCOBAR Ramon Ernesto | ESA | 61.78 | — | 8 | 18 |
| 11 | LOPEZ SANCHEZ Jesus Antonio | VEN | 61.56 | — | 9 | 17 |
Men's 69kg:
| | | | | | | |
| --- | --- | --- | --- | --- | --- | --- |
| | Name | NAT | BW | Total | Place | Pts |
| 1 | ROQUE MENDOZA Bredni | MEX | 68.85 | 336 | 1 | 28 |
| 2 | MOSQUERA ROA Edwin Orlando | COL | 68.87 | 323 | | |
| 3 | HERRERA CEPEDA Erik Elvis | ECU | 68.57 | 294 | 2 | 25 |
| 4 | LAHUANAMPA CASTILLO Junior Chayanne | PER | 68.66 | 282 | 3 | 23 |
| 5 | SANCHEZ VELEZ Jorge Jesus | PUR | 68.44 | 276 | 4 | 22 |
| 6 | SOTO MONTECINO Eduardo Alexis | CHI | 68.97 | 272 | 5 | 21 |
| 7 | BARDALEZ David | PER | 67.52 | 270 | 6 | 20 |
| 8 | ANDRADE DE SOUSA Matheus Delan | BRA | 68.62 | 270 | | |
| 9 | LEE Matthew | CAN | 68.69 | 261 | 7 | 19 |
| 10 | LORENZO Julian | GUA | 68.86 | 248 | 8 | 18 |
| | MOSQUERA LOZANO Luis Javier | COL | 68.68 | — | 9 | 17 |
| | LEE Alex | USA | 68.86 | — | 10 | 16 |
| | LOPEZ PENA Roy Sherlock | VEN | 68.04 | — | 11 | 15 |
| | RUBIO RIVERO Israel Jose | VEN | 68.63 | — | 12 | 14 |
| | LUNA-Grenier Francis | CAN | 68.14 | — | 13 | 13 |
Men's 77kg:
| | | | | | | |
| --- | --- | --- | --- | --- | --- | --- |
| | Name | NAT | BW | Total | Place | Pts |
| 1 | CAICEDO PIEDRAHITA Andres Mauricio | COL | 76.41 | 347 | | |
| 2 | LA O GARCIA Addriel | CUB | 76.39 | 340 | 1 | 28 |
| 3 | SANCHEZ RIVERO Junior Antonio | VEN | 75.22 | 330 | 2 | 25 |
| 4 | FLORES Ricardo | ECU | 76.74 | 320 | 3 | 23 |
| 5 | LOPEZ FARIAS Bastian Andres | CHI | 76.97 | 311 | 4 | 22 |
| 6 | COOPER Travis Daniel | USA | 76.67 | 309 | 5 | 21 |
| 7 | SIDO Francis Emilio | DOM | 76.96 | 303 | 6 | 20 |
| 8 | RODRIGUEZ OCASIO Christian Angel | PUR | 75.87 | 302 | 7 | 19 |
| 9 | LORENZANA Cristian | GUA | 76.83 | 298 | 8 | 18 |
| 10 | VALDISON Oscar | GUA | 73.79 | 286 | 9 | 17 |
| 11 | BOISCLAIR Jerome | CAN | 76.53 | 285 | 10 | 16 |
| 12 | DE LA CRUZ LIRIANO Jonathan Guarionex | DOM | 76.53 | 281 | 11 | 15 |
| 13 | VARELA ARRIAGADA Ricardo Alexis | CHI | 76.5 | 270 | 12 | 14 |
| 14 | MENDOZA GARCIA David Aurelio | HON | 73.4 | 268 | 13 | 13 |
| 15 | CARRILLO RAMOS Juan Jose | CRC | 75.32 | 241 | 14 | 12 |
| 16 | RODRIGUEZ MEDINA Jorge Armando | CRC | 75.06 | 214 | 15 | 11 |
| 17 | ROMAN LAGUNA Domingo Rodrigo | MEX | 75.75 | — | 16 | 10 |
| 18 | ANDICA ANDICA Yony Alexander | COL | 76.86 | — | | |
Men's 85kg:
| | | | | | | | |
| --- | --- | --- | --- | --- | --- | --- | --- |
| | Name | NAT | BW | Total | | Place | Pts |
| 1 | HERNANDEZ PAUMIER Yoelmis | CUB | 83.6 | 342 | | 1 | 28 |
| 2 | SAEZ VERA Olfides | CUB | 83.97 | 338 | | 2 | 25 |
| 3 | PLAMONDON Pascal | CAN | 84.74 | 338 | | 3 | 23 |
| 4 | BONNAT MICHEL Zacarias | DOM | 84.6 | 337 | | 4 | 22 |
| 5 | BALZA GARCIA Renson Rafael | VEN | 84.36 | 331 | | 5 | 21 |
| 6 | TATUM James Richard | USA | 84.54 | 330 | | 6 | 20 |
| 7 | ROSA DA SILVA Wellison | BRA | 84.37 | 328 | | | |
| 8 | SANTAVY Boady Robert | CAN | 84.75 | 328 | | 1 | 19 |
| 9 | HERNANDEZ Alexander | PUR | 83.15 | 293 | | 2 | 18 |
| 10 | CONTRERAS Sony | GUA | 83.45 | 290 | | 3 | 17 |
| 11 | URRUTIA PEREZ Jose | CHI | 84.73 | 290 | | 4 | 16 |
| 12 | ANDRES Pedro | GUA | 84.39 | 285 | | 5 | 15 |
| 13 | FUENTES MONGE Ricardo Josue | CRC | 82.6 | 218 | | 6 | 14 |
| 14 | MAHADEO Dillon Simeon | GUY | 84.5 | 212 | | 7 | 13 |
| 15 | FERREIRA DA SILVA Josue Lucas | BRA | 84.18 | — | | 8 | 12 |
Men's 94kg:
| | | | | | | |
| --- | --- | --- | --- | --- | --- | --- |
| | Name | NAT | BW | Total | Place | Pts |
| 1 | FARRIS Kendrick James | USA | 93.85 | 364 | 1 | 28 |
| 2 | QUINONES BENITES Victor Manuel | CUB | 93.96 | 358 | 2 | 25 |
| 3 | ARIAS Yeison | VEN | 93.46 | 340 | 3 | 23 |
| 4 | SAMAYOA David Vincent | CAN | 92.85 | 328 | 4 | 22 |
| 5 | CONTRERAS Wilmer | ECU | 92.29 | 327 | 5 | 21 |
| 6 | PEREZ FUENTES Rigoberto | MEX | 93.75 | 325 | 6 | 20 |
| 7 | PALACIOS Ivan | ARG | 93.86 | 325 | 7 | 19 |
| 8 | PAVON FUNES Cristopher Joel | HON | 93.94 | 319 | 8 | 18 |
| 9 | GONSALVES Mikael | CAN | 93.96 | 313 | 9 | 17 |
| 10 | CARTAGENA Moises | PUR | 92.44 | 306 | 10 | 16 |
| 11 | VALENCIA MONTESINOS Alex Dario | PER | 93.6 | 296 | 11 | 15 |
| 12 | GUERRERO MATURANA Aquiles | CHI | 93.4 | 295 | 12 | 14 |
| 13 | SOTO Juan | PUR | 92.4 | 290 | 13 | 13 |
| 14 | CASTILLO Javier | GUA | 90.92 | 280 | 14 | 12 |
| 15 | RAMIREZ ROJAS Jose Fabio | CRC | 93.75 | 238 | 15 | 11 |
| 16 | LINTON PEREZ Christopher | CRC | 89.28 | – | 16 | 10 |
Men's 105kg:
| | | | | | | | |
| --- | --- | --- | --- | --- | --- | --- | --- |
| | Name | NAT | BW | Total | | Place | Pts |
| 1 | GONZALEZ BARRIOS Jesus Abrahan | VEN | 103.98 | 385 | | 1 | 28 |
| 2 | FORD Donovan Sevon | USA | 104.42 | 373 | | 2 | 25 |
| 3 | ARROYO VALDEZ Jorge David | ECU | 104.92 | 373 | | 3 | 23 |
| 4 | KITTS Wesley Brian | USA | 103.92 | 353 | | 4 | 22 |
| 5 | VIERA ESPINOZA Hernan Moises | PER | 103.89 | 349 | | 5 | 21 |
| 6 | AGUILAR HERNANDEZ Josue Raul | CUB | 104.45 | 349 | | 6 | 20 |
| 7 | LAURET RODRIGUEZ Luis Manuel | CUB | 103.58 | 340 | | 7 | 19 |
| 8 | MEDINA ANDUEZA Josue Said | MEX | 104.76 | 339 | | 8 | 18 |
| 9 | CAMPOS Juan | DOM | 104.59 | 332 | | 9 | 17 |
| 10 | LEMUS Gilberto | GUA | 104.76 | 332 | | 10 | 16 |
| 11 | CONTRERAS SAMPI Gerardo Yamir | PER | 99.46 | 230 | | 11 | 15 |
| 12 | GREGORIO MACHADO Mateus Filipe | BRA | 104.32 | — | | 12 | 14 |
Men's +105kg:
| | | | | | | | |
| --- | --- | --- | --- | --- | --- | --- | --- |
| | Name | NAT | BW | Total | | Place | Pts |
| 1 | SALAS MANGUIS Fernando Fabricio | ECU | 162.15 | 400 | | 1 | 28 |
| 2 | WILKES Caine Morgan | USA | 147.8 | 385 | | 2 | 25 |
| 3 | CALERO TORRES Anderson Jimmy | ECU | 158.83 | 367 | | 3 | 23 |
| 4 | FAMILIA CHECO Jose Andres | DOM | 112.95 | 365 | | 4 | 22 |
| 5 | OSUNA LOPEZ Luis Alfredo | MEX | 115.34 | 356 | | 5 | 21 |
| 6 | MORALES NAVAS Yoel Jose | VEN | 120.16 | 355 | | 6 | 20 |
| 7 | MANRIQUEZ COLLINS Raul Enrique | MEX | 179.15 | 351 | | 7 | 19 |
| 8 | KOBALADZE George | CAN | 138.63 | 340 | | 8 | 18 |
| 9 | COTO PEREIRA Emanuel | URU | 129.39 | 325 | | 9 | 17 |
| 10 | RIVERA MURIEL Heriberto | PUR | 121.87 | 302 | | 10 | 16 |
| 11 | SALAS MONTERO Paul Johan | CRC | 113.31 | 301 | | 11 | 15 |
Men's Overall Score Sheet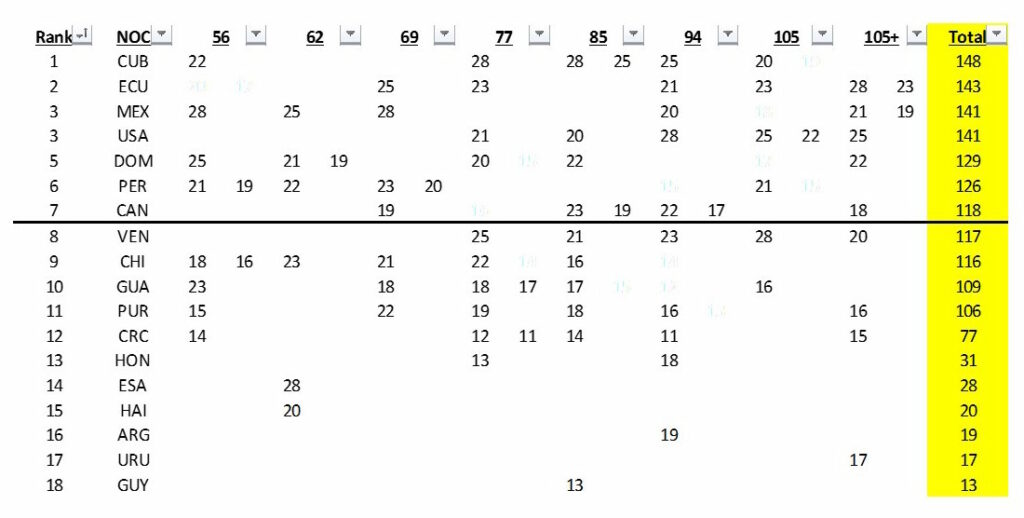 Featured image: @thedragonwilkes on Instagram