It's not hard to see why Plated is one of the more popular meal delivery services on the market:
They offer fresh and sustainably raised produce and meats, flexible ordering and subscription options with an alluring recipe list that changes weekly — all features that would be appealing to cooks of varying levels of experience.
When I looked at the amount of positive customer reviews, it's obvious that Plated is a successful company. But I wanted to try things out for myself and see how this company compares to other services on the market.
In this Plated review, I'm going to go over every aspect of the user experience: from ordering, packaging, the freshness of the produce, meal prep, nutrition, and more. If you're not sure if Plated is the best for you, read below to find out more about all of the potential pros and cons that come with this service.
Plated Company Background
Plated was founded in 2012 by two Harvard School Business School Classmates, Nick Taranto and Josh Hix. They made quite a splash, earning notability after appearing on TechStars, Shark Tank, and Beyond the Tank. While they struck a six-figure deal with Mark Cuban on Shark Tank, the deal unfortunately fell through. But the Taranto and Hix didn't let that deter them from achieving the success that was about to come.
By 2013, the company had delivered more than 100,000 meals in the Northeast and Midwest Regions of the U.S., and by 2015, Plated was projected to surpass 100 million in revenue for the year. In 2018, Albertsons, a large American grocery chain, acquired the meal delivery service for $200 million.
Not only is that impressive, Plated's recent success is potentially convenient for Albertsons' customers. Some of their stores now offer Plated's ready-to-cook meals that you can pick up and purchase when you're buying your usual goods.
Luckily for me, I live in Austin where there are plenty of Albertsons and hopefully the ones that carry Plated options. If this service is something I enjoy, I could see it coming in handy when I'm strapped for time and don't want to spend too much energy prepping dinner for the night.
Plated Website and Ordering Experience
I'm not going to lie: Shopping around the Plated website got me pretty excited about eating food. The recipe pages featured large, hi-res photos of colorful vegetables and tenderly cooked meats. If I didn't know Plated was just a meal delivery service, I might've mistaken it for a digital culinary magazine.
Besides the fact that the site is aesthetically pleasing, it was really easy for me to pick my meals, the serving sizes per night (2, 3, or 4), and how many nights per week.
Plated has a fairly decent selection with 20 different meals to choose from each week as well as deserts. All of the pork and poultry is raised responsibly without antibiotics. The beef is raised without hormones. The fish is sourced from sustainable fisheries. The produce is seasonal and organic when possible.
Plated makes it really simple for you to filter through everything according to your dietary needs. If you're looking something that's gluten-free, vegetarian or low-carb, for example, they have tabs for that! I'll come back to this later when I touch on whether or not Plated could be a good fit for your diet.
For this review, I ordered two servings of the Sun-Dried Tomato Chicken with Farro and Parmesan and two servings of the Seared Steak with Cherry Tomato Vinaigrette.
The other thing I liked about Plated's subscription model is that you can easily skip weeks if you are out of town or simply just want to take a break from having your meals delivered. So this means you can leave town without worrying you'll come back to a box of spoiled food on your doorstep. If you are expecting more dinner guests or want less servings, you can change the contents of your box six days prior to its delivery date.
What's in the Box?
When I picked up my Plated order, I was happy to see that the box was fully intact. No dents, rips or holes to speak of. I also loved seeing the bright orange logo they have on the front of the box. The moment I opened the door, I knew exactly what the package was for and I was excited to start cooking.
The interior packaging was impressive as well. Each meat portion came in their own vacuumed-sealed ziplock bags that were separate from the fresh produce. Everything was kept cool by cold packs and insulated with layers of packing foam. Each meal was in its own separate bag so I was never confused about which ingredient went where.
Plated's sealed packaging was actually so air-tight that it saved us from one mistake that could have made quite a mess. The day after I cooked my first Plated meal, I was breaking down the box even further to find I had left one piece of chicken at the bottom. What's amazing was there were no leaks or any rotten smells. So I thank Plated for saving me from putting on the rubber gloves.
Tucked in among all of the ingredients, I found two recipe cards. Each had a beautiful picture of the finished meal on the front, step-by-step instructions (with photos) on the back, as well as an ingredient list, necessary utensils and cookware and serving size info. I didn't find any nutritional details on the card though, which could potentially be a problem for those counting their macros or have certain dietary restrictions (i.e.: low sodium diets). I'll go over this in more detail when I talk about nutrition.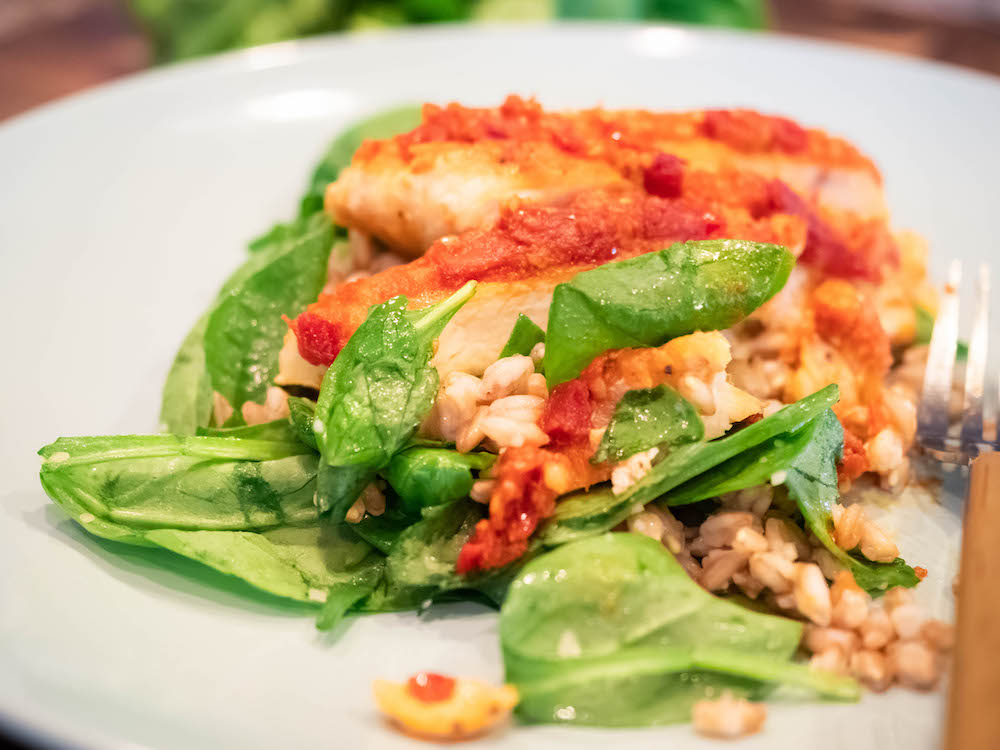 Additionally, Plated offers a mobile app, which I thought was very convenient. You can hop onto the Plated App on your phone, search for the recipe that you are making and find everything that's included on the recipe card and more, including the cooking time, difficulty level, and macro breakdown. I still didn't find any nutritional values though, which is still a bummer. But at least I could go online to get more details.
With everything unpacked on my kitchen counter, I was excited to discover that everything in the box — including the ice packs and the foam layers — was 100% recyclable. Overall, I give Plated full marks for their packaging.
Now before I talk about cooking, here are all of the listed ingredients for each recipe as well as the extra items I needed to in my kitchen to successfully make these meals:
Seared Steak with Cherry Tomato Vinaigrette
Green beans
Red-skinned potatoes
Parsley
Shallot
Cherry tomatoes
Sherry vinegar
2 steaks
Parmesan Cheese
Sea Salt
Necessary Extras: Olive oil, salt, pepper, a medium pot, and two 10-inch pans.
Sun-Dried Tomato Chicken with Farro & Parmesan
2 chicken breasts
Baby spinach
Sun-dried tomatoes
Garlic
Farro
Butter
White wine
Parmesan cheese
Necessary Extras: Olive oil, salt, pepper, a medium pot, and one 10-inch pan.
Plated Cooking Experience
I have to say: My Plated cooking experience went very smoothly. All of the instructions were easy to follow and I didn't find that any of the steps required much skill or cuisine know-how. Even though I consider myself to be a pretty good cook, I don't imagine that any of Plated's subscribers will have much trouble putting these meals together.
But instead of me telling you, let me show you how simple it was. (Feel free to also watch the video up above to get a better sense of what I'm talking about.)
Let's talk about my experience with each of the recipes.
Sun-Dried Tomato Chicken with Farro & Parmesan
Prep: Clean produce. Chop sun-dried tomatoes and garlic. Season the chicken with pepper and salt.
Cook: Bring water to a boil in a medium size pot and preheating a pan with olive oil in it for the chicken. When the oil is warm enough, place the seasoned chicken in the pan skin-side down. While the chicken is cooking add salt to the pot of water and add farro to cook. Once the chicken is thoroughly cooked, remove from pan. Add sun-dried tomatoes and garlic to the same pan and saute for a minute or so. Add tomato paste and white wine. After 2-3 minutes, take the sauce off the heat and add the butter and parmesan cheese. Put the chicken back into the pan and coat it with sauce. Add the spinach and the remaining parmesan cheese. Pour olive oil into the farro and give it a stir. Serve.
Plated said this recipe would take 20-30 minutes and I would say their estimate was accurate. I finished the meal in about 22 minutes, which I think is pretty fast. I think it's because I spent very little time on preparing the ingredients. All I had to do was chop up the sun-dried tomatoes and the garlic. Additionally, the tomato paste, white wine, butter, and parmesan cheese were all portioned out for me, so I didn't have to measure everything.
In general, I think the Sun-Dried Tomato Chicken with Farro & Parmesan is a great option for people who are pressed for time. I think it's also great for people who don't have much experience in the kitchen. None of the ingredients are tricky to handle and it's a great way for people to get comfortable with seasoning meats, chopping and sauteing.
Seared Steak with Cherry Tomato Vinaigrette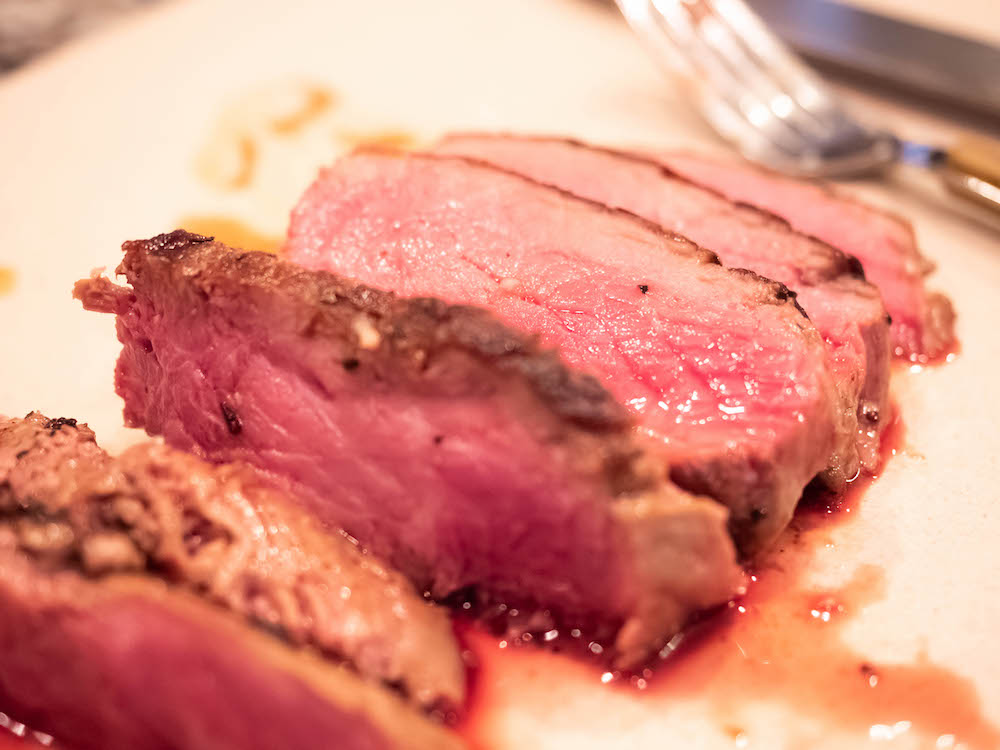 Prep: Rinse all of the produce, chopped potatoes, parsley and shallot.
Cook: Tossed the shallot into a pan with some olive oil. Once the onion begins to soften, cook the tomatoes until they blister. Mash them up. Add vinegar and season. Next: Season the steaks. Lay them in a hot pan with a little bit of olive oil and cook to desired tenderness. Once done, transfer them to a plate. Boil potatoes for eight minutes then add green beans to the same pot. Cook for 2-3 more minutes. Drain potatoes and green beans and return to pot. Dress them with olive oil and parmesan cheese. Serve with the steaks.
This recipe was extremely easy. The Plated App said that it would take 30-40 minutes to make, and I would say that my experience matched up to the numbers. This dish had more steps than the sun-dried tomato chicken since I had to get prepare the onions, tomatoes, potatoes, and green beans a certain way. But each step was easy enough to do that it didn't feel like hard labor. I imagine the variance in cook time is associated with how you typically like to eat stake (rare or well done?).
I would recommend this recipe for chefs of all levels. There are no crazy instructions to follow and the ingredients are familiar. I think this dish is a great opportunity for someone to learn how to cook vegetables for a particular texture and prepare steak.
Plated Taste
Both of these meals were delicious, but my favorite had to be the seared steak dish.
It was so full of flavor. The potatoes were creamy with that little bit of olive oil parmesan cheese. And the green beans were snappy and bright, which gave the dish some color and a bit of a crunch. The steak was amazing and tomato vinaigrette was a refreshing touch. The sauce definitely kicked the steaks up a notch.
I also enjoyed the sun-dried tomato chicken for it's tangy sauce. Chicken, at times, can be kind of bland and dry. But this recipe was surprisingly flavorful, clean, and tasty. The farro added a great really hearty texture. And the fresh spinach was a nice complementary vegetable to mix with grain and the protein.
Nutrition
Before I dive into each meal's macro breakdown, I wanted to note that Plated does not provide a list of nutritional values on their meal cards.
I had to seek that out on the recipe link (which is also not included on the card) through their website. The app is available for that information as well, but since I'm someone who always likes to know the nutrition values of what I'm eating, I didn't really love having to do extra work to get the facts.
Even when I found the nutritional values, I noticed that Plated does not list the sodium content for each recipe. I didn't think either of these dishes were particularly salty, but I know having that info on hand could help people who are trying to reduce sodium in their diets.
On a positive note: I thought the serving sizes matched pretty well with the macro sets I found on the Plated App. This means that people who track their food won't have to measure and weigh as much before they dig in. But if you are an athlete and you're extremely particular about your macros, I still recommend that you measure and weigh your food to make sure you stay on track.
Keeping all that in mind, here are the macros for each meal per serving:
Sun-Dried Tomato Chicken with Farro & Parmesan:
Calories: 670
Protein: 43g
Carbohydrates: 43g
Fat: 33g
Who it's good for: I think this dish has a well-balanced distribution of macros that would be great for those who are clean eaters — and especially those looking for low-carb options. Since it only takes about 20 minutes to make, it's also good for people that need a quick fix.
Seared Steak with Cherry Tomato Vinaigrette:
Calories: 570
Fat: 30g
Carbs: 43g
Protein: 35g
Who it's good for: This is another great dish that is balanced and great for clean eaters, those looking for low-carb options and people who have gluten sensitivities (it's def GF).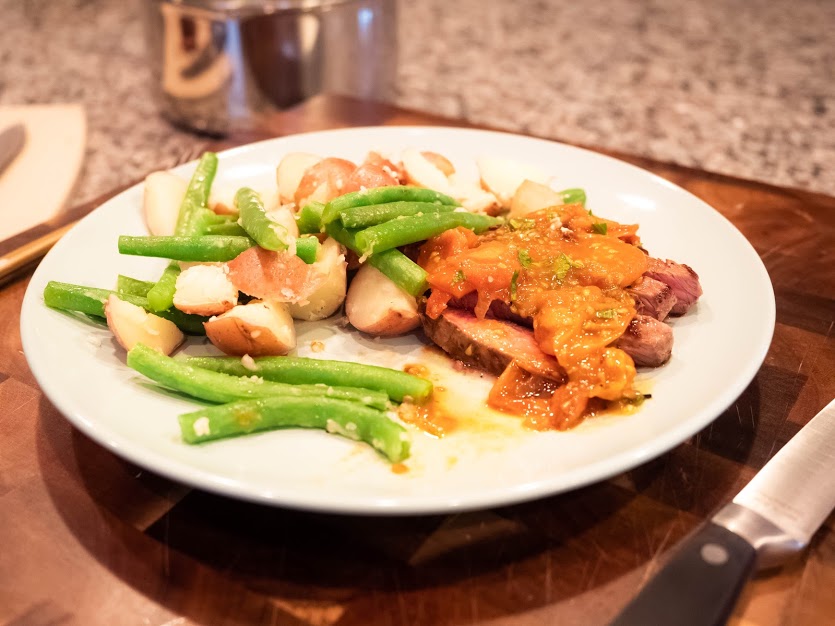 Is Plated Good for Weight Loss?
I think Plated could potentially be good pick for someone who's looking to lose weight, depending on their weight loss regimen. This service offers a wide variety of meal options (20 new ones each week), and they also make it easy for people to see if there are choices that fit their dietary needs.
Plated has paleo, vegetarian, gluten-free, low-calorie, and low-carb filters so I think dieters of different types can eat according to plan.
As a side note: Plated even has a filter for "family friendly" meals, which the company claims are easy to make with kids and are great for the whole family to enjoy. So if you have kids this might be an fun opportunity to teach them how to cook.
There was no "vegan" filter unfortunately, but that's not to say there aren't any vegan options. Overall, though, Plated does not look like the most convenient option for our plant-based eaters.
Additionally, since Plated does not provide easily accessible nutritional information, some dieters will be left in the dark on whether or not this meal service is for them. For example, the fact that they don't list the amount of sodium in each meal is a problem. Some people who suffer from hypertension and other forms of heart disease often rely on low sodium diets to keep themselves healthy. I have to dock some points from Plated from not providing this vital information.
Plated Price
In general, I think Plated's pricing is pretty fair. I ordered two servings of two different meals, which ended up being about $11.95 per serving. This is very reasonable considering that I got the chance to eat a tasty steak dinner two nights in a row. If you go out to a restaurant, a steak dinner would probably cost the same, if not more.
The price was also appropriate for the serving sizes. I received two generous servings that fed two people easily and I was very satisfied by the end of my meal. And while I think Plated's prices are decent, they aren't the cheapest company out there. I've seen serving sizes as cheap at $4.99 a plate.
Here are some things you need to know about Plated's subscription plans:
The prices get cheaper the more servings you order.
They offer free shipping for orders over $60.
They serve most zip codes in the United States, but if you are unsure you can use their 24/7 chat to confirm. Not many meal services offer that kind of customer service so I have to give Plated some brownie points for that.
Who Is It Good For?
While Plated offers many meal options and aims to serve many different consumers, I believe this service is best for:
Those who are interested in getting some cooking experience
People who are interested in a variety of foods
Those who like sharing the kitchen and cooking with friends or a partner
People who want to avoid the grocery store
Clean eaters
Vegetarians
Paleo eaters
Those adhering to certain weight loss programs
Plated Pros
Cooking with Plated was really fun, easy, and tasty. I would definitely order from this service again. I'm going to list below all of the things that I loved about Plated, but as you read these, just remember that your preferences and might be different than mine:
Fresh meat and produce. Everything looked bright, healthy and ready to cook.
No missing ingredients. I didn't have to go to the store to replace anything.
Tasty and filling meats. I finished my meals satisfied.
Easy to follow prep and cooking instructions. I was never confused as to what I had to do next.
Wide variety of meal options to choose from. I loved that I had so many choices.
Convenient and informative Plated App. The app was super useful when I couldn't find the macro breakdown.
Neat and recyclable packaging. This is always a huge plus for me since I'm always thinking about how to be more environmentally conscious.
Cooking time was accurate on the recipe card. I felt like I could trust Plated's information on that end.
Serving sizes matched the macro sets. Because of this I think certain dishes could potentially be well suited for athletes who are macro counters. But unfortunately, they have to work for that information.
Plated Cons
While I enjoyed my experience with Plated, I thought there were a few things they could work on:
Macro information was not on the product. Since I had to dig online to find out the macro breakdown of each meal, I don't think Plated is the most convenient service for those tracking their food.
No information on nutritional values. Even after digging, I didn't find any detailed information on nutrition. There was nothing on the vitamin and mineral content or the amount of sodium of each dish.
A little pricey. Plated is definitely not the cheapest meal service out there, but it is not the most expensive either. This might be a con if you have a low budget.
Wrapping Up
To sum things up, I thought that Plated was a great meal delivery service, with a potential caveat or two.
Everything was securely shipped to my door, the ingredients were fresh and easy to prepare and the meals were delicious. Even though my cooking and eating experience was great, I didn't appreciate the fact that I had to look up all of the macronutrient information online. That was a major con in my book. Even when I when I found the macros on the app, the nutritional values of each meal were nowhere to be found. That's important information for people who have very specific dietary needs and restrictions.
I think Plated is good for people who are looking for healthily sourced food that can be prepared rather effortlessly. Since the service has a wide variety of options, I think it could be a good fit for some dieters, depending on their specifications. The serving sizes matched well with the macros sets that I found online, so I think food trackers can trust their measurements — even if they have to search to find them.
Bottom line: If you are new to cooking and don't have too many dietary requirements, Plated could be a great fit for you and your family.