Over the past four years, few American weightlifters have been surrounded by as many controversial topics as Sarah Robles. Following a 7th place finish at the 2012 London Olympics in the +75kg category, Robles faced a two-year suspension by the US Anti-Doping Agency (USADA) and the IWF after a positive test at the 2013 Pan American Games. In late 2015, she was named to the U.S.A.'s World Championship team, and though Robles' performance in Houston helped secure several Olympic spots for American women, her inclusion on the squad sparked a public debate.
At the same time, very few American weightlifters have matches Robles's recent successes on the international stage. This May, she earned her spot at the 2016 Summer Olympic Games to be held this summer in Rio de Janiero, Brazil; it will be her 2nd Olympics.
I was able to catch up with her on her "Road to Rio," and I hope our interview shows she's much more than just a pretty strong woman.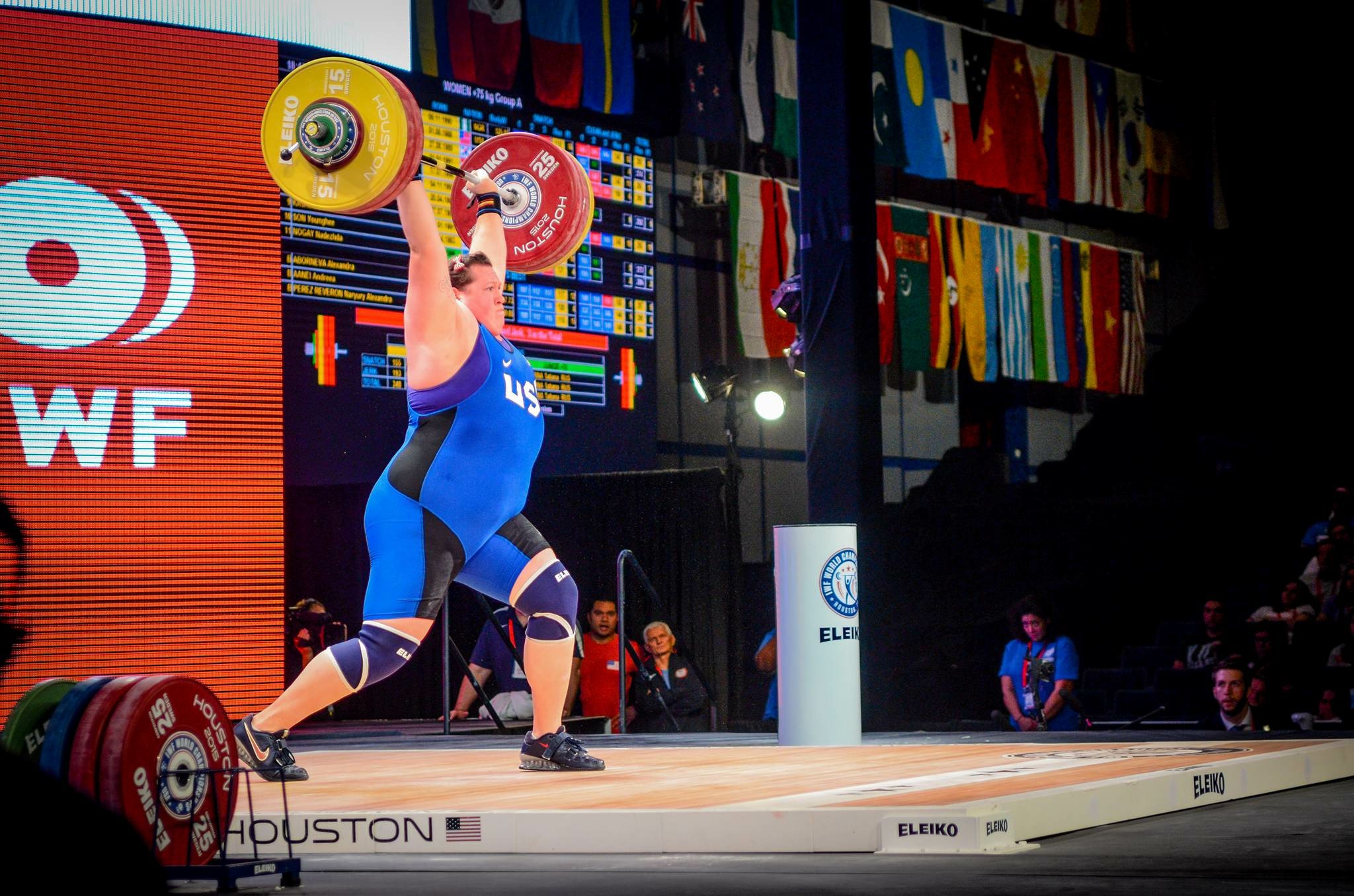 How long have you been lifting? How did you get started in the sport? What was your athletic background prior to weightlifting?
I have been lifting full time for almost eight years now. I originally started weightlifting in 2003 or 2004 as part of my strength and conditioning program for track and field. I lifted in a few local meets and loved the sport. I wanted to compete for fun some day in the future. I was an all-American discus thrower in high school and received two full track and field scholarships to the University of Alabama and Arizona State University.
During my redshirt season at ASU, I was introduced to weightlifting as a sport again. My coach at the time said the numbers I was lifting in the gym could get me a medal at the Junior National Championships. I met him on a Thursday, qualified for Junior Nationals 2008 that Sunday and ended up making the 2008 Junior World team after an athlete ahead of me pulled off the team. I was able to lift well enough there to bring home a silver medal. That experience really fired me up. I decided to give weightlifting a try for a year and if I liked it, I would stick with it. I loved it! Now I'm answering these questions as a two-time Olympian.
At what point did you think you were good enough to be successful in this sport?
I had already known I was strong and very athletic, but I think getting that medal from the Junior World Championships really sparked the idea that I could go somewhere in this sport. The next year I was making senior international teams and was loving it more and more.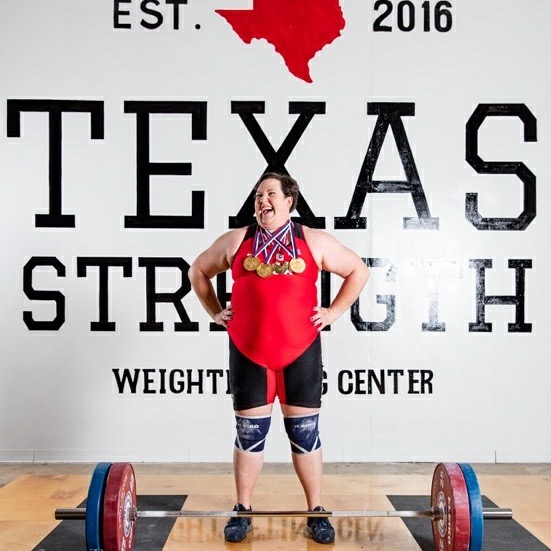 At what point did you think you could make the Olympics (before your first time in 2012)? Was there a specific event that occurred?
I originally had the idea of being able to make and Olympic Team back in 2006 when I was competing in track and field. That was my original dream. I realized that at practice. Although the sport changed, the dream did not. In 2010, I think, my coach and I both had the same idea on the same day that I could make the 2012 Olympic Team. I was in the gym, and I had snatched 114 kilograms, then clean and jerked 146 kilograms. I had the thought in my head but my coach told me, "You keep training like that kid, and you'll make the Olympic Team."
Since the 2012 Olympics, you have filled out more into the weight class. What does your diet or nutritional plan consist of?
I don't really have a regimented diet. I try to have a decently rounded diet and consume a lot of protein. I try to fill half my plate with meat and the other half with fruits or vegetables. I try to consume most of my carbohydrates at the start of the day and keep it to a minimum—or not at all—at dinner. After training, I drink protein. My diet is really nothing special. My recent weight gain had partly to do with not being on my thyroid or PCOS (polycystic ovary syndrome) medications for two years and having a completely different training regiment. I'm also almost six feet tall, so sometimes people don't really realize that overall I'm just a large-statured person.
After the 2012 Olympics you moved to Houston, Texas, where you were coached by Tim Swords. Can you discuss why you moved specifically to work with Team Houston and Coach Swords as compared to anywhere else? Is there anything Coach Swords's programs or in his coaching methodology that is significantly different than other coaches you have had?
I didn't move to Houston directly after the Olympics. I moved out there in February 2014. After I was suspended in 2013, I was left without a coach or a gym to train in. I knew I wanted to keep lifting but knew dragging my barbell around town, trying out different one-week free trials at gyms wouldn't last long. The CrossFit box I was lifting at was nice, but I knew when I got in shape, I would outgrow the place in a sense. There's only so much space on a woman's bar with big black rubber plates. Also, besides my old coach, there wasn't going to be a high-enough caliber coaching to get me to the next level. I knew I'd have to leave.
The decision to train with Tim was an easy one for me, but there was a little bit of a thought process. I made a list of coaches I knew I'd like to work with. I narrowed that list down by who would still work with me in my situation at the time. Then I narrowed it down further to who had the most valuable experience. Knowing I would have less than a year's time to compete again before the Olympics, I knew I was going to have to hit the ground running. I couldn't afford any mistakes. I needed to be with a coach who had been there, done that. I knew there wouldn't be time for a learning curve for my coach. That made my list pretty dang small. I had Tim at the top of my list because he is one of a handful of coaches in the country who has coached at every level (with the exception of the Olympics). He is one of the select few who coached someone from the beginning of their career as a kid all the way up to the Senior World Championships.
So far as Tim and his programming, my program is fairly unique and pretty tough. The original program he created is very effective. It was created with a superheavy athlete in mind and takes into consideration that I had to work and be on my feet before training in the afternoon. What makes Tim unique so far as coaching me is that he really cares about me. Weightlifting is important and my number-one priority, but he's okay if I need to take a day off for something, travel home if there's an emergency, or pursue relationships. He encourages extracurricular activity. In the more so-called structured and professional training environments, the athlete is frequently seen as a product that needs to get results. I am not a product. Tim gets that and trains me from a very honest, sincere place. I get my work done, I come in ready to go and get good results in competition, but I'm allowed to be my own person all at the same time. Tim is also more attentive than any other coach I've experienced. When I was stressed out before the 2015 World Championships, he called me frequently to check up me. Before Trials when I was sick, he did everything he could to make sure I saw the docs, I was eating, staying hydrated and pain free.
What does it mean to you, if anything, to be able to call yourself a two-time Olympian as compared to just being an Olympian?
Being a two-time Olympian affords me the opportunity to not only represent our country again as well as the opportunity to hopefully accomplish the goals I've set for myself. My main goals are to break the American and Pan-American records and get a medal at the Olympic Games or World Championships. I have had a rough quad with finances, losing my old coach and teammates, self-doubt, and general opposition. Making the team twice makes the suffering worth it. To go from thinking my career was over and being fairly hopeless to have this opportunity means a lot to me. It's almost indescribable. I'm thankful for those that supported me and I'm glad I never quit.

Is it easier training for your second Olympic Games because you have been there before?
I don't think there's such thing as easy training for the Olympics. I think the hardest part is the trials, to be honest. That's a defining moment in any athlete's life that's filled with a lot of pressure. Competing at the Olympic Trials—although it produced less than desired results and was a very difficult time for me—I went into the competition feeling good. I knew what that pressure was going to be like and knew how to channel it better. Competing at a previous Olympics and the Olympic Test Event before Rio I think is most valuable for the competition experience in itself. I know what to expect and I can draw on my experiences from last time to make this experience more smooth and hopefully more successful in that I bring home a medal.
Was there ever a time between 2012 and 2016 that you had serious doubts about a return to the Olympics?
I had serious doubts most of the time, honestly. There always seemed to be something that would give me hope only to quickly have it dashed. My focus going into this year was just do my best, worry about myself, and if my best got me somewhere, great. If it didn't, obviously, I would be very upset. However, my career wouldn't be over, and I could still accomplish my goals.
Walk us through your approach to the Olympic Trials. Did you have goals going into the competition? How did things change after the snatch portion?
My goal going into the competition was to do a 285 total. I wanted to do something like 118/122/125 or 126 with a 150/155/160 for my clean and jerks, both of which I was completely capable of doing. A couple weeks before trials, I hurt my upper back but came back around and was able to do my openers before we left for trials so I had no doubts I would have any. I had a terrible stomach bug the last few days before trials, too, but I recovered as well as I could from that and tried to stay on pace. I still was able to open up with my original plan. I had technical problems, clearly, and missed my snatches.
After bombing out in the snatches, I felt horrible. I went to the restroom and cried and cried all the way into my second warm up set of clean & jerks. Later, I was sitting in my chair sulking over my performance when my coach said, "Well, let's get ready for clean & jerks." My first reaction was, "What for?" I definitely got a talking to but, the thing that sticks out the most was him saying, "A lot of people don't want to see you clean and jerk. A lot of other people do." Then he walked off. I thought then, "I have never quit before, and this isn't going to be the day I do."
I have never felt so vulnerable in my whole life or career. I left the field wide open for anyone to bump me off the team. My main concern going into clean and jerks was going to be leg strength because I was so sick that week. So we definitely went off plan and opened the lowest we could which was 146. While warming up, I was feeling pretty dizzy so I was a little hesitant to push the weights. I mucked up the 146, made it, and then made 150 pretty easy.
What does your training schedule consist of? (i.e. How many sessions per week? How often do you go heavy, like over 90% of a full lift?)
I train five days a week, training once a day in the afternoon. I train at 90% or more pretty frequently. Saturdays are my days to try and lift as heavy as possible in the competition lifts. Monday, Wednesday, and Friday are generally squat, pull, and press days. Tuesday is a snatch day, Thursday is a clean day, and Saturday is heavy snatch as well as clean and jerk day.
I have a daily minimum weight that needs to be lifted in the competition lifts. That means no matter what, I need to lift a certain amount of weight even in it's for one repetition. Before trials my minimums were 115 and 145 which was 92%. So, at least three days a week, I was hitting 92% or more. I don't really emphasize squats much in my training. My leg strength is good enough, so I just maintain my strength.
What are your goals for the 2016 Rio Olympics?
To break the American records and hopefully bring home a medal. First or second place isn't realistically attainable, but third place is definitely something I can accomplish.
Who do you feel is your biggest competition at the Olympics?
My friend Miriam Usman is tough, and then you always have Democratic People's Republic of Korea (North Korea), Thailand, and Kazakhstan right there, too.
What are your training PRs? Training PRs?
Snatch: 123
Clean & Jerk: 155
Jerk: 155
Back Squat: 230
Front Squat: 205
What are your favorite hobbies and activities outside of weightlifting?
I like hiking, camping, and reading, and I also enjoy leather tooling and crafts, wood burning, geocaching, herping, and going to church. I like spending time with friends and family.
Where do you see yourself after the 2016 Olympics? Training for 2020?
I see myself training for at least one more year and then evaluating things from there. I don't even want to think of another quad right now. I'm just focused on Rio. I'm hoping to collaborate with some other plus-size women in the fitness industry for a special project I'm working on—more on that another time—and I'll probably coach more. We'll see what else God has in store for me by then.