For sports fans, there is nothing more exciting than seeing a live competition. This is especially true if that competition consists of the best athletes in the world performing their craft. Unfortunately for weightlifting fans, with the international aspect of the sport, most elite level events do not happen close by or even in their own country, and watching on television is a slim proposition. Some events have a live webcast, but most likely the internet, and social media, is going to showcase highlights from the event.
The photographer the International Weightlifting Federation (IWF) considers to have the "sickest angles" in the business is Steve Galvan of San Antonio, TX. He is the official photographer of the IWF, and I recently had breakfast with him when I visited his gym, 210 Weightlifting, for a competition. For the few people in weightlifting who do not recognize his real name, you may know his photography Instagram moniker, @sickangles. In 2016, Galvan served as the Official IWF Photographer at the Summer Olympic Games in Rio de Janeiro, Brazil. While this has been his most prestigious position in photography so far, he has been involved in sports for most of his life, through photography not quite as long.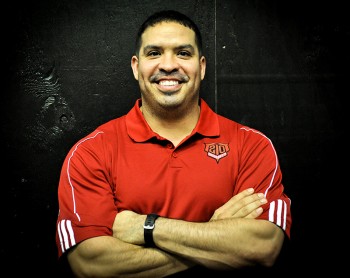 Steve Galvan
A young(er) Steve Galvan was a hurdler and on the 4X400 meter relay team on the track & field team at Texas A&M University during his college days. This was where he initially was exposed to the sport of weightlifting; as part of his training he worked on snatches to improve his explosiveness. After college, weightlifting was not a big part of his life. That changed in 2007 when he started doing CrossFit as a way to work out, and led him back to his passion for weightlifting. By 2009, he started Crossfit 210 out of his garage and he was training people on a growing basis. This was where his love affair with photography really took off. As he told me:
"When I started my gym out of my garage, one of the first purchases I made was a camera so I could take pictures of people. They like to see the transformation and it's a great way to track progress."
https://www.instagram.com/p/BJMro8lh48X
In 2010 he started training under the coaching of USA Weightlifting (USAW) Senior International Coach Ursula Papandrea, with a focus on weightlifting. In his own coaching career, he was training anyone who has displayed an interest in the sport. This is all inclusive of children, adults, masters athletes, men and woman; literally ANYONE who was interested in weightlifting – because at this point coaching and weightlifting had become a passion of his. His gym eventually moved out of his garage and he was coaching over 60 dedicated weightlifters, half of his new facility was dedicated to weightlifting; something almost never heard of at a functional fitness facility. With all these athletes, he was also utilizing photography significantly more to help with athlete development. His skills and abilities improved in photography became really good as a result.
His first international photography "gig" as an IWF accredited photographer at the 2014 World Championships in Almaty, Kazakhstan. Steve initially thought he would be assisting other photographers, in the neighborhood of taking lunch orders and getting coffee. To his surprise, he photographed every A session of the competition, a lot of B sessions, and all the action in the training hall. A lot of his photos were utilized by the IWF on their website and social media platforms. What Steve thought was a once in a lifetime opportunity evolved into a steady stream of international travel and elite weightlifting photography.
(Author's Note: One evening in the training hall, the only teams training were the Kazakhs with Olympic Champion Ilya Ilyin and Polish team with Olympic Champion Adrian Zielinski, and the only other people watching and taking photos or videos were Steve and myself. In the middle of the greatest weightlifters on the planet I saw first hand Steve go about his craft as he created some very popular content.)
Over the past two years, the IWF has asked him to photograph at more prestigious international competitions. His resume currently consists of:
2015 Youth World Championships in Lima, Peru
2015 IWF Grand Prix in Fuzhou, China
2015 Senior World Championships in Houston, USA
https://www.instagram.com/p/BOTAgJBBeDz
After the World Championships in Houston, Steve received the call that would take him straight to cloud nine. It was from Lilla Rozgonyi, IWF Director of Communication & Marketing; they wanted him to be the official photographer of weightlifting at the Olympic Games.
BarBend: What goes into your work as a photographer when you are onsite at a competition?
Galvan: We will arrive a few days before the competition to check out the facilities. We will check out the Wi-Fi connection, see how the lighting is, as much prep work as we can before the competition starts. I have had strategy sessions with the IWF, social media is very important, so after the competition ends I go to work selecting the best photos, editing them, adding a watermark and getting them online by the next morning. It's important to get them out before the next day's session's start. Our goal is to capture photos from all the A session lifters, and select others [IE if an American is lifting or there is an interesting storyline in another session]. We want to capture the best snatch and clean and jerk of all the lifters also. We also want to capture cool moments, like when North Korea's Rim Jong Sim got help to the medal podium in Houston after being injured.
https://www.instagram.com/p/BDo3RqrDujg
Also some lifters are very animated, like Muhammad Ehab jumping around and being excited after a lift. To put this into perspective, the Youth World Championships was a 12 hour day and the Senior World Championships was a 15 hour day. Pictures capture the emotion of weightlifting.
https://www.instagram.com/p/BEtk2i7julv
BB: What equipment do you take with you to a competition?
Galvan:
2 Nikon D3S cameras (2 bodies)

Main lens is Nikon 70-200 F2.8 (2 total – 1 backup)

Sigma 120-300 F2.8 lens (purchased for Olympic Games)

85mm fixed lens

35-70 Nikon F2.8 lens

Sony a7s video camera (body) and 18-200 lens

6 SD cards for a competition

6 CF cards for a competition

SIM card for phone if venue does not have Wi-Fi [he will use a hot spot to connect his phone to his computer]

Many other cables, batteries, remotes & carrying cases

Hard-shelled rolling case to transport all of his equipment
BB: What type of preparation went into getting ready for the Olympics?
Galvan: It felt like many months went by, and I did not know where I would be sitting in comparison to the stage. I ended up in the main pit, which was front and center to the stage. During an A session there would be 15-20 other cameramen squeezed in there, and it was first come first serve. [Publications like Reuters, USA Today, Getty and other International press were in the same media section] I would arrive at 10:30 in the morning, about an hour and a half before the morning's B session just to make sure I had a good position. The pit to the platform was about 120 feet. During the 10 minute break between the snatch and clean and jerk, I was actually rushing to edit a photo, watermark it, and load it onto the IWF social media platform. I tried doing the same when there was a long 2 minute clock running. 
https://www.instagram.com/p/BI3eQXnBJVm
BB: In your opinion, what kind of photos are most popular to weightlifting fans? What gets the most likes?
Galvan: What I think is cool and what is popular are not always the same. People love photos of muscles and attractive people. The Olympics mean less to social media than weightlifting fans. Different moments are actually more popular than the actual lifts. People want facts [Medals, World Records, etc.] and my job is to take photos and post them.
BB: What are your thoughts on copyright issues, to what extent does that play a part in what you do?
Galvan: This is a case where I ask myself, what is it worth to defend your photos or videos? Promotion is free, the value is not in the money. Most people will ask me before they will re-use my photos, and a lot are used for things like seminars or a similar event. Watermarking is the best defense if you have a concern about this.
BB: What are some tips that readers can utilize to take better photos or videos of weightlifting?
Galvan:
Use a monopod to keep your camera level, it also will help with supporting the weight of a camera.

Know where the bottom of the frame is in relation to the action on the platform. You want to minimize the amount of space between the athlete's feet and the platform.

Use a tripod and remote when taking video. Without a remote you run the risk of moving the camera with your hand, after you have perfectly lined up your camera.
BB: What were some of your favorite moments from the Olympic Games?
Galvan: There were so many, but several stand out to me:
In the 56KG category, China's Long Quinquan set a world record in the clean and jerk on his last lift of the competition to defeat North Korea's Om Yun-Chol. Om Yun-Chol had won the previous three world championships.

At 62KG, Oscar Figueroa won the gold medal then retired after the favored Chinese athlete cramped up.

Kazakhstan's Nijat Rahimov had a huge 214KG clean and jerk to win the gold medal over Lu Xiaojun.

At 85KG, Kianoush Rostami won a great battle over Tian Tao. Every session was unreal, and I thought it could not possibly get any better, then the next session would be amazing.
BB: How has photography helped with your coaching?
Galvan: Photography has given me a better picture of what it takes to be a better coach. I can see the "big picture" of weightlifting behind my lens, and the end game is to win Olympic medals. It had helped me to put into perspective how to create a sustainable training atmosphere and advance my own coaching career. It also allows me to be more of a fan of the sport and less of a coach when I am at events.
Featured image courtesy of Steve Galvan