The 2021 NOBULL CrossFit Games are currently underway. There seem to be some universal expectations: the apocalypse needs to occur for reigning four-time Fittest Woman on Earth®, Tia-Clair Toomey-Orr, to lose her crown. No one really has any idea who will succeed five-time Fittest Man on Earth®, Mat Fraser, in the Men's Division now that he's retired from competitive CrossFit. Dave Castro could call an audible at any moment to change the entire trajectory of any event(s).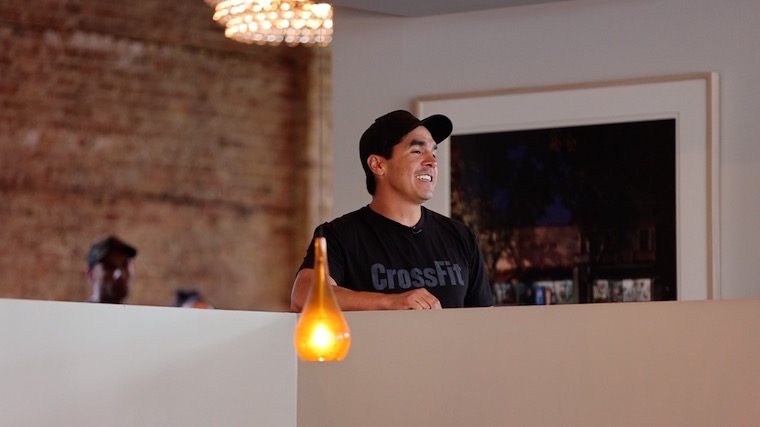 Although unlikely to occur in the universe we currently exist in, some things would be absolutely epic to see. They could even maybe possibly have the potential to happen. Here are the top five (unrealistic) things we would love to see happen at the 2021 CrossFit Games.
[Related: Scott Panchik to Retire From Competitive CrossFit After the 2021 CrossFit Games]
Here's What We'd Love to See at the Games
The photo above of CrossFit General Manager of Sport Dave Castro was taken during the individual athlete check-in dinner the day before the Games. It may or may not also simultaneously be a live look at Castro plotting all the crazy twists he will throw at the competitors at this year's Games. That brings us to the first unlikely thing we'd love to see:
1. Dave Castro Gives Each Competitor Their Own Twist
At the 2020 CrossFit Games, Castro shocked all 10 Finalists during the Ranch Loop event. Fraser and Justin Medeiros were the first to supposedly finish the long trek around the hill-laden CrossFit Ranch in the dust and heat. However, when they reached what they thought was the finish line, Castro surprised them with a twist: they were only halfway done with the event.
In disbelief that Castro expected them to rerun the entire course in reverse, Fraser flipped him off. Moments later, when Fraser realized Castro wasn't joking, the five-time champ took a deep breath and started running. However, it wasn't the same surprise for the other eight Finalists who knew something of askew when they saw Fraser and Medeiros running back towards them. "Surely, something is askew," one of the Finalists probably thought.
View this post on Instagram
For the 2021 Games, Castro should live up to his brand as the unpredictable wild card who teases events in cryptic ways on social media by having 80 separate twists in each event — one for each athlete. The first event of the Games involves swimming and kayaking? Cool. Plot twist: Noah Ohlsen has to wrestle a shark, and Kari Pearce has to dive into the water to find sunken treasure. Go big or go home, Castro.
[Related: What to Look Forward to In Mat Fraser's New Book, "HWPO — Hard Work Pays Off"]
2. Mat Fraser Retired, But Did He Though?
It's no secret that Fraser is the GOAT CrossFitter who is an absolute machine in training. He won the 2020 Games in such a dominant fashion; he could have taken the Final day off and still stood atop the podium. Speaking of…
2. Side Note — Tia-Clair Toomey-Orr Takes the Final Day Off
If Toomey-Orr said she would not compete on the final day of competition at the 2021 Games, the bookers in Vegas would likely still rank her as the odds-on favorite to stand atop the podium. Winning a record fifth consecutive Games title is cool, but calling a Babe Ruth-style home run shot by announcing the Final day of competition is a rest day? Legendary.
2. Mat Fraser Retired, But Did He Actually?
Back to Fraser. Let's be real: no one with a competitive drive like Fraser, who committed his whole life to this sport, calls it quits when he's still in his prime. He may not have anything left to prove to the world, but what about to himself? We expect Fraser to be right outside the Games field of play, simultaneously performing all the events alongside the Games competitors and posting the best times. Honestly, we'd love to see it.
3. Rich Froning Somehow Wins Both the Teams and Individual Competitions
Rich Froning was the Fittest Man on Earth® for four consecutive years (2011-14). He then moved into the Teams Division as the leader of Team Mayhem Freedom to win Games titles in 2015, 2016, 2018, and 2019. Yes, there was the blemish of a silver-medal finish in 2017, but you're going to sit there reading this article and act like winning both the Individual and Teams competition at the same Games is out of Froning's range? Blasphemous.
View this post on Instagram
[Related: Alison Scudds & James Newbury Take Us Inside the 2021 CrossFit Games Demo Team]
The most glaringly obvious piece of evidence we have that this is not only possible but highly likely (in an entirely hypothetical sense) is the above video from the CrossFit Games Instagram page. Watch that video of Froning announcing event one for the Virtual CrossFit Games. The man has a flair for the dramatic. He said so himself:
In as dramatic a Dave Castro fashion as I can.
Froning proceeds to show off that he's not only extremely fit but also ambidextrous by writing with his left hand on a whiteboard. He took 23.06 seconds to say that the event is a five-kilometer row. Even for a showman, that's excessive. It's no secret: Froning is planning something big. Don't be shocked if you see him standing atop both podiums at the conclusion of the Games.
4. Kettlebell Circus Juggling
CrossFit® methodology incorporates Olympic weightlifting, powerlifting, gymnastics, and more. It's about time the sport embraced the inevitable and included Circus movements. Acrobatics like chest-to-bar trapeze pull-ups might be tough logistically, so we'll settle for kettlebell juggling, rolling globe* races using wall balls, and baton twirling with barbells for now. Honestly, Cirque du CrossFit? Yes, please.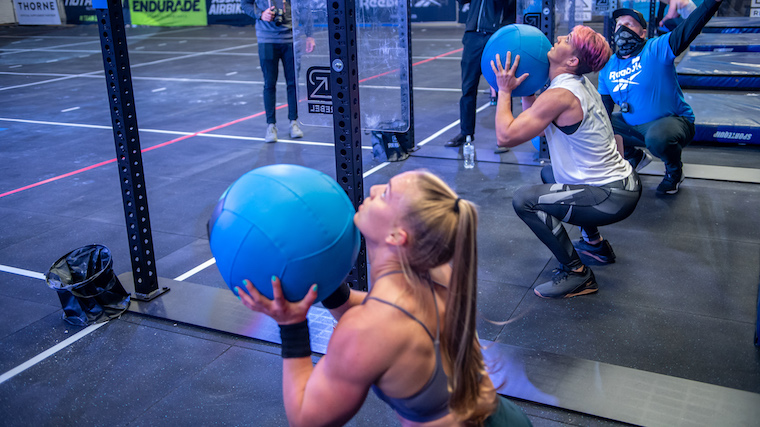 *Rolling globe is the circus skill in which the athlete balances atop a sphere.
5. The Wells Sisters Bait & Switch
Brooke Wells finished in fifth place overall in the 2020 CrossFit Games. For the 2021 Games, she trained with Shane Orr and Toomey-Orr at PRVN fitness. There's no doubt Wells is a threat to win any competition she competes in. However, she may have an additional trick up her sleeve.
Brooke's sister Sydney Wells is also a relatively accomplished CrossFit athlete, having advanced all the way to the Semifinals this season. As is the case with many siblings, particularly twins, the Wells sisters look alike — almost as though they could pose as the same person.
Of course, having someone sub in for you under the guise that they are you in the middle of competition would (most likely) be cheating and (almost) assuredly be cause for disqualification. But wouldn't it be epic?
Picture this: Brooke Wells is pushing a heavy sled on stiff turf under the hot Madison sun in the heat of battle. The pressure, the adrenalin, a podium finish just a few yards away. When suddenly, to ensure victory with the competition closing the distance, Brooke seamlessly rolls out of the field of play. Her twin sister, Sydney, swiftly rolls into the same position, the swap goes entirely unnoticed, and Sydney finishes the sled push to win the Games (as Brooke)! Impossible? Maybe. But who would know for certain?
[Related: Every National Champion From the 2021 CrossFit Games Season]
2021 CrossFit Games
Although none of the above hypotheticals will actually happen, there is a good chance the 2021 Games will be full of unexpected twists and dramatic moments that we'll remember for years to come.
Although the details of most events have yet to be revealed — Castro is playing his cards close to his chest — we will assuredly see some of the fittest athletes on the planet tackle some of the most grueling fitness challenges with spectators excitedly looking on.
Featured image courtesy of CrossFit