In any sport, it is rare to find high level talent that directly spans generations in the same family. In America, we can relate to the Vardanian family, where in recent years Norik Vardanian has set new American records and was a 2012 Olympian representing the country of Armenia. His father, Yurik Vardanian, was a seven-time World Champion and 1980 Olympic Champion for the USSR.
By comparison, Canada also has a weightlifting legend who is nurturing his son into a dominant athlete. Just outside of Toronto is where Nikolay Varbanov lives; he is the son of three-time World Champion and 1988 Olympic Bronze medalist Alexander Varbanov of Bulgaria.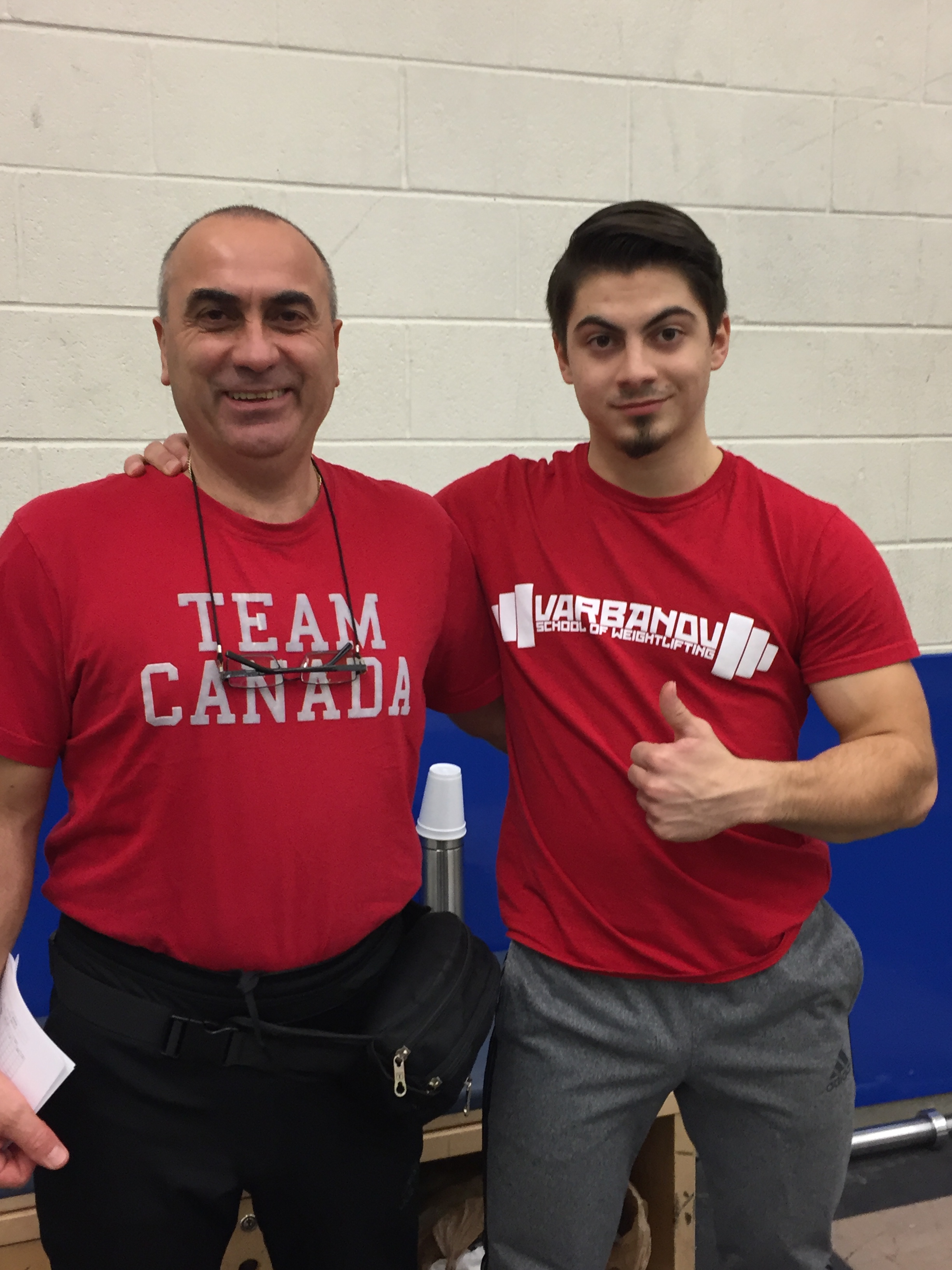 Alexander (left) and Nikolay (right) Varbanov
Nikolay, or "Niki" to his friends and family, was born in Shumen, Bulgaria, and is fluent in that country's language. Over the last few years, the Varbanov family has been hosting a summer training camp in their native country. Including the Varbanov family, instructors and special guests have included Olympic Champions Yanko Rusev and Ivan Ivanov and three-time World Champion Zlatan Vanev.
In my opinion, it is experiences like these that complement a great weightlifting environment that the Varbanov's are facilitating in greater Toronto. Nikolay, along with younger athletes such as Boady Santavy, will be leading the Canadian Olympic men's team towards multiple spots in Tokyo 2020 and beyond.
I caught up with the Varbanov Family on Saturday, November 5th, right after Nikolay won his weight class and put on an impressive display of weightlifting at the Ontario Fall Classic in Mississauga, Ontario.
Hometown: Toronto, Ontario, Canada
Education: Currently a senior in High School. Plans to attend college next year and wants o go to Medical School.
Athletic Accomplishments:
2016 Silver Medalist, Canadian Senior National Championships
3X Junior National Champion
How long have you been lifting? How did you get started?
"I have been lifting for five years. My dad was a weightlifter – I was born into it."
Hobbies / Activities outside of weightlifting: "I like to play other sports; wrestling, soccer and football. I also coach Olympic Weightlifting at the Academy of Lions – where out gym is."
Goals for Fall Classic and the rest of 2016? "My goals for today were 120KG in the snatch and 155KG in the CJ".
Authors Note: Varbanov's 123KG snatch in the 69KG category was a new senior Ontario Provincial Record, along with his total of 273KG (601lb). He has previously clean & jerked 155KG which is the current Ontario senior level in that lift.
Goals for 2017 and beyond? "I want to total 300KG by the 2017 Senior National Championships this summer, 135KG in the snatch and 165KG in the clean and jerk. I want to qualify for the Junior World Team and place in the top three overall."
Who is your biggest competition? "Myself – weightlifting is such a mental sport, I just have to keep working and I will be successful."
Who is your favorite weightlifter to watch? "I enjoy watching myself lift weights so I can improve my lifting. I like watching lifters from the old days such as [Bulgarian World Champion and Olympic Bronze medalist] Stefan Botev."
Author's Note: The Varbanov's have secret training videos at their home of greats from the past. I was impressed that they have been converted into DVDs and are not still on VHS tapes.
Training PRs?
Snatch: 125KG (275lb)
Clean & Jerk: 155KG (341lb)
Jerk: 150KG (330lb)
Back Squat: 215KG (473lb)
Front Squat: 185KG (407lb)
Number of training sessions/week (how often do you go heavy (90% +)? "5-6 sessions per week, only once per day. I go heavy in 3 or 4 of those training sessions."
What does your diet consist of? (Special foods, nutritional plans, etc.) "I eat primarily homemade food, cooked by my mom. Some of it is traditional Bulgarian food; but my main goal now is to fill into a solid 69KG athlete."
How has the culture of weightlifting changed in Canada over the last several years? "There's a lot more interest in the sport, overall it has grown by a large percentage. People are learning about the lifts thanks to CrossFit and that's great to see."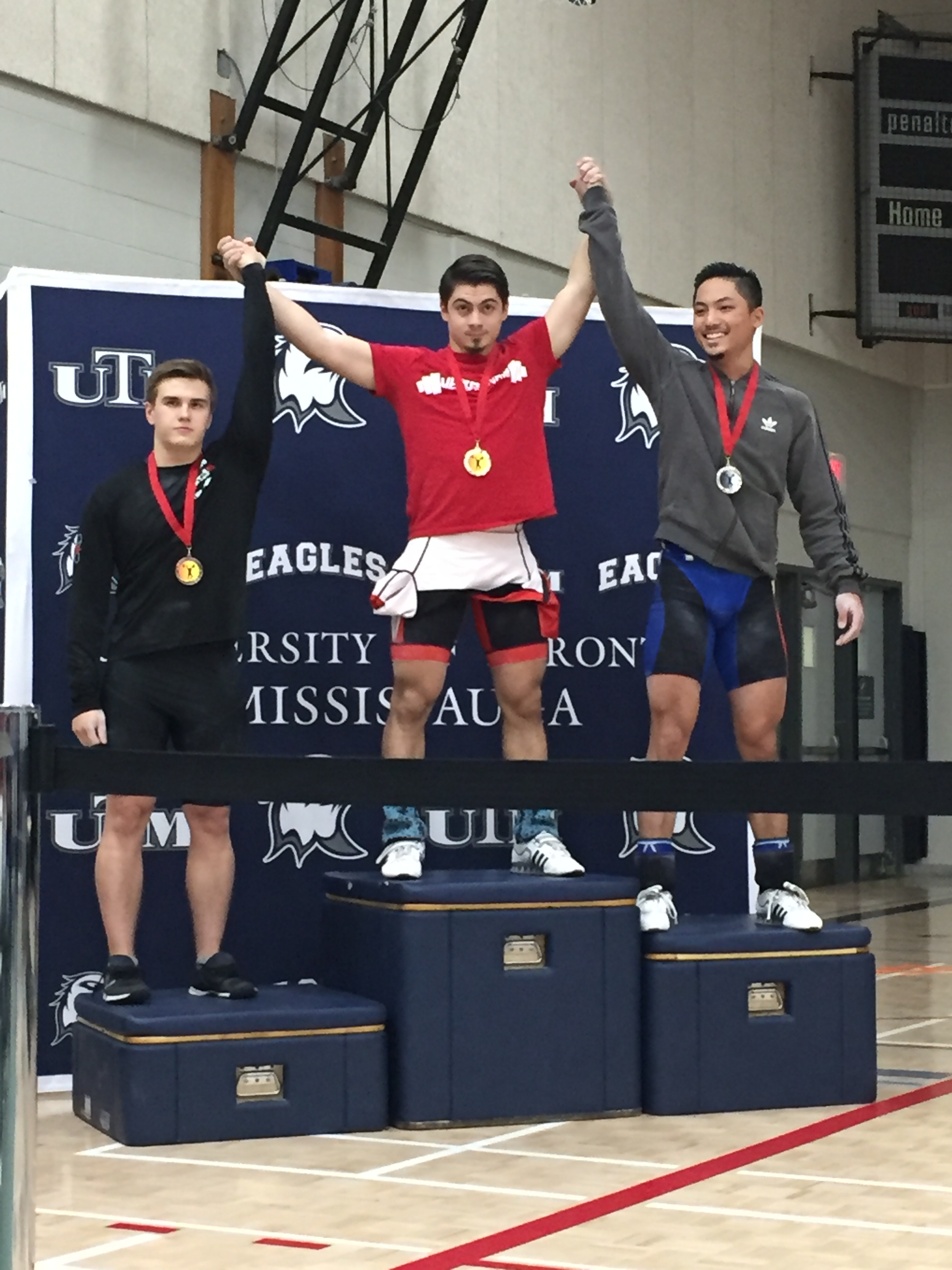 How has your dad's past success affected you as an athlete today? "My life goal is a 216KG (475lb) clean & jerk. My dad's best lift in competition was 215KG (473lb), so that drives me. My dad motivates me a lot, he pushed me and is the reason I got into weightlifting. There is no pressure, he helps me a lot especially with the mental stability aspect of the sport and training."
Author's Note: Given the opportunity; I asked his father, Alexander Varbanov, the same question regarding his training PRs. It would not be fair to compare 17 year of Nikolay to 24 year old Alexander. However I asked this question out of my respect for the man, the history of the sport and my enjoyment weightlifting. He prefaced his answer with "It was a different world, different time and place."
In 1986 as a 75KG athlete, the elder Varbanov accomplished:
Snatch: 176KG (387lb)
Clean : 225KG (495lb)
Jerk: They never did the jerk by itself, only clean and jerks.
Back Squat: 300KG (660lb)
Front Squat: 280KG (616lb)